Solar stocks sold off pretty hard, and according to most market observers, this is simply on the back of falling oil prices. After all, both are sources of energy, and the correlation between oil price and solar stocks has been pretty high in the past, according to SA contributor The Panoramic View:
Before 2010, solar and crude were highly correlated, with a correlation coefficient of 0.7. In recent years, however, that correlation has broken down. Before September, solar had a correlation of close to 0 to crude oil this year.
As the quote demonstrates, the correlation has broken down post 2010 and the sell-off in solar preceded the plunge in the oil price, enough to warrant a closer inspection. The same article quotes three reasons for the correlation:
Hedge fund margin calls produced by falling oil
Low oil makes the population more resistant to solar subsidies
China decelerating
The first will be temporary (although if oil falls further, more forced selling can ensue), although it's not immediately clear why hedge funds in distress should sell solar stocks, already down considerably even before oil prices started to fall in earnest.
The second reason, increasing resistance to solar subsidies, is only a long-term possibility, not an immediate threat. And one has to take on-board that the long-term trend for solar energy prices is distinctly down to such an extent that in an ever increasing territory, its dependency on subsidies diminishes or even disappears.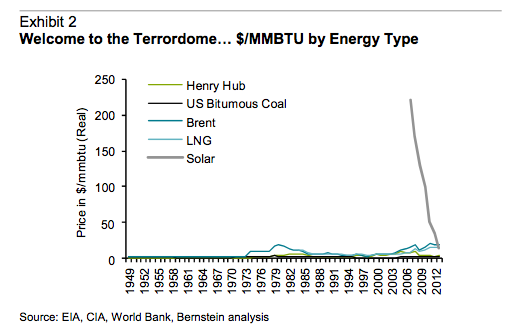 China
A slowdown in China isn't really related to the oil/solar correlation, although a slowdown in China can cause the demand for both energy sources to slow down simply by reducing the growth of its energy needs and putting downward pressure on the price of oil.
This is indeed what some, like Graig Stephen, argue:
But if you want to understand why the demand side of oil has been unraveling - and why it could continue - look no further than China. Opinion over the state of the world's second-largest economy is typically divided between whether it is merely undergoing a rebalancing or a more painful slowdown after years of excessive credit growth. But if the industrial commodities that have fed China's prodigious economic rise are taken as a guide, there is little need for debate: There has already been a hard landing, as all the prices of these resources have collapsed to multi-year lows.
It remains to be seen what effect, if any, the slowdown of the Chinese economy has on the demand for solar energy. From the Jinko Solar (NYSE:JKS) Q3 conference call we know that there actually has been a tremendous acceleration (82% sequentially) in the third quarter, rather than any slowdown.
Jinko is the market leader in China, so it's very well positioned to observe changes in the Chinese market. Jinko expects China to meet its 13GW installation target and sees the Chinese market growing to 15GW next year, hardly a slowdown.
LNG
For us the simplest link between the oil price and solar stock performance is simply via the price of LNG, which unlike oil itself, is a direct substitute for solar as both are sources for electricity generation. The price of LNG is linked to the price of oil with a substantial lag.
However, investment decisions involving new gas fired plants are not usually taken on the whim of short-term price fluctuations only if there are expectations that there is a fundamental shift in the oil price might this impact a shift from solar toward natural gas. And there are other reasons for remaining optimistic about solar:
Prices are likely to keep falling, spurring demand and reducing the need for subsidies
Falling energy storage cost which, in time, will reduce the main drawback of solar energy, it's intermittent nature
Solar will benefit from regulation related to climate change
The latter in particular is relevant for China, as there has been a potentially very significant agreement between the US and China concerning the limitations of greenhouse gases, which could well accelerate the move toward alternative energy.
So we still think the sell-off in solar on the back of falling oil has been exaggerated, more so as there are very little signs of any imminent stagnation in the solar market. Supply-demand conditions are actually reasonably balanced, producing stable average selling prices (ASPS), enabling solar companies to recoup some margins.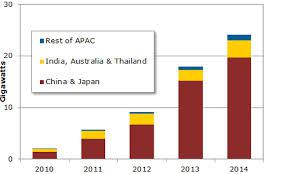 Many solar companies, like Jinko, also are embarking on their own solar projects, which generate (often considerably) higher margins and provide more stable revenues and profits.
If there is a "negative" in the solar market it's that the rough balance between supply and demand requires many solar companies to expand capacity, raising capex in order to meet growing demand.
We also might remind people that the fall in oil price is likely to be cyclical. The reduction in investment and production it produces sets us up for a supply shortfall down the road. This movement could be aggravated if companies or even whole countries go bankrupt as a result of low oil prices, a distinct possibility.
Disclosure: The author is long JKS.
The author wrote this article themselves, and it expresses their own opinions. The author is not receiving compensation for it (other than from Seeking Alpha). The author has no business relationship with any company whose stock is mentioned in this article.