The S&P just came off a record-breaking run. The last comparable run of this kind was 1928.
A fascinating observation, via Jonathan Krinsky at MKM partners and Zero Hedge.
After the October V-bottom, the S&P 500 (NYSEARCA:SPY) managed to close above its 5 day moving average for 29 straight trading days (see chart below).
That's an all-time record breaker. The last comparable streak of this kind was 27 trading days - in 1928.
These markets are not normal. These markets are not healthy. These markets are not giving a green light to complacent chilled-out bullishness.
It is, in fact, the opposite. Traders with a grasp of market history understand what is happening.
We are picking up warning signs galore - the kind of things that happen in twilight, near the very end of epic market runs…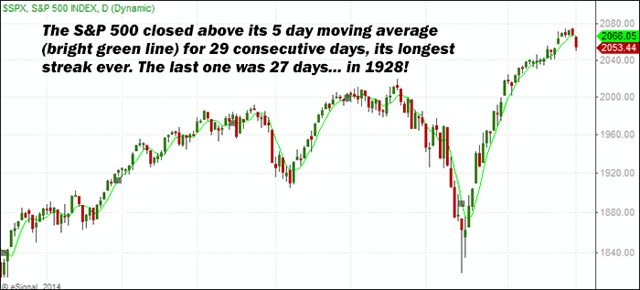 click for full size
Volume spikes and outlier price runs are like bookends - they mark the beginning of things or the end of things.
When you see a major volume surge - a major spike in buying or selling activity relative to the baseline average, coupled with volatility expansion - the market is telling you something.
A volume surge paired with volatility expansion (a larger price bar than normal) often speaks to a major shift… a change in the tides.
This makes perfect sense from a conceptual standpoint.
All of a sudden there is lots of activity, relative to what existed before, and the market simultaneously moves aggressively (again relative to previous movement).
Why? What is the motivation for this?
It could be a new piece of information… a change of collective perspective… or a "blow-off" instance of euphoria or pessimism where the dominant emotion of the time is violently embraced, in a last hurrah of sorts that clears the way for sea change.
The logic of this is NOT chart-based hocus pocus. It is not saying "Oh, the rickshaw man doji is in the seventh house." Instead, it is using the chart as a form of abstract data representation to tell you, quickly and clearly, SOMETHING IS HAPPENING. It is then the trader's job to find out what, or try to get a grasp on what.
That is why volume surges can mark beginnings OR endings. They are not 100% reliable for this - more like a market "tell" - but the information is useful in terms of saying "something big may have changed here."
The same concepts apply to outlier price runs - when a market gets extremely extended, closing above or below its 5 DMA for a very long stretch of time.
And again, this can represent beginning OR ending. Depending on the context.
The Dow Transports are confirming the big "Uh-Oh" of high yield debt collapse.
Here is another extremely worrisome sign (for bulls).
The Dow Transports (TRAN) got whacked on Monday in a major way - giving up weeks worth of gains, in one big drop, on expanded volatility and volume.
In concert with the S&P breaking its longest 5 DMA streak ever - the last comparable in 1928 - that is muy, muy no bueno.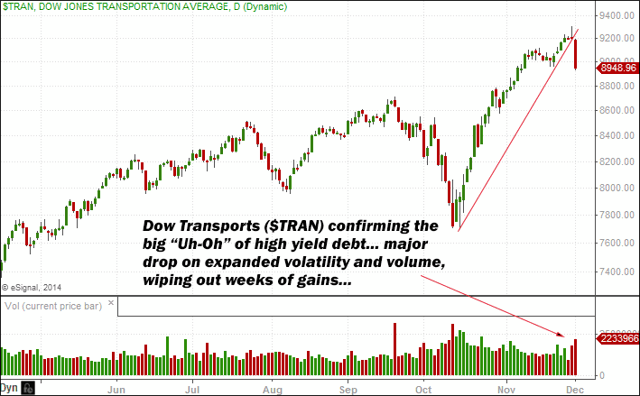 The month of December is kicking off ominously…
All of this danger is compounded by the fact that 1) oil prices are low and 2) US consumers are supposed to be powering Wall Street optimism, and 3) December is supposed to be a seasonably favorable month.
Consider all this bullish ammo:
Gasoline prices at the pump are at multi-year lows (and showing sign of staying there).
Consumers are supposed to be upping their spending and prepping for a big Christmas.
December is a seasonably favorable month for equities.
This is the time when money managers are supposed to be playing end-of-year ramp-up.
The market is supposed to be getting "year 3″ tailwinds from the presidential cycle.
With all of that, you would think the first trading day of December would favor the bulls.
The fact we are getting a big old "NOPE" should further be telling us something…
Excerpted from our December 2nd Live Feed commentary.
Disclosure: The author is short TNA.
The author wrote this article themselves, and it expresses their own opinions. The author is not receiving compensation for it. The author has no business relationship with any company whose stock is mentioned in this article.