As somebody who comes in left of left, for the most part, in the dog and pony show that is American politics, it hurts to say it: Wal-Mart (NYSE:WMT) needs to abandon the poor.
Seeking Alpha contributor Kevin Parker wrote an article on Wal-Mart (WMT) that, even though I don't agree much with it, got me thinking. Parker appears bullish on Wal-Mart. Unfortunately, he did not have me at hello. He lost me with the first reason why he thinks Wal-Mart will turn things around -- the company's undying commitment to Everyday Low Prices (EDLP). To succeed, and recapture the confidence of investors, Wal-Mart needs to completely discard this broken model.
Here's CEO Mike Duke sending the opposite message you want to send to investors during his company's most recent conference call (click to enlarge images):


And more from Wal-Mart U.S. President William Simon:

"We want to sell things for as cheap as possible to people who can barely afford to buy them" no longer works as a business model.
Seven years living in San Francisco conditioned me to think Wal-Mart is comprised of a bunch of ruthless and heartless capitalist fat cats. Quite the contrary, these guys are a pack of bleeding hearts. And from an investment perspective, their attitude screams run away.
I'm reading Edward Humes' Force of Nature: The Unlkely Story of Wal-Mart's Green Revolution. It, along with other pieces of evidence, should pacify sanctimonious San Francisco pseudo-liberals, but it won't. No matter what Wal-Mart does, they'll hate it (or at least run around saying that they do). Yet, they'll have no trouble schlepping south to Daly City to shop at Target (NYSE:TGT). And soon they can bike or take the bus right downtown to support Chain Store Nation at San Francisco-proper's forthcoming City Target.
It's odd that left-leaning, affluent urbanites can come to terms with buying cheap, imported goods from China at Target, but they can't seem to get past doing it at Wal-Mart, a company that's now as environmentally-friendly as your "local" Whole Foods Market (NASDAQ:WFM). I've seen anti-Wal-Mart San Franciscans and others filter this information out to focus on how poorly Wal-Mart treats its employees. Based on how Wal-Mart executives present themselves these days, they sound a lot like a social service agency. They've done more for the poor in America than the Red Cross.
Wal-Mart's commitment to the poor and downtrodden is going to kill them. EDLP succeed during ephemeral times in America. Everybody was buying a house and driving a new car. Cheap and easy credit fueled even the minimum wage worker's appetite for living a life way above his means. And then the bottom fell out. Reality set in. Wal-Mart shoppers began to feel the pinch and are right back to living paycheck to paycheck. They never actually stopped; the credit bonanza just made it look like they were doing better than they were.
For some reason, Wal-Mart feels as if it has a responsibility to poor people (or so it says). They don't. I will argue all day that "society" and "government" do, but Wal-Mart does not. It has a responsibility to its shareholders that it's not living up to.
Why struggle to cater to people who come into your store on the 1st and 15th, pinch pennies, and throw what they bought in the freezer when a world full of people with disposable incomes waits, ready to buy stuff from you? You've just got to give them a reason to think your store is somehow cool. Investors are completely correct if they give Wal-Mart's non-approach a no-confidence vote. Wal-Mart appears to be taking a different tact than Target, a retailer that gets it.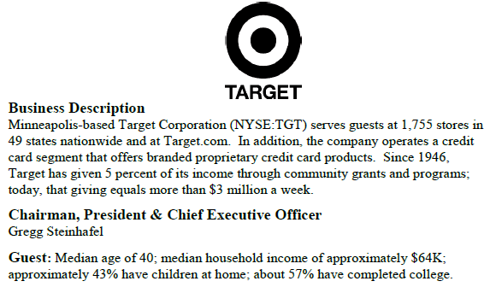 Target already tends to a decidedly more upscale customer than Wal-Mart does; they cater to people who actually have disposable income. Target, however, is not settling for the suburbanites or the city dwellers who take the drive to the outskirts of town from time to time. They're aggressively moving into urban areas. Here's Target Chairman, President, and CEO Gregg Steinhafel on his company's last call:

The urban concept store is precisely where it's at. Target seems to be going after the market harder, while Wal-Mart appears intent to make sure people without money to burn can afford to keep coming to their soul-sucking big box outlets.
Wal-Mart needs to challenge Target in every City Target market -- San Francisco, Los Angeles, Seattle, and Chicago -- and take the lead in as many others as possible. Wal-Mart can get past any resistance they might face from community groups and local government. Having been part of the fight against several big box stores, including Home Depot (NYSE:HD), while living in San Francisco, I can tell you that that city and any other will sell out as long as Wal-Mart makes enough concessions, particularly to store design and overall environmental impact.
Luke should be telling analysts and investors that his company will ramp up U.S. sales by adapting and taking a lean and mean urban concept to the people who can afford to ring the register several times a week, buying stuff they do and do not necessarily need. People who live in the condos and lofts of Chicago's Loop and LA's burgeoning downtown aren't penny pinchers. They're the type of relatively free-spending customers chains like Target and Wal-Mart should be stepping over one another to get at. Gas prices and unemployment simply do not carry with them the same, if any, implications for the affluent urbanite as they do, generally speaking, for "Wal-Mart moms" and other cash-strapped shoppers.
I've got to do a 180 on Wal-Mart. I had listed them as a long. After listening to what the company had to say on its call, reading Parker's article, and thinking about it a bit, I'm concerned. I am already on record as stating how important urban market penetration is for Wal-Mart and Target. I expected a different tone from Wal-Mart. Maybe a Domino's (NYSE:DPZ)-like, "we screwed up!" Wal-Mart did not deliver.
Although the stock has risen since I suggested going long, I must abandon Wal-Mart in favor of Target, just as Wal-Mart should, as bad as it sounds, abandon the poor in favor of customers with money to burn. I am not calling for an outright short or the purchase of WMT puts; instead, I would hold off buying shares in favor of a closer look at TGT.
Disclosure: I have no positions in any stocks mentioned, and no plans to initiate any positions within the next 72 hours.