During my career as an engineer, I came to the "3P" conclusion that was necessary for a successful business model. The 3Ps consisted of People, Product and Processes. While transforming out of engineering and into the small cap biopharmaceutical stock sector as a full time investor/trader, I maintained this philosophy with a variance that is sector specific. The 3Ps remain, but are further defined in that the people are refined into a strong management team with a history of success, product is refined into a pipeline which demonstrates the potential to be best in class and processes can be further refined into a company's ability to bring their products to market through efficiencies of the approval process and manufacturing capability as it relates to cost.
When taking a position into a company I evaluate several factors that all investors should consider prior to initiating any such position. These include, but are not limited to the following:
Analyst Coverage
Institutional Ownership
Insider Buy/Sell Activity (Form 4s)
Intellectual Property Portfolio
Upcoming Catalysts and Binary Events
Technical Analysis of Stock Performance
Product Pipeline
Management Team
Competition
Review of Company 10-Qs and 8-Ks
Short Interest
Balance Sheet (Cash on Hand, Burn Rate)
Company Press Releases
Interview with Top Management (Email or Phone)
Articles from Field Experts
Projected or Potential Sales
Current Valuation
Within this article, I will be focusing on the aforementioned bullet points of TG Therapeutics (NASDAQ:TGTX) and provide a rationale of why I believe upon expected data, TGTX has the potential to double in share price based on current valuation.
Company Overview (Source: TG Therapeutics company website)
"In early 2012, TG Therapeutics became a majority-owned subsidiary of Manhattan Pharmaceuticals, which changed its name to TG Therapeutics subsequent to a reverse merger as the result of a spinoff from LFB Biotechnologies (minority stake) in December 2011 to focus on Ublituximab for the treatment of various B-cell proliferative disorders.

LFB Biotechnologies is a wholly owned subsidiary of LFB (a privately held large cap French biopharmaceutical company) that focuses on the group's R&D and biotech activities in two core areas: mAbs and technological innovations in biomanufacturing. GTC Biotherapeutics is a wholly owned subsidiary of LFB Biotechnologies that develops, supplies, and commercializes therapeutic proteins produced through transgenic animal technology.

TG Therapeutics is an innovative, clinical-stage biopharmaceutical company focused on the acquisition, development and commercialization of medically important pharmaceutical products for the treatment of cancer and other underserved therapeutic needs. Currently, the company is developing two therapies targeting hematological malignancies. TG-1101 (Ublituximab) is a novel, glycoengineered monoclonal antibody that targets a specific and unique epitope on the CD20 antigen found on mature B-lymphocytes. TG Therapeutics is also developing TGR-1202, an orally available PI3K delta inhibitor. The delta isoform of PI3K is strongly expressed in cells of hematopoietic origin and is believed to be important in the proliferation and survival of B-lymphocytes. Both TG-1101 and TGR-1202 are in clinical development for patients with hematologic malignancies. TG Therapeutics is headquartered in New York City and is traded on NASDAQ under the ticker symbol "TGTX"."
Management Team (Source: TG Therapeutics company website)
Michael S. Weiss, Executive Chairman, Interim President and Chief Executive Officer
"Michael S. Weiss has served as the Company's Executive Chairman, and interim President and CEO since December 2011. Mr. Weiss is currently a director of the Company. Mr. Weiss is a co-founder of, and has been a managing partner and principal of Opus Point Partners since 2008. Mr. Weiss earned his J.D. from Columbia Law School and his B.S. in Finance from The University at Albany. He began his professional career as a lawyer with Cravath, Swaine & Moore. In 1999, Mr. Weiss founded Access Oncology which was later acquired by Keryx Biopharmaceuticals (NASDAQ: KERX) in 2004. Following the merger, Mr. Weiss remained as CEO of Keryx and grew the company to close to a $1BB market capitalization company at its peak. While at Keryx, he raised over $150MM in equity capital through public and private offerings, executed a $100MM+ strategic alliance, negotiated multiple Special Protocol Assessments (NYSE:SPA) agreements with the FDA and managed multiple large clinical trials."
If anyone happens to notice TGTX taking a very similar path to PCYC, this article by Ben Fidler last year sheds some light on why it's no coincidence. Around social media you will find numerous posters claiming their company will be the next PCYC, but unless those companies actually have a CEO who goes on record stating it is his/her mission to become the next PCYC, I wouldn't put too much faith into those types of aspirations. What I find ironic about TGTX and Michael Weiss is not only do they have the determination to become the next PCYC, but have actually entered the same field and are running multiple combination trials with PCYC's flagship drug Imbruvica. Irony or intent? This author's vote is with intent.
Also, this video interview with Michael Weiss gives an explanatory overview of where his thought process is in taking TGTX to new heights and the need for a partner versus going it alone the way of Celgene and Gilead Sciences.
Sean A. Power, Chief Financial Officer
"Sean A. Power, CPA has served as the Company's Chief Financial Officer since December 2011 and currently serves as the CFO of Opus Point Partners. Mr. Power joined the Company from Keryx Biopharmaceuticals, Inc., where he served as Corporate Controller from 2006 to 2011. During his tenure there, Mr. Power was involved in all capital raising and licensing transactions. He was also responsible for leading Keryx's compliance with Securities and Exchange Commission rules and regulations. Prior to joining Keryx, he was with KPMG, LLP, independent certified public accountants, where he served as a senior associate. Mr. Power received a BBA in accounting from Siena College and is a member of the American Institute of Certified Public Accountants."
Robert Niecestro, PhD., Executive Vice President, Clinical & Regulatory
"Robert Niecestro, PhD. has served as the Company's Executive Vice President, Clinical and Regulatory since December 2011. Dr. Niecestro is an experienced professional in the pharmaceutical industry with approximately 26 years of experience in regulatory affairs, and project management. Dr. Niecestro was the Vice President of Clinical and Regulatory Affairs for Keryx Biopharmaceuticals, Inc., where among other things he successfully negotiated six SPA agreements with the FDA. He has previously held numerous senior management positions including serving as Vice President of Clinical Development for Andrx Laboratories, Senior Director, Clinical Development and Therapeutic Head for Gastrointestinal, Oncology and Stroke at Eisai Inc. and as Director, Clinical Operations and NDA Planning for Organon Inc. While at Andrx, Dr. Niecestro was part of the team that developed the following approved drugs: extended-release metformin, extended-release lovastatin and valproic acid. At Eisai Dr. Niecestro played a pivotal role in the development and commercialization of Aciphex™ (rabeprazole sodium), the post-NDA program for Aricept™ (donepezil sodium), and started both the oncology and neurology franchises in the United States; and while at Organon was part of the team that developed and commercialized the following drugs: Zemuron™ (rocuronium bromide), Orgaran™ (danaparoid sodium), Humegon™ (FSH/LH), Follistim™ (recombinant FSH beta), and one birth control pill (Mircette™). Dr. Niecestro has been involved in the filing of over 45 Investigational New Drug (NYSE:IND) applications, has over 60 peer-reviewed publications and holds three patents. Dr. Niecestro completed his graduate and post-graduate work at the University of Illinois at Chicago."
Each of the members of the management team came to TG Therapeutics upon its inception in December 2011 and all came from Keryx Pharmaceuticals where they had worked together for several years. Another item to point out that is critical to company success is the experience of Dr. Niecestro. I have witnessed numerous CRLs issued by the FDA recently for inexperienced companies making mistakes by either not properly designing and conducting the clinical trials or not properly completing and submitted the NDA. It is imperative that a company have an experienced management team when completing these activities. Mr. Weiss has also proven how valuable his expertise is with regards to SPA submission as the FDA granted approval much faster than anticipated which I will detail in greater length later in this article.
Analyst Coverage of TGTX
Roth Capital is the most recent analyst covering TGTX to provide comments following the release of ASH abstracts and Q3 Earnings Report. Roth maintains a Buy rating / focus pick and PT of $25. Their article can be found here.
Brean Capital analyst Jonathan Aschoff maintained a Buy rating on TG Therapeutics with a $22 price target, following the company's third quarter financial results and update on its pipeline.
Expect further analyst coverage and raises in price targets subsequent to the ASH Conference December 6-9.
Ownership in TGTX
Outstanding Primary Shares: 44M
37% Institutional
21% Insiders
8% *Short
(SOURCE: Schwab)
*As of 10/31/14
Insider buy and sell activity has seen 8 buys and 0 sells over the past 12 months which equated to 634k shares bought and 0k shares sold.
(SOURCE: NASDAQ)
TGTX Pipeline Overview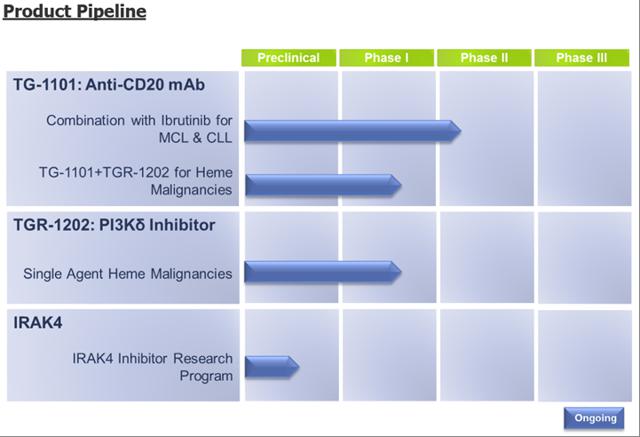 (Source: TG Therapeutics company website)
*NOTE: The pipeline graphic above is not a current reflection of overall status as the progress of TG-1101 and TGR-1202 are farther along in clinical development than what is shown.
The Indications
CLL (Chronic Lymphocytic Leukemia) is essentially a blood and bone marrow cancer caused by too many blood stem cells becoming abnormal lymphocytes and do not become healthy white blood cells and is one of the most common types of leukemia in adults. Refractory chronic lymphocytic leukemia is cancer that does not get better with treatment and relapsed chronic lymphocytic leukemia is cancer that returns after initial treatment. Most CLL patients eventually relapse following treatment. The market size for CLL is expected to grow to 3.3B by 2018.
MCL (Mantle cell lymphoma) is an unusual type of B-cell NHL that may be either fast or slow growing. It most often affects men over the age of 60. The disease is called "mantle cell lymphoma" because the tumor cells originally come from the "mantle zone" of the lymph node. MCL is usually diagnosed at an advanced stage when it may have already spread to the spleen and lymph nodes as well as the gastrointestinal tract and bone marrow.
Although MCL usually responds well to initial treatment, patients often relapse within a few years. For patients who relapse (disease returns after treatment) or become refractory (disease does not respond to treatment), secondary therapies may be successful in providing another remission.
Here is a webcast presented by Michael E. Williams, MD (2012) detailing some of the drugs available and in development in 2012, including Ibrutinib. He goes on to explain the side effects of some of these drugs and why that is an important aspect when treating patients with MCL.
NHL "(Non-Hodgkin's lymphoma) is a type of cancer that originates in the lymphatic system. It is estimated to be the sixth most common cancer in the United States. The lymphatic system is part of the body's immune system and helps fight infections and other diseases. In addition, the lymphatic system filters out bacteria, viruses, and other unwanted substances." The market size for all B-Cell NHL is expected to grow to 5.4B by 2018.
The above indications are only a sample set of all indications for which TGTX will have in the clinic.
TGTX Product Development
TG-1101 (Ublituximab)
From the TG Therapeutics company website, "Ublituximab is a monoclonal antibody that targets a unique epitope on the B-lymphocyte CD20 antigen. Ublituximab has been bioengineered to deliver enhanced clinical activity and potency. Developed for the treatment of B-cell proliferative disorders, including Non-Hodgkin's Lymphoma ("NHL") and Chronic Lymphocytic Leukemia ("CLL"), anti-CD20 antibodies target and aid in the depletion of B-lymphocytes. Anti-CD20 antibodies have also been shown to be effective in treating select autoimmune diseases such as Rheumatoid Arthritis ("RA") and Systemic Lupus Erythematosus ("SLE"), along with the neurological disorder Multiple Sclerosis ("MS")."
TGTX came into possession of TG-1101 via the following Press Release:
"In April 2011, TG acquired from LFB Biotechnologies, a fully owned subsidiary of France based LFB S.A., an option (the "License Option") for exclusive worldwide rights (except France/Belgium) to develop and market Ublituximab ("LFB-R603"), a monoclonal antibody that targets a specific epitope on the B-cell lymphocyte CD20 antigen.

On January 30, 2012, TG Therapeutics exercised the License Option and entered into a license agreement with GTC Biotherapeutics, Inc., LFB Biotechnologies S.A.S. ("LFB"), and LFB/GTC LLC, all wholly-owned subsidiaries of LFB Group. In connection with the license agreement, TG Therapeutics issued 7,368,000 shares of its common stock to LFB, and the Company agreed to contribute $15 million, less applicable fees and expenses associated with the financing, to TG Therapeutics to fund the development of Ublituximab under the license agreement, in exchange for 7,500,000 shares of TG Therapeutics common stock.

In addition, in connection with the issuance of 7,368,000 TG Therapeutics shares, the Company and TG Therapeutics provided LFB Group, the option to, in its sole discretion, elect to convert all, and not less than all, of the TG Therapeutics' shares into 828,900 shares of Manhattan's Series A Preferred Stock, $0.001 par value per share. Each share of Manhattan preferred stock shall be convertible into 500 shares of Manhattan's common stock, $0.001 par value per share, in accordance with the terms of the Series A Preferred Stock Certificate of Designation filed with the Secretary of State of the State of Delaware on December 29, 2011. In addition, should Manhattan have sufficient common stock authorized and available for issuance at the time the Purchaser elects to convert, then Purchaser will receive such number of shares of Manhattan Common Stock into which the Manhattan Preferred Stock is then convertible. This option may be exercised by LFB Group at any time within 60 days of the filing of Manhattan's Annual Report on Form 10-K for the year ended December 31, 2011."
To date, we have seen several milestones and achievements with TG-1101 including most recently a Special Protocol Assessment (SPA) Agreement with the FDA for its first Phase 3 clinical trial of TG-1101 (Ublituximab) in combination with Imbruvica (ibrutinib) for patients with previously treated Chronic Lymphocytic Leukemia. According to Mr. Weiss' Q3 ER Conference Call,
"this Phase 3 trial is expected to begin enrollment within a week or 2 and will become eligible for accelerated approval upon enrollment completion in 18 to 24 months, but most likely closer to 18 months. This registration trial has a high probability of success based on historical data of TG-1101 and Imbruvica in high risk CLL."
I would also expect a Breakthrough Therapy Designation to be granted by the FDA to this trial if TGTX applies for such a designation. The initial Phase 3 trial by Pharmacyclics in Imbruvica for this indication was granted this designation.
The ASH Abstract for TG-1101 plus Imbruvica Combination Therapy has provided some great results so far and we will see the full Phase 2 data set presented at the ASH conference later in the evening on December 8th. This also coincides with a webcast that TG Therapeutics and the lead investigators will be hosting from 7:45PM to 9:00PM PST (10:45PM to Midnight Eastern Time).
Below is the chart pulled from the abstract, which shows very favorable activity in the trial at the time the abstract was submitted in August. At that time 24 patients were evaluable for response, comprised of 18 CLL patients and of those 18, 8 were high risk. This high-risk group (17p/11q) is the target population of the Phase 3 study that will begin enrollment and all 8 patients in the table below had an ORR with 1 achieving a CR. What I find interesting is although the MCL group only had 6 evaluable patients, half of them achieved a complete response. Going forward, it will be of particular interest to see how that correlates when the number of patients is increased in further studies, but it surely denotes strong activity even with such a low number of patients. Remember, Bluebird Bio has garnered a lot of attention with a very small number of patients, one to be exact. At ASH, next month, the data contained in the abstract will be updated and will report safety and efficacy on in excess of 35 CLL patients, many with high-risk cytogenetics (17p/11q).
TG-1101+Imbruvica ASH Abstract Data
Type

Pts (#)

CR

PR

SD

ORR (%)

CLL non 17p/11q

10

-

9

1

90%

17p/11q

8

1

7

-

100%

Total CLL

18

1

16

1

94%

MCL

6

3

2

1

83%
For reference (and the likely reason for Phase 3 success), Imbruvica as a monotherapy in CLL achieved a roughly 60% ORR per published data and the data presented in the product label. There are not many publically traded biopharmaceutical companies with a market cap less than 700M going into a Phase 3 where one can find themselves with such a high confidence level of a positive outcome such as TGTX.
The safety profile of TG-1101 is another aspect not to be overlooked, especially when used in combination therapy. I will detail the safety profiles of TG-1101 and TGR-1202 a little later in this article.
TG-1101 is also in a clinical trial as a combination therapy with TGR-1202, as a triple therapy combination with TGR-1202 and Imbruvica. Updated data from these studies will also be presented at ASH and contained within this ASH Abstract. With regards to this "chemo-free" triple combination therapy, below is an excerpt from Mr. Weiss on the Q3 Earnings Call:
"So the theory of worry comes from originally from the Gilead study, where they tried idelalisib plus a Syk inhibitor. They put the two piece together, they had very high-levels of liver-tox. They have a baseline high-level of liver-tox with idelalisib to begin with. This Syk inhibitor I don't think it's mechanistic. So again I think just from clinical property standpoint, I don't think it is the fact that they're walking with B-cell receptor pathway from two ways that they had aggregated liver-tox.

Again, each drug and each chemical is different. And I am sure there's also been, obviously there is new concerns that were raised when I guess they just presented some triple data in abstract form on idelalisib, Rituxan plus lenalidomide Revlimid that too was highly toxic. I think three patients ended up in the ICU. There were four DLTs in the first day patients, so they discontinued that triple therapy.

So again, I think that finding the right triple therapy is a little bit of challenge, and it's partially the mechanisms and partially it's going to be the actual agents themselves and their underlying toxicity profile that's off-target. And again, thus far with TG-1101, TGR-1202, we've seen a very nice profile. We think it's a great backbone for additional triple therapy."
Moving away from chemotherapy is key in any oncology setting. Having lost a mother to Breast Cancer in 2001, I vividly recall and personally witnessed the horrible side effects of chemotherapy. Any improvements to move away from chemotherapy would be a huge success so long as the efficacy can be maintained. There will only be a handful of patients available for the ASH conference from this triple arm combination, but all eyes will be on the efficacy and safety data presented as it will be the first time anyone has combined a BTK Inhibitor with a PI3K-Delta Inhibitor. And I suspect that this is going to be the data set that may just steal the show at this year's ASH conference and provide a price inflection for shareholders that will force analysts to substantially increase their respective price targets.
TGR-1202
From the TG Therapeutics company website, "TGR-1202 (formerly known as RP5264) is an orally available PI3K delta inhibitor, targeting the delta isoform with nanomolar potency and several fold selectivity over the alpha, beta, and gamma isoforms of PI3K. The delta isoform of PI3K is strongly expressed in cells of hematopoietic origin and is believed to be important in the proliferation and survival of B-cell lymphocytes. Inhibition of PI3K delta signaling with TGR-1202 has demonstrated robust activity in numerous pre-clinical models and primary cells from patients with hematologic malignancies."

A TG Therapeutics press release on 9/23, "announced that it has exercised its option to license the global rights to TGR-1202, the Company's novel, next generation PI3K-delta inhibitor from Rhizen Pharmaceuticals, S A ("Rhizen"). The Company and Rhizen have to date been jointly developing TGR-1202 in a 50:50 joint venture. Given the successful development of TGR-1202, TG Therapeutics elected an early exercise of the Company's license option.

In exchange for the global license, Rhizen will receive a one-time, upfront cash payment of $4.0 million and approximately 370,000 shares of TG Therapeutics' common stock. TG Therapeutics will receive exclusive worldwide rights, excluding India, for the development and commercialization of TGR-1202 for all indications. Rhizen will be eligible to receive regulatory filing, approval and sales based milestones in the aggregate of approximately $240 million, and tiered royalties based on net sales."

Michael S. Weiss, Executive Chairman and Interim Chief Executive Officer of TG Therapeutics, stated, "The development of TGR-1202 in partnership with Rhizen has progressed very rapidly to date, having entered the clinic less than two years ago and now being prepared for Phase 3 clinical trials. We continue to be impressed by the clinical activity observed thus far, and coupled with a once-a-day dosing and lack of observed hepatotoxicity, we believe TGR-1202 possesses best-in-class attributes. We believe the activity, safety and tolerability profile make TGR-1202 well-suited for both single agent development as well as in our novel combination regimens." Mr. Weiss continued, "The early exercise of our license option will allow us greater strategic flexibility and speed in advancing the development of TGR-1202. We thank Rhizen for their ongoing support in our successful collaboration and look forward to continuing our relationship as we seek to develop much needed therapies for patients suffering from hematologic malignancies."
To extend along the lines of Mr. Weiss' statements, TGR-1202 is a potent PI3K Delta Inhibitor and what makes it best in class is its safety profile to date without giving up its potency. An article by Howard A. Burris III, MD who is the lead investigator for the P1/P2 TGR-1202 monotherapy study in patients with CLL and B-Cell Lymphoma details his experience with TGR-1202 and also offers his insight into TG-1101 as well. Dr. Burris will be presenting this ASH abstract titled "TGR-1202, a Novel Once Daily PI3Kδ Inhibitor, Demonstrates Clinical Activity with a Favorable Safety Profile, Lacking Hepatotoxicity, in Patients with Chronic Lymphocytic Leukemia and B-Cell Lymphoma."
The abstract above is expected to contain updated data at the ASH Conference as per Mr. Weiss' comments during the Q3 Conference Call:
"Our final ASH presentation will be a poster, updating the Phase 1/2 single-agent dose escalation study of TGR-1202, our next-generation once daily PI3K-delta inhibitor, in patients with relapsed or refractory hematologic malignancies. The study is being led by Dr. Howard Burris, MD, from the Sarah Cannon Research Institute.

While the ASH abstract released last week did not include much more data than presented at EHA in June, at ASH we expect to have approximately 40 patients across multiple B-cell malignancies available for efficacy, including approximately 15 CLL patients. Dose escalation continues into a single-agent study of TGR-1202, now a 1,200 milligrams once per day of the micronized formulation in the fed-state and we still have not yet hit a maximum tolerated dose.

On the safety standpoint, TGR-1202 has been well-tolerated to date with no dose related trends and adverse events observed, no MTD reached to date and limited grade 3 events. Importantly, of more than 50 patients treated date, no drug-related hepatic toxicity or colitis has been observed with a number of patients on daily TGR-1202 now over one year and some patients on TGR-1202 even out for one-and-a-half years. Recall those toxicities, hepatic toxicity and colitis have been problematic for other PI3K-delta inhibitors and specifically were included in the black box warning to be only approved PI3K-delta inhibitor idelalisib."
TGTX is also currently running a combination PI/PIb trial with their PI3K Delta Inhibitor TGR-1202 + Seattle Genetics' brentuximab vedotinin with patients who have relapsed / refractory Hodgkin's Lymphoma. Results are due around April / May 2015. And just released yesterday, 12/1/14, TGTX will be initiating another combination PI/PIb trial of TGR-1202 + Imbruvica in collaboration with Blood Cancer Research Partnership (BCRP) and Dana-Farber Cancer Institute (DFCI), Boston, MA.
IRAK4
I'll touch briefly on the IRAK4 Inhibitor as it is in pre-clinical development, but is expected to be in the clinic by the 2nd half of 2015.
From the company website, "Interleukin-1 Receptor Associated Kinase 4, referred to as IRAK4, is a key signaling kinase that becomes inappropriately activated in tumors that carry certain oncogenic mutations of MYD88, which can be found in most patients with Waldenström's Macroglobulinemia, a rare B-cell cancer, as well as in a sub-set of patients with Non-Hodgkin's Lymphoma and Chronic Lymphocytic Leukemia. Additionally, IRAK4 is a key component of signaling pathways which regulate immune and inflammatory processes suggesting that inhibition of IRAK4 may also be useful in the treatment of autoimmune related disorders."
An overview of the program via Ligand PowerPoint presentation can be found here. The presentation demonstrates a first in class agent with a broad portfolio of indications in oncology and auto-immune diseases. This will complement the TGTX portfolio quite nicely in the years to come. Please note when I calculate fair valuation for TGTX later in the article, I will not be including the IRAK4 inhibitor as we do not yet have any clinical data to appropriate a dollar value or any specific indications to gauge a market share. However, this program does have the potential to drive substantial valuation in the coming years.
The Competition and "Co-opetition"
The competitors in the blood cancer space are quite numerous and formidable, but many have serious side effects and most carry Black Box Warnings.
Within this section, I will review the following FDA approved drugs:
Rituxan by Roche (OTCQX:RHHBY)
Gazyva by Roche
Zydelig by Gilead Sciences (NASDAQ:GILD)
Arzerra by GlaxoSmithKline (NYSE:GSK)
Imbruvica by Pharmacyclics (NASDAQ:PCYC)
I will also review the following drugs in clinical development as they have demonstrated potency in the clinic:
ABT-199 by AbbVie (NYSE:ABBV)
IPI-145 by Infinity (NASDAQ:INFI)
AG-120 and AG-221 by Agios (NASDAQ:AGIO)
Rituxan (Roche) - Anti-CD20 Monoclonal Antibody
Rituxan (rituximab) "is an injectable anti-CD20 monoclonal antibody used in the treatment of NHL, CLL, Rheumatoid Arthritis, for Granulomatosis with Polyangiitis (GPA) (formerly known as Wegener's Granulomatosis) and Microscopic Polyangiitis (MPA)."
It has been a blockbuster drug for Roche over the years, ranking #6 on the best selling drugs list of 2013 bringing in roughly 7.4B in sales. Rituxan was first approved in 1998 and its patent is set to expire in 2018 in the U.S. and expired last year in the EU. However, Roche was prepared for this event and developed a next generation anti-CD20 monoclonal antibody called Gazyva.
As demonstrative as Rituxan has been over the last decade and a half, it is not without its flaws. The FDA issued a boxed warning for it in 2013 in patients with prior HBV infection, HBV reactivation may occur when the body's immune system is impaired. This addendum is in addition to the original FDA boxed warning below:
"WARNING: FATAL INFUSION REACTIONS, TUMOR LYSIS SYNDROME (TLS), SEVERE MUCOCUTANEOUS REACTIONS, and PROGRESSIVE MULTIFOCAL LEUKOENCEPHALOPATHY (PML)

See full prescribing information for complete boxed warning.

• Fatal infusion reactions within 24 hours of Rituxan infusion occur; approximately 80% of fatal reactions occurred with first infusion. Monitor patients and discontinue Rituxan infusion for severe reactions (5.1).

• Tumor lysis syndrome (5.2).

• Severe mucocutaneous reactions, some with fatal outcomes (5.3).

• PML resulting in death (5.4)."
Throughout the course of this section, side effects and boxed warnings will become a theme of currently approved drugs in the space, alongside combination therapy. Until just recently, most combination drugs were used with chemotherapies. Rituxan being no exception, whether it be in a front line setting or a relapsed setting. I won't go into much detail regarding the ORR, CR, PR or MRD statistics for Rituxan, but will broach the subject within the Gazyva section as it is now the superior FDA approved anti-CD20 monoclonal antibody on the market. Many companies are still conducting clinical trials in combination with Rituxan, including Pharmacyclics running a combo trial with Imbruvica, but with Rituxan going off-patent, bio-similars coming on the market and Gazyva demonstrating clear superiority, I am unclear to the rationale behind such endeavors.
Gazyva (Roche) - Anti-CD20 Monoclonal Antibody
Roche's next generation injectable anti-CD20 monoclonal antibody Gazyva (obinutuzumab) when used in combination with chlorambucil chemotherapy has demonstrated highly statistically significant results versus chlorambucil chemotherapy alone. Gazyva also showed impressive results in a 663 patient study with "patients who received Gazyva plus the chemotherapy drug chlorambucil on average went 26.7 months without their disease worsening, a measure known as progression free survival, or PFS. That compared with 15.2 months for previously untreated patients who took Rituxan and chlorambucil," according to data announced by the Swiss company. The safety profile of Gazyva is similar to that of Rituxan as it carries a near identical boxed warning.
TGTX is currently running a combination Phase I/Ib trial with their PI3K Delta Inhibitor TGR-1202 + Gazyva + chlorambucil in CLL. Results are anticipated to be presented at ASCO 2015.
Analysts are predicting peak sales for Gazyva between 1.5B and 2.5B, which falls far short of the 7B in sales seen by Rituxan. But, it must be taken into consideration that Rituxan has been on the market since 1998 and is FDA approved for numerous indications. I suspect Gazyva will eventually be approved in numerous indications as time progresses.
Zydelig (Gilead Sciences) - PI3K Delta Inhibitor
Zydelig (idelalisib) is Gilead Sciences PI3K Delta Inhibitor that was FDA approved this past July. It has been approved for CLL, SLL and FL, all in the relapsed setting. "The CLL approval is in combination with Rituxan and the SLL and FL indications are based on an accelerated approval and is intended to be used in patients who have received at least two prior systemic therapies."
Zydelig carries a Black Box Warning alerting patients and healthcare professionals of fatal and serious toxicities including liver toxicity, diarrhea and colon inflammation (colitis), lung inflammation (pneumonitis) and intestinal perforation that can occur in Zydelig-treated patients. "Zydelig is also being approved with a Risk Evaluation and Mitigation Strategy (REMS) comprised of a communication plan to ensure healthcare providers who are likely to prescribe Zydelig are fully informed about these risks."
Zydelig Black Box Warning:
"WARNING: FATAL AND SERIOUS TOXICITIES: HEPATIC, SEVERE DIARRHEA, COLITIS, PNEUMONITIS, and INTESTINAL PERFORATION

See full prescribing information for complete boxed warning.

• Fatal and/or serious hepatotoxicity occurred in 14% of Zydelig- treated patients. Monitor hepatic function prior to and during treatment. Interrupt and then reduce or discontinue Zydelig. (5.1)

• Fatal and/or serious and severe diarrhea or colitis occurred in 14% of Zydelig-treated patients. Monitor for the development of severe diarrhea or colitis. Interrupt and then reduce or discontinue Zydelig. (5.2)

• Fatal and serious pneumonitis can occur in Zydelig-treated patients. Monitor for pulmonary symptoms and bilateral interstitial infiltrates. Interrupt or discontinue Zydelig. (5.3)

• Fatal and serious intestinal perforation can occur in Zydelig- treated patients across clinical trials. Discontinue Zydelig if intestinal perforation is suspected. (5.4)

Common side effects include diarrhea, fever (pyrexia), fatigue, nausea, cough, pneumonia, abdominal pain, chills and rash. Common laboratory abnormalities include decreased levels of white blood cells (neutropenia), high levels of triglycerides in the blood (hypertriglyceridemia), high blood sugar (hyperglycemia) and elevated levels of liver enzymes."

From the Gilead Sciences press release, "Most patients who received Zydelig plus Rituxan had an overall response (ORR 81%) compared with 13 percent of patients who received a Rituxan plus placebo. Both of these differences were statistically significant. PFS was 10.7 months for the Zydelig + Rituxan arm compared with 5.5 months for Rituxan alone. These results were also statistically significant."
Analyst ranges for annual sales predictions come in at between 1.2B to 1.7B. Gilead seems to have struck gold with the 600M acquisition of privately held Calistoga Pharmaceuticals in 2011. The then to become Zydelig was in Phase 2 trials at the time of acquisition.
Arzerra (GlaxoSmithKline) - Anti-CD20 Monoclonal Antibody
Arzerra (ofatumumab) is an anti-CD20 monoclonal antibody that was granted accelerated approval by the FDA in 2009 for treating CLL patients that are refractory to fludarabine and alemtuzumab (Campath). Arzerra gained full approval in April 2014 subsequent to a confirmatory study based on PFS. All approvals are in combination with chlorambucil. PFS for patients receiving Arzerra in combination with chlorambucil was 22.4 months, compared with 13.1 months for patients receiving single-agent chlorambucil.
And as is with all the drugs in review so far, Arzerra has its Black Box Warning and side effects:
"WARNING: HEPATITIS B VIRUS REACTIVATION AND PROGRESSIVE MULTIFOCAL LEUKOENCEPHALOPATHY

• Hepatitis B Virus (HBV) reactivation can occur in patients receiving CD20-directed cytolytic antibodies, including ARZERRA, in some cases resulting in fulminant hepatitis, hepatic failure, and death [see Warnings and Precautions (5.2)].

• Progressive Multifocal Leukoencephalopathy (PML) resulting in death can occur in patients receiving CD20-directed cytolytic antibodies, including ARZERRA [see Warnings and Precautions (5.4)]."
In a head to head study with patients with relapsed or refractory chronic lymphocytic leukemia (CLL) or small lymphocytic lymphoma (SLL), Arzerra was no match for Imbruvica. Imbruvica handily won in each of the categories and also carries a much better safety profile. Arzerra is a competitor in the blood cancer space, but is really of no concern to Imbruvica or TGTX.
Sales of Arzerra totaled only $95m in 2012, and analysts following Glaxo expect 447M in 2018, consensus shows. I find it difficult for GSK to pull in those kinds of numbers with Imbruvica on the market and the likes of drugs like TGTX behind it.
Imbruvica (Pharmacyclics) - Bruton's Tyrosine Kinase Inhibitor
From the Pharmacyclics company website, "Imbruvica (ibrutinib) was first designed and synthesized at Celera Genomics by Zhengying Pan, who along with a team of chemists and biologists reported in 2007 a structure-based approach for creating a small molecule that inactivated BTK through covalent binding to cysteine-481 near the ATP binding domain of BTK. This compound irreversibly inhibited BTK by using a Michael acceptor for binding to the target cysteine. In April 2006, Pharmacyclics acquired Celera's small molecule BTK inhibitor discovery program, including the compound known as PCI-32765, which was subsequently chosen for further preclinical development based on the discovery of anti-lymphoma properties in vivo.

Imbruvica (ibrutinib) is an oral Bruton's tyrosine kinase (BTK) inhibitor for the treatment of mantle cell lymphoma and chronic lymphocytic leukemia. Imbruvica has received approval from the FDA for Mantle cell lymphoma (MCL) who have received at least one prior treatment, chronic lymphocytic leukemia (CLL) who have received at least one prior treatment and chronic lymphocytic leukemia (CLL) with 17p deletion. These approvals are based on a relapsed / refractory setting. However, Imbruvica is currently in several clinical trials being studied as a combination therapy with Rituxan and chemo-therapy in a front line setting for various hematological malignancies."
The pipeline below taken from the company website illustrates the various indications in the hematological oncology field including chronic lymphocytic leukemia, mantle cell lymphoma, diffuse large b-cell lymphoma, multiple myeloma, follicular lymphoma and waldenström's macroglobulinemia. A search of the U.S. National Institutes of Health clinicaltrials.gov website shows 75 different studies of Imbruvica (ibrutinib) that have been registered. Imbruvica is also now being entered into Phase 1 studies in autoimmune disorders as they share a common link with hematological malignancies.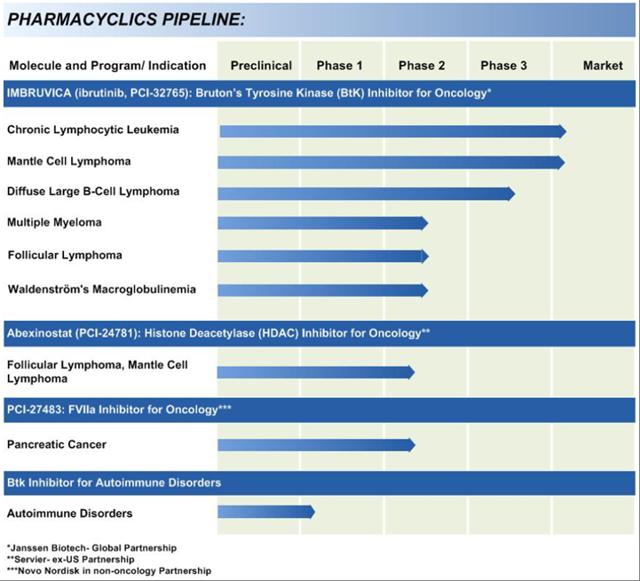 (Source: Pharmacyclics company website)
Numerous clinical studies have shown Imbruvica to be an effective and relatively safe method of treating hematologic malignancies. To date, it is the only FDA approved drug without a Black Box Warning in these indications. With that kind of safety profile, it allows Imbruvica to run numerous studies as a combination therapy without worry of compounded toxicity. That safety profile is what makes Imbruvica so special and why analysts see peak sales between 4B and 9B for Imbruvica.
It's safe to say at this point that Imbruvica is a best in class (FDA approved) drug. I believe it is also safe to say the FDA agrees, having given the drug multiple BTDs (Breakthrough Therapy Designations), AAs (Accelerated Approvals) and Priority Reviews. I will review later in this article, through a comparison analysis, the similarities and differentials between Imbruvica and TGTX drugs as it relates to efficacy and safety.
Imbruvica may be best in class, but it is not without side effects. At this time, Imbruvica does not carry a Black Box Warning, but hemorrhagic (bleeding) events appear to be a slight concern, especially since the reason is unknown. Grade 3 or higher bleeding events (subdural hematoma, gastrointestinal bleeding, hematuria, and post-procedural hemorrhage) have occurred in up to 6% of patients. Bleeding events of any grade, including bruising and petechiae, occurred in approximately half of patients treated with Imbruvica. All other warnings and adverse events include infections (fatal and non-fatal), cytopenias, atrial fibrillation, second primary malignancies and embryo-fetal toxicity. A detail of adverse events from the Phase 3 study can be found below:
"MCL - The most common adverse reactions (≥20%) in the clinical trial were thrombocytopenia*, diarrhea (51%), neutropenia*, anemia*, fatigue (41%), musculoskeletal pain (37%), peripheral edema (35%), upper respiratory tract infection (34%), nausea (31%), bruising (30%), dyspnea (27%), constipation (25%), rash (25%), abdominal pain (24%), vomiting (23%), and decreased appetite (21%). *Treatment-emergent decreases (all grades) of platelets (57%), neutrophils (47%) and hemoglobin (41%) were based on laboratory measurements and adverse reactions.

The most common Grade 3 or 4 non-hematological adverse reactions (≥5%) were pneumonia (7%), abdominal pain (5%), atrial fibrillation (5%), diarrhea (5%), fatigue (5%), and skin infections (5%). Treatment-emergent Grade 3 or 4 cytopenias were reported in 41% of patients.

Ten patients (9%) discontinued treatment due to adverse reactions in the trial (N=111). The most frequent adverse reaction leading to treatment discontinuation was subdural hematoma (1.8%). Adverse reactions leading to dose reduction occurred in 14% of patients.

Fatal and serious cases of renal failure have occurred. Increases in creatinine 1.5 to 3 times the upper limit of normal occurred in 9% of patients.

CLL - The most common adverse reactions (≥20%) in the clinical trials were thrombocytopenia (56%), neutropenia (51%), diarrhea (51%), anemia (37%), fatigue (28%), musculoskeletal pain (28%), upper respiratory tract infection (28%), rash (26%), nausea (25%), and pyrexia (24%). Approximately 5% of patients receiving IMBRUVICA® discontinued treatment due to adverse events. These included infections, subdural hematomas, and diarrhea. Adverse events leading to dose reduction occurred in approximately 6% of patients."
In reviewing the warnings and adverse events, it is amazing Imbruvica does not carry a Black Box Warning. That gives a very good indication of just how toxic the other drugs are that do carry Black Box Warnings. Remember this when we review the safety profile of TG-1101 and TGR-1202. Investors will also want to keep this in mind when the data sets are presented at the ASH Conference from TGTX. The safety data will be just as crucial as the efficacy data.
This article from David Sobek of TheStreet discusses the landscape of toxicity in blood cancer drugs and how Imbruvica may be favored due to its safety profile.
ABT-199/GDC-0199 (AbbVie/Genentech) - BCL-2 Inhibitor
From the Abbvie company website, "ABT-199/GDC-0199 is a selective inhibitor of B-cell lymphoma-2 (BCL-2). The BCL-2 gene prevents apoptosis of some cells, including lymphocytes and can be highly expressed in cancers in the lymph nodes, spleen and other organs of the immune system. ABT-199 is designed to block the function of the BCL-2 protein by restoring the communication system that tells cancer cells to self-destruct. ABT-199 is in clinical trials for the treatment of patients with chronic lymphocytic leukemia (CLL), small lymphocytic lymphoma (SLL), non-Hodgkin's lymphoma, multiple myeloma and acute myelogenous leukemia (AML). Jointly developed by AbbVie and Genentech, the companies are pioneering BCL-2 research with the investigational compound ABT-199, which is currently in Phase 3 clinical trials for the treatment of relapsed / resistant CLL. The Phase 3 clinical trial is a Study of GDC-0199 (ABT-199) plus MabThera/Rituxan (Rituximab) compared with Bendamustine plus MabThera/Rituxan (Rituximab) in patients with Relapsed or Resistant Chronic Lymphocytic Leukemia. The trial is estimated for completion in August 2018."
In a Phase 1 study, ABT-199 + Rituxan showed promising results. As of April, 105 patients were enrolled in the study. Of the 78 evaluable patients, the overall response rate was 77%, with 23% showing a complete response. Similar efficacy was seen in high-risk patients with the chromosomal abnormality 17p deletion and those with fludarabine-refractory disease.
Nancy A. Melville of Medscape detailed the findings of the Phase 1 clinical trial of ABT-199 in an article published this past June. I can't disagree that the numbers aren't quite impressive. However, I fully disagree regarding the comment in the opening paragraph that the safety profile was strong. Let's examine 2 sentences within the article:
"As of April, 37 study patients had discontinued the drug - 22 had progressive disease, 12 experienced adverse events, 2 proceeded to allogeneic hematopoietic cell transplantation, and 1 required warfarin."
"The drug shows an excellent long-term safety profile, with few patients stopping the drug due to toxicities beyond the first weeks of dosing," Dr. Seymour reported.
Out of 105 patients enrolled in the study, 37 discontinued the drug. This gives a drop-out rate of 35%! Also, if Dr. Seymour is stating that only a few patients are stopping the drug beyond the first weeks of dosing, then this is suggestive that the "long-term" safety profile may not necessarily be that good.
Link to the above article was not functioning properly, but can be found online under a search title "ABT-199 medscape."
At one point, AbbVie suspended ABT-199 clinical trials due to a patient death in the Phase 1 study of ABT-199 + Rituxan. The death was the result of fatal hyperkalemia in the setting of tumor lysis syndrome (TLS) at 1st dose (50mg). The dosing has since been reduced to 20mg at 1st dose, but demonstrates the toxicity of the drug.
A more detailed review of the safety profile witnessed during the Phase 1b trial reveals the following:
"As of Jan 17, 2014, 37 pts were enrolled in 5 cohorts (median age 68, 14/23 F/M) with a median time on study: 4.8 (range 0 - 15.2) months, median number of prior therapies: 2 (range 1 - 5); 9 pts were fludarabine-refractory, 9 R-refractory, and 9 had del(17p). Six pts discontinued: 4 due to PD (3 Richter's transformation, 1 CLL), 1 withdrew consent (WC), 1 due to fatal hyperkalemia in the setting of tumor lysis syndrome (TLS) at 1st dose (50mg). The most common treatment-emergent adverse events (AEs, >25% pts) were neutropenia (43%), nausea (38%), diarrhea (30%). The most common grade 3/4 AEs were neutropenia (43%), thrombocytopenia (16%), and anemia (11%). Two dose limiting toxicities occurred with ABT-199 + R: thrombocytopenia (300mg/375mg/m2) and hemophagocytic syndrome (300mg/500mg/m2). Preliminary PK data suggest a negligible effect of R on ABT-199 exposure. Of 18 pts who have completed combination therapy or discontinued prior to completion, 7 (39%) achieved CR/CRi and 7 (39%) PR, 2PD, 1WC, 1 fatal event."

This data was provided at the 2014 ASCO Meeting.
IPI-145 (Infinity/AbbVie) - PI3K Delta and Gamma Inhibitor
From the Infinity company website, "IPI-145 (duvelisib) is an oral inhibitor of phosphoinositide-3-kinase (PI3K)-delta and PI3K-gamma. The PI3K-delta and PI3K-gamma isoforms are preferentially expressed in leukocytes (white blood cells), where they have distinct and non-overlapping roles in key cellular functions, including cell proliferation, cell differentiation, cell migration and immunity. Targeting PI3K-delta and PI3K-gamma may provide multiple opportunities to develop differentiated therapies for the treatment of blood cancers and inflammatory diseases.

Infinity is currently enrolling patients in DYNAMO™, a Phase 2 study designed to evaluate the activity and safety of IPI-145 in approximately 120 people with refractory indolent non-Hodgkin lymphoma ((iNHL)) and DUO™, a Phase 3 clinical study of IPI-145 in approximately 300 people with relapsed/refractory chronic lymphocytic leukemia (CLL). These studies are supported by Phase 1 data reported at the 2013 American Society of Hematology (ASH) Annual Meeting which showed that IPI-145 was well tolerated and clinically active in a broad range of malignancies, including iNHL and CLL. These studies are part of DUETTS™, a worldwide investigation of IPI-145 in blood cancers.

Infinity is also continuing to explore the broad potential of IPI-145 in the expansion portion of a Phase 1, open-label, study in people with a range of advanced blood cancers.

Additionally, IPI-145 is being studied for the treatment of inflammatory diseases. A Phase 2 study of IPI-145 in approximately 300 adults with rheumatoid arthritis is currently being conducted."
Data from a Phase 1 study demonstrated clinical activity and was generally well tolerated, with a safety profile consistent with co-morbidities seen in patients with advanced hematologic malignancies. However, the efficacy data does not appear to be nearly as strong as other drugs on the market. Nonetheless, Infinity was able to strike an 805M partnership deal with AbbVie for IPI-145 in September for their PI3K delta/gamma inhibitor.
Infinity was conducting a Phase 2a, randomized, double-blind, placebo-controlled study of IPI-145 in approximately 30 people with mild, allergic asthma. However, this study failed on October 16 as the primary endpoint produced a p-value of 0.052.
AG-120 and AG-221 - IDH1 and IDH2 Inhibitors
There has been a lot of excitement in the market surrounding Agios Therapeutics and their IDH1 and IDH2 Inhibitors (AG-120 and AG-221 respectively) as evident by sporting a 3.3B market cap with their lead drugs only at Phase 1/2 in clinical development. The product pipeline below illustrates Agios' development and research programs as well as collaboration signatures with Celgene.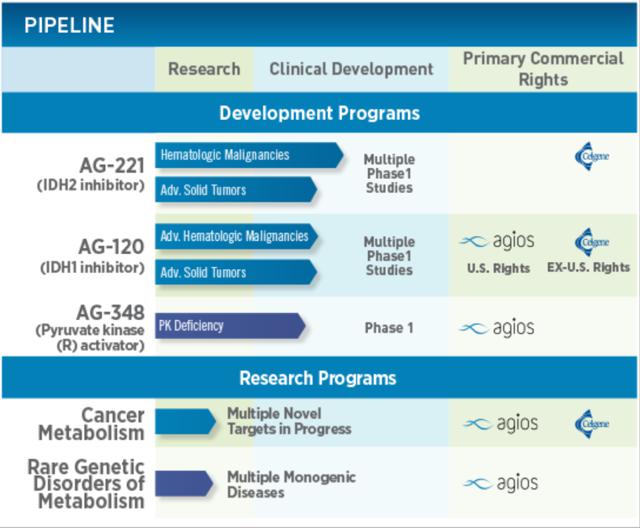 (Source: Agios company website)
From Agios company website, "In April 2010, Agios entered into a global strategic collaboration with Celgene, a leading biotechnology company. The goal of the partnership is to discover, develop and deliver novel disease-altering therapies in oncology, arising out of our cancer metabolism research platform. This critical partnership has allowed Agios to continue to invest aggressively to build the leading research and development effort in the field of cancer metabolism.

Under the terms of the agreement, Agios received a $130 million upfront payment, including an equity investment that comprised the company's Series B financing round. In return, Celgene received an initial period of exclusivity, during which it has the option either upon IND acceptance or at the end of Phase 1 to develop any drugs emerging from Agios' cancer metabolism research. Celgene could also extend this exclusivity period through additional funding. Agios stands to receive significant milestones and royalties from these programs and may also participate in certain U.S. development and commercialization activities.

In October 2011, Celgene and Agios agreed to extend the initial period of exclusivity of the April 2010 collaboration agreement from three to four years, which gives Celgene an exclusive option to drug candidates generated from Agios research. Agios received a $20 million payment from Celgene for this extension. In December 2013, Celgene and Agios agreed again to extend the global strategic collaboration from four to five years, or to April 2015. According to the terms of this extension, Agios received a $20 million payment from Celgene in May 2014. The discovery phase of the collaboration expires in April 2015, subject to Celgene's option to extend the discovery phase for one additional year."
For those keeping score, Agios only received 170M from Celgene since 2010, lead programs in P1/P2, no revenue source and a market cap of approximately 3.6B at the time of this article. Cash and cash equivalents as of 9/30/14 was 237.9M. Of course, fanfare from Jim Cramer can never hurt.
Based on early Phase 1 data, there appears to be strong efficacy in AML with low level toxicity in the safety profile. However, with the AML market only expected to reach 437M by 2017, the market is placing a huge multiplier on Agios and that is even the 100% market share assumption.
I felt the need to include Agios Therapeutics in this article because they do somewhat share the same field (hematology) and it serves as a good example of how the market applies valuation to a company with a potential best-in-class product, even when the product is only initializing P1/P2 clinical trials and has not yet even reached MTD (maximum tolerable dosing). Demonstrated below is the limited clinical activity for Agios' pipeline:
A review of clinicaltrials.gov for AG-120 shows only 2 clinical studies:
"A Phase 1, Multicenter, Open-Label, Dose-Escalation, Safety, Pharmacokinetic, Pharmacodynamic, and Clinical Activity Study of Orally Administered AG-120 in Subjects with Advanced Solid Tumors, Including Glioma, with an IDH1 Mutation1."
"A Phase I, Multicenter, Open-Label, Dose-Escalation, Safety, Pharmacokinetic, Pharmacodynamic, and Clinical Activity Study of Orally Administered AG-120 in Subjects with Advanced Hematologic Malignancies with an IDH1 Mutation including Relapsed/Primary Refractory Acute Myeloid Leukemia (AML) and Recurrent or Refractory Myelodysplastic Syndrome."
And a review of clinicaltrials.gov for AG-221 shows only 3 clinical studies, with 1 not yet recruiting for a food effect study:
"A Phase 1, Two-Way Crossover Study to Assess the Pharmacokinetics and Safety of a Single Dose of AG-221 in Healthy Male Subjects when Administered Under Fed and Fasted Conditions."
"Study of Orally Administered AG-221 in Subjects with Advanced Solid Tumors, Including Glioma, and with Angioimmunoblastic T-cell Lymphoma, with an IDH2 Mutation."
"A Phase 1, Multicenter, Open-Label, Dose-Escalation, Safety, Pharmacokinetic, Pharmacodynamic, and Clinical Activity Study of Orally Administered AG-221 in Subjects with Advanced Hematologic Malignancies with an IDH2 Mutation including Relapsed or Refractory AML Patients, Untreated AML Patients who Decline Standard of Care Chemotherapy and Patients with Other IDH2-mutant Positive Hematologic Malignancies."
Based on the above research, it is evident that Agios is primarily targeting AML with IDH1 and IDH2-mutant positive patients. At this time, Agios and TG Therapeutics are not pursuing the same indications and are not perceived as competition.
Intellectual Property Portfolio
According to the latest 10-Q filing by TGTX,
"the composition of matter patent and several method of use patents for TG-1101 and TGR-1202 in various indications and settings have been applied for but have not yet been issued, and no patents to date have been issued for the IRAK4 inhibitor program."
Patent issuance can be considered milestone events at this time, which can lead to share price inflection upon receipt from the USPTO.
Technical Analysis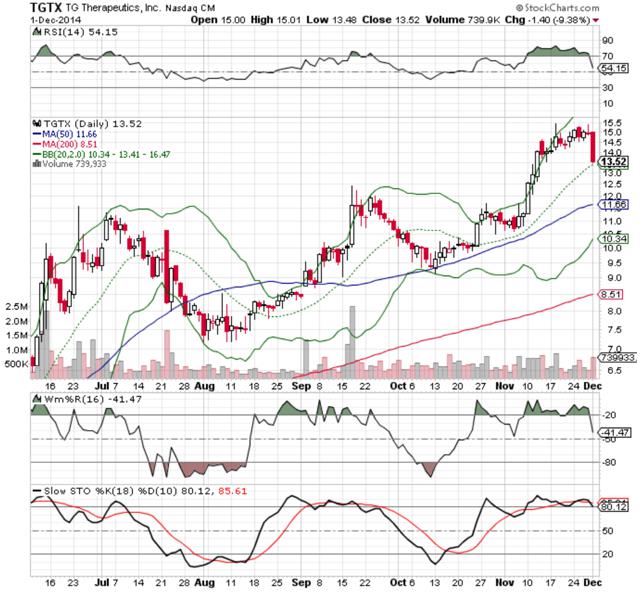 (Source: stockcharts.com)
TGTX is difficult to gauge from a technical analysis perspective as the fundamentals appeared to be driving the technicals as we run into the ASH Conference and imminent data release. Many bloggers have been trading around the price action taking profits and waiting on a pullback for re-entry. Due to the current valuation and price inflection potential upon data release, I did not foresee any major pullback at this price level, but yesterday's "correction" which took TGTX out of over-bought territory has created a great buying opportunity. The upper Bollinger Band has continued to rise and is now beginning to pull the lower and median band up with it. With this being the last week before the ASH conference, I do not expect the price per share to continue its 1 day sell-off.
Entry or addition in TGTX can be made anytime during this week on intraday pullbacks or market/sector weakness.
Analysis and Comparison
Within this section, we will combine the analytical research of data from clinical trials of the current FDA approved drugs on the market in which TGTX is aligned in their respective indications. The focus drugs will consist of Gazyva, Zydelig, and Imbruvica. Rituxan and Arzerra will not be evaluated in this analysis due to initial analyses concluding the 2 anti-CD20 monoclonal antibodies being inferior to that of Gazyva and Imbruvica. Although listed earlier in the article, for convenience I have attached here and here. We will also include the evaluation of ABT-199 as it continues its development through the clinic. IPI-145 (duvelisib) will not be included in the analysis as data is only available as a monotherapy at this time. The analysis will consist of the following efficacy parameters:
Overall Response Rate % (ORR)
Complete Response (CR)
Partial Response (PR)
Stable Disease (SD)
At this time, we are unable to analyze Progression-Free Survival (PFS) and Overall Survival (O/S) as the data from TG-1101 and TGR-1202 has not yet matured to conduct an analysis in these end points.
In regards to safety analysis, we will analyze all reported adverse events regardless of grade and also look at all reported side effects.
Analysis will be comprised of individual data for each drug represented in a table, then a subsequent comparison analysis performed via graphic charting techniques.
Note: The source of the individual data for each drug is the result of combination studies that has been pulled from a variety of sites including clinicaltrials.gov, company press releases and analyst sites. Any and all graphic charts as well as the table have been created by this author to visually demonstrate the superiority of TG-1101, TGR-1202 and any combination thereof as it relates to efficacy and safety shown to date. Also, all individual data is the result of data that has been combined and calculated by this author through the various aforementioned sources. The purpose of evaluating the data in a combination setting is that this is the direction that the field has taken in an effort to produce higher efficacy rates and finding a potential cure in the hematology space. Most combinations have and are running with chemotherapy, but some are moving away from chemo and going with an "all-drug" regimen. So as not to de-value any drug statistics, any monotherapy results have not been used in any calculation, other than Imbruvica. Also, disease type is limited to CLL, MCL, SLL and FC. NHL, DLBCL, HL and Richter's would skew data points lower in these more difficult to treat diseases. Since this analysis is performed using combined data, this author has not included those particular data points. However, it was notated during analysis that the trend lines appeared to possess similar slopes, just at lower % values. For instance, most ORR % values were in the low to mid 50s across the range.
Efficacy Analysis
| | | | | | | |
| --- | --- | --- | --- | --- | --- | --- |
| Drug | Pts (#) | CR (%) | PR (%) | SD (%) | ORR (%) | Best ORR (%) |
| Gazyva | 545 | 26 | 50 | 4 | 76 | 76 |
| Zydelig | 235 | 26 | 40 | * | 66 | 81 |
| Imbruvica | 270 | 20 | 45 | * | 65 | 68 |
| ABT-199 | 78 | 23 | 54 | * | 77 | 77 |
| TG-1101 | 24 | 17 | 75 | 8 | 92 | 100 |
| TGR-1202 | ** | ** | ** | ** | ** | ** |
(Table created by author, Sixth Sense)
* Data unavailable
** Data to be presented at ASH Conference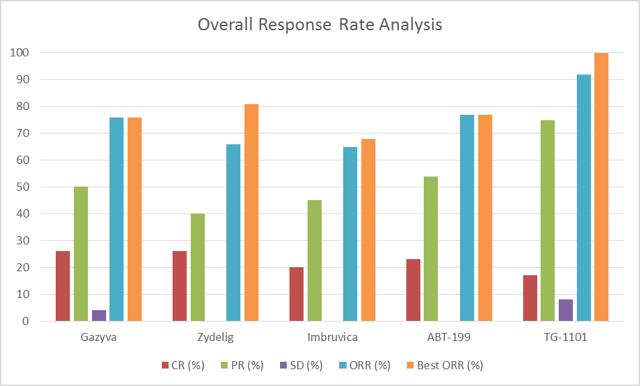 (Chart created by author, Sixth Sense)
As demonstrated above, we've seen some impressive results with TG-1101 (in combination with Imbruvica). TGTX shareholders should now be looking forward to updated data at the ASH Conference, especially the early data in TG-1101 + TGR-1202 + Imbruvica. Bear in mind, others have attempted "chemo-free" triple combination therapies only to have their trials stopped due to very high toxicity.
Safety Analysis
We're heard a lot about the excellent safety profile of TG-1101 and TGR-1202, but let's analyze how their profile compares with Gazyva, Zydelig, Imbruvica and ABT-199. In the table below we'll analyze Grade 3 and 4 AE (adverse events) > or equal to 10%, overall AE % and any reaction that has a severity that warrants inclusion into a Black Box Warning. Although several of these drugs also carry side effects that may be extreme, only the most serious indications are listed. Below is a series of terms with applicable definitions to give readers an understanding of the medical conditions associated with serious adverse events to the respective drugs under review.
Note 1: Neutropenia can be classified as serious or non-serious depending on the grade associated which is determined by level of severity.
Hepatotoxicity (HT) - Chemically-induced liver damage
Progressive Multifocal Leukoencephalopathy (PML) - Progressive damage or inflammation of the white matter of the brain
Tumor Lysis Syndrome (TLS) - Complications caused by the breakdown products of dying cells
Mucocutaneous - Severe reaction to the mucous membrane
Infusion reaction - A reaction to IV infusion
Hepatitis B Virus (HBV) reactivation - A reactivation of HBV
Colitis - Inflammation of the colon
Pneumonitis - Inflammation of lung tissue
Intestinal perforation - A complete penetration of any part of the wall of the gastrointestinal tract
Neutropenia - A decrease in white blood cells
Note 2: Safety data from combination studies was unable to be used in this analysis as the events could not be determined to which drug produced the event.
| | | | | |
| --- | --- | --- | --- | --- |
| Drug | Pts (#) | GR3 or Higher AE (%) | All other AE (%) | Total AE (%) |
| Gazyva | 327 | 22 | 65 | 87 |
| Zydelig | 125 | 51 | 47 | 98 |
| Imbruvica | 312 | 21 | 55 | 77 |
| ABT-199 | 78 | 43 | 52 | 95 |
| TG-1101 | 9 | 0 | 44 | 44 |
| TGR-1202 | 49 | 8 | 55 | 63 |
(Table created by author, Sixth Sense)
* ABT-199 includes 1 patient death due to study drug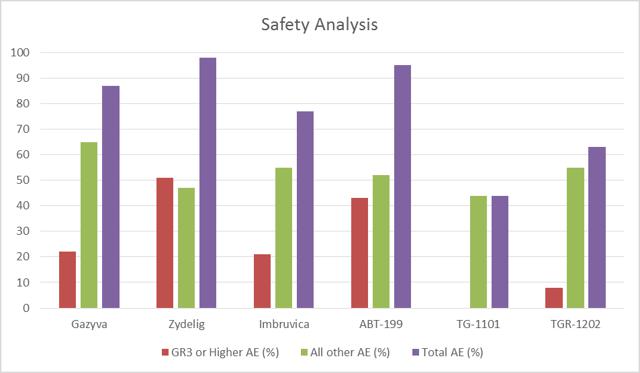 (Chart created by author, Sixth Sense)
Although we have only seen limited data to date on TG-1101 and TGR-1202, in reviewing the table and chart, it is extremely clear that these 2 drugs are head and shoulders above the rest in terms of safety. The only recordable SAE was 1 event of neutropenia in TGR-1202. All AEs consisted of diarrhea, nausea and fatigue.
Email Interview with TG Therapeutics Michael S. Weiss, Executive Chairman, Interim President and Chief Executive Officer
1) What makes you most excited about TG?
From an investment standpoint, I am most excited that we have now clearly elucidated for investors a path to approval for TG-1101, which establishes a base case for valuing the company. The approval of TG-1101 plus Ibrutinib will be a valuable incremental advance to the treatment of patients with CLL and we believe that if approved would represent one of the most attractive treatment options for patients given the early safety and efficacy profile. With the SPA in place for our Phase 3 trial, we believe we have a very high probability of successfully entering the market with that combination.
However, internally, what excites us is pushing further and driving better outcomes than can be achieved with a two drug regimen. For us, our goal is to drive toward functional cures for CLL and NHL. Our world view is driven by experiences in HIV and HCV, where multiple targeted agents are deployed to attack a disease on multiple fronts for best outcomes and to prevent escape and learned modes of resistance. We are assembling a diverse portfolio of proprietary, potentially best-in-class, b-cell targeted agents, which we believe when combined together may hold the key to driving toward functional cures, and that's what excites us at TG.
2) What would you say in your own words makes TG a great value play heading into 2015?
There are a number of reasons why TG is a great value play heading into 2015. For starters, we will be entering into Phase 3 in the coming weeks, which should raise the profile for us amongst investors that cannot invest in earlier stage companies. Beyond that, TG is the only company to have both a glycoengineered CD20 as well as a PI3k delta in house. As we have been discussing, we strongly believe combination therapy is the future of treatment for B Cell Cancers and having the ability to combine our drugs with one another without having to partner with other companies puts TG in a very unique and advantageous position.
3) What are the next milestones and catalysts that will drive shareholder value subsequent to initializing enrollment of your first Phase 3 and the upcoming ASH conference?
Of course we are very excited to commence enrollment into our first Phase 3 registration trial of TG 1101 + ibrutinib before the end of this year, however we are also very enthusiastic about sharing the data seen from our additional trials which we will present at the upcoming ASH Conference. Not only will we present updated data from our study of TG-1101 + ibrutinib, but we will also present TGR-1202 Single agent data, as well as data from our proprietary combination trial of TG-1101 + TGR-1202. We are also very excited to present at ASH the early data from the first ever triple combination therapy of TG-1101 + TGR-1202 + Ibrutinib. As alluded to earlier, we are very excited about pushing beyond two novel drug combinations and believe this is an exciting first step forward.
4) Are you still looking to acquire or in-license any new drugs or do you feel TG has enough within the current portfolio for the time being?
We are always interested in evaluating new opportunities that may complement our current portfolio. We feel we have three great products in house already that provide us with a lot of flexibility in terms of studies we can run, however we also follow the advancements in the space closely and have an interest in adding additional mechanism that could help us achieve our broader goal of identifying functional cures for as many of these patients as possible.
5) Have you been approached by any companies looking to partner with TG or is that something you would consider if the deal is greatly beneficial to TG?
We do not currently have an active program seeking partnerships for our products. We have had, and continue to field, in-bound interest in our product candidates and we would consider a deal but the threshold to get us interested is extremely high. We have a long-term plan related to the development and commercialization of our proprietary combinations and we feel we are very well positioned to generate significant value for our shareholders independent of a deal. Additionally, we are hyper focused on executing as quickly as possible to bring important medicines to patients as quickly as possible to improve outcomes and lessen the side effects of current treatment options. As a small company, we do have some efficiency over larger companies, who perhaps lack the same sense of urgency. So, the short answer is we would consider a deal, but the hurdle for us to be interested and our perception of whether it would be "greatly beneficial to TG" is very high.
6) Would TG entertain the idea of being acquired, if the price is right?
Here again, the hurdle would be very high for similar reasons as discussed regarding a partnering deal.
7) Extending on the previous question, what do you think is the fair market value of TG today?
As CEO, I am a biased observer here, but clearly, I believe our stock is undervalued. Intrinsically, when we model out simply the value of TG-1101 in combination with ibrutinib we derive a significantly higher valuation than prevailing in the market today and that does not take into consideration what we believe is the larger opportunity of developing our fully proprietary combinations. Additionally, if you look at the other companies in the hematology/oncology space, I believe it is fair to say that our market cap is much lower than some other companies that we perceive as having less long-term potential.
8) I read an article from Ben Fidler in May of last year in which you mentioned it was your mission to be the next PCYC. Do you feel you are on track and still feel that goal is obtainable?
Short answer is yes. PCYC changed treatment for patients with CLL and we admire them for that. We want to go a few steps further toward a functional cure across CLL and NHL and believe we are on-track.
9) With success demonstrated in the relapsed / refractory setting, will TG pursue a front line setting in hematologic indications?
It is possible at some point in the future we may consider a front line setting. As molecular responses become more accepted as a surrogate endpoint across multiple cancer settings, it may be possible to run front-line studies with such endpoints. The ability to do so would significantly shorten the path to approval in the front-line setting and make it an attractive area for us. Short of that, there are some CLL settings where front-line is addressable with reasonably sized studies that can be completed in reasonable time frames and we are definitely interested in doing those studies so we can help those patients as well.
10) Do you feel TG has best in class drugs with TG-1101 and TGR-1202?
We feel our drugs possess best in class attributes. With TG-1101, we are seeing great activity plus a nice safety profile, which is very important when it comes to combining drugs. With TGR-1202, we are now confident that the drug can be dosed once per day whereas the other drugs in the class are dosed twice per day. We also have not seen the liver tox that has been present with the other drugs nor have we seen colitis, both of which have been seen with the other drugs in this class. And again, when it comes to combining drugs the safety profiles are extremely important.
11) How close do you think TG is to finding that ever elusive cure in blood cancers?
We believe as we are able to safely layer on multiple targeted agents we will drive closer and closer to a functional cure… which is our ultimate goal.
12) Is the intent of the triple combo therapy of TG-1101, TGR-1202 and Imbruvica to find a potential cure?
Our goal in adding ibrutinib to our proprietary backbone of TG-1101 and TGR-1202 is simply to better understand the safety profile of these three drugs together while starting to elucidate the overall activity profile of this regimen. It's one of what we believe will be several building block studies toward identifying a functional cure but not necessarily an expectation that any one of these building block studies will be the answer. For the moment then, the intent of this triple combination therapy, as well as with the rest of our combinations trials, is to find the best possible regimen so that patients achieve the best outcomes with the least amount of toxicity. The triple combination with ibrutinib is the first step in better understanding where we are and the further we may need to go.
13) How is the development of TG-1101 for Waldenström's Macroglobulinemia progressing?
WM is not currently a priority for us with single-agent TG-1101. We look forward to exploring our IRAK4 inhibitor alone and with TG-1101 in WM sometime next year.
14) How many potential Phase 3 trials could we see running in 2015?
Throughout 2014, our company has had a goal of commencing at least one Phase 3 trial by the end of the year. We are extremely happy to have the SPA in place for our first Phase 3 Combination Trial of TG-1101 + Ibrutinib and are definitely focused on additional Phase 3 trials. We have guided that we hope to have an additional Phase 3 in place in early 2015 and have many ideas in the wings for potential additional Phase 3 studies.
15) How many clinical trials in total do you anticipate having in the clinic in 2015?
Hard to say as it will depend on many factors but given plans on the table, we would expect at least 5 clinical trials, including all phases of development, to be on-going in 2015. It is likely to be more, but to be conservative at least 5.
16) Do you intend to file for Breakthrough Therapy Designation for any of the upcoming clinical trials?
We will assess BTD on an individual drug/regimen basis to see if it makes sense for us. BTD provides a very nice level of interaction with the FDA to accelerate time frame to Phase 3. Once Phase 3 has begun, most of the provisions of BTD will overlap with Fast-Track. Again, we will assess each on a case by case basis as we move forward.
17) Do you know what indications will be sought with the IRAK-4 Inhibitor?
Our IRAK-4 development program is currently in preclinical development and we hope to have it into the clinic in the second half of 2015. We think it will complement our existing portfolio candidates quite nicely and are excited to evaluate its effect on patients with Waldenström's Macroglobulinemia and in a subset of patients with Non-Hodgkin's Lymphoma and Chronic Lymphocytic Leukemia. We also think it may be useful in the treatment of autoimmune related disorders along with our other b-cell targeted agents.
18) How long do you anticipate the cash on hand to last?
Pro forma as of September 2014, we have about $93M in cash. We have guided that including the Phase 3 trial of TG-1101 +Ibrutinib, our cash burn is approximately $4-$6M per quarter. We envision this burn being on the high end of that range once the Phase 3 if fully ramped up. We also envision the burn to increase by approximately $1-$2 per quarter for each additional Phase 3 initiated next year. Accordingly, cash on hand should last for several years.
19) Can you disclose the tiered royalty rates with Rhizen for TGR-1202?
We have only disclosed that they will top out at low double digits.
20) Do you feel the IP portfolio to be low risk now that the applications have been filed and are pending?
We generally believe that our patent estate and other proprietary rights will provide us protection for our products and proprietary combinations into the late-2020s and beyond in many cases.
21) Will the webcast at ASH have a presentation or be audio only?
We will post additional details regarding the webcast of our investor event happening during the ASH Conference on Monday, December 8th at 7:45pm PT, on our website.
22) Does TG have any plans to expand its staff?
We have been strategically adding to our staff and currently have over 25 employees. As we continue to progress as a company and initiate additional registration programs, we may look to add to our team.
23) Is there anything going on behind the scenes which you are unable to discuss at this time?
Yes.
Conclusion / Valuation / Price Target
As a matter of convenience, I have included the Q3 Conference Call Transcript here. For those that were not on the call or have not yet read the transcript, I strongly suggest doing so.
One of the great attributes I have seen from Mr. Weiss going back to his days at Keryx Pharmaceuticals is to de-risk his pipeline by having numerous pokers in the fire. What Michael has done at TGTX is take their own anti-CD20 monoclonal antibody and run numerous studies, but also de-risked that by running their PI3K Delta Inhibitor with other anti-CD20 monoclonal antibodies such as Gazyva. It's all about combinations in this space and Michael has given TGTX many shots on point to achieve the greatest combination regimen. With the safety profiles of each of the TGTX drugs in the pipeline, it affords a luxury that most companies do not have due to their high levels of toxicity as evident by boxed warnings and black box warnings such as with Gilead Sciences PI3K Delta Inhibitor, Zydelig.
As evidenced by their Q3 Conference Call, TGTX is not just pursuing high response rates, but they are aiming for a CURE in Lymphomas and appear to be on track in doing so.
This past September, AbbVie struck an 805M deal with Infinity for their PI3K Delta/Gamma Inhibitor and with the 975M deal Janssen forged with Pharmacyclics for their BTK Inhibitor, helps to valuate TGR-1202 as it is roughly in the same development stage as the Infinity and Pharmacyclics inhibitors were at the time of their deals.
Risks
As with any biopharmaceutical company, an inherent risk is clinical trial failures, the need to raise cash and IP. Statistically, the risk appears low for clinical trial failures based on previous trial data, the company has enough cash on hand for several years as stated by Mr. Weiss and the IP is in progress as the necessary patent applications have been filed. At this point in time, the greatest risk appears to be with IP, although this risk also appears to be low. A positive aspect to the IP filing is once TGTX receives the Notices of Allowance, they will have much greater allotment of time under the patent whereas many other companies risk expiration shortly after gaining approval. So although there is risk, there is also reward in terms of longevity.
Financial Position
As of 9/30/14, pro forma cash and cash equivalents of approximately 93M is expected to last several years per Mr. Weiss giving investors ample runway without fear of the need for a near-term capital raise. With that projection, TGTX may have product on the market generating revenue prior to the need for cash.
As with all small cap, non-revenue producing biopharmaceutical companies, TG Therapeutics must rely on capital raises to fund research and development, clinical trials and general operating expenses. These capital raises occur via issuance of additional shares, which "dilute" current shareholder value, at least that is the premise. However, based on current burn rate and cash on hand, investors need not be concerned with that risk at this point.
Valuation and Price Target
One analyst commented, "We believe that TGTX is in control of whether the company wants to partner its products or not. It has already shown the ability to form fruitful alliances such as with Pharmacyclics' Imbruvica and the ongoing combo study with TG-1101. Management has commented previously that the company would like to hold onto the drugs for as long as possible, and possibly not partner at all. However, given the favorable terms that Infinity secured in the deal with AbbVie for its PI3K inhibitor and given TGTX's clinical data to date, we believe TGTX would have significant leverage if it chose to pursue a partnership."
To further support the paragraph above was Mr. Weiss' statement within the email interview that any deals would be "very high" and "greatly beneficial to TG." Throughout my research on this article, it has become very apparent that Mr. Weiss is extremely consistent in the fact that he is unwilling to part with or partner any component of the pipeline or combination thereof that would leave shareholders less than excited.
In reviewing recent deals that have been made for similar drugs in the space (805M for Infinity's PI3K Inhibitor and 975M for Pharmacyclics' BTK Inhibitor), projected revenues of similar drugs on the market, data to date along with the potential of upcoming ASH data, the safety profile of TGTX drugs, the direction of combination therapies as becoming Standard of Care, multiple Phase 3 clinical trials by 2015, numerous other clinical trials in 2015, launch of the IRAK4 program into the clinic in 2015, possible revenue producing drug on the market by 2017 and other milestone events projected for 2015, TGTX fair valuation (prior to ASH Conference) is approximately 1B or $22.73 per share. The data being presented at ASH has the potential to push fair valuation to between 1.5B and 2B or $34.09 per share to $45.46 per share. These valuations appear quite lofty based on today's current valuation of 594M ($13.52 per share), however reflect the magnitude and extent of just how much TGTX is currently undervalued.
The above valuation is the opinion of this author based upon all items of note within the aforementioned paragraph and is not intended to be predictive of actual market perception. However, given all facts presented within this article and current market conditions, it is with fair reason to assume the current valuation of TGTX is not reflective nor indicative of a market cap that is fairly valued. The valuations given by this author are in line with actual fair value.
It should also be noted that if the data presented underwhelms the market expectation, the share price would also underwhelm. But based on all the facts presented in this article, current data on hand and the current valuation being less than fair value, this author deems that risk to be quite low.
Valuation Breakdown
I calculate the current fair value and price target of TG Therapeutics utilizing the above mentioned value points and will further break down the analysis…
Recent partnership deals of 805M Infinity/AbbVie and 975M Pharmacyclics/Janssen for PI3K and BTK Inhibitors, respectively. These deals were made around the same clinical development period as TG-1101/TGR-1202.
Projected peak sales of similar drugs range from 1.5B to 9B in the hematology space. These drugs include Imbruvica, Gazyva and Zydelig.
Standard of care in hematology is about to embrace a paradigm shift from chemotherapy to all-oral combination regimens similar to that of HIV and HCV.
TG-1101 and TGR-1202 have demonstrated a best-in-class profile as the safest drugs of their kind with data seen to date. The efficacy data is relative to their peers and when used in combination has been superior to any other FDA approved combination therapies. It is this safety profile that gives TGTX the upper hand against the competition as they can "mix and match" their combination studies with pretty much any drug of their choosing to achieve the best possible results without worry of toxicity issues seen by others that have attempted such feats towards a functional cure. With best-in-class drugs, TGTX will trade at a similar P/E ratio to that of PCYC when their drugs reach the market. Note: PCYC currently trades at 127x P/E and a 10.5B MC with 1 best-in-class drug on the market (Imbruvica).
The projected market size for CLL and NHL combined is expected to reach 8.7B by 2018, and that is for those 2 indications alone. TGTX will and is targeting several other indications in the hematology and auto-immune field.
TGTX is 2 to 3 years from having a revenue producing best-in-class drug on the market and 3 to 4 years from having 2 best-in-class drugs on the market.
We estimate within 5 years TGTX drugs, in combination with Imbruvica, will become the standard of care for r/r CLL, MCL, SLL, and NHL. We also believe TGTX will then establish its drugs in a front line setting for the aforementioned indications.
With Rituxan going off patent in 2018 and using Imbruvica, Gazyva as Zydelig projected peak sales points, we estimate peak sales of TG-1101 at 2B and TGR-1202 at 1B by 2024 for a combined 3B in peak sales.
Typical biopharmaceutical companies trade with 5x to 8x multiples on P/E, but companies with best-in-class drugs tend to trade with much higher multiples due to pricing and market share expectations. We believe a fair multiple to be 10x for TGTX based upon data seen to date. Data to be presented at the ASH conference next week may warrant a higher multiple calculation, upwards of 15x.
Based on projected peak sales and applied multiple of 15x, we expect TGTX to be a 45B company by 2024. This is based on the premise of TGTX not being acquired and not partnering either TG-1101 or TGR-1202.
Using a discounted rate of 25%, an 80% probability of success for TG-1101 and a 40% probability of success for TGR-1202 = a combined fair valuation of 1.0B (800M for TG-1101 and 200M for TGR-1202) + 93M in cash. These are the calculations prior to the ASH Conference. If the data is as expected at ASH, the multiple increases to 15x and we arrive at a valuation of 1.5B (1.2B for TG-1101 and 300M for TGR-1202) + 93M in cash.
As TGR-1202 continues to progress through the clinic, the probability of success increases, as does the TGTX fair valuation.
The IRAK4 program has not been considered while calculating fair valuation, but will become a factor in 2015/2016.
Disclosure: The author is long TGTX.
The author wrote this article themselves, and it expresses their own opinions. The author is not receiving compensation for it (other than from Seeking Alpha). The author has no business relationship with any company whose stock is mentioned in this article.