It should come as no surprise that the key to any well-built portfolio is diversification. Picking up on trends as far as where consumers' cash is going is important to the allocation one puts into each sector. Today Americans are battling ailments at unprecedented rates and often coming up with reasons to take prescription medications. From the aging baby-boomer generation dealing with issues like arthritis, to middle age depression, and finally down to children with asthma and thinking problems, pharmaceuticals have a very wide consumer base. Big pharma/healthcare products is a sector with staying power with a strong past, but picking the correct companies within can be very troublesome.
The big pharma companies have been around for a long time, have strong products, deal with adversity, and generate revenue that is pushed back into R&D, generally along with a nice dividend for investors. It is for this reason that I like to think of the following stocks as more of a long term play, so long as the entry point makes sense.
Given this, the stability of the company's dividend should be a factor in making this selection, so the stocks that follow are listed based on this criterion. Other factors that one should consider are a history of innovative products and an ability to handle class-action litigation.
Below is a list of seven companies with a proven history of strong products capitalizing on pharma market.
AstraZeneca (NYSE:AZN) – The smallest company of the seven in terms of market cap, AstraZeneca is best known for prescription drugs for common diseases, but also manufactures dental implants and medical devices. Their biggest names include Crestor (cholesterol), Prilosec (ulcers), Nexium (heartburn), and Rhinocort and Symbicort for asthma.
[Click all to enlarge]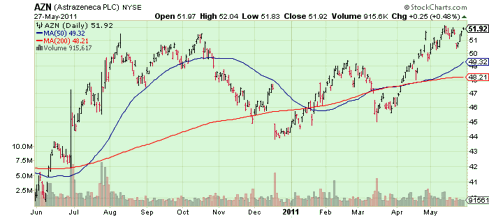 It's currently priced near a one-year high at $52, but this price has been on quite a ride over that time. The company is coming off a very impressive first quarter which accounts for the run over the last two months; however, it will come down to whether it can continue this level of performance. Its PE ratio is extremely low, but part of the reason for this could be its biannual sporadic dividend.
GlaxoSmithKline (NYSE:GSK) – Like AstraZeneca, Glaxo is based overseas and known primarily for prescription drugs. Its most successful products include Advair (asthma), Augmentin (bacteria), Levitra (ED), Valtrex (herpes), Sensodyne toothpaste, Nicorette and Nicoderm.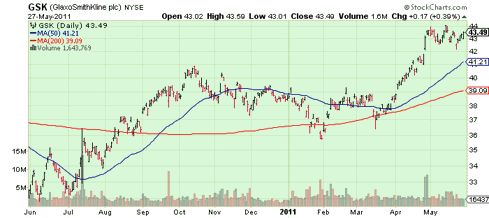 Like most of the stocks on this list, Glaxo has taken a recent jump in price, to the tune of 10% over the last two months. This has run its PE up to 37 and, coupled with its variable dividend (though high right now) and the gap between its 50- and 200-day, makes it seem a bit overbought.
Merck (NYSE:MRK) – This company offers a huge selection of prescription pharmas; its catalogue includes Singulair (asthma), Remicade (arthritis), Gardasil (HPV vaccine), Propecia (baldness). Its merger with Schering-Plough also opened Merck to consumer products such as Dr. Scholl's, Lotrimin, and Coppertone.


Merck has never fully recovered from the recession and is still facing big swings in its stock price. It has been a long time since it's raised its dividend, but it has remained stable over this time and is currently yielding 4.2%. It certainly makes for an attractive pick over the long term, given its size.
Pfizer (NYSE:PFE) – The second-largest company on the list, Pfizer has a large selection of products geared towards mental disorders (Zoloft). It also owns Viagra, Lipitor (cholesterol), and Celebrex and Enbrel for arthritis. Additionally, Pfizer offers a number of non-prescription consumer products like Chapstick, Advil, Dimetapp, and Robitussin.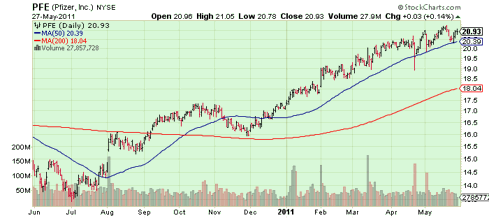 Pfizer has performed extremely well over the last year, jumping roughly 50%. Its PE is a bit higher than comparables but still yields 3.8%. The dividend was cut during the recession, but has been rising since; investors should feel somewhat reassured that it takes a collapse of that nature to slow it down. Again, you can't really go wrong with a yield like this given the current market, but I would wait for the price to drop down a bit.
Novartis (NYSE:NVS) – Another very large company cap-wise, Novartis also manufactures diagnostic devices, consumer products, and animal pharmas. It's best known for Ritalin and drugs designed to defeat hypertension and epilepsy. Aside from this, it also sells Ex-lax, Maalox, No-Doz, and Theraflu.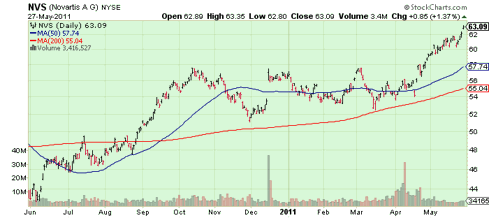 Novartis has run up about 14% since April and is currently priced at $63. Its PE is a moderate 15 and it presently yields 3.2% with a dividend that is rising at a stable rate. It deserves a look but, like Pfizer, it may be better to wait for a drop in price.
Johnson & Johnson (NYSE:JNJ) – When a company is so much bigger than most of the competition, it is only natural that its issues will be blown out of proportion. I wrote about JNJ's recall issues here, noting that its price could not go down much further than it had. The company manufactures a plethora of drugs such as Remicade and Simponi, both for arthritis. Also, just about half of its business comes from medical devices and its line of household wellness products (Clean & Clear, Neutrogena, Lubiderm, Listerine, Tylenol, Zyrtec) are second to none. JNJ's size allows for M&A activity as well.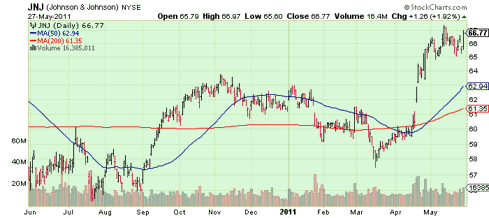 The stock itself is sitting at a 52-week high, so it is probably not the best time to buy. Its dividend is the most reliable on the list, yielding 3.4%, and its PE, 15, has not shot up despite the recent jump in price. Again, I'd wait, but it still could be the strongest company on this list.
Abbott Labs (NYSE:ABT) – This company has certainly felt the effects of being pushed by television pundits, but it may be rightfully so. It's broken into pharma, diagnostics, nutritional, and vascular products. Its drugs include Advicor (cholesterol), HUMIRA (arthritis), and Prevacid (heartburn). On the nutrition side, it owns Ensure and the currently vogue EAS system. For those who wouldn't know, EAS is a line of protein formulas and other supplements fighting in a pretty tough industry.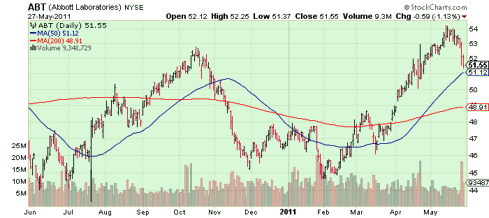 The stock's drop over the last two weeks, albeit small, could present a buying opportunity, as this is a mid-sized company. Its PE is a little high at 18, but it's still yielding 3.7% with a stable, annually increasing dividend.
In sum, I personally believe that Pfizer and Abbott Labs could be strong buys in the near future given the strength of their dividends, with Merck offering a slightly riskier long term play.
Disclosure: I am long JNJ.