The share price of Petrobras (NYSE:PBR) has more than halved in the last 3 months. The two biggest reasons behind the decline are the negative oil outlook and the local politics of Brazil. As the chart below shows, major ETFs and the price of crude have also taken a major hit in the last few weeks.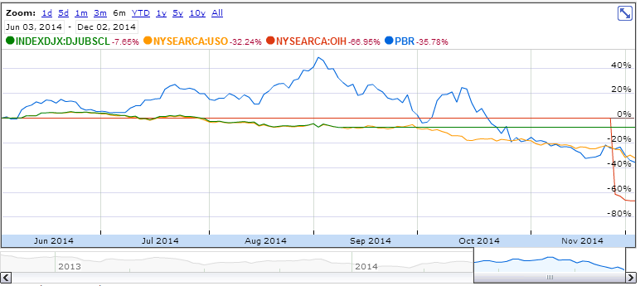 Source: Google Finance
This negative market perception of energy companies has taken a toll on shares of all major oil giants. The valuations of PBR have also declined by approximately 35% in the last 6 months. There are tons of shorts pointing out all the obvious weaknesses of Petrobras, which were still there when it crossed $20 in September. I believe, the shares are a bargain at a forward P/E of 5.7x and a market cap to enterprise ratio of 0.4x.
The analysts are anticipating the company to post year end EPS of $1.45. However, the sell side expects the EPS to climb to $1.7, an increase of almost 18%. The primary concern is the debt of $121 billion but cash per share is 50% of share price at $4. The current ratio is pretty high at 1.92x as compared to industry average of 1.4x. The book value per share is also pretty high at 21.8x, almost 2.4x the current market price.
It is true that the Brazilian government uses the company to control inflation by forcing it to artificially reduce prices. This has been a major factor because the company also imports a significant chunk of its local sales. Therefore, it ends up paying more for the imports and selling it at lower prices. The reduction in global prices will actually help the company manage this burden. So, while the value of reserves has gone down, the company can increase imports and reduce the strain forced on it by Brazilian government.
Upstream Expansions
Upstream productions are one of the driving forces behind any oil and gas company, which is the reason why they focus most of their investments on upstream projects. While Petrobras was cutting costs a few months back by reducing its labor force, the company is still throwing money to attract drillers.
Petrobras has announced that it has floated a tender worth $2 billion for drilling in ultra-deep waters. We are expecting that Halliburton (NYSE:HAL), Schlumberger (NYSE:SLB) and Baker Hughes (BHI) will be taking part in the tender offer on equal grounds, as currently we don't have a favorite. That being said, the drillers do have a concern regarding this tender, since Petrobras is a state-run company and is heavily influenced by political gains. This is the reason why Bloomberg stated that "'Petrobras' contracts often allow for revision even after they are awarded," indicating uncertainty about the contract. Even then we expect the above named drillers to participate in the tender offer. This should enable the company to expand its production base, while increasing its base reserves to maintain its reputation as one of the largest producer in deep water.
Sale of Natgas Assets
Petrobras owns stake in Gasmig, which is a natural gas distribution company in Brazil. The company has an integrated network of 850 kilometers-long pipelines, which supplies around 4.1 million cubic meters of natural gas per day. Recently Petrobras has announced that it has come to an agreement with CEMIG to sell its 40% stake in Gasmig for $296 million (600 million reais). Furthermore, it also stated that the sale will not affect already signed supply contracts between both companies.
This was part of Petrobras's strategy to sell its non-core assets and focus on the upstream segment. Even though downstream and midstream segments are a safe play since they are not exposed to oil and gas prices, they do not yield better margins in comparison to upstream projects. We believe that proceeds generated from this sale can be used to finance upstream projects like the one we mentioned above.
The company has also completed the sale of 100% of its Petrobras Energia Peru stake for $2.6 billion. Petrobras plans to sell around $11 billion worth of assets to fund its planned investments of $221 billion by 2018.
Refining to Start at Abreu e Lima
Initially when Petrobras purchased 60% stake in the Abreu e Lima refinery in 2005, the estimated construction cost was expected to be around $2.5 billion, which with the passage of time increased to $18.5 billion. Now the company is starting this refinery at 230,000 barrels per day. However, the refinery will not be operational at full capacity until mid 2015, when another 115,000 barrels per day will be added. Petrobras is working on another refinery as well to bring it online in 2016. Comperj refinery is located in Rio de Janeiro, which will cost around $13.5 billion and add 150,000 barrels per day, becoming operational after a four years delay, which increased the cost of construction by 61%.
Both these refineries faced delays which we believe were due to the influence of the government over the company's operations. The Brazilian government uses Petrobras as a means of promoting itself within the masses to gain popularity and win the elections. Due to this reason, projects such as these refineries have faced delays in the past, resulting in operational losses of around $40 billion since 2011. The operational loss occurred because although Petrobras's crude production was good, it was lagging behind in the refining process to meet the domestic demand. For this reason the company had to import oil, and sell it at a subsidized price as the Brazilian government was trying to control the inflation. Petrobras was forced to sell expensive oil at a cheap price, which has resulted in a net loss for Petrobras. Now that Petrobras would be bringing these two refineries online, we believe that it would enable the company to reduce, or maybe even eliminate the need to import oil. While the current prices are low right now, in the long run the company will have to rely on its local production.
Bottom Line
The entire oil sector has suffered due to the recent decline in oil prices. Petrobras has also shed value and is now suffering the shorts. Analysts are blaming this decline on problems which existed even when the company went above $20 only a couple of months back.
I believe the shares are trading at very low valuations at this point and are a good buy. The global decline in oil price will reduce the company's oil bill and make it easier to manage the oil prices forced on it by the Brazilian government. The investigation by DOJ or the new government should not be a determinant to Petrobras's valuations until we see some more negative progress in the case and unfeasible policies by this new government. Meanwhile, the investors should only focus on these cheap valuations and buy Petrobras while it's down in line with the golden rule of investing 'buy when others sell.'
More on Petrobras.
Disclosure: The author has no positions in any stocks mentioned, and no plans to initiate any positions within the next 72 hours.
The author wrote this article themselves, and it expresses their own opinions. The author is not receiving compensation for it (other than from Seeking Alpha). The author has no business relationship with any company whose stock is mentioned in this article.