Already facing class action lawsuits filed on the behalf of shareholders (and the potential for more) and calls for the ouster of its management team, Research in Motion (RIMM) appears ready to dive even further off of the deep end.
I read -- with a mix of amazement and amusement -- of RIMM's apparent plans "to take a lead in the race to make the car dashboard into a computer that can read email, launch apps or play music stored on mobile devices." A report in Saturday's The Wall Street Journal went on to note:
[RIMM-owned Candian software company] QNX is also working on letting cars go online through devices like BlackBerrys or PlayBooks, controlling the devices remotely via touch panels by the steering wheel or voice commands.

Analysts say it's too early to say how much revenue RIM could get from the business, or whether an in-car advantage can help offset its recent slide in smartphone market share versus Apple Inc.'s iPhones or phones running Google Inc.'s Android software...

Some car makers are likely to unveil demonstration models that integrate the PlayBook into their vehicles as early as this fall, said Derek Kuhn, QNX vice president of sales and marketing, who has been showing off such software on an electronically souped-up Corvette. He declined to specify which car makers would be first to move...

"The software [for the PlayBook] is the same software that's powering that and that," said Mr. Kuhn, pointing to screens in the Corvette dashboard displaying instrument and control panels. With a touch to the control panel, he switched the display from a PlayBook-linked music app to a YouTube video titled "Ninja Turtle Soup."
As usual with RIMM, it's difficult to determine where to begin.
While the Journal story does note that QNX "is building safety features into its systems that would block drivers from accessing sites like YouTube while the car is moving," that hardly goes far enough. Taking a "digital dashboard" beyond anything other than a quick touch or one or two word command and leaving it there so the driver can focus solely on driving takes things way too far.
An abundance of research shows that distracted driving not only encompasses taking your eyes off of the road or your hands off of the wheel, but also placing your cognitive skills elsewhere. Consider these surface-scratch basics from the Federal Government's DistractedDriving.gov website:
(Click all images to enlarge)


The following excerpts, well worth a close reading, drive home the main reasons why RIMM is choosing the wrong area to "innovate" in or at least the wrong way to innovate in it. Via DistractedDriving.gov, they come from a 2006 study in the journal, Human Factors.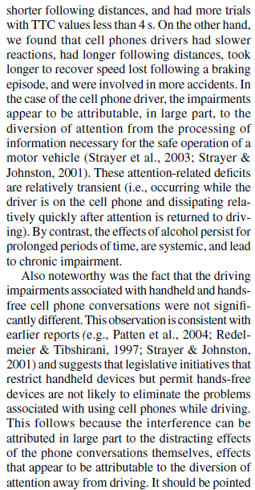 RIMM might as well start working on securing patents for an in-vehicle automated bartender. You can pre-program a simple command such as "the usual" and, within seconds, your dashboard serves a gin and tonic with the top-shelf liquor of your choice. The system will even shout "Norm" when you turn on the ignition. It sounds absurd, yes, but only because, as a society, we have come to accept the use of mobile and electronic devices in the car, depsite the clear and present danger; we've been slower to warm up to the idea of drinking and driving.
From an investment standpoint, this means a ton, particularly if you think RIMM has bottomed out and an aggressive long strategy is in order. Please, think again.
RIMM management continues to instill confidence that says, if you're going to play this skunk of a stock, bet that it's going to keep on going down.
If RIMM does indeed intend to take the lead in this area, it could make McDonald's (NYSE:MCD) challenges with hot coffee and the settlement they agreed to pay look like child's play. I only see one of three ways this could possibly play out.
One, RIMM does not go as hardcore as the Journal article suggests it might. That would be good. Under this scenario, I might turn bullish, particularly if RIMM found a way to partner with the likes of Pandora (NYSE:P) to make Internet radio in the automobile as seamless as terrestrial and Sirius/XM (NASDAQ:SIRI) satellite radio. This would be the smart route to take, one that has the potential of opening up additional revenue streams for RIMM and creating and exploiting exciting internal and external synergies.
Given RIMM's general incompetence of late, one of two other decidedly more bearish scenarios seem likely. First, RIMM gets shot down by regulators, government, and safety advocates before they even get started.
Translation: RIMM wastes even more time finding a way to regain relevance against Apple (NASDAQ:AAPL), Google (NASDAQ:GOOG), and others.
If they get past the initial obstacles, expect bearish scenario number two -- RIMM becomes the poster child for distracted driving like McDonald's did for hot coffee, only anticipate it costing a lot more money and adding more pressure to the company's pending implosion.
I am not a huge fan of shorting stocks. I prefer to only make downward bets on stocks that trade options, particularly LEAPS options. That said, I think RIMM will go down alongside Netflix (NASDAQ:NFLX) as the short of the century, assuming a major buyout or meaningful change in direction does not occur. And RIMM trades LEAPS.
Looking out to January 2013, just about every RIMM put looks attractive, particularly out-of-the-money puts. By using LEAPS you eliminate the near-term negative impacts associated with time decay. As such, what amounts to a dollar-cost-averaging strategy with RIMM January 2013 LEAPS puts appears sensible if you are as bearish as I am. As of Friday's close, here's how those puts stack up, courtesy of Yahoo! Finance.
(Click to enlarge)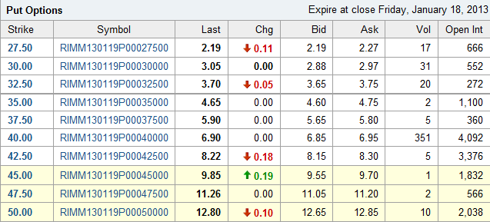 The last three strikes are in-the-money; the remainder are out-of-the-money. Over the next 3 to 12 months, I think we see RIMM rebound here and there, only to fall back as it fails to meets its absolutely unrealistic guidance. Add to this, uncertainty at the top and the apparent and ill-informed decision to use the digitial dashboard to compete and you have a recipe for a company that will either get bought out or fade to oblivion before it can salvage the damage already done.
Disclosure: I have no positions in any stocks mentioned, but may initiate a short position in NFLX, RIMM over the next 72 hours.
Additional disclosure: I may initiate a long or short position in AAPL at any time. I am long SIRI.