It is that time of year again. Christmas is coming, the goose is getting fat, give me some predictions not the same old hat. I am more than happy to provide my ideas for 2015, but first a review of my 2014 picks.
On December 3rd, 2013, I released my "Quick picks for 2014" article. Feel free to read the whole thing at you leisure, but the stocks I liked were as follows. Prices correct as of Friday Close.
Symbol

Start Price

Fridays Close

# of Shares

Cost

Gain $

Gain %

Current Value

Alaska Air (NYSE:ALK)

$37.93

$59.03

26

$986.18

$548.60

55.63%

$1,534.78

Spirit Airlines (NASDAQ:SAVE)

$44.85

$82.69

22

$986.70

$832.48

84.37%

$1,819.18

Norsk Hydro (OTCQX:NHYDY)

$4.13

$5.90

242

$999.46

$428.34

42.86%

$1,427.80

Himax Technologies (NASDAQ:HIMX)

$10.29

$6.82

97

$998.13

-$336.59

-33.72%

$661.54

Adaptive Medias (OTCPK:ADTM)

$2.61

$3.25

383

$999.63

$245.12

24.52%

$1,244.75

DHT Holdings (NYSE:DHT)

$5.67

$6.27

176

$997.92

$105.60

10.58%

$1,103.52

Totals

$5,968.02

$1,823.55

30.56%

$7,791.57
Note the table above represents what would have happened if $1000 had been invested in each stock at the time of publication of the previous article. It does not represent any real positions held by the author and is for illustration purposes only.
30.56% is not a stellar performance, but certainly better than the market average. Obviously, the average was hurt by the performance of Himax Technologies, but that is not the whole picture. When we look at the stocks individually we can see that with a little judicious management there were a lot more gains to be had.
The Airlines
As I suggested, Alaska and Spirit both had a good year.
I said, "The continued decline in oil prices should add to margins for both these companies. I expect the good passenger numbers from earlier this fall to continue through the holiday season and further add to earnings."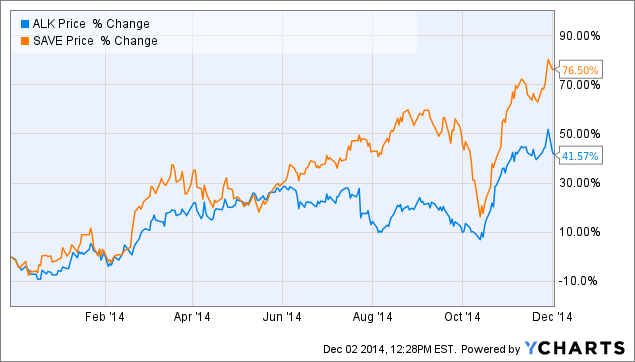 So at least I got that right. With oil (WTI) at just over $66 a barrel, you do have to ask; how much lower can it go? Spirit has outperformed Alaska as it is just better able to contain costs. This is partly due to the business model which is unique in the industry. Spirit does not have passengers; it has a growing fan club. I see no reason for that to change regardless of what the price of oil is.
Norsk Hydro is currently just sitting below the highs for the year. The company continues to cut costs and is on track with all of their internal efficiency plans.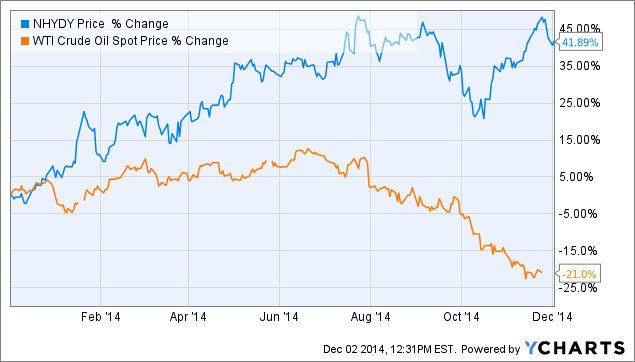 Gains this year were partly offset by Dollar strength. Even given that headwind, we are still seeing a return of almost 43%. Aluminum prices have recovered substantially and play a part in the story. What I do not think is built in is the effect of the lower oil price. Just like the airlines, Norsk Hydro's business is particularly sensitive to the price of oil and petroleum products. Lower oil means expanding margins in the long run and a healthier bottom line. The company is currently concluding a Capital Markets day and I will wait to peruse that information before saying more.
Himax Technologies has had a tough year in terms of share price only. There was a lot of hype surrounding Google (NASDAQ:GOOG) (NASDAQ:GOOGL) glass this time last year. The continued delays got the better of many and they headed for the door. Just the other day, I did hear another rumor of 2015 for a glass launch date. I will believe it when I read a formal announcement. Glass was NOT the reason I first started covering this stock and would be an added bonus if it comes. The core business is sound and the company is well run and that story has not changed. At current levels, I do feel the stock is a little undervalued and unloved. The greatest consolation is that the stock appears to be putting in a double bottom.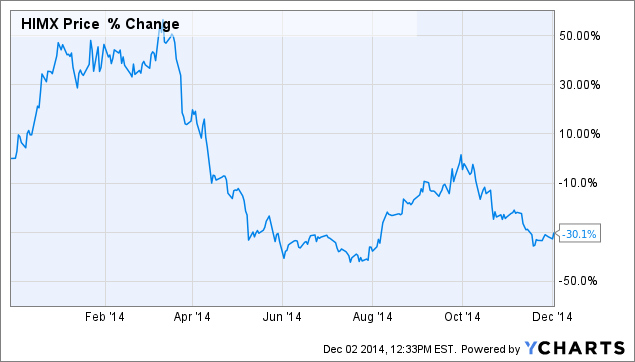 Adaptive Medias has had an outstanding year. The company has made real progress in developing, marketing, and monetizing its platform. Revenue growth has been good, increasing 270% YOY for the most recent quarter. You would never know it by looking at the share price which has little changed from this time last year. The acquisitions made this year were financed by the issuance of stock, all stock transactions. The result is that Market Cap is up over 200%; the equivalent of a 3:1 split. So although the share price may be at similar levels to last year, the company is definitely on the move. The stock performance has been a little volatile, but I feel this may be another buying opportunity. Even with the increase in Market Cap, Adaptive Medias remains a microcap stock and as such is very speculative.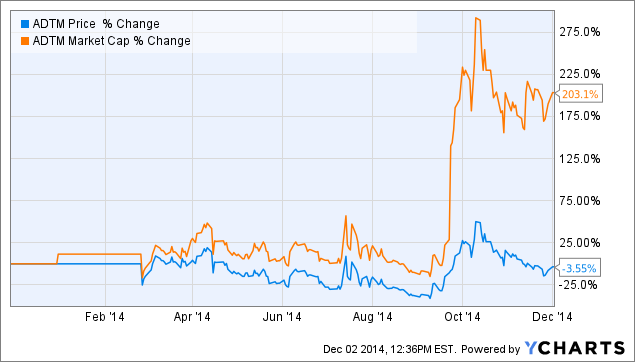 2015 the year ahead.
I believe the watch word for 2015 will be volatility. For a full explanation of the reason I feel this, please read my article from last weekend. The short summary is that over the last six years the markets have become more thinly traded. Volumes have become gradually, but consistently lower. This could cause much more volatility in both breakouts and pullbacks. Although we have had the mid-term elections, the transfer of power does not take place until next year. I expect much more political uncertainty and infighting in 2015. This is not good for the markets. I anticipate a 15-20% pull back at some point next year. To put that in context, a 15% pullback would wipe out all of the gains in the Dow this year and take it back down to the February 3rd low I predicted last year.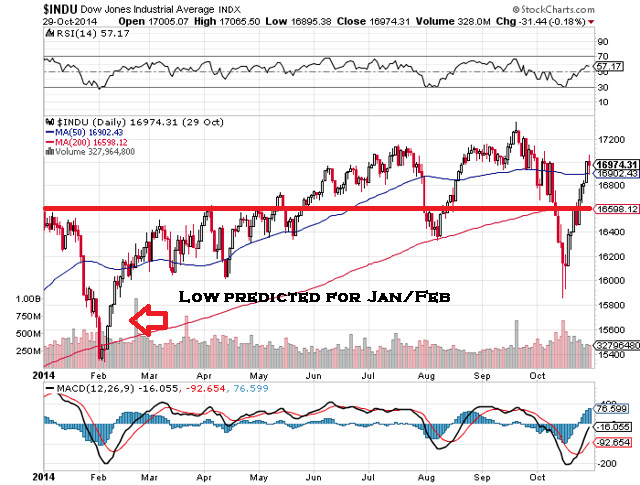 Once again, I see the first quarter as being likely to host a decline. Many individual stocks and the broader markets are in overbought territory. A Santa Claus rally may be enough to push them too far and require we take a breather at the start of the year. When I talk about a 15-20% pullback, I do not mean a single day or week in which the fall occurs. I see it more as a multi staged event, spread over the first 6 or even 9 months of the year. Due to the increased volatility we may even make new highs in between the lows. You must remember that there is NO MORE QE, the glass floor has gone and it has possibly left a little bubble behind. Keep your head and remember that the lows will be as much of an overreaction as the highs.
So what to do.
First, rebalance your portfolio, make sure you do not have too much risk ongoing into the start of the year. The effects of a Santa Claus rally should push us higher, or hold us up high, into the New Year.
Make sure you have some cash on hand to take advantage of the lows that occur. This may mean taking some profits from your winner this year! Not a bad thing, ask yourself if you would like to buy the same stock back 15-20% lower. Do not trade out of your winning positions entirely, just bank some gains.
So you have some cash on the sideline, what do you do while you wait for the pullback? Put it to work!
The SPDR Barclays Capital Short Term High Yield Bond ETF (NYSEARCA:SJNK) is a short-term bond ETF. It gives you the ability to earn a monthly dividend and has upside if the markets go down. Most importantly, you retain the ability to be nimble in a traders market.
Comparison with (NYSEARCA:DIA) and (NYSEARCA:SPY)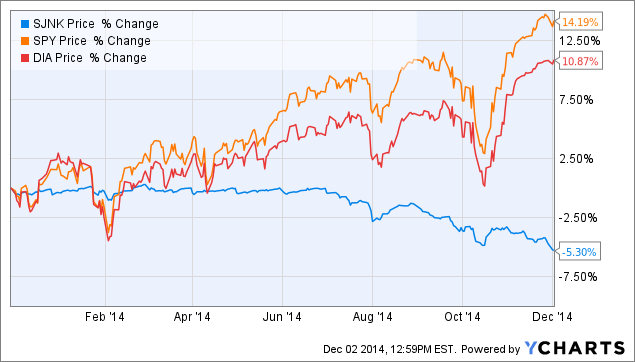 Last year, I said that gold (NYSEARCA:GLD) presented some opportunities. I am not going to argue about it being a bad year for the metal, but if you had taken a position in early January as suggested, you would only be about 2-3% down. If we get the prolonged drawn out pull back I envision, then gold would certainly benefit. The dollar may also do well, but that may depend on the exact reasons for any part of the decline. Which particular data point or news item sends us lower will have more to do with any gains the dollar may make.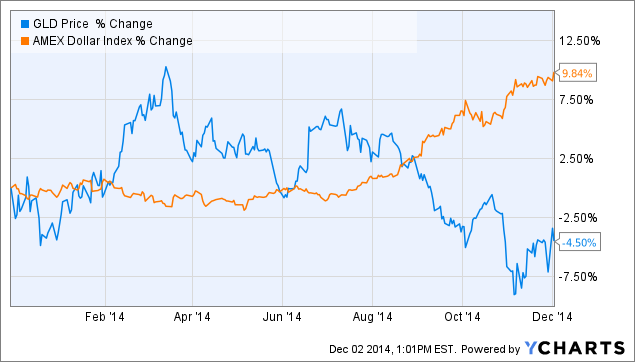 Individual Stocks
Alaska Airlines, Spirit, Norsk Hydro and Adaptive Medias should all continue to do well, especially with the price of oil insulating the first three. They will all sell off along with everything else on down days so if you are up big take some profits and look to re-enter lower. You should not be holding both airlines unless you have substantial other holdings and are well diversified in terms of allocation.
Alongside those four, I am happy to add;
Truett-Hurst (NASDAQ:THST). I have written about this microcap quite a bit. Others are now following suit and there is now at least 1 PRO article about them. The stock is currently beaten up after suffering a serious decline.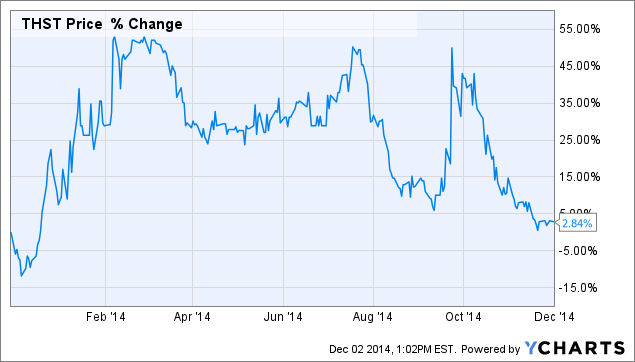 The last time I wrote about the company, I told you this was going to happen. This was the result of a change in supplier that cost the company almost $0.14 per share. It was a one-time event, but seriously hurt earnings at the end of FY2014. Other than this one outlying event they had a bumper year. Improving margins, increased revenues (30% YOY), and a substantial overall growth rate are a few of the highlights. New distribution deals were signed and all else appears rosy. Prior to learning about the $0.14 per share loss, I had a target of $9-$11. I am confident the stock will attain this in a year or two, but pick your entry point as volumes on any given day are low. This is still a highly speculative proposition at this point and so any position should be small and considered as a weekend in Vegas.
Abengoa (ABGB), early this year I wrote the article Ecco Friendly Can Help Your Bottom Line Again. Since then the stock is down about 45%. So what went wrong? Well, I had anticipated a pullback at some point in the year, but 45% is much more than a pullback. The panic all started about the wording of some of the company's bonds; recourse v's non-recourse debt. There was fear that if the company went bankrupt, the non-recourse bonds would be worthless. Once the company came out and announced it would treat these bonds in the same way as all others issued, share price did recover a little. In fact, if you had bought into Abengoa after my most recent article covering them, you would have been about 10-30% up over the last couple of weeks.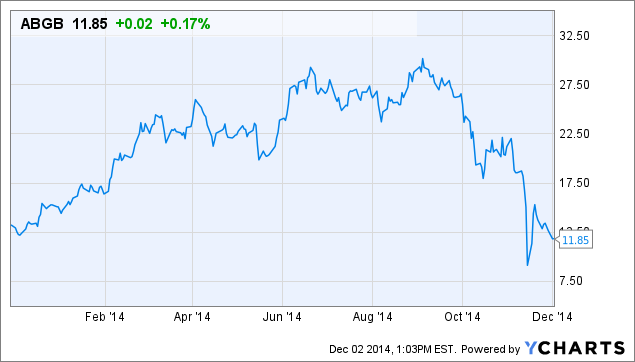 We are still a long way from the highs of the year and even further from my price target of $45, so what has changed? Nothing. This whole fiasco was about possible outcomes should the company go bust. The company is financially sound, they are continuing to grow and expand. They have been around for 70 years and they are not going anywhere soon. What is needed for a recovery in the stock price? Time. Some time for everyone to forget about what happened and move on. The company will not make that mistake again! I like the stock anywhere between $9-$14 near term.
Conclusions
2015 will be a traders market. Perhaps then we can get some increased volumes that put some confidence into price points. Some confidence that where we eventually end up is of fair value. In addition to the stocks mentioned here, pay particular attention to the VIX.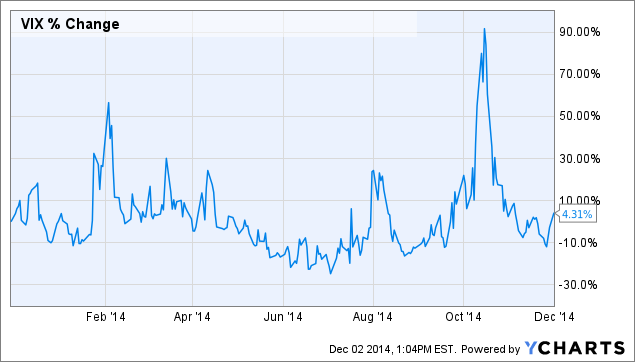 We are near all-time lows and this presents some opportunity. Above all stay nimble, move quickly and do not be afraid to take some gains when you have them. There is a shakeup coming, this is a good thing, just be prepared to make the most of it.
My last thought is about the Nasdaq. It is the market that has performed best of all since the financial crisis. There is the outside possibility of a long-term double top. I am not sure how much weight I put behind this, but it is something I will be watching closely.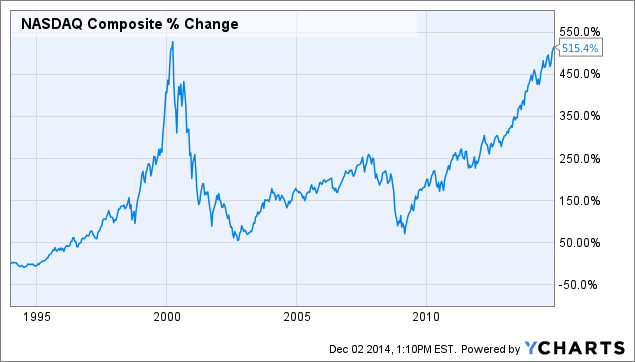 I will also be paying close attention to the iShares Nasdaq Biotechnology ETF (NASDAQ:IBB) in relation to it.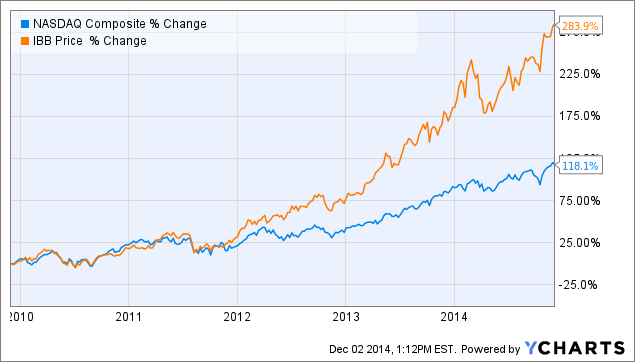 Disclosure: The author is long ADTM, NHYDY, ABGB, THST.
The author wrote this article themselves, and it expresses their own opinions. The author is not receiving compensation for it (other than from Seeking Alpha). The author has no business relationship with any company whose stock is mentioned in this article.
Additional disclosure: This article may contain certain forward-looking statements. I have tried, whenever possible, to identify these forward-looking statements using words such as "anticipates," "believes," "estimates," "expects," "plans," "intends," "potential" and similar expressions. These statements reflect my current beliefs and are based on information currently available. Accordingly, such forward-looking statements involve known and unknown risks, uncertainties and other factors which could cause actual results, performance or achievements to differ materially from those expressed in or implied by such statements. I undertake no obligation to update or provide advice in the event of any change, addition or alteration to the information contained in this article, including such forward-looking statements.
Editor's Note: This article covers one or more stocks trading at less than $1 per share and/or with less than a $100 million market cap. Please be aware of the risks associated with these stocks.