Given that the Greek government has been softened up for several weeks by way of numerous threats and apocalyptic predictions emanating from the IMF, the ECB and the EU's council of ministers, it is high time for the "good cop" to show up and promise that more good money will be thrown after bad to keep protecting the country's creditors – even if only in the shape of a rumor.
The official decision on the disbursement of the next tranche of loans by IMF/EFSF to Greece is only expected later this week, and the bigger decision regarding what to do about the fact that the Greek government is unlikely to be able to tap markets by 2012 is expected to be handed down in late June, but obviously something needed to be done to avoid markets getting bent completely out of shape until then.
The euro climbed against most of its major peers, while Asian stocks and U.S. equity-index futures advanced amid speculation European nations will pledge more funds to repair Greece's finances. Wheat sank the most in three weeks after Russia said it will allow grain shipments to resume.

Europe's 17-nation currency strengthened 0.6 percent to $1.4369 and rose 0.5 percent to 116.13 yen as of 9:35 a.m. in Tokyo. The MSCI Asia Pacific Index climbed 0.6 percent, paring its steepest monthly slump in a year. Standard & Poor's 500 Index futures added 0.4 percent. Wheat tumbled as much as 4.4 percent. Oil erased earlier losses, while copper snapped a four- day advance in New York.

European Union leaders will decide on a new aid package for Greece by the end of next month, said Luxembourg's Jean-Claude Juncker, who leads the group of euro-area finance ministers. Greek Prime Minister George Papandreou said on May 27 he'll press ahead with new austerity measures after failing to win backing from the main opposition parties.

"There's a degree of confidence that cooler heads will prevail and the next round of assistance will be forthcoming" for Greece, said Robert Rennie, chief currency strategist in Sydney at Westpac Banking Corp.

The euro appreciated against 14 of its 16 most-actively traded counterparts. It slid against all but two yesterday after Antonis Samaras, leader of Greece's biggest opposition party, New Democracy, rejected Papandreou's plan.

EU officials have ruled out a "total restructuring" of the nation's debt, Juncker said yesterday. Germany may stop demanding an early rescheduling of bonds for Greece so the debt- strapped nation can get a new package of loans, The Wall Street Journal reported, citing unidentified people.

European Union officials have called for consensus on the package, which includes an additional 6 billion euros ($8.6 billion) of budget cuts and a plan to speed 50 billion euros of state-asset sales, before approving more aid that Greece needs to avoid default.
This was reported at 2:46 a.m. CET, well before the markets opened for trading in Europe. Look at the points we highlighted above. Suddenly there's speculation that more funds will be pledged (did that drop from the sky? Not exactly). A steep monthly slump in Asian stock markets is thereby arrested. The Greek prime minister will press ahead with more austerity measures, the opposition's lack of support can be safely ignored (we would note that the opposition actually makes an interesting point, see further below). We get a currency strategist from an Australian bank who tells us cooler heads will prevail (an expert weighs in – everything is fine!).
Juncker, who recently mooted a reprofiling of Greece's government debt informs us there will be no total restructuring of Greek debt (presumably a less than total restructuring will still be possible, although one is left guessing what that is supposed to exactly entail). Germany is backing down from demands for debt rescheduling. This is not really news of course, since the German climbdown began at least a week or two ago already. Anyway, it's always good to know that the paymaster's stern mien was really just adopted for show. Or so unidentified people are telling us. Lastly, there's a reminder to Greece's government that certain demands must be met, or else.
As the chart below shows, calming the markets has become a matter of urgency:
[Click all to enlarge]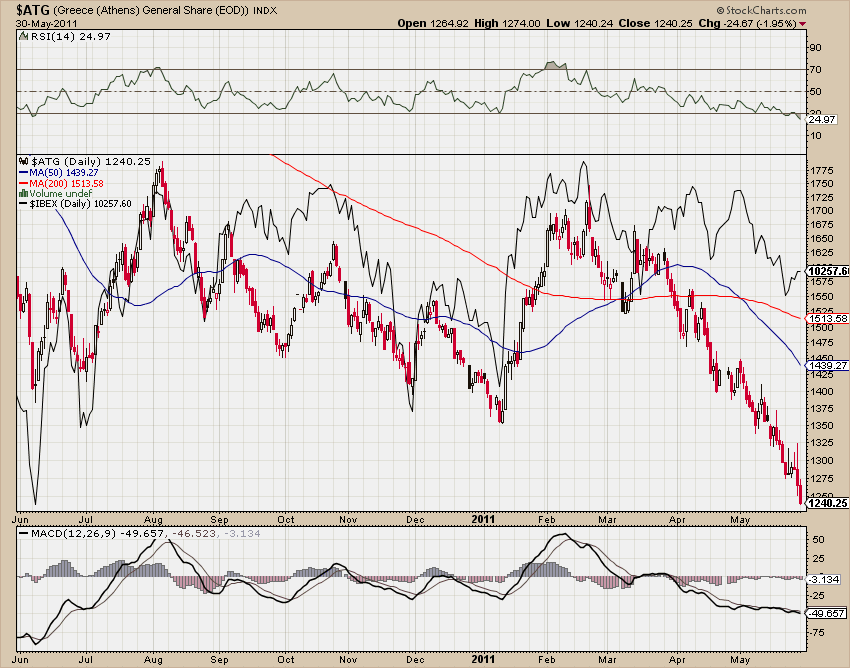 The Athens General Index (ATG) plunges to a new crisis low, down 29% from the interim high reached in February. Spain's IBEX (solid black line) has previously tracked the ATG closely, but has begun to diverge since mid March. One way or the other the gap is likely to narrow again, and it would be impolitic if it narrowed by means of a decline of the IBEX.
There are also government bond auctions in Spain and Italy this week (see further below), the bond yields of which have for several months traded in a tight, but elevated range. An upside breakout from that range would be very bad news indeed, hence more soothing noises should be expected to be forthcoming in coming days.
As theIrish Independent notes, the Greek government is likely to be pushed into ceding a good chunk of its fiscal and economic policy sovereignty this week. It has little choice in the matter, as it is about to run out of money.
Greece is coming under increasingly intense pressure from her international creditors and bond markets, with a decision expected later this week on whether Athens will receive the latest tranche of aid from the International Monetary Fund (IMF), a €12bn (£10bn) credit due within weeks.

A "troika" of officials from the IMF, the EU Commission and the European Central Bank (ECB), the three bodies overseeing the continuing rescue, are now in Athens reviewing the options. They are expected to make their recommendations later this week. If these fail to gain support internationally or in the Greek cabinet, a disorderly default may become inevitable.

The latest injection of cash, agreed last May as part of a €110bn rescue, is said to be under threat as IMF officials are dissatisfied with the progress Greece is making to fixing her public finances. In particular, Fund officials are unhappy about the speed and ambition of a proposed privatisation programme. They are also worried about the reliability of the country's economic data.

One way out for Greece is apparently to grant the IMF, the EU Commission and the ECB unprecedented powers over the nation's economy.
Unfortunately no details have apparently emerged as to what exactly the "unprecedented powers" the IMF and EU commission are said to be granted will consist of. We doubt this is going to be met with hearty approval by Greece's hard-pressed tax cows, but they have obviously no say in these proceedings. The good news is that some sort of debt restructuring is apparently seen as inevitable – alas, evidently not yet. Extend and pretend must be given another lease of life for now, lest the wheels come off the euro-area wagon:
Crucially, however, the plan would also require private bond holders to accept a "rescheduling" of the bonds they hold, arguably a technical default as it would impose a cost on the holders of Greek debt. Such a "credit event" is also unprecedented in the history of the European Union and the single currency area, but seen as necessary in order to carry increasingly hostile public opinion in the nations that usually have to foot the bill – Germany, Finland and the Netherlands. Chancellor Angela Merkel has made little secret of her desire that private investors should "share the pain" in any restructuring or "reprofiling". Last week the chair of the euro zone group of finance ministers, Jean-Claude Juncker, suggested that a "soft restructuring" of Greek debt could form part of a new deal.

However, such a move could still prove highly destabilising to Greece's partners in the euro zone. It would require a further bailout of the Greek banks; it could trigger a credit crunch across the continent, as many banks have significant exposure to Greek debt and banks; and it would hit the ECB with a loss of around €35bn on its holdings of €200bn of Greek bonds. These are collateral for loans to Greek private banks, and, in turn for the Greek government who borrowed money from those banks because they were all locked out of private capital markets and the ECB could not lend directly to Greece.

Worse still, there is also the fear of another round of "contagion" to Portugal, Ireland, Spain and even Italy. The latter two face government bond auctions this week.
Greece and the "Scandinavian Model"
Initially, little detail was reported in the media regarding the stance of the Greek opposition, the conservative New Democrat Party (NDP) led by Antonis Samaras. It was merely reported as not supporting the new austerity package. This could actually be of considerable moment, given that the NDP lately leads prime minister Papandreou's PASOK (Pan-Hellenist Socialist Movement) in the polls – as we have previously mentioned, economic and social mood downturns are never kind to political incumbents. The troika (IMF, EU commission and ECB) is therefore eager to obtain such opposition backing of its latest austerity package.
This is what Samaras actually had to say regarding his party's objections:
"You want to raise taxes and reach consensus with us, who have set reducing taxes as a priority? Don't even think about it," said Antonis Samaras, leader of the conservative New Democracy party.

"Lower tax rates are the key to starting the engine of the Greek economy. If you raise taxes, there will be no room for consensus or for renegotiation," he added.

"If we do everything else but don't lower taxes, we won't be able to give the economy the needed jump-start. This memorandum is like Sisyphus's punishment: no matter how much you push the boulder up the hill, it will roll back down."
While we don't believe an economy can be jump-started as though it were a stalled engine, we certainly have sympathy for Samaras' point about taxes on general principle. The scrounging for more tax revenue by raising taxes in the middle of a strong economic downturn may well prove self-defeating and end up raising less revenue than would be raised if taxes were instead lowered. After all, the most important goal must be to give the Greek economy the opportunity to revive. It makes little sense to relieve the economy of the burden of government spending on the one hand while concurrently increasing the burden of taxation on the other. One of the things the Greek government has attempted to get under control is widespread tax evasion, and it has been quite unsuccessful in this endeavor so far. Higher taxes will likely only serve to spur even more tax evasion. As Papandreou himself admitted in a recent speech, "an unfair taxation system created the culture of tax evasion in Greece."
He also appears to believe that the "Scandinavian model" will provide relief, which seems doubtful since it will probably be difficult to transplant the cultural traits that come with it. It is not quite clear if he thinks of the 'old' Scandinavian model that was so admired by the left, or the new one. As a reminder, the Scandinavian countries were once so overtaxed and over-regulated, that all entrepreneurial motivation died off in them. Sweden at one point sported a top marginal tax rate of 102% – which proved to be a great recipe for economic stagnation and forced considerable reforms in the 1980s and 1990s, with more in train.
Today the Scandinavian nations are still highly taxed, but offsetting this is the fact that they have been deregulated to such an extent that they all score very highly on the overall economic freedom index (for more on this, read Markus Bergstrom's article here). In Sweden's case, tax rates continue to be on the decline as well and socialism's popularity has clearly waned. As noted in an article posted at the Peterson Institute last year:
Arguably, the Scandinavian countries are better managed and wealthier than ever. So is the new Scandinavian model something to boast about? I asked Swedish Foreign Minister Carl Bildt. He responded emphatically: No! "Last time Sweden was perceived as a model led to a complacency we could not afford. We have to continue reforming our society in an ever more competitive world. If we accept it as a model, we shall only lean back, doing too little to improve it."

On September 19, the Swedish center-right government led by Fredrik Reinfeldt faced elections. It was reelected in spite of the financial crisis. This was all the greater a sensation since Sweden has been ruled by social democrats for 62 of the last 78 years. But this victory was well deserved. This government had cut taxes four times and abolished wealth taxes — the preceding social democratic government had actually eliminated inheritance and gift taxes, but even so achieving a budget surplus and reducing the public debt. Seldom has a government carried out so many small deregulatory reforms on a broad front.

With the social democrats obtaining only 30 percent of the vote even in their "homeland" Sweden, their statist model seems history. Populism is no longer popular in Scandinavia.
Given that Papandreou is a socialist, we're not sure if this is what he has in mind when he refers to the "Scandinavian model." However, since he mentions in his speech that he is aware of a study comparing Greece to Chile, there is reason to be hopeful – as Chile currently scores as number 10 in the world in terms of economic freedom.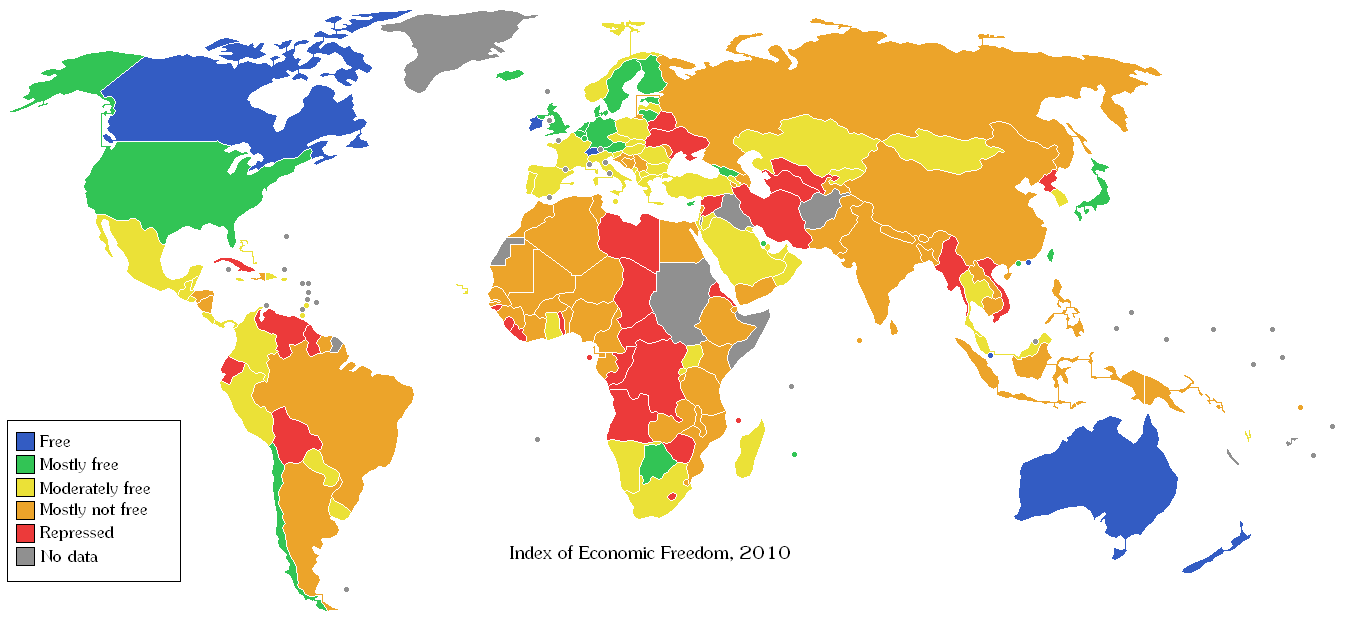 The Heritage Foundation's Index of Economic Freedom – green is good, blue is even better.
Perhaps the Greek opposition and the government are not as far apart on the tax issue as appears on the surface.
It should be kept in mind in this context that Ireland has rightly remained steadfast on the corporate tax issue and not given in to the demands of the tax harmonizers in the EU. Alas, Ireland had and continues to have a better negotiating position than Greece, since the main issue it is grappling with is its bankrupt banking system, the creditors of which the eurocracy wants to keep protected. The trouble the Irish banks find themselves in meanwhile is mainly a function of the collapse of the real estate bubble in Ireland. Greece's banks are of course also in the soup, but in their case this is largely due to the fact that the collapse of the market value of Greek government bonds is redounding on them.
Near Term Outlook for Risk Assets
In the short term, a calming down of fears over the Greek debt crisis could lend support to stocks and commodities. We note that a short term positive divergence between the SPX and copper has occurred, while stock market sentiment has lost a lot of its previous exuberance. The emphasis is on short term – we don't expect the market to make any great strides and think the medium to longer term outlook is likely to be far less enticing – as there is in our opinion nothing that would argue that the secular bear market is over.
Speaking of SPX-copper divergences, a temporally more widely spaced negative divergence was put in prior to the recent short term positive divergence, and unless it is negated again in the next rebound this argues for medium to longer term weakness.
The SPX-gold ratio meanwhile seems on the verge of breaking lower again – so in terms of real money, the stock market's bearish trend remains clearly in force. Nevertheless, if one looks at the overlapping waves in the recent flag-like decline the SPX, it looks like the stock market isn't yet ready to give in. There could be some meandering in the vicinity of the highs over the summer, in a trading range that could continue to test the patience of both bulls and bears.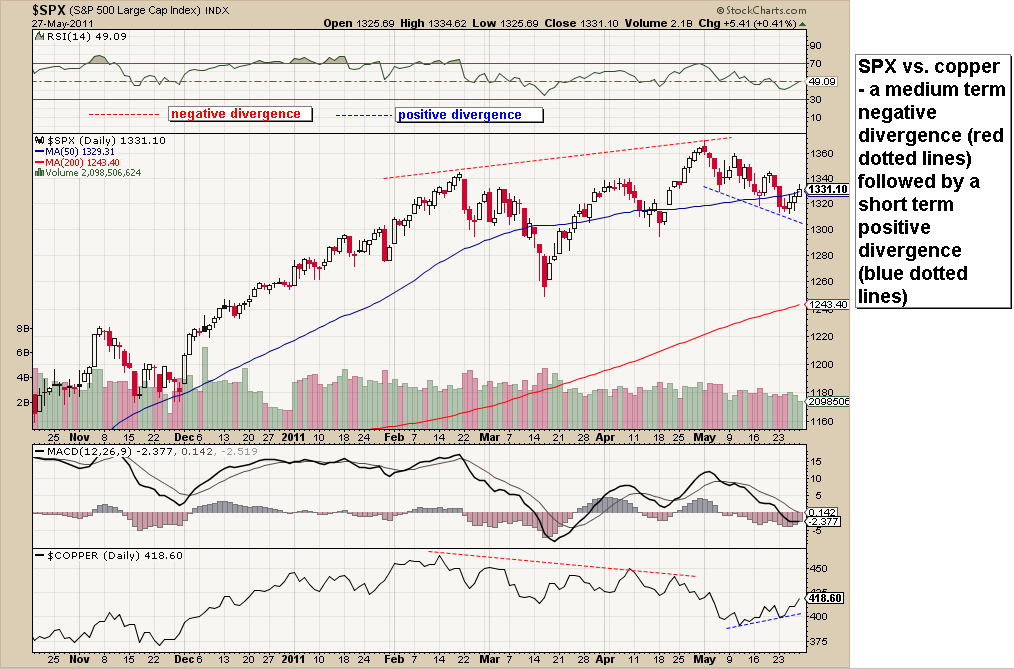 The SPX vs. copper – a tale of two divergences. A medium term negative divergence has been followed by a short term positive one. Our best guess is this means short term strength is likely, and will be followed by medium to longer term weakness unless the previous negative divergence is negated again (which seems unlikely at present).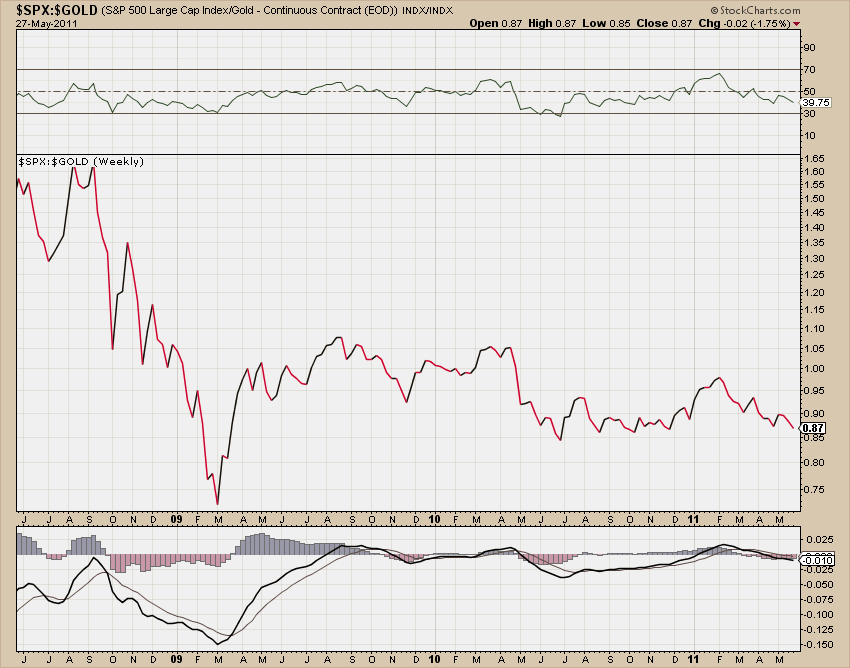 The SPX-gold ratio over the past three years. It remains in the trading range it has inhabited for the past year, but there has been a series of lower highs and lower lows recently – at some point we expect a break to new lows.
A "brief" observation on sentiment data: During the rally phase from the August 2010 to February 2011, sentiment data developed numerous extremes (we are referring to all types of data here, options positioning, various polls, Rydex ratios, futures positioning, etc.). Much of this over-confidence in the short term sentiment indicators was then relinquished in the pullback into March, was revived again in the subsequent rally and now has been given back again. In short, many sentiment data exhibit far more volatility than the stock market itself.
This is, however, not the case for data points with longer term significance, such as the mutual fund cash-to-assets ratio, hedge fund net exposure, margin debt and NYSE free customer credits. When looked at in toto, the message from the sentiment data seems to indicate something very much similar to the message from the two SPX-copper divergences discussed above: they look short term positive, but longer term negative. Our idea is that any future market pullback that fails to dampen bullish sentiment quickly will likely mark the beginning of a much deeper correction. This must be tempered a bit by the fact that there is growing awareness of the sovereign debt crisis in the euro area. As long as the extend and pretend policy continues more or less successfully, the crisis may serve as a wall of worry backdrop, but obviously this would no longer be the case should it get out of control.
Recall in this context that in 2007-08, the mortgage credit crisis initially failed to put a dent into stocks and commodities as well – the markets at first chose to instead focus on the easier monetary policy it promised to spark and only later became gradually more worried that it may not remain well contained after all. So one must carefully weigh the data points mentioned above with the market's propensity to either ignore negative fundamental developments or to begin focusing on them.
The latter would no doubt go hand in hand with a noticeable character change. Interventionist policies such as those now undertaken by the EU and IMF in the case of the euro area debt crisis tend to lengthen market cycles, but they also tend to increase their amplitude. Or putting it differently: The denouement may arrive later than most people expect, but once it does, it will bring about a marked increase in short term volatility. Since it is impossible to tell with certainty when that will happen, it will no doubt prove prudent to have an actionable plan for the eventuality beforehand.