Oil heading to $60
OPEC's recent decision not to try and eliminate an oil-supply glut, has led to the biggest crash in oil in six years, and analysts at Deutsche Bank and Nomura believe it will continue to tumble to $60 a barrel.
Crude collapsed into a bear market this year as the U.S. boom contributed to a global surplus that Venezuela estimates at 2 million barrels per day, more than the production of 5 OPEC members. OPEC announced on Nov. 27 it is taking no action to reduce supply, while it has exceeded its target in all but 4 of the 34 months since it took effect at the start of 2012. Analysts believe that at $60 a barrel, you start to price out a lot of critical mass production around the world.
Brent crude, the global benchmark, has slumped to $69.38 per barrel, the lowest since May 2010.
What's interesting is that U.S. shale produces, who OPEC is seeking to drive out of business, return cash at $40-$42 per barrel, while members of OPEC break even at closer to $70-$75 per barrel (Based on Bloomberg Estimates). Thus, the U.S. will likely not cut production, as the price of oil is well above its breakeven point, while OPEC will more than likely cut production at some point. Speculation aside, the price of oil has more room to drop based on the unchanged production figures.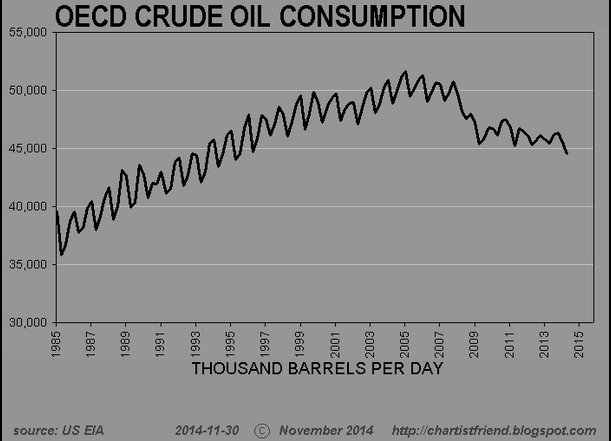 Source: Chartisfriend
Oil consumption has been gradually declining since 2008, while production has seen large increases, driven by the U.S. shale boom, and this "bubble" led to the 37% decline in the price of oil. Other factors driving decreased consumption include slowing demand due to economic slowdowns in China and the Eurozone.
Another interesting fact to realize is that U.S. oil production is growing so quickly, that a slowdown in drilling investments in the next couple of years will not slow U.S. output, which will still soar to the highest level in decades.
Could Oil Head Higher?
A question that many people are not asking is could oil make a comeback in 2015? Almost all estimates are calling for low oil through the first half of 2015, but there are a couple disruptive events to watch out for. An increase in violence could cut off production in the Middle East or elsewhere, sending prices soaring higher. Also, an unusually cold winter could create an unexpected jump in heating-oil demand. Finally, any decrease in production from OPEC, due to high breakeven prices, could cause oil prices to spike.
Conclusion
The price of oil still has a long way to fall based on unchanged production from the U.S. and OPEC, paired with relatively shrinking consumption due to lower-than-expected demand caused by economic slowdowns. The price of oil is likely to be suppressed through the first half of 2015, but could see a jump due to increased global conflict, an unusually cold winter, or an OPEC production cut.
Any large changes could effect oil companies such as Exxon Mobil (NYSE:XOM), PetroChina (NYSE:PTR), BP (NYSE:BP), Royal Dutch Shell (RDS), Kinder Morgan (NYSE:KMI), Chevron (NYSE:CVX), ConocoPhillips (NYSE:COP), and Halliburton (NYSE:HAL) among others.
Disclosure: The author has no positions in any stocks mentioned, and no plans to initiate any positions within the next 72 hours.
The author wrote this article themselves, and it expresses their own opinions. The author is not receiving compensation for it (other than from Seeking Alpha). The author has no business relationship with any company whose stock is mentioned in this article.