Saying that Southwest Bancorp (NASDAQ:OKSB) has been busy this past year is an understatement. The bank has significantly reduced its debt load, cleaned up its loan book, and shifted focus to higher growth markets while shedding assets and branches in areas that didn't match-up with the new goals. When I first reviewed the bank in August of last year, the negative issues were easy to spot, and I thought shares were not going to move much until the problems were worked out. With that said, the forecast was spot-on, and I wouldn't argue with anyone that wanted to say shares are more attractive now than they were then. They are trading for the same amount, and today the financials are much stronger. But does that make it a buy?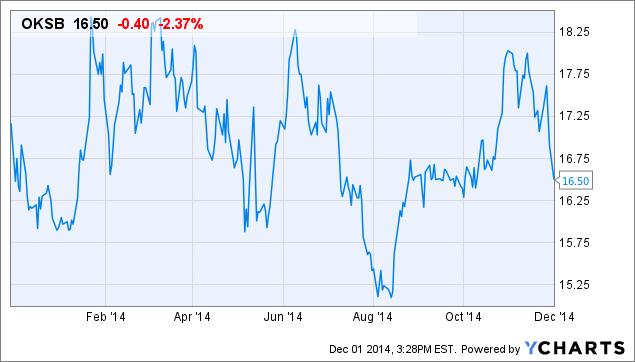 As a reminder, Southwest Bancorp is a 100+ year old bank that offers services in Oklahoma, Kansas and Texas. When last reported, the majority of assets in the bank's $1.3 billion loan portfolio supported commercial lines of credit (commercial real estate - 55%, commercial construction - 12%, and non-real estate commercial - 24%). Since my last review, the portfolio has grown by ~$67 million (5.2%), and almost all of the growth can be attributed to additions in non-residential commercial loans (up 25% YOY). Last year, the bank divested three branches in Overland Park, Anthony, and Harper, Kansas, in an attempt to sharpen its focus in Oklahoma and Texas. In-line with this, a look at the portfolio by segment shows a more material change. Oklahoma loans are now up to 57% of the portfolio (from 52%), Texas loans have held steady at 31%, and Kansas banking has decreased to just 10%. At this point in time, the changes are consistent with management's plan, but any real benefits have yet to be seen. YOY, the portfolio's yield has moved down from 4.96% to 4.59%. This isn't a real 'shocker' (Wichita pun intended) considering the low-interest rate environment, but the change makes sense for any bank wishing to grow anything related to commercial lines of credit.
Yields may not be changing for the better, but asset quality has improved. Since last September, nonperforming loans have been halved (to $15 million), and potential problem loans are down to $64 million. As a percentage of total loans, nonperforming loans are low at 1.1%, and the allowance balance has them covered by 205%. During this time, the bank has released just under $10 million from the allowance account, but Southwest stands out on this item, because in the past 4-quarters net recoveries have added up to $1.6 million. More recently, net charge-offs coupled with provision benefits have been common in the regional bank space, but I honestly can't remember coming across one other bank that has actually been recovering more problematic loans than it has charged-off. This is a huge plus, but it's important to discount any calculations of core earnings by the ~$10 million added to pre-tax earnings from provision benefits this year.
Going forward, we know what lines and what regions are more likely going to be adding to the loan portfolio, but the big question in my mind is how much can be added? Based on $271 million in the equity account, the bank definitely has the capacity to support a larger loan portfolio, but deposit growth is key. As it stands now, the loan to deposit ratio is at 91%, but this has moved up due to portfolio growth AND a decrease in deposits (down 5.6% YOY). I like the moves management has been making, but I think the real benefit of shifting towards Texas and Oklahoma will come from tapping into the larger deposit bases that these two states have to offer.
The yield on the loan portfolio has been slowly moving down, but net interest margins are up this year (to 3.44%) because the bank has been paying off some very expensive subordinated debentures. With an average balance of $46 million last quarter, subordinated debt is down 38% YOY, but it still carries a very high yield of 4.85%. And, even though the 4.85% paid for this liability is higher than any one of the bank's interest earning assets, it is still more than welcome considering the average yield was 7.04% at this time last year. In addition to supporting a larger loan portfolio, the bank will be even less reliant on this debt if and when new deposits start to roll in. The bank opened a new full service branch in Fort Worth last month, and little by little moves like this should start to increase dry powder throughout 2015.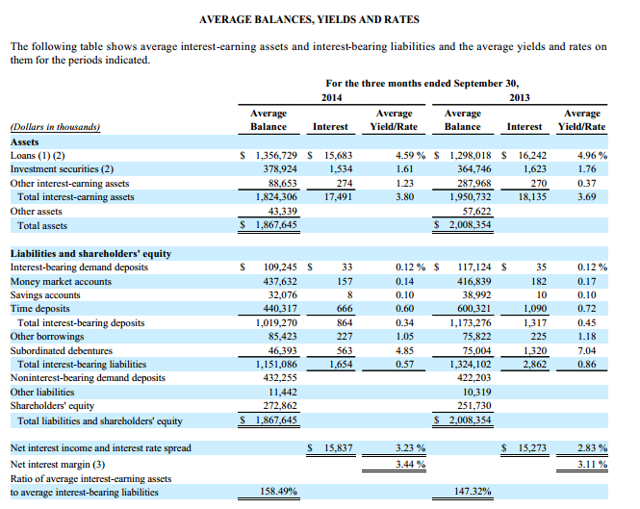 The market in Texas has been attracting a lot of attention for a very long time, and it is getting saturated, but the problem for most banks has been in finding profitable loans to service. And, in addition to this already developing trend, the loans being written for commercial use have largely come from oil and gas projects that are being tested by falling prices. The bank is starting to hire energy bankers, but I think the falling demand is actually a good thing for Southwest, because the portfolio yield is falling and it would be better if we had a couple periods where deposit growth outpaced incoming loans.
YTD pre-tax income is up 42%, but all of this increase is due to one-time benefits. Subtracting provision benefits ($4.2 million), and the one-time gain from the sale of three branches ($4.3) shows pre-tax income declined this year by 7.8%. This of course could get a lot better, but it's important to remember it could have also been a lot worse. Management has made a lot of positive changes, but a lot more will continue to need to be done to support the stock price in 2015. As it stands now, shares trade at 15X trailing earnings that I hope we can agree are not reflective of the bank's weaker core. This isn't a huge premium for another industry, but a lot of stronger regional banks are trading at 50% of this valuation. Based on equity, shares are also looking expensive at 1.18X tangible book value. One-time gains have moved ROAA up to as high as 1.37% in a single quarter, but core returns are closer to half this amount (~0.75). Part of the premium may be due to the region, but the bank looks expensive based on core-earnings, and even more so considering expansion could be limited by liquidity issues.
For a comparison, the bank is trading above the peer median P/E of 13.47, and below the peer average P/E of 22.08. Southwest's current P/TBV of 1.18 is below both the median and average P/TBV ratios of 1.43 and 1.45 respectively. None of these figures stand out as overpriced, but again, these calculations are including one-time benefits; core pre-tax earnings for the full year are a lot closer to $20 million than they are $32 million, which is the annualized pace the earnings ratios are reflecting. Tangible equity is obviously supporting the current value, but upside looks limited and I expect a severe drop in earnings next year once the one-time benefits roll through. Based on a 35% tax rate, a $20 million pre-tax core translates into $13 million net, and the bank is being valued at 24X this number. This brings the earnings premium to 84% above the peer median P/E multiple. This is a large figure for a bank on-track to realize returns of just 5.5% a year. Moving to Texas will definitely place the bank in an environment where the probability of growing assets to leverage the large equity base is higher, but they have a large hole to fill once the one-time gains disappear, and I want to point out my core figure above hasn't accounted for a regular provision charge (which will be needed as the loan portfolio grows). All told, 2015 is the year investors will find out just how much book value can support the bank's share price, because earnings are setting up for an above average fall.
If you're looking for organic growth, Southwest has a lot of short-term red flags but the bank has a full loan portfolio (based on L/D ratio, the loan portfolio is not large relative to equity) that may start to attract an acquisitive bank's attention. In other parts of the country, acquisitive banks have been looking for regionals with excess liquidity, but in and around Texas they are looking for loans. However, as a constant word of caution, a deal may never come.
Bottom Line
Southwest Bancorp is a lot better off than it was last time around, but there is not a lot to look forward to when the share price still looks expensive. You have to like the changes management has been making, but to be honest, these were necessary ones and I get the feeling that some moves are not consistent with future needs. For instance, I went over the premium shares are trading for, and some liquidity issues, but I didn't mention that management has also recently started to buyback shares and pay out a small dividend. These moves may help support the share price, but $3.7 million was spent on buybacks in a quarter where the highest yielding line item is found on the liability side of the balance sheet. For this alone, I'm going to continue to stay away.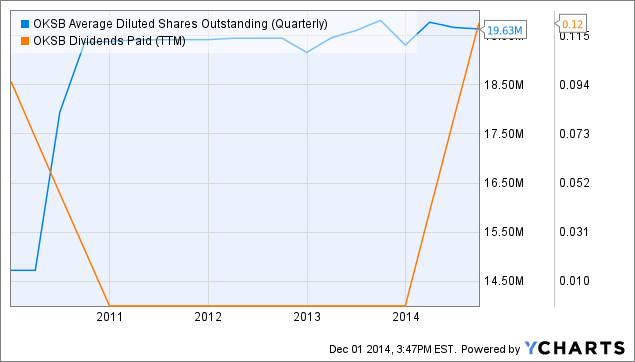 OKSB Average Diluted Shares Outstanding (Quarterly) data by YCharts
Disclosure: The author has no positions in any stocks mentioned, and no plans to initiate any positions within the next 72 hours.
The author wrote this article themselves, and it expresses their own opinions. The author is not receiving compensation for it (other than from Seeking Alpha). The author has no business relationship with any company whose stock is mentioned in this article.