Anything energy related is getting slammed after OPEC failed to lower production. Oil and natural gas producers, midstreams, refiners - the market does not care. However, if there was a sector where this selloff has been greater than expected it would have to be the upstream MLPs. Case in point - Linn Energy (LINE) and LinnCo (LNCO). Both of these stocks have seen major volatility, down nearly 20% last Friday and a combined 25%-plus over the past week or so since I last discussed the names.
Why has Linn Energy fallen so hard, so fast?
Let me start off with the elephant in the room - Linn Energy's fast declining unit/share price. As shown, Linn Energy has generally fallen alongside oil prices. Furthermore, its decline has been inline with other upstream MLPs such as Vanguard Natural Resources (NYSE:VNR) and BreitBurn Energy Partners (BBEP). Do note that I'm long both VNR and BBEP.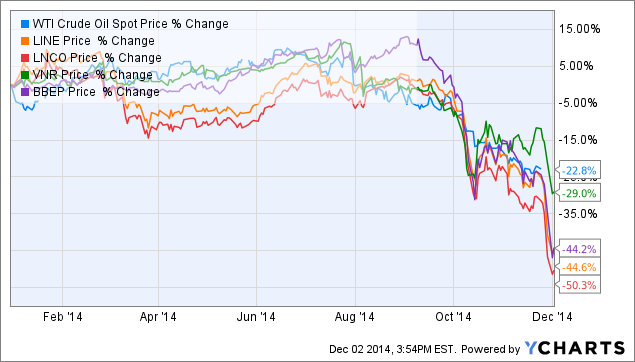 WTI Crude Oil Spot Price data by YCharts
Do note that energy stocks got routed on Monday (December 1, 2014) despite a rally in crude oil prices. This was irrational behavior and points toward the level of panic selling currently ongoing in the energy market. From the rumor mill, I have heard that this selloff was related to margin calls at the start of the month which was amplified by the holiday, traders selling oil names to play the stronger dollar, and short covering in gold which happen to rally almost 4% despite negative headlines.
Asset swaps should increase DCF in Q1 2015
Linn Energy has announced several large transactions in recent months as part of a wider effort to lower its capital spending. As I noted in my earlier article, many of these deals have yet to close. Among those are its $315 million asset sale to Fleur de Lis Energy, a second trade with Exxon Mobil, and its $1.95 billion sale of Granite Wash and Cleveland properties to EnerVest.
When these transactions do close, Linn Energy stands to benefit greatly. The company will essentially become much more natural gas focused while at the same time increasing the age of its average assets and lowering its decline rate. As there are many moving parts, Linn Energy was not forthcoming as usual in its most recent earnings call as to what it expects its future guidance will be. However, many analysts expect a large drop in Q4 2014 DCF and a subsequent increase for Q1 2015 and beyond DCF.
***As a minor note, please be aware that Linn Energy does not use the industry standard DCF metric in its reporting, instead opting to use excess/shortfall of net cash provided by operating activities after distributions to unitholders and discretionary adjustments.
Sell-off in oil is eerily similar to 2009
In my opinion, what we are seeing now is a repeat of the 2009 energy market. That year, oil prices ("WTI") fell to around $40 per BBL from $140 per BBL before fast recovering to above $70 per BBL due to a supply squeeze.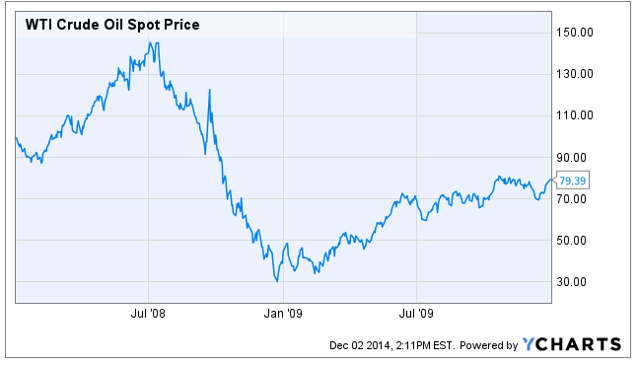 While painful, that squeeze was actually a very profitable period for Linn Energy as the value of its hedges increased dramatically. The company has wisely locked in prices by buying puts at above $100 per BBL. When oil fell to $40, the value of these hedges exploded higher. As a result, Linn Energy was able to lock in its distributions for years.
Linn Energy has hedges protecting it from lower oil prices
As 2009 showed us, hedges are necessary in the upstream sector. Linn Energy has long been one of the better hedged outfits out there. However, many are worried that the company has outsized exposure to the current weak oil prices.
While it is true Linn Energy is not 100% hedged, it does have a large chunk of production protected. For Q4 2014, the company has around 90% to 95% of its pro-forma oil production hedged at an average price of $92.46 per BBL. For 2015, this number drops to 60% to 70%, though the price increases to $94.48 per BBL.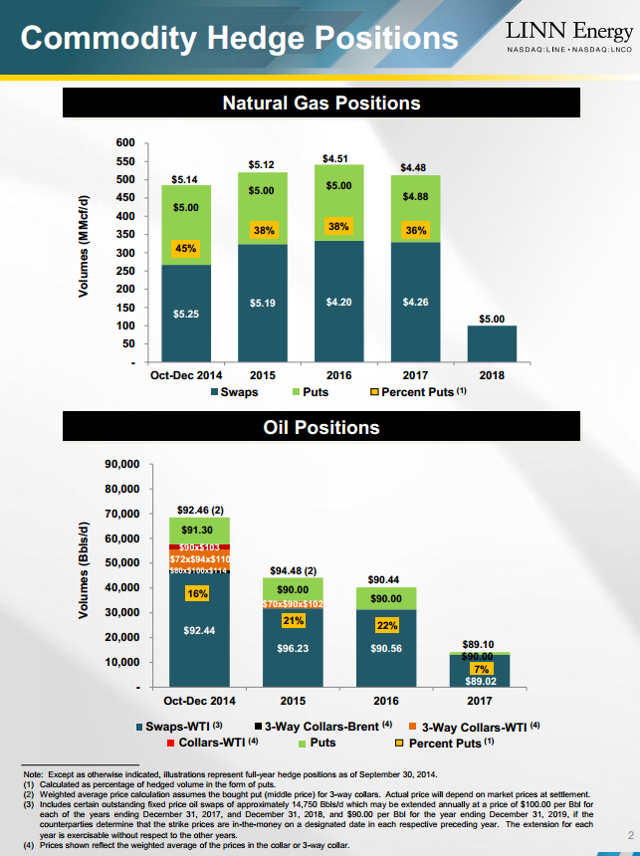 Nevertheless, 30% to 40% of un-hedged oil production is still quite a bit, especially considering the near 40% decline drop in WTI prices. The direct impact is hard to measure as Linn Energy has not provided its 2015 guidance.
However, if we assume 35% of 2015 production is oil (figure provided in the Q3 CC), WTI at $65 per BBL, and that production will average near midpoint of Q4 2014, Linn Energy could see its revenues fall by as much as $250M to $300M in 2015.
The impact of the drop in revenues to DCF is harder to gauge, though it could be considerable. I estimate the company may need to lower is distribution by as much as 30% if it were attain a 1.00x coverage ratio at current oil prices. Do note that Linn Energy has other options to free capital including lowering its capex budget and selling assets.
Conclusion
The panic caused by lower oil prices is palpable. The market is trading based on fear, selling first and asking questions later. Linn Energy will struggle if oil prices stay at current levels - that is a fact. However, the same can be said regarding nearly all E&P names.
At current prices, Linn Energy yields nearly 17%, implying that the market thinks a cut is likely. However, the company should be able to survive such a cut. I actually think Linn Energy will delay lowering its distribution until it is absolutely necessary. This may buy enough time for oil prices to recover.
Disclaimer: The opinions in this article are for informational purposes only and should not be construed as a recommendation to buy or sell the stocks mentioned. Please do your own due diligence before making any investment decision.
Disclosure: The author is long VNR, BBEP.
The author wrote this article themselves, and it expresses their own opinions. The author is not receiving compensation for it (other than from Seeking Alpha). The author has no business relationship with any company whose stock is mentioned in this article.