By Sridharan Raman
There's a huge disconnect here - investors seem far more pessimistic about growth expectations than analysts, even though analysts are already calling for earnings to shrink for the sector over the next five years.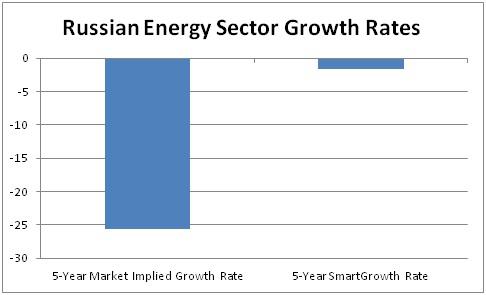 Source: Thomson Reuters StarMine
That sinking feeling
As you can see in the chart above, analysts expect earnings to shrink by almost 2% a year for the next five years for the energy sector in Russia. Yet, the market's outlook is really dark. Using the StarMine Intrinsic Value model, markets are expecting earnings to shrink by 25% every year for the next five years. To put this in context, if we assume that the current earnings are $100, the market is pricing stocks such that they are expecting earnings to be just $24 in five years, less than a quarter of their current earnings.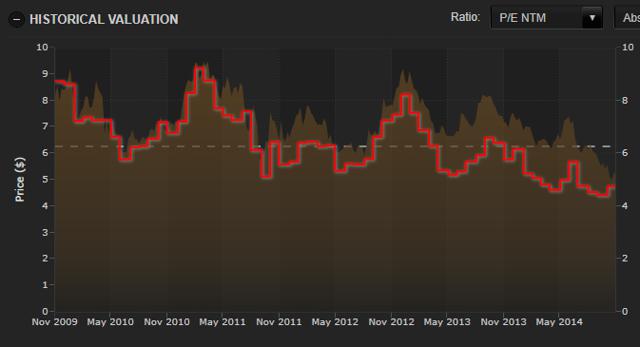 Source: Thomson Reuters Eikon/StarMine
Drilling for answers
We look at Rosneft Oil Co. (OTCPK:RNFTF) to try and understand the discrepancy between analyst estimates and market expectations. The company seems cheap by almost every measure, including the StarMine valuation models. It scores a best possible score of 100 on the StarMine Relative Valuation model that combines several of the most commonly used valuation metrics. It compares the company to its peers and ranks it accordingly, and it looks like Rosneft may be one of the cheapest companies around. The current forward 12M P/E is 4.7, below its historical five-year median of 6.3, as seen in the chart above. You'll be hard-pressed to find many cash-generating companies trading at P/Es of less than 5.

Source: Thomson Reuters Eikon/StarMine
Why the red flags?
Analysts have become pessimistic on earnings growth, based on the recent political instability involving Ukraine, and the StarMine projected growth rate of -4.7% reflects just that. What that means is that analysts expect earnings to shrink by almost 5% every year for the next five years. Market expectations, based on current price, however, are much lower, equating to earnings shrinking by 26% a year for the next five years. Despite falling oil prices and the crumbling rouble, that still appears overly pessimistic.
However, given that oil prices have been falling (they are down by 30% over the past three months), and the political uncertainty in the region, perhaps the markets are overreacting? After all, Rosneft does continue to generate strong cash flows from operations, and is currently giving out a 3.4% dividend yield. It has doubled revenues over the past three years.
The company does have several large capex projects that may be delayed or cancelled if oil prices continue to fall, but those expenditures seem to be funded by strong cash flow from operations. Another positive is that BP plc (NYSE:BP) owns a 20% stake in the company, and recently signed a deal to receive at least $1.5 billion worth of deliveries from Rosneft. So while Western sanctions may hit other Russian companies hard, Rosneft might have a cushion in its partnership with BP.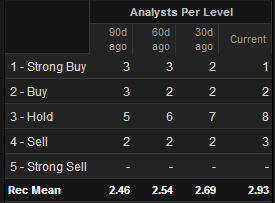 Source: Thomson Reuters Eikon/StarMine
Looking behind the numbers
Analysts have been pessimistic on Rosneft, lowering earnings estimates for the company by 16% and 18% for this year and next year respectively. The fact that the markets are even more pessimistic could indicate some value here, assuming that oil prices do not keep falling indefinitely. The weakness in the rouble could also be a headwind, but with strong quality earnings, Rosneft is one example of a stock in a politically uncertain region that may be a better value than its comrades.
Disclosure: The author has no positions in any stocks mentioned, and no plans to initiate any positions within the next 72 hours.
Business relationship disclosure: Alpha Now at Thomson Reuters is a team of expert analysts that are constantly looking at the financial landscape in order to keep you up to date on the latest movements. This article was written by Sridharan Raman, independent commentator and analyst. We did not receive compensation for this article, and we have no business relationship with any company whose stock is mentioned in this article.
Editor's Note: This article discusses one or more securities that do not trade on a major U.S. exchange. Please be aware of the risks associated with these stocks.