Not yet.
The Wall Street Journal hosted an online vote asking whether the successful IPO of LinkedIn (LNKD) signals a new tech-bubble. As of the weekend, 66% people voted "Yes." The results of such type of votes should always be read through a contrarian lens. A bubble forms only when everyone firmly believes that "this time is different."
Admittedly quite a few people think a bubble is something good. A bubble benefits everyone during its inflating phase when dramatic growth is eyed across the board, whereas the final burst is by and large proportionally devastating.
Good news is that, according to our research, the recent expansion in technology sector is supported by solid fundamentals and is likely to keep going for a while, though it is not a new bubble.
We quantify fundamentals of technology sector by a newly devised fundamental ranking system. For purpose of this discussion, we summarize below key attributes of the ranking system. Details can be found in our methodology article: "ETF Ranking: A New Fundamental Approach That Drives Short-Term Return."
The ranking system is based on fundamentals. Individual stocks are ranked by their valuation, financial condition and return on capital. We extended the ranking system to ETFs. The rank of an ETF is calculated to be the weighted average over the ranks of stocks in its portfolio.
It has predictive power.

The ranking system drives short term return. We observed that stocks with higher ranks had a strong tendency to outperform those with lower ranks over a period of one week. The data show that moving up 10 rank points translates to an extra annualized return of 1.7% in the past 10 years, if ranks range from 0 to 100. As a mater of fact, the S&P 500 Index returned an annualized 2.5% in the same period.
It is bubble-proof. Growth is not fabricated into the ranking system. Stocks with rich valuation simply due to their growth potential are not going to have rosy ranks.
A highly ranked stock has sound fundamentals and tends to outperform the market with or without a bubble. Likewise, a highly ranked ETF indicates sound fundamentals of the sector or industry it represents, where a bubble is less likely to materialize.
To account for a "tech-bubble," we selected 20 ETFs that represent technology sector and related industries. We focused on SPDR, iShares and HOLDRS ETFs. Besides information technology, we also included ETFs for biotech, telecom and wireless. Most ETFs are U.S.-based. Three ETFs - IGM, IGN and IGV, are based on North American companies. And one ETF, IXN, represents the global technology sector, which has around 75% of holdings based in the U.S. We took in PowerShare QQQ Trust (NASDAQ:QQQ) as well due to its heavy weight on technology. The table below lists the selected ETFs and their ranks.
SPDR

MTK

66.37

SPDR Morgan Stanley Technology ETF

84.87

SPDR S&P Semiconductor ETF

60.57

Technology Select Sector SPDR Fund

iShares

71.18

Dow Jones U.S. Technology Sector Index Fund

84.15

PHLX SOX Semiconductor Sector Index Fund

69.22

S&P Global Technology Sector Index Fund

67.96

S&P North American Technology Sector Index Fund

67.03

S&P North American Technology-Multimedia Networking Index Fund

69.75

S&P North American Technology-Software Index Fund

HOLDRS

73.29

Biotech HOLDRS

63.02

Broadband HOLDRS

64.21

B2B Internet HOLDRS

42.65

Internet HOLDRS

56.17

Internet Architecture HOLDRS

60.93

Internet Infrastructure HOLDRS

87.72

Semiconductor HOLDRS

70.43

Software HOLDRS

11.93

Telecom HOLDRS

31.83

Wireless HOLDRS

PowerShares

70.28

PowerShare QQQ Trust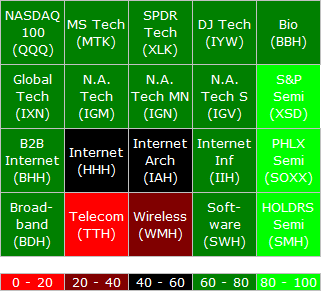 Technology Thermo-gram, related ETFs are grouped together.
Overall, the ranks signify solid fundamentals for the technology sector. The broad-based QQQ is ranked at 70, meaning its aggregated fundamental strength is better than that of 70% stocks in the market. Morgan Stanley technology sector ETF (MTK) and Dow Jones technology sector ETF (IYW) are ranked at around 70 as well. SPDR technology sector ETF (XLK) is ranked a bit lower, but still above 60. XLK's rank is dragged down by telecom names in its holdings, which will be discussed later. Similarly, the global technology sector ETF (IXN) and three North American technology sector ETFs (IGM, IGN and IGV) are all ranked at around 70. Out of a total of 20 ETFs, 16 are ranked above 60. The highest rank is around 90.
Only two ETFs are ranked below 40. The worst industry is telecom (TTH), which is ranked below 20, followed by wireless (WMH). The Internet industry has average ranks. Among the four internet ETFs, HHH and IAH are both in the range between 40 and 60. IIH and BHH are above 60, but only marginally. Broadband industry (BDH) is marginally above 60 as well. Telecom is traditionally defensive. Wireless, Internet and broadband are highly related to telecom. Their unappealing ranks suggest that being defensive is not fundamentally attractive at this moment, and pursing growth might reward investors smartly.
The best industry is semiconductor. All three semiconductor ETFs (XSD, SOXX and SMH) are ranked above 80. The highest ranked is SMH from HOLDRS, with a rank at 88. The best investment opportunities may locate in this industry.
The biotech industry comes in second place. Its representative ETF, BBH, is ranked at 73. Software industry holds the third place, whose representative ETF, SWH, is ranked at 70.
Although the IPO price of LinkedIn, as well as its first trading day's appreciation, can be intimidating, the numbers we have are reassuring. A bubble is less likely whenever the valuation is supported by solid financial results.
A comparison to that of the Internet Bubble would be handy. But we don't have historical data on ETF rankings. Nonetheless we believe the ranks would be ugly at that time because the market was packed with high tech companies that had negative earnings, burned tons of cash, and with mirage growth potential. None of them contribute to a good rank in our ranking system.
We think the majority voted for a bubble because people worried about tarnished economic growth and lagging employment numbers, which is good because caution is always healthy in a bull market.
The ETF rankings presented here do not constitute outright investment recommendations. Many ETFs are thinly traded and personally we wouldn't touch them. Beside liquidity, serious investors want to understand the expense ratio of an ETF before diving in. Another thing to mention is that HOLDRS ETFs only trade at a multiple of 100 shares. Some investors may have concerns on this.
Investors may want to take a look at large-cap technology companies to profit from the sector's fundamental strength. Those companies are popular, enjoy abundant liquidity, with no expense ratio tagged on, and investors can trade an odd number of shares. Arguably ETFs have less volatility than individual stocks. But the abundant liquidity enjoyed by large-cap companies will drive down volatility. Using beta as a proxy of volatility, we have that QQQ's beta is 1.11, MTK's beta is 1.21, XLK's beta is 1.06, and IYW's beta is 1.12. Many large-cap companies' beta is at the same level.
We selected some high tech names with ranks that are above 85, and listed them below with their ranks, market caps and beta. Interested investors can start from the list and come up with their own investment plans.
| | | | |
| --- | --- | --- | --- |
| Symbol | Rank | Market Cap | Beta |
| Texas Instruments (NYSE:TXN) | 98.56 | 41B | 1.08 |
| Cognizant (NASDAQ:CTSH) | 97.07 | 23B | 1.09 |
| Apple (NASDAQ:AAPL) | 96.26 | 311B | 1.36 |
| Applied Materials (NASDAQ:AMAT) | 91.68 | 18B | 1.02 |
| Dell (DELL) | 90.2 | 30B | 1.42 |
| Intel (NASDAQ:INTC) | 89.96 | 118B | 1.13 |
| Microsoft (NASDAQ:MSFT) | 88.58 | 209B | 1.05 |
| Broadcom (BRCM) | 87.1 | 20B | 1.29 |
Disclosure: I have no positions in any stocks mentioned, and no plans to initiate any positions within the next 72 hours.