One of the stocks I cover the most is cigarette giant Philip Morris (NYSE:PM). The name is an investor favorite because it returns a large amount of cash to shareholders each year through its dividend and buyback programs. The cigarette industry has undergone a bit of change in recent years, and results have recently suffered for Philip Morris. As a bad year comes to a close, I'll preview 2015 for the company and the stock.
Q4 and the end of 2014:
I'd like to briefly discuss the final part of this year before I move on to 2015. The numbers this quarter are not going to look good when compared to their prior year counterparts. The company did announce a strong Q3 quarter, but Philip Morris is up against some big numbers when it comes to Q4. Also, weak currencies are going to hurt a bit. Through the first nine months of 2014, the company reported a $0.52 hit per share due to currencies, and the 2014 forecast was for a $0.72 hit.
When it comes to Q4, analysts are currently expecting a 7.8% decline in revenues to $7.19 billion. Additionally, adjusted earnings are expected to come in at $1.08, compared to $1.37 in the prior year period. That roughly $0.20 currency hit is a large reason for the drop. The weakness in Q4 is part of why the company is expected to report a 4.7% drop in annual revenues, with about 40% of that drop coming from the last three months of the year. The company reaffirmed its 2014 forecast when it presented a few weeks ago at a Morgan Stanley conference.
2015 initial highlights:
In that link from above at the Morgan Stanley conference, the company provided some important details for 2015:
In 2015, as previously disclosed, the Company targets annual growth rates, on a currency-neutral basis, of 4% to 6% for net revenues, 6% to 8% for adjusted operating companies income and 8% to 10% for adjusted diluted EPS, despite the incremental year-over-year investments in Reduced-Risk Products.
For the full-year 2015, at prevailing exchange rates, an unfavorable currency impact would approach approximately $0.60 per share.
The Company has now launched its Reduced-Risk Product, iQOS, and Marlboro HeatSticks, in Nagoya, Japan, and announces that it will launch in Milan, Italy, on November 20, 2014.
In the future, the Company aims to return around 100% of its free cash flow to its shareholders through dividends and share repurchases after taking into account the funding of any attractive business development initiatives; since 2008, the Company has increased its dividend by 117.4% to an annualized rate of $4.00 a share.
The Company will provide its 2015 full-year reported diluted EPS forecast in February of next year.
There are a couple of key items here. First, the ever important currency impact would be approaching 60 cents per share at current rates. While that's better than the 72-cent per share hit forecast in 2014, it's still fairly large. Currencies have really hit earnings and cash flow in recent years, and if they were to ever turn to the positive, results could really take off. The company will continue to provide updates on the currency impact at quarterly reports, and we'll get another forecast when the company announces its Q4 earnings.
Reduced-Risk products are a big part of 2015, as they are expected to help the company evolve in this industry. Cigarette volumes are decreasing, but the company's pricing power has been strong in recent quarters. The forecast above has not changed on a currency-neutral basis for 2015, but it probably isn't as strong as some had hoped. In the table below, you can see how 2015 estimates have come down over time.

The current forecast calls for another 1.5% decline in revenues over the estimate for 2014 at this point. The EPS number would represent a two-cent increase. Remember, these earnings numbers are basically the adjusted numbers except for the currency impact. Philip Morris reports earnings in a variety of ways, so investors always need to know the difference between reported and adjusted earnings.
Balance sheet and capital returns:
One of the most watched items in regards to Philip Morris over the past few years has been the balance sheet. The company has had a tremendous capital return plan, but has taken on a lot of debt to accomplish this plan. In the table below, you can see some key balance sheet metrics going back to the end of 2010. Dollar values are in millions.

*Liabilities to assets ratio.
In November, the company took on some additional debt, and the interest rates were not too bad. I'm hoping that the company uses some of these funds to repay some of its higher rate debt. This would not only save on interest expenses, which will help earnings, but it will improve cash flow as well.
The company targeted $4 billion in share repurchases in 2014, which was down a bit from prior year amounts. Next year, Philip Morris will target $2 billion to $3 billion, and we'll get more clarity on that in the next few months. I'd personally like to see the lower end of that range currently, for two reasons. First, I'd like to see some debt repaid, for the reasons listed above. It would be nice to see the balance sheet improve a bit, so that the company's credit rating does not come under additional scrutiny. This way, when the company needs to take on debt for actual business purposes, it can do so. The other reason I'd argue for a lower buyback is that shares are in the high $80s at this point. If shares were in the low $80s or even the $70s as they were earlier this year, my argument would be a bit different.
The other item investors are really concerned with is the dividend. Philip Morris raised its dividend in September, exactly as I predicted, although some investors wanted more. In a down 2014, earnings were hit, and thus the dividend raise was lower than usual. Next year, adjusted earnings are expected to do a bit better, and I believe that will help the dividend raise, offset by a lower buyback. At this point, I could see the 2015 dividend raise getting the dividend up to an annual rate in the range of $4.25 to $4.40. I understand that's pretty wide, but at the moment, we're several months away from the next expected raise. Once we get into the first few months of 2015, I'll provide a more detailed and narrow prediction. In the chart below, you can see how Philip Morris' dividend stacks up against industry peers Altria (NYSE:MO), Reynolds American (NYSE:RAI), and Lorillard (NYSE:LO).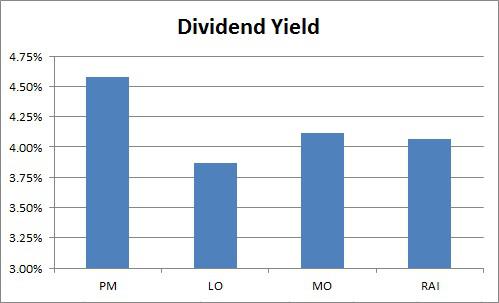 As of Tuesday's close, Philip Morris had an annual yield of 4.58% thanks to its $4.00 annual dividend. That is the highest yield of these four names, with Altria in second place about 46 basis points behind. In terms of yield, Philip Morris is considerably ahead, so income investors should keep that in mind. However, part of that is due to the stock's weak performance over the past year, as seen in the chart below.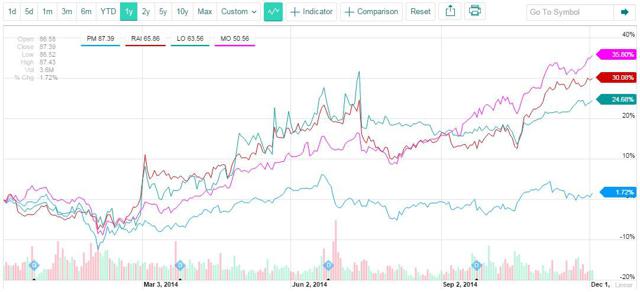 (Source: Yahoo! Finance)
Philip Morris has trailed for a couple of reasons. First, a down year in terms of results has definitely not helped. The currency issue has really hurt earnings, and so investors have favored the other names. The Lorillard-Reynolds merger was seen as very favorable for those names, so investors have piled in. Additionally, Philip Morris has a much larger market cap, so it is harder for it to rise if investors buy the same dollar amount of shares as other names. The "law of large numbers" definitely applies there. In the next section, I'll compare these names for 2015 in terms of growth and valuation.
2015 comparisons:
While Philip Morris offers the highest dividend yield currently, it does not offer the most expected growth. In the table below, you can see growth and valuation comparisons for the four names I've discussed so far. These are current analyst estimates for each, so they will obviously change over time. These are the numbers reported on the estimates pages for each, so investors should always know which earnings are being used (reported, adjusted, etc.).

Philip Morris is currently projected by analysts to have the lowest earnings growth and be the only name with declining revenues. However, the P/S value for Philip Morris is just around the average of the other three. Additionally, the P/E value for PM is slightly under the average of the other names. Philip Morris used to trade at a significant premium to these other names, but now that results have weakened, that valuation premium has evaporated.
Final thoughts:
Today I provided a basic primer for Philip Morris in the last three months of 2014 and for 2015. The company is experiencing weak results as it transitions to Reduced-Risk products, and currencies are negatively impacting the top and bottom line. Philip Morris has a solid dividend yield and a decent buyback program, two items that investors really care about. Analyst estimates have come down for Philip Morris reflecting the weakness in the business, but hopefully the company can prove its doubters wrong. At a decent valuation currently, Philip Morris could be a buy for those that believe 2015 will be a better year than current forecasts call for. I'd personally wait to see if we get a pullback in the stock or the market into year-end, as this name in the low to mid $80s would be a much better investment.
Disclosure: The author has no positions in any stocks mentioned, and no plans to initiate any positions within the next 72 hours.
The author wrote this article themselves, and it expresses their own opinions. The author is not receiving compensation for it (other than from Seeking Alpha). The author has no business relationship with any company whose stock is mentioned in this article.
Additional disclosure: Investors are always reminded that before making any investment, you should do your own proper due diligence on any name directly or indirectly mentioned in this article. Investors should also consider seeking advice from a broker or financial adviser before making any investment decisions. Any material in this article should be considered general information, and not relied on as a formal investment recommendation.