I've remained skeptical about the value of analyst ratings. Anytime a business is able to freely promote itself (or its clients), as is the case between a firm with both a sell-side brokerage and investment banking, you need to weigh the value of its recommendations with a grain of salt. Regardless of the Chinese Wall put up to improve analyst ratings, I hesitate to invest long-term based solely on such recommendations. As well, many analysts begin the year with overly rosy estimates followed by downward revisions that weigh heavily on price performance.
I find that instead of simply following a consensus, which may include ratings from years ago that were never changed, it can be profitable to track the changes in ratings, which are often associated with a short-term price rise.
To pick out these stocks we will look for the following features:
Nasdaq Exchange
Current broker rating in neutral territory (not strong buy or sell)
10 percent or greater change in rating over past 4 weeks
Smaller size market cap
Not a high momentum stock
Historical Results and Robustness Test

Back-testing and Research
I'm currently testing out a trial version of a fundamental back-tester, which tracks the last 2 years of data.
The validity of this strategy is not based on back-testing, but instead relies on documented research such as that of Boni and Womack (2004), Analysts, Industries, and Price Momentum. The Boni and Womack paper highlights such aspects as the profitability of changed ratings, the lack of predictability from consensus ratings, and that greater price drift occurs in smaller stocks. There is much more usefulness in the paper as it relates to industry groups and which analysts are better, but that is for you to read.
Using fundamental back-testing software to test the past 2 years with this strategy revealed some interesting results:
If you buy and hold for one week only, you have winning weeks 61% of the time versus the market having winning weeks 58% of the time. The average losing week is negative 2.9% versus the market of negative 1.6%. The average winning period is 2.8% versus the market of 1.9%. The compounded annual growth rate is 34% versus the market of 22.8%
If you buy and hold for two weeks, a robustness test will need to be performed thus running the test twice on alternating weeks. The average compounded growth rate is similar to one week periods at 35.1% per year. You make winning trades 64% of the time versus the market which has wins 67% of the time during the test(remember this is using 2 week periods instead of 1). Your average losing period (two weeks) is negative 3.3% versus the market of negative 2.6%. Your average winning period is 3.9% versus the market of 2.5%.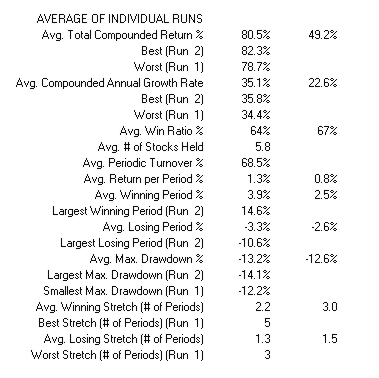 I prefer holding for two weeks for a few reasons. One, your average losses are only slightly higher in a two week period than trading weekly. I prefer limiting a volatile downside loss if the total gain is equal. While the two week period has a slightly reduced percentage of wins and average weekly gains, this is countered by a reduction of loss when trades do not workout. Also, the average maximum draw-down is very similar to the market with a higher upside, and transaction costs are reduced when holding longer.
Running the Scan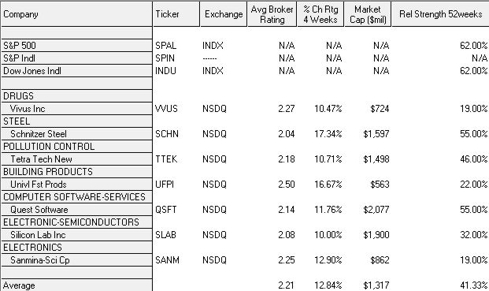 (Click chart to expand)
Looking Closer at the Companies
VVUS
– I'm more than a little skeptical on Vivus. It is still not profitable and much hinges on the FDA. Looking more closely at the change in analyst ratings, two were simply removed – one hold and one sell rating. The net effect drove the consensus rating upward but due to the highly speculative nature of this stock, I'll pass.
SCHN
– Schnitzer Steel Industries has its future outlook revised slightly up, and one hold rating was removed. Prices have already jumped significantly over this past week, and the second week of gains are typically more mild. A good pick but some of the steam is already gone.
TTEK
– Tetra Tech Inc. has seen two of its hold ratings removed over the past month, as they added to more buy ratings. It's moving slowly right now but seems poised for a mild short term pop.
UFPI
– Universal Forest Products has seen a price drop since the beginning of the year that would keep me up at night. Prices bounced off $28. Zacks reports that one hold rating was removed and a strong buy was added recently. This dropping stock is a good contrarian pick for using the 'analyst rating change' strategy.
QSFT
– Quest Software had one analyst hold rating turn into a strong buy rating over the past month. Prices have mildly popped up this past few days and there should be a little more excess gain still.
SLAB
– The brokerage ratings on Silicon Laboratories have improved from one month ago as the seven hold ratings fell to five, with one buy and one strong buy rating added. Earnings growth has tapered off this past 6 months, but it's expected to start rising for the next couple of quarters and also next year. The long-term growth rate is anticipated over 20%. I like this stock for a short and longer term entry.
SANM
– Sanmina-SCI Corp. has a price performance that scares trend-following investors, but makes bargain hunters very excited. It has a PEG of 0.48, price to sales of 0.13, and price to book of 1.18. It is trading above its 52-week low of $8.92, but well below the high of $17.32. From one month ago, two hold ratings turned into strong buy ratings. Based on a multiple bounce off support and the low valuations associated with the upgrade, I like the prospects of this stock.
Wrap Up on Upgrades
Short-term strategies based on fundamental or analyst rating changes in small stocks are not for everyone. Some prefer to buy, hold, and forget for long periods of time with larger cap stocks. Others will use technical analysis, while some like story stocks. This strategy is not for everyone. But if short-term trading on something other than a price and volume chart appeals to you, then the analyst upgrade approach is one method with some back-testing that is worth a second look.
Disclosure: I have no positions in any stocks mentioned, and no plans to initiate any positions within the next 72 hours.