China's National Bureau of Statistics released the November reading for non-manufacturing PMI (source: Chinese), which rose slightly to 53.9 vs. 53.8 in October. The reading may come as somewhat of a relief to the market after the manufacturing PMI released earlier in the month was lower than consensus and was a 9-month low.
This month's reading signaled continued expansion and could be considered a relative bright spot while just about every other economic indicator has been a cause for gloom. Chinese policymakers have been trying to shift the country's economy to rely less on investment and manufacturing for growth, and this month's data suggests that there is still forward momentum.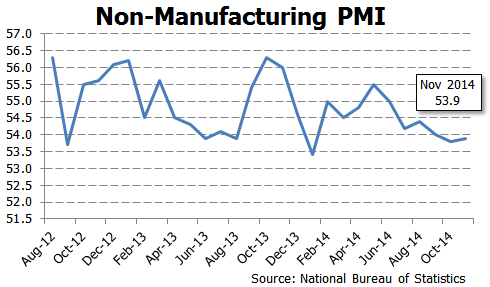 Most of the key sub-index readings were weaker than October, however seeing some recovery in the employment sub-index is definitely a welcome sign. The employment sub-index has been in contraction territory during the second half of 2014, and hit a low last month. Additionally, recovery in the employment outlook suggests that employers are optimistic about business in the near term, with rising confidence to increase headcount.
| | | | | | | | | | | | | | |
| --- | --- | --- | --- | --- | --- | --- | --- | --- | --- | --- | --- | --- | --- |
| Non-Manufacturing PMI | Nov-13 | Dec-13 | Jan-14 | Feb-14 | Mar-14 | Apr-14 | May-14 | Jun-14 | Jul-14 | Aug-14 | Sep-14 | Oct-14 | Nov-14 |
| Source: National Bureau of Statistics | | | | | | | | | | | | | |
| New orders | 51.0 | 51.0 | 50.9 | 51.4 | 50.8 | 50.8 | 52.7 | 50.7 | 50.7 | 50.0 | 49.5 | 51.0 | 50.1 |
| Intermediate prices | 54.8 | 56.9 | 54.5 | 52.1 | 52.8 | 52.4 | 54.5 | 56.0 | 53.4 | 52.2 | 49.8 | 52.0 | 50.6 |
| Price index | 49.5 | 52.0 | 50.1 | 49.0 | 49.5 | 49.4 | 49.0 | 50.8 | 49.5 | 48.3 | 47.3 | 48.8 | 47.7 |
| Employment | 51.9 | 51.1 | 49.7 | 50.9 | 51.4 | 50.2 | 50.9 | 50.4 | 49.3 | 49.6 | 49.5 | 48.9 | 49.5 |
| Business activity | 61.3 | 58.7 | 58.1 | 59.9 | 61.5 | 61.5 | 60.7 | 60.4 | 61.5 | 61.2 | 60.9 | 59.9 | 59.7 |
| | | | | | | | | | | | | | |
| Non-manufacturing PMI | 56.0 | 54.6 | 53.4 | 55.0 | 54.5 | 54.8 | 55.5 | 55.0 | 54.2 | 54.4 | 54.0 | 53.8 | 53.9 |
Disclosure: None