The market is showing some slight signs of waking up and moving to the upside this week with a declining dollar, but the market needs a catalyst to continue higher. We are highly cautious this week as the market could be setting up to re-dip. Economic data was very weak this morning, and we have a large number of economic reports this week, including the all important unemployment numbers. If we do not get strong data, we could see the market quickly reverse as it has been wholly tied to movement in the dollar at this point.

Let's get into some stocks we are watching this week ...


Ford (NYSE:F)/General Motors (NYSE:GM) - Both stocks are actually setting up for a technical breakout, but just need that slight spark to get moving. Both companies will be reporting auto sales tomorrow, and if they are good, they could really start to move. Ford has a narrowing price channel that should mean a large swing in one direction or the other that will be tied to its report on auto sales. General Motors is right at the top of a price channel as well and could be due for a breakout. We will be watching those stocks tomorrow morning as well as their reports. Ford's movement should be more drastic in the next week than GM given the technical setup.

Click to enlarge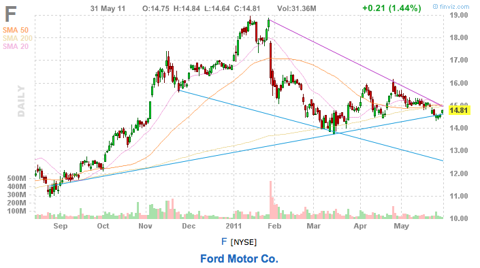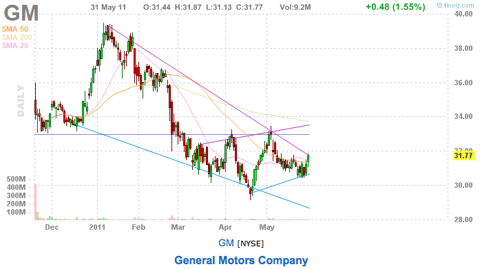 Monster Worldwide (NYSE:MWW) - Tomorrow morning we will be getting the important ADP Employment Change numbers that could really help employment service companies like Monster, ManPower (NYSE:MAN) and Paychex (NASDAQ:PAYX). Of those three, Monster Worldwide seems to be the most intriguing as the company has the most direct connection to pure employment changes. Further, MWW is right at the top of a current price channel and looks poised for a breakout on good news. Poor news as well could really push this stock back down after a recent rally.

Solar Stocks - Trina Solar (NYSE:TSL), GT Solar (SOLR), JA Solar (NASDAQ:JASO) - We will also be watching the action coming into solar companies tomorrow. Trina Solar, GT Solar and JA Solar are our three favorites in the solar sector. The companies are all performing well after Germany announced that it will not continue with nuclear energy by 2022, which can add some major demand for solar companies. Yet these stocks have been struggling. We would like to see another nice amount of volume to come in tomorrow before we would be a buyer as solar stocks tend to trade up big and give up gains quickly.
Giorgio's Corner Watchlist

Market Opinion: Last weekend, we correctly presumed the Diamonds (NYSEARCA:DIA) would close positive for the week based on the probability of how the ETF has traded since last July. We now see the DIA trading in a range between 124.50 and 122.50. The resistance at 124.50 is due to a gap down on May 20th. The lower range is 122.50 because that's the price of the weekly uptrend line. As usual, we expect to see lower volumes ... but higher prices as we continue to remain bullish and wait for the Dow to move to 13,000.
Click to enlarge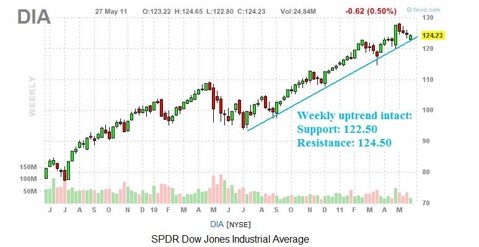 Here's what looks interesting for this week ...

Buy Pick: Atwood Oceanics (NYSE:ATW)
This oil well service provider looks interesting after it beat EPS estimates on May 3rd (1.08 vs 1.02). Additionally, on May 5th, it received a "strong buy" upgrade from Duncan-Williams. Technically, Atwood is in a triangle formation, signifying the stock is about to make a large move in either direction. The stock tried to break out higher intra-day on Friday but closed back in its triangular channel by the close. As long as the market remains in an uptrend, we only see positives for the company. The oil sell-off seems to have waned with double support lines forming on the USO at $39.00. The only negative news we've read on ATW has been issued by Standard & Poor's, which reiterated its Sell Rating on ATW on May 5th after the stock reported. S&P's basis to maintain its negative rating was due to the company's loss of deep water contracts this year. A day after S&P's statement (May 6th), Atwoods subsidiary "Atwood Eagle" received a relatively high paying shallow water contract from BHP Biliton (NYSE:BHP) in the price range of 376k-399k per day (a high number relative to the '07 levels of 500k a day).
Click to enlarge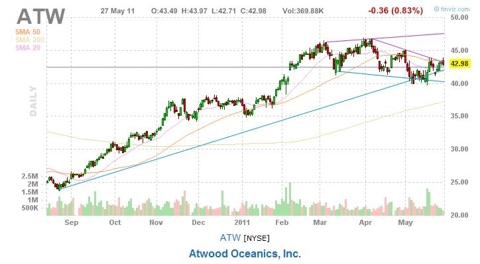 Trade Idea: Assuming current entry on the stock at 42.98
Price target 1: 43.83
Price target 2: 45.00
Price target 3: 46.75
Stop loss: 42.12
Buy Pick: Sina Corp. (NASDAQ:SINA)
According to the China Daily newspaper, China's economy is growing at 9% per year, yet the government is placing its growth rate at 7%. Both numbers are modest, yet companies in China are growing fast. Given the high growth figures, investors are constantly attracted to Chinese companies regardless of valuations. Although SINA has a "sell" rating in our Extended Value Portfolio, we expect short term movement in the stock to be to the upside. Technically, SINA has broken out of its recent downtrend with support near 112.50. This week, we'd like to recommend a long position in SINA in the range of 113-115, with a 110.74-112.50 stop.
Click to enlarge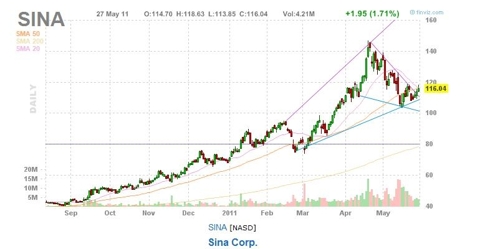 Trade Idea:
Entry Range: 113-115
Stop: 110.74-112.50
Buy Pick: Bank Mutual Corp (NASDAQ:BKMU)
BKMU is a pure technical trade. The stock just broke a downward channel on large volume, signifying a possible reversal in trend. The company also has something fundamental to be excited about: It beat analyst expectations in its previous earnings report (0.02 vs -0.04).

Click to enlarge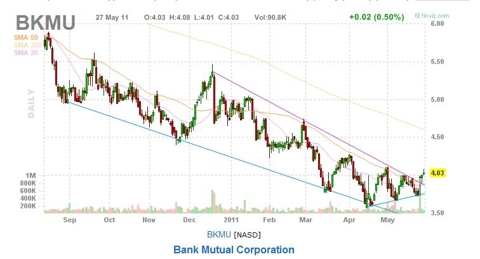 Price target: 4.19
Stop loss: 3.94 (right on the 50SMA)
Option Idea: Apple (NASDAQ:AAPL)
Apple has been confusing investors in the past few weeks with its range bound type trading. Apple is trading similarly to the last time it broke out to new price highs in May 2010. Apple seems to trend to new price highs then trade sideways for three to four months. On a daily chart we see Apple has double support at $320 (breakout line & 200SMA) The way to play Apple at this time is to sell the October $320 Puts for $15.35. This trade brings your break-even point to 304.65 which is well below the support and weekly trend. According to the weekly chart, the uptrend in Apple should ensue in the next couple weeks.

Weekly Chart
Click to enlarge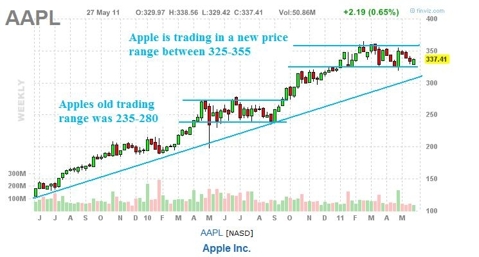 Daily Chart
Click to enlarge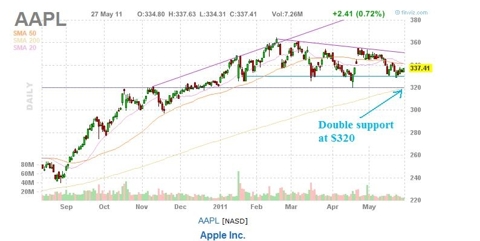 Option Idea: Sell AAPL October 320 Strike PUT option for 15.35
Price target: 375
Support: 320
Disclosure: I have no positions in any stocks mentioned, but may initiate a long position in AAPL, SINA, BKMU, ATW, DIA, TSL, SOLR, JASO, MWW, MAN, PAYX, GM, F over the next 72 hours.