These relatively unknown financial securities have performed substantially well as compared to the S&P 500 index and top finance companies for the last 30 trading days. The index returned 1.26% for the period compared to 5.5% to 100% returned by the following securities. The demand for the services offered by these companies is expected to grow due to overall growth of the economy.
Click to enlarge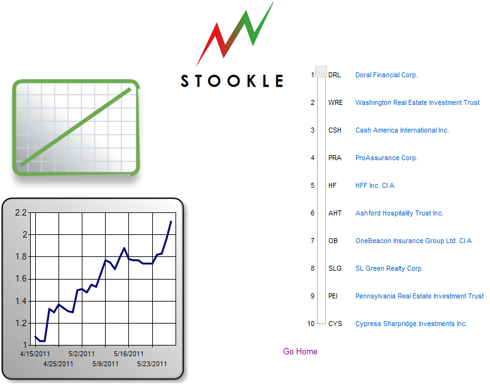 Doral Financial Corp. (NYSE:DRL):
The bank holding company, through its subsidiaries, offers a variety of financial services such as commercial banking, thrift operations, mortgage and insurance services primarily in Puerto Rico and New York City. The stock has risen 100%, or $1.06 to $2.12, within the last 30 trading days, with a relatively heavy volume.
Cash America International, Inc. (NYSE:CSH):
The specialty financial services provider with more than 1,000 locations mainly in United States and Mexico is the largest provider of secured non-recourse or "pawn" loans. The company also offers cash advances and auto equity loans to the "under banked" segment of the population. The stock has risen 17.05%, or $7.35 to $50.46, within the last 30 trading days.
ProAssurance Corp. (NYSE:PRA):
This Alabama-based insurance holding company offers professional liability insurance products primarily to healthcare providers and healthcare facilities across the United States. The company is the fourth largest writer of the professional liability insurance in the country and operates under seven subsidiaries. The stock has risen 11.15%, or $6.98 to $69.56, within the last 30 trading days.
OneBeacon Insurance Group Ltd. (NYSE:OB):
Through its subsidiaries, the company offers a range of specialty insurance products. A few of the products include marine insurance, professional liability insurance and entertainment insurance. The stock has risen 9.63%, or $1.29 to $14.68, within the last 30 trading days.
Cypress Sharpridge Investments, Inc. (NYSE:CYS)
: This New York-based specialty finance company was formed with an objective of returning consistent risk-adjusted investment income in 2006. The objective is achieved via investments in agency residential mortgage-backed securities on a leverage basis. The stock has risen 5.55%, or $0.67 to $12.75, within the last 30 trading days.
Disclosure: I have no positions in any stocks mentioned, and no plans to initiate any positions within the next 72 hours.