By Stuart McPhee
Gold for Wednesday, December 3, 2014
After making repeated runs at the resistance level at $1200 and failing every time, gold fell sharply away a few days ago before surging higher again in the last 48 hours to back above $1200 and reaching a new one month high above $1220 in the process. Over the last 24 hours it has eased back and gravitated to the key $1200 level again. In the last few weeks gold has enjoyed a strong resurgence back to the key $1200 level where it has met stiff resistance up until recently. Throughout the second half of October gold fell very strongly and resumed the medium term down trend falling from above $1250 back down through the key $1240 level, down below $1200 to a multi year low near $1130. It spent a few days consolidating around $1160 after the strong fall which has allowed it to rally higher in the last couple of weeks. Earlier in October gold ran into the previous key level at $1240, however it also managed to surge higher to a five week high at $1255.
In late August gold enjoyed a resurgence as it moved strongly higher off the support level at $1275, however it then ran into resistance at $1290. In the week prior, gold had been falling lower back towards the medium term support level at $1290 however to finish out last week it fell sharply down to the previous key level at $1275. During the second half of June, gold steadily moved higher but showed numerous incidents of indecision with its multiple doji candlestick patterns on the daily chart, around $1320 and $1330. The OANDA long position ratio for gold has moved back towards the 50% level as gold has fallen sharply back to around $1150.
At the beginning of June, gold did very well to repair some damage and return to the key $1275 level, then it has continued the momentum pushing a higher to its recent four month high. After moving so little for an extended period, gold dropped sharply back in May from above the well established support level at $1275 as it completely shattered this level falling to a four month low around $1240. It remained around support at $1240 for several days before its strong rally higher. It pushed down towards $1280 before sling shotting back and also had an excursion above $1300 for a short period before moving quickly back to the $1293 area again.
Gold slipped for a second straight session on Wednesday to trade below $1,200 an ounce as weaker oil prices and a stronger dollar diminished the metal's appeal as a hedge. Spot gold had eased 0.2 percent to $1,196.60 an ounce by 0037 GMT, after falling 1 percent in the previous session. Oil prices resumed their slide on Tuesday, driven lower by a deal that will add more Iraqi crude to already oversupplied markets, higher margin requirements for trading U.S. futures and a strengthening dollar. Bullion has fallen in tandem with oil in recent sessions on expectations that weaker crude prices could reduce inflationary pressure. The metal is usually seen as a hedge against oil-led inflation. The strength in the dollar has also dulled gold's appeal, along with optimistic views on the U.S. economy. Upbeat comments from two influential U.S. Federal Reserve officials stressing the positive impact on the U.S. economy of the drop in energy prices contributed to the greenback's strength.
(Daily chart / 4 hourly chart below)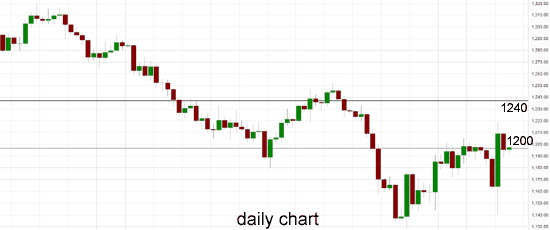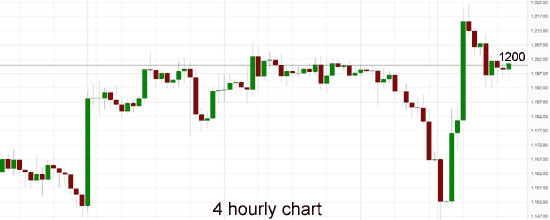 Gold December 3 at 02:00 GMT 1200.4 H: 1201.1 L: 1194.1
Gold Technical
| | | | | | |
| --- | --- | --- | --- | --- | --- |
| S3 | S2 | S1 | R1 | R2 | R3 |
| 1130 | - | - | 1200 | 1255 | - |
During the early hours of the Asian trading session on Wednesday, gold is trading right around $1200 after easing back over the last 24 hours. Current range: trading right around $1200.
Further levels in both directions:
• Below: 1130.
• Above: 1200 and 1255.
OANDA's Open Position Ratios
(Shows the ratio of long vs. short positions held for gold among all OANDA clients. The left percentage (blue) shows long positions; the right percentage (orange) shows short positions.)
The long position ratio for gold has back above 50% again as gold has eased back to the key $1200 level. The trader sentiment is ever so slightly in favour of long positions.
Economic Releases
00:30 AU GDP (Q3)
09:00 EU Composite PMI (Nov)
09:00 EU Services PMI (Nov)
09:30 UK CIPS/Markit Services PMI (Nov)
10:00 EU GDP (2nd Est.) (Q3)
10:00 EU Retail Trade (Oct)
12:30 UK UK Autumn Statement
13:15 US ADP Employment Survey (Nov)
13:30 US Non Farm Productivity (Final) (Q3)
13:30 US Unit Labour Costs (Final) (Q3)
15:00 CA BoC - Overnight Rate
15:00 US ISM Non-Manufacturing (Nov)
19:00 US US Federal Reserve releases Beige Book Report
* All release times are GMT