On December 2nd, Bob Evans Farms (NASDAQ:BOBE) reported Q2 EPS of $0.36 per share vs the Wall Street consensus estimate of$0.34 per share (marking the third straight quarterly EPS beat) and revenue of $333.3M vs the $343.69M estimate (year over year increase of 0.2%). Along with the top line miss, they lowered FY15 EPS guidance to $1.90-$2.10 from $1.90-$2.20 per share and FY15 revenue guidance to $1.35B-$1.37B from $1.38B-$1.40B. Analysts were looking for FY15 EPS of $1.96 per share on revenue of $1.38B. Net income was off slightly to $6M from $6.1M.
Overall the headline numbers for Q2 results and forward guidance were in-line or above expectations with the exception of a $10M+ miss on revenues for the latest quarter, but regardless the stock did drop more than 3% following the results. This can largely be attributed to a 33% rally from the September lows heading in the report, bringing the stock back to October 2013 levels. As a result valuations were driven up and hence investor expectations of a blowout quarter were too. Using the mid-point of the company's guidance for the fiscal year, Bob Evans Farms shares trade at a P/E ratio of 26.71x with 19% EPS growth and roughly 3% projected revenue growth (price to sales ratio of 0.97x). Taking into account the solid 19% increase in earnings for FY15, the PEG ratio comes in at 1.41x on the earnings dip. The mid-20's earnings multiple is high in and of itself for a restaurant company, but the high teens earnings growth justifies it.
One major bright spot highlighted by management was that Thanksgiving Eve and Thanksgiving Day same-store sales were up 25% from last year. While it's just a two day period out of a 365 day calendar year, it does show the company's execution on the biggest eating day of the year for Americans. Simplifying one of the biggest holidays of the year can mean big business for Bob Evans.
On a monthly basis, November marked the third straight increase in same-store sales. Through Thanksgiving, Q3 quarter to date same-store sales were up 2.7% (+0.8% for November). Management sees the improvement extending through the end of 2015 and beyond. They maintained comp guidance for FY15 of +1.5% to +2.5% with the acceleration of growth coming in the back half of the year. In the second half of 2015 they see mid-single digit same-store sales (Q2 comps were flat). This is a major turn from what had been five straight quarterly declines in sales.
Broasted chicken, a new addition to the menu, can be attributed to a bump in sales. While Bob Evans is known for its breakfast staple foods, the launch of broasted chicken targets the lunch and dinner crowd. When it was first tested in the Cincinnati market, sales were comparable to the ever popular "Rise and Shine" breakfast meal.
The reversal in sales is also being combined positively with plant efficiency and lower sow costs at the BEF Foods segment. Management sees operating margins improving in the next two quarters too as costs decrease. In an effort to cut costs the company has hired Deloitte Consulting and Lazard as advisors.
In August, Thomas Sandell of Sandell Asset Management won four seats on Bob Evans Farms 12-person board. The billionaire investor has been pushing for the company to split the restaurant and BEF Foods businesses. By selling BEF Foods, Thomas Sandell believes it would unlock shareholder value in the New Albany, Ohio-based company. At a 7.66% stake, BOBE shares are a top focus and holding for Sandell. The Q2 quarterly revenue miss could be reason just enough to keep the pressure for a sale on.
Unusual Options Activity
Heading into the Q2 catalyst, there was sizable upside call buying ahead of the report (data provided by LiveVolPro). On December 1st, 1,000 Dec $55 calls were purchased for $1.60-$1.65 and 373 Jan 2015 $55 calls were bought for $2.30-$2.45. Just hours prior to the quarterly results, over 1,600 Dec $60 calls traded with the majority being bought for $0.70 each. To put these trades into perspective, normally only 157 calls exchange hands on an average day.
Technical Analysis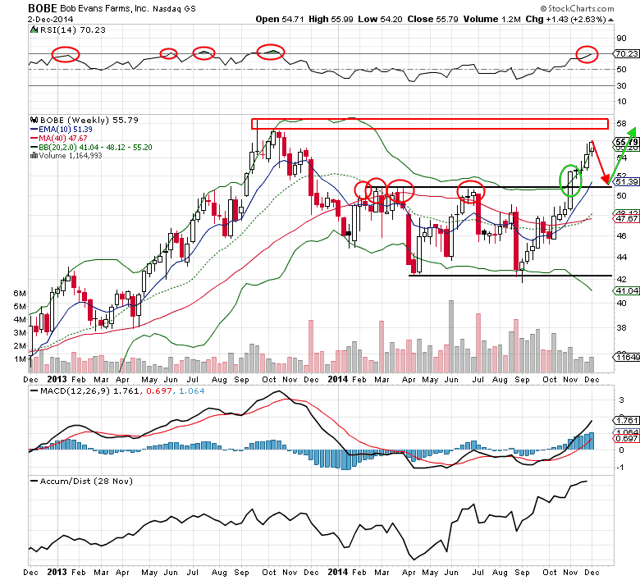 Looking at the two year weekly chart above you can see BOBE shares had only had two down weeks in the previous thirteen, pushing the RSI into overbought territory above the 70 reading. This post-earnings down draft could potentially make for a return to the $50.50-$51.00 breakout level from early November. If this does in fact occur and the stock is able to attract buyers it sets up for a low risk setup to a return to the 2013 highs ($57-$58).
As noted by the technical view above, in the short-term the stock may have gotten ahead of itself. However, in the long-term, Bob Evans is an attractive investment as activist pressures persist in a company with improving cash flow and a debt to equity ratio under 2x. Pilgrim Pride's (NYSE:PPC) unsuccessful attempt to takeover Hillshire Brands this summer makes the BEF Foods unit a potential target. ConAgra Foods (NYSE:CAG) could also be in the market to bolster its market share with a purchase of the supermarket breakfast food unit. In the event that a business separation takes a while (or might possibly never happen), there are a 2.2%+ dividend yield and new product offers supporting the stock going into next year.
Disclosure: The author has no positions in any stocks mentioned, and no plans to initiate any positions within the next 72 hours.
The author wrote this article themselves, and it expresses their own opinions. The author is not receiving compensation for it (other than from Seeking Alpha). The author has no business relationship with any company whose stock is mentioned in this article.