People who have invested in emerging economies know how quickly these markets can swing. In fact, the not-so-long-ago growing economies of Brazil, Russia and Argentina now are facing falling currencies, high inflation and slow growth. This cocktail just by itself could make 2015 a very bad year for most funds specialized in these countries.
However, India might be the exception to this general pessimism. Interestingly, the IMF raised India's 2014 growth forecast to 5.8% - something pretty much unseen for developing economies.
With a stock market in new highs, a stable rupee and exciting modernization projects becoming a reality, India is the place to be within the emerging markets. This chart below clearly pictures what we are talking about. The country's market is beating most emerging markets indexes and ETFs.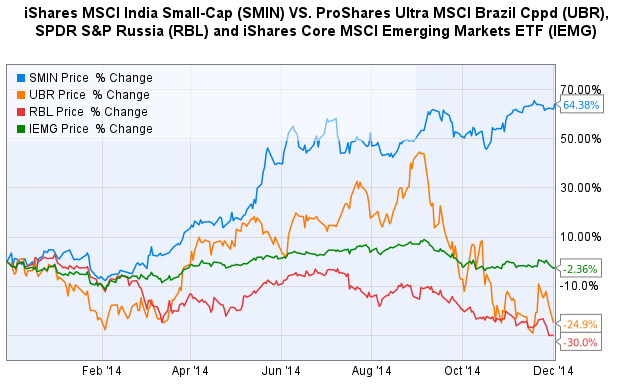 Investors are bullish. According to industry data tracker HFR, India-focused hedge funds are up an average of 41.9% net of fees in 2014 through October. On the other hand, hedge funds invested in Russia have lost an average of 12% net of fees while Latin America-focused funds are also down 3.5% on average.
The source of the optimism
There are many reasons to support being long India and these can be divided into external and internal.
The external reasons have to do with the fact that the country is a lot less exposed to many factors that are currently giving headaches to the emerging community.
The main one is that India should not be greatly affected by the slowdown in China. Only around 5% of its exports go there and, contrary to most of South-East Asia, the country is not part of China's supply-chain. India is not a big exporter of industrial commodities either as Brazil is. It is a service oriented country, not quite a manufacturing hub.
Crude reality?
The recent fall in crude-oil prices comes very handy for India as well - oil is 37% of total imports. On the contrary, oil exporters like Russia and Nigeria are already suffering. India imports 70% of the oil it uses, so the drop in crude oil prices magically reshaped the country's finances. This is not a minor thing since 67% of India's total trade deficit are crude oil purchases.
Investors are aware, and the Indian market has been moving in the opposite direction compared to oil, completely uncorrelated. Take a look at this chart showing the S&P BSE 500 Index (BSE500) against WTI crude spot price. Impressive.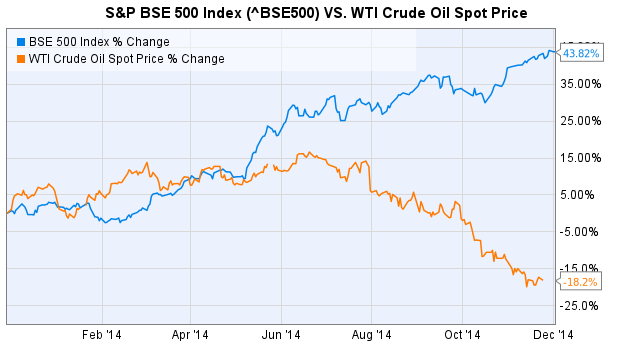 Internal factors
Internally, the election of Prime Minister in Narendra Modi in early June is a strong source of optimism. Modi is a strong supporter of growth and development, which, let's be honest, India needs plenty of. Macroeconomically, pushing for new infrastructure investments should increase aggregate demand and drive businesses ahead - a virtuous cycle.
Modi's party holds strong support: it won by a landslide - the biggest margin in 30 years. Politically, this gives him enough power to get things done and puts an end to the political paralysis that India was suffering. It was very hard to get things done before with coalition politics as regional parties have often blocked reform measures in an effort to serve their own narrow interests and agendas. The path to change is now clear.
There other good internal factors as well. The rupee is up against the dollar since August of last year and the public-sector deficit is falling. Inflation remains under control, heading toward a healthy 6% over the next two years.
Selectivity
All this being said, real growth in India will come from improvement in its infrastructure, better regulations and the role of its middle class. So, consider gaining exposure to the sectors, industries and companies that will help India grow. These include, just to name a few: engineering, construction, electric power, banking, insurance, the internet and retail.
The rest of the emerging markets will require greater selectivity as their prospects are not the best. Economies that suffers from falling foreign-currency reserves, higher import costs and lower oil revenue are trickier to play right now.
Disclosure: The author has no positions in any stocks mentioned, and no plans to initiate any positions within the next 72 hours.
The author wrote this article themselves, and it expresses their own opinions. The author is not receiving compensation for it (other than from Seeking Alpha). The author has no business relationship with any company whose stock is mentioned in this article.