Introduction
Bob Evans Farms (NASDAQ:BOBE) has two main segments; Bob Evans Restaurants, which owns and operates 561 Bob Evans restaurants, and the BEF Foods segment, which manufactures and wholesales food products. It is fair to say that both segments are weak performers; operating return-on-assets in both are less than 4%, organic sales growth has been all but non-existent and, as of the company's most recent 10-Q, ongoing capital investments are yielding no discernible benefit as the company posted a falling top line and a sharp drop in operating income.
We view both of Bob Evans' businesses as intrinsically low quality, and are not surprised to see this reflected in the numbers. Barriers to entry in both the restaurant business and general food service are remarkably low; there is a reason the food industry attracts the most entrants and has the highest failure rates of all small businesses. Generally, only genuinely innovative - and, perhaps lucky - concepts have real, measurable brand value, evidenced by returns on capital above commoditized levels. Bob Evans is not one of those companies.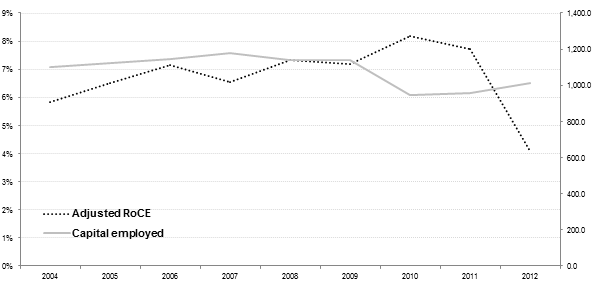 At current rates of return, Bob Evans is destroying value unless you assume a cost of capital below the dismal 4.1% it is currently earning. This puts Bob Evans firmly in the camp of a pure turnaround play. Growth cannot save this business.
Bob Evans Restaurants
We find the turnaround story in Bob Evans suspect. Firstly, we note the relative stability of per store restaurant revenue over the last 4 years: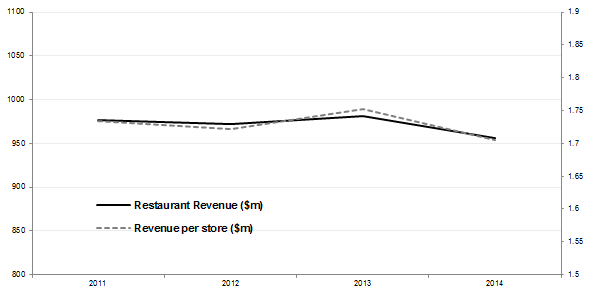 Though we note that, against a backdrop of ~2% inflation and disproportionate cost pressure on foodstuff, the performance is rather disappointing, particularly in the context of an improving economy.
However, the constituents of this relatively flat performance lead us to worry more about sustainability; the company's static top-line has come about despite a marked decrease in the number of transactions per store. The compensatory element is an increase in average bill size per customer.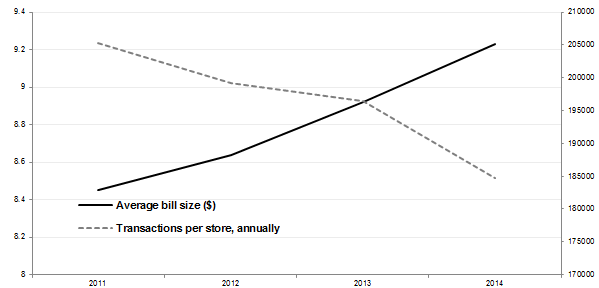 Some might view this trend as being irrelevant; we worry about a static top line which is being driven by fewer customers and the indication this has on the quality of the business and the value proposition for customers. It is also important to put the figures above - and the continuing weakness in Q1 of this year - in the context of a wide-ranging store refresh and investment program costing around $225k per store. This works out at a capex bill of over $100m for no noticeable improvement in sales or margin.
The activist case aimed at the restaurant segment suggests a sale and leaseback of the company's real estate might be a value accretive move. We take the view that financial engineering can never cover up bad economics; the most immediate impact of a sale and leaseback transaction would be to wipe out the operating profit of Bob Evans' restaurant business, which is of dubious viability without the effective subsidization provided by a large block of real estate capital.
Put simply - sure, you can sell Bob Evans' real-estate; but if you do so, there's not a hugely convincing argument that the restaurant business has any residual value. This train of logic gets you into all sorts of cyclical arguments which all end at the same point; the underlying value of Bob Evans will be predominantly decided by the value of the operating business as it stands today.
One tidbit that might be of interest relates to the Mimi's Café chain, sold by Bob Evans in 2013 after 9 years in their hands. BOBE paid $182m for the asset and sold it for $50m, or 0.2x sales. Distressed restaurant businesses are not attractive assets; negative operational gearing is a real millstone around a company's neck.
Bob Evans Foods
Bob Evans Foods should be a wholly inoffensive business. Much like its restaurant counterpart, though, returns have been deeply subpar. Operating income of $20m in 2012 has since dwindled to $6m in FY2014, and the first quarter of this year - while producing a slight increase in the top line - produced an operating loss.
This loss was primarily driven by an increase in commodity and raw material input costs and, again, in combination with the historically weak returns and anemic organic revenue growth speaks to a business which has little pricing power or real quality.
The activist case seems to suggest a potential disposal of the BEF Foods business. Given that the segment enjoyed relatively steady operating income of around $20m in the past, we might - rather generously - assume the business is worth around 10x that, skeptical though we are that the implicit 15x P/E multiple is really realistic for a commoditized and return-constrained food business. $200m, while a nice paycheck, doesn't make too much of a dent in the enterprise value of the business, or the debt pile built up by the failing capex program and share buybacks.
Valuation
In reality, there aren't many ways we can make Bob Evans' valuation jive unless one feels comfortable assuming that the activist driven plan for the company is quickly and completely successfully put into place. Given previous experience of activist 'turnarounds', we are skeptical; fights always take longer than expected, cost-cutting is always more difficult than expected, and one-line summaries of business expenses which appear egregious on the outside often appear a little more reasonable when on the inside, though we take (and subscribe to) the accusations of bloat and inefficiency inside the company.
Even a divestment of the BEF Foods business cannot hide the fundamental truth; the restaurant business is in decline, heavily increased capex spending is not propping up top-line or bottom line, and the company looks unlikely to make broker forecasts which already put the business on an eye-watering 27x forward P/E.
Importantly, it should also be viewed differently from the concept-esque restaurant format stocks. These usually follow a generic pattern; franchise-type model that can be rolled out quickly, quick food offerings, plans for rapid expansion and so on. They are not stodgy old restaurant chains with no store growth.
The activist case uses the example of Cracker Barrel as the best comp for Bob Evans. We think Cracker Barrel is structurally a better business, with its higher mix of franchised stores, but we'll run with the baton - if Bob Evans Farms' results were tugged up by over double, to earn the same return on capital as Cracker Barrel, what would the business valuation look like?
In this absolute best-case scenario, the business trades on a prospective EV/EBIT of 14. Applying a normalized tax rate of 35% to this figure gets us to a price-to-earnings ratio of 21.5.
Now put yourself in the shoes of the person you're planning to sell your shares to once this thesis plays out, who is presented with a recently turned-around restaurant chain, earning mediocre returns on capital, without a strong brand name and with a highly checkered past - at 21.5x earnings.
This is over 15% more expensive than McDonald's (NYSE:MCD), which in the last ten years has more than doubled profits, seen improving returns on capital and has established itself as a dominant global brand. It is only 30% cheaper than Domino's Pizza Inc. (NYSE:DPZ), an incredibly consistent performer with returns on capital over 5x what Bob Evans manages and a proven international growth platform.
When we take all of that together, we reckon it's a tough sell - and that's if things go well.
That's why we think it's an even tougher sell now.
Q2 Update:
This piece was originally written prior to the Q2 trading update, but we held back publication so as to comment on the news.
Figures are weak, with the stock trading down 5% in after-market. Net sales are up 0.2% despite the impact of the wide-ranging store refresh. This is particularly worrying given the novelty factor store refreshes tend to pose - one would expect to see an uptick in short-term sales, even if long-term the outlook is a little more hazy.
The company continues its narrative of positivity, noting particular initiatives that have gone well - or pointing out statistics which are at best ambiguous indicators of underlying performance. But the numbers do not lie; the company is softening its full-year guidance (something it has a nice habit of doing) to a mid-point of $2, which still looks very optimistic. Some short-term relief might come from the company's predicted full year tax rate of 21%, below its average of 31% and potentially adding $0.20 to EPS, but we remain very comfortable when the danger to our short thesis is that the company makes its optimistic full-year figures on the back of short-term tax shifts and clawing for sales by opening on Thanksgiving, still displays hallmarks indicating the poor quality of the underlying business, and is yet being priced for miracle work.
Disclosure: The author has no positions in any stocks mentioned, and no plans to initiate any positions within the next 72 hours.
The author wrote this article themselves, and it expresses their own opinions. The author is not receiving compensation for it (other than from Seeking Alpha). The author has no business relationship with any company whose stock is mentioned in this article.