Platinum Group Metals (NYSEMKT:PLG) continues to pour money into its mine development and is currently one of only two companies well along in the development of new mechanized platinum mines in the South Africa. A third is planned by Ivanhoe Mines (OTCPK:IVPAF) (TSX:IVN) but construction is not as far along at this point in time.
The expectation is that the new mines which are to be largely mechanized versus the current labor intensive methods will drive costs down to the point where platinum mining will once again be profitable. Time will tell if anyone can ever justify investing in a South African mine again but one has to appreciate the opportunity to invest in what is obviously a contra-cyclical play at roughly book value. Unfortunately, PLG has been struggling to raise funds from those who know it best and does not constitute an obvious buying opportunity.
Going the other way, Eastern Platinum (OTCPK:ELRFF)(TSX:ELR), referred to as Eastplats, announced on Nov. 7th that it has entered into an agreement to sell its South African assets to Hebei Zhongbo for US$225 million in what it hopes will be the conclusion of its money losing bet on platinum mining that has resulted in hundreds of millions of dollars in losses. Should the deal close and company subsequently liquidates, it is anticipated that shareholders will receive approximately US$3.04 (this article says Can$3.25 or US$2.85) per share versus the current trading price of $1.30, a gain of over 125% for those willing to engage in what is no doubt a risky game of arbitrage. Nevertheless, this article will point out activities of Chinese investors in South Africa and why the author believes the market is misjudging the odds that the deal will indeed close.
The downside risk should the deal not close is likely around $0.86 a share equal to the cash on the balance sheet and the expectation that the market will not ascribe significant negative value to the Eastplats assets if the deal were to not close.
Before talking about the two companies, both of which are headquartered in Vancouver British Columbia one has to ask why is a company headquartered so many time zones away from where it does business? The answer is obviously access to capital. The average investor cannot visit South Africa nor are they comfortable that they understand the risks so they have to hire someone to do it. Whether that is a fund manager who travels to South Africa visiting the various mining companies or the CEO of a South African mining company headquartered in Vancouver coming to you it is very similar. The problem is that the headquarters staff of both of these companies draw compensation and incur expenses that are generally far in excess of what that fund manager would charge to visit and study South Africa without necessarily adding much value.
It is tough to say but in general it seems as though going to direct to South Africa, a country with deep problems but nevertheless credible capital markets makes more sense. Examples of locally based companies such as such as Anglo American Platinum (OTCPK:AGPPY), Lonmin (OTCPK:LNMIY) and even Wesizwe Platinum (OTC:WSZWF) (JSE:WEZ) where Chinese managers run the show from South Africa provide opportunities for investors wanting exposure to platinum mining companies without a second layer of management fees.
Nevertheless, both Platinum Metals and Eastplats have value and it is the goal of this article to address exactly what that is. First here is some history of the two companies.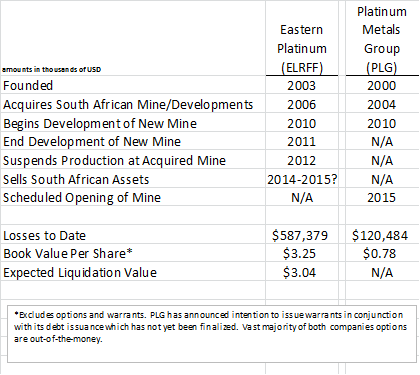 So far South Africa has been a losing proposition for both companies but there is no denying that significant investment has been put into the country and the assets are worth something even if it is mere optionality on future increases in the price of platinum.
Platinum Metals Group has no actual mining operations at this time but does own a number of prospects and is in the process of constructing one of only two large platinum projects currently under way in South Africa. Interestingly, the second project is a Chinese controlled entity known as Wesizwe which in turn owns a 17.1% interest in the Maseve development which is Platinum Metals Group's largest asset so one can accurately say that Chinese parties are involved in both projects.
In December of 2013 Weisizewe told Platinum Metals Group that it would not meet its cash call to fund future development which created the interesting situation of their being willing to fund their own development while not being willing to invest in Platinum Metals Group. The reason provided was that the project did not meet Wesizwe's required ROI and strategic objectives.
As Wesizwe effectively sold 5.7% of Platinum Metals for $21.7 million (amount of call) what does that say about PMG's value?

Ignoring the very important point of a competitor's "strategic objectives" comment, I would say it means that Wesizwe viewed the asset as being worth less than $521 million and indeed the current market cap is around $336 million so Wesizwe made the correct choice assuming the current market cap is truly reflective of fair value.
Placing a value on the mine development efforts is difficult in the extreme but there are several points worth noting:
Project plan assumes $1,600 price for platinum. Currently under $1,300.
Current value is approximately book value for what is planned to be the most mechanized mines in the South Africa platinum industry. While it is too early to say for sure, it is not unreasonable hope that platinum mining companies and unions eventually reach agreements comparable to those in the U.S. coal industry of the 1950s when mechanization resulted in huge reductions in costs and allowed for relatively peaceful relations with labor unions.
Share price has been under pressure and company appears to be struggling in terms of finalizing the issuance of debt containing equity rights.
Platinum prices have recently declined…again.
So in the end it is difficult to estimate PLG's value based on future cash flows because the cash values are so indeterminate. I do not pretend to know what the value of platinum will be in 2020 but I do know that it is a commodity just like oil and its value will fluctuate wildly due to the fact that minor changes to supply and demand can drive huge moves in prices. It is patently reasonable to assume that the cycle will turn given the fact that so much of the world's platinum supply comes from South Africa.
At the end of the day, the potential for gains resulting from mechanization are too great to ignore and assuming an investor has a time horizon of three to five years and purchased as part of a diversified portfolio PLG is a buy. It would be a strong buy were it not for the fact that Wesizwe, a company trading at less than 40% of book value with a secure source of $650 million in funding from the China Development Bank, an arm of the Chinese government while PLG is struggling to price $150 million in debt.
So after having discussed a company moving forward in South Africa, another, Eastplats, is trying to get out. Following the suspension of operations at Crocodile River Mine Eastplats had no operations other than caring for the CRM mine and interests in other potential mines.
They also have cash of approximately $80 million sitting in banks outside of South Africa so even if the mines ultimately prove to be worthless there is value here. Because maintaining the closed mine in a state of readiness to open should prices turn does require efforts as well as administrative expenses the company does continue to burn roughly $4 million a quarter. Included in this figure is the salary of Ian Rozier whose is paid a salary of Can$600,000 per year plus options. This salary is benchmarked by the company at the 75th percentile of companies with much larger mines that remain operational. In addition, Mr. Rozier is the President of Newport Exploration indicating that he is not spending 100% of his work time on Eastplats. Having said this, if he succeeds in selling the mines at even half of book value perhaps he will have earned his very generous salary.
In addition to the China Development Bank/Jinchuan investment in Weisizwe, other Chinese companies as well as South African companies are looking to invest in South Africa.
Acquarius Platinum entered into a deal with a Chinese company to sell a small mine and development parcel. Ultimately, this $37 million deal did not close due to regulatory issues associated with the lack of a Black Economic Empowerment (BEE) partner. Given that this deal fell apart prior to the Eastplats announcements, their buyers would have had to be living under a rock in order to not understand the importance of having a BEE Partner. In addition, the South African government is well aware of the importance of capital inflows and are in discussions with both parties to help bring it to fruition.
Even more important, the acquisition of Eastplat's South African assets comes with a potential BEE Partner in the form of Gubevu Consortium. Gubevu owns a 25% interest in Barplats, the largest company being sold by Eastplats as part of its proposed deal. That in and of itself largely means nothing as you have to have a BEE Partner to own a mine in South Africa but here Gubevu Consortium has two significant reasons to be Hebei Zhongbo's partner thus reducing the BEE cut required to move a deal forward.
Eastplats owns 49.9% interest in Gubevu.
Eastplats owns the $58 million loan used by Gubevu to purchase the Barplats interest. In other words, Gubevu only realizes value from its investment if it assists Eastplats in closing the deal with Hebei Zhongbo.
It is fairly common for a company wanting to do business in South Africa to loan money to the BEE partner who then purchases a stake in the company wanting to make an investment. What can one say other than South Africa is a tough place to do business.
In addition, two other South African based companies have raised substantial funds to invest in platinum mines including:
Northam (OTCPK:NMPNY) raised over $400 million in equity (4.6 Billion Rand). Note that this deal has not yet been approved by Northam shareholders.
Sibanye Gold Ltd. (NYSE:SBGL) A gold miner that actually earns profits (honest to God) with ties to China's Long March Capital Ltd. and indications that it believes it can operate platinum mines profitably.
So in the end, there are plenty of anecdotal reasons to believe that China with its huge pool of investment capital would purchase platinum assets just as Vancouver based companies have done.
Few investments are truly binary in terms of outcome and Eastplats in no exception. For purposes of this article, I chose three outcomes and assign probability ratings, based on what the market is saying based on the share price. A review of available information is then conducted to determine whether the probabilities are reasonable and if not which way the share price should eventually go. The possible outcomes are:
Deal closes and company distributes cash to shareholders.
Deal closes and company management remains in place looking for new opportunities with no distribution to shareholders.
Deal fails and company continues search for buyer.
A calculation of the share price given these three outcomes follows: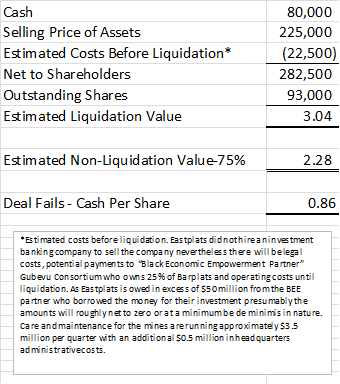 Even though the above calculation indicates a liquidation value of $3.04, this article will use $2.85 (Can$3.25) as this is the only dollar figure mentioned in the press to date. Using this value I attempted to calculate what probability the market is assigning to the likelihood that this deal closes.

The important point to note above is that the market is only assigning a 25% likelihood to the probability that the deal closes and indeed articles expressing this concern have been published. While there is risk, 75% chance of failure is entirely too low and creates an opportunity for investors with a six month time horizon (expected closing time frame).
Assigning probability weightings that seem more appropriate indicates that the shares should be trading at a $1.80 value or a 37% gain from where it is currently trading.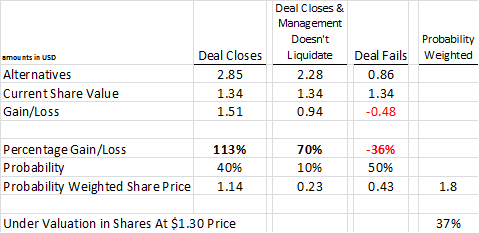 To summarize, there are three primary reasons that I see for believing that the South African assets can indeed be sold.
Chinese buyers have been active and government money for strategic acquisitions has been made available.
There is a Black Economic Empowerment Partner, Gubevu Consortium who has a strong economic incentive to act as a partner in the sale of Eastplats assets.
Other potential buyers, such as South African based Northam and Sybase have access to capital that could be used should the current Eastplats deal closes.
Another point to consider is that Eastern Platinum management has not indicated what they plan to do with the cash once the sale closes. There is always the possibility that management will look to use the money in another way and as a Google search of Ian Rozier and Newport Exploration indicates, some folks believe the interests of management sometimes come before shareholders.
Finally it should be mentioned that Eastern Platinum trades on both the OTC and Toronto Stock Exchange (TSX:ELR). The OTC listing does not have much volume but it is the author's experience that if you place limit orders while paying attention to what the shares are trading at in Toronto your order will be filled. Placing a market bid on the OTC could result in paying far more than necessary so remember to use limits if you choose to invest other than via the Toronto bourse.
Time will tell, but Eastern Platinum looks like a good opportunity but in order to have access to a potential gain in excess of 100% you have to be willing to accept the possibility of a 36% loss.
Disclosure: The author is long ELRFF.
The author wrote this article themselves, and it expresses their own opinions. The author is not receiving compensation for it (other than from Seeking Alpha). The author has no business relationship with any company whose stock is mentioned in this article.
Additional disclosure: Author may take a position in Wesizwe Platinum (JSE:WEZ) within the next 72 hours.
Editor's Note: This article covers one or more microcap stocks. Please be aware of the risks associated with these stocks.