Oil and oil related stocks continued their downward slide after news broke of OPEC's decision not to cut oil production. See Business Insider article here. It had been hoped that the Saudis would step in to save the day with some kind of plan to reduce production. After the announcement, on Thanksgiving Day, Brent Crude dropped to around $72 a barrel. The US bench mark crude has dropped to about $69 a barrel on the news. Shares in Statoil (NYSE:STO), Royal Dutch Shell (NYSE:RDS.B) (NYSE:RDS.A), and Total (NYSE:TOT) are down significantly on the news. Talk of a price war can be heard on the trading floors. Some are speculating oil could go as low as $35.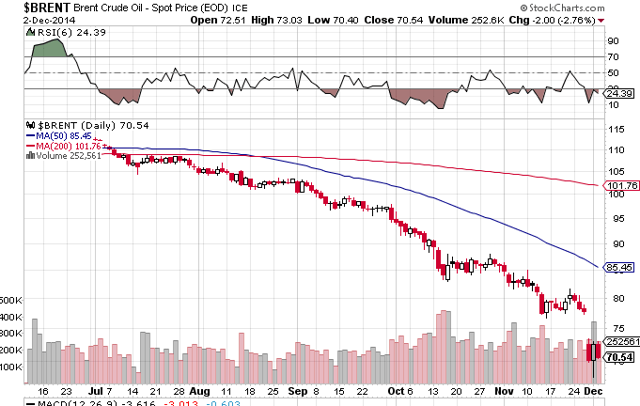 Chart courtesy of StockCharts.com
All this, of course, does not bode well for oil producing countries that rely heavily on oil revenues to pay for much of their governments' expenses. Russia is claiming that these lower oil prices and sanctions already in place are costing them $140 billion annually. See CNN Money article here. Iran's cash strapped country is also feeling the pinch. They had lobbied the Saudis hard for a production cut. Also, West Africa is reported to be swimming in oil. But, in the end the Saudis have stood their ground and just said no. They are apparently not interested in a short term fix to the oversupply problem and they certainly don't want to be the only one to cut production. Can the Saudis action be interpreted as an attempt to destroy our new found oil independence? Could they be trying to shut down our Shale Oil Industry? I think that is highly possible. See CNN Money article here. But, it also could be a back door way to punish Russia and Iran.
No matter what their motive is I don't think it will have much effect on US oil development. Currently, the US is still importing about 7 million barrels of oil a day and domestic production is about 10 million barrels a day. Certainly, we can't relax on our drilling programs. To be sure, some marginal fields may come under pressure if the price drops into the $50 range, but overall I believe most domestic production can survive oil prices in the $50's. Speaking on CNBC John Kilduff, founding partner of Again Capital said, "We've all sharpened our pencils now as far as break-even for shale. It's as low as $40 a barrel here". Companies that are strictly in exploration and development will see there their profits shrink and capital budgets reduced. Integrated companies like Chevron (NYSE:CVX) and Exxon (NYSE:XOM) should have an easy time of it, since they can make money on increased downstream volumes. The pure refinery plays like Valero (NYSE:VLO), Tesoro (TSO), and Holly Frontier (NYSE:HFC) should do well. These companies will be able to name their price when purchasing crude for their refinery feedstock.
Generally, the effect of lower oil prices should have an overall positive effect on the economy. Low oil or fuel prices should give a major boost to the economy in the form of higher consumer spending. Not having to pay so much to fill up the gas guzzler will allow people to spend more time and money at the stores. Also, the price of goods should stabilize or drop as the cost of manufacturing and transportation drops. However, there could be some negative side effects for certain companies.
I fear that Tesla Motors, Inc. (NASDAQ:TSLA) may have a harder time selling electric vehicles as gasoline prices slide to new 5 year lows. According to one source Tesla sales in the US have dropped 26% year over year. See this CBS Money Watch article here. In many areas of the country you can find gasoline at or below $2.50 a gallon. Those who drive larger SUVs and pickup trucks may be reluctant to spend a year's worth of wages on an electric vehicle that will only give them marginal relief in fuel costs. Others may feel that they now can afford that new gas guzzling SUV they always wanted. According to a Business News Network article (found here), larger vehicle sales are on the rise. For example, the sales of the Ford Expedition in October increased 18% year over year and the Chrysler Cherokee sales increased 26% year over year.
Another casualty of low oil prices may be the State of Alaska. Alaska relies on oil royalties to supply as much as 80% of the revenues needed to run the state government. In order to balance their budget average annual oil prices need to remain above the $100 mark. According to the Alaska Dispatch News, Alaska is currently facing a budget deficit of $1 billion. See article here. It appears likely Alaska will need to dip into their budget reserve to make ends meet. The newly elected governor will have his work cut out for him trying to balance the budget.
Another headache for Alaska may come in the form of a housing bust. I lived and worked in the oil patch for about 28 years and remember the oil bust of 1986. In that year oil fell from $27 to below $10. This drop was the result of OPEC's market machinations. Consequently, Alaska's economy took a nose dive. Drillers stopped drilling and thousands were laid off from their lucrative oil patch jobs. It was reported that 1,000 people were leaving Anchorage every month. Home owners would simply load up their personal goods, drop off the keys at the bank, and then head south. Condo prices in Anchorage went from $100,000 to $30,000 and other housing fared no better. The housing market took many years to recover. Hopefully, that won't happen this time around, but the possibility is there. Read more here.
I think the best thing out of this whole scenario of falling oil prices is OPEC's inability to control the situation. Since the early days of the first oil embargo OPEC has dominated the oil market. Now due to North America's vast oil sands and oil shale reserves we aren't as susceptible to geopolitical problems that keep cropping up around the world. This leaves OPEC with less influence in a world they once dominated through their scheming. Now as the old proverb states, 'the shoe is on the other foot'. It's anyone's guess as to how long the Saudis can hold down oil prices. Their economy will suffer along with the other producers, but maybe not nearly as bad.
Reports indicate the Saudis need about $85 a barrel oil to balance their budget, while Iran needs $120 oil to balance their budget. For Russia, oil below $100 a barrel will lead to budget cuts in 2015. Data from an article by Vox indicates that of the other OPEC members only Qatar, Kuwait, Angola, and UAE can handle an oil price less than $85 a barrel. The question is how long before this high stakes game of chicken is called off. Sooner or later someone will have to give in. Time will tell.
Disclosure: The author is long CVX, HFC.
The author wrote this article themselves, and it expresses their own opinions. The author is not receiving compensation for it (other than from Seeking Alpha). The author has no business relationship with any company whose stock is mentioned in this article.
Additional disclosure: Before risking any of your capital to the stock market seek professional help first.