Paulo Santos in a recent articlemakes the case that Intel's (NASDAQ:INTC) growth prospects are tied to server OEMs. If that's the case, how would Intel's 15% sales growth outlook even be obtainable over the next four years given the low rate of growth OEMs/system vendors have exhibited in the past year?

Source: Gartner
The reason server OEMs were able to generate some growth was due to a refresh in servers for on-premise use. Admittedly, not all data can be moved over to the cloud as a lot of information is sensitive depending on industry.
According to Santos:
HP reported earnings Tuesday. In HP's report, there was a significant slowdown in a very specific segment. This segment, in turn, has broad implications both for profits and growth over at Intel. It will be a blow to Intel margins because it will hit Intel in its highest-margin segment. And it is a blow to growth because it will affect the segment Intel was most relying on for its future growth.
Paulo Santos, whom I truly respect, may have come away with a partial conclusion based on Hewlett-Packard's (NYSE:HPQ) earnings report. In the HP earnings report, enterprise revenue saw some year-over-year deceleration. Paulo believes that this change in trend may be indicative of how Intel's data center group will perform. After all, Intel may have channel stuffed to boost shipment revenue, forestalling an inevitable decline in revenue.
However, I don't really think this is the case, as standard systems are a shrinking market. At present, datacenter needs are rapidly increasing due to factors like larger file sizes, greater bandwidth usage, unique computing use cases, more web-capable devices, etc. In the past year alone, more and more companies have transitioned their IT needs to third-party providers like Amazon Web Services and Microsoft Azure. Microsoft's (NASDAQ:MSFT) enterprise solutions have exhibited a lot of growth due to how inter-operable its hybrid-cloud solutions are with other operating systems (Linux) and various clustered file systems like Apache Hadoop and Windows DFS. Amazon (NASDAQ:AMZN) is no slouch either as Gartner rates Amazon Web Services at the very top in terms of capability.
Usually, firms will buy a dedicated system from Hewlett-Packard due to data sensitivity. After all, private networks that hold highly sensitive data like credit card information, classified information and account information might not want to offload data onto infrastructure providers like Amazon, Microsoft and Google. So what happens is that a firm will typically go for a hybrid-cloud configuration in which some servers are leased and some servers are owned. In this configuration, highly sensitive data is held on premises, whereas non-sensitive data that's accessible in the public domain is usually put on an outsourced server.
How does this impact Intel? Well, Intel sells server-class CPUs regardless of configuration. To Intel, a customer is a customer. And right now, Hewlett-Packard is shrinking, and other clients are growing. From the context of sales, Intel is selling more and more CPUs to public/hybrid cloud providers over dedicated system manufacturers like Hewlett-Packard. So the sales mix is starting to shift and at present it actually helps, not hurts Intel.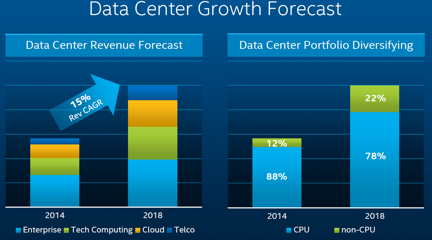 Source: Intel
Intel mentioned that its revenue from the data center group grew in the most recent quarter. Unit volume grew by 6% year-over-year and average selling price increased 9% year-over-year. Sales grew by 16.42% year-over-year in the most recent quarter. Intel forecasts that data center revenue will reach $14.1 billion for FY 2014. This indicates that Intel's server business has increased its margins and grew shipments. In the school of business, a firm that has a wide enough of a moat to both increase unit sales and pricing is most desirable. Because Intel's server-class CPUs outperform its counterparts, by such a wide margin, the company is able to increase pricing while retaining a performance advantage over its competitor AMD (NASDAQ:AMD). Assuming Intel is able to retain its competitive advantage, and computing needs continue to increase exponentially, there's no reason to believe that Intel's datacenter business will slow down.
Disclosure: The author has no positions in any stocks mentioned, and no plans to initiate any positions within the next 72 hours.
The author wrote this article themselves, and it expresses their own opinions. The author is not receiving compensation for it (other than from Seeking Alpha). The author has no business relationship with any company whose stock is mentioned in this article.