The consensus in January 2009, was that the future in the West was low-growth and low–inflation (as was typically the experience following prior banking sector busts that influential economists had advocated as models for our present predicament, and rather consistent with the pricing of both equities and bonds/breakevens). At that time I expressed a very strong opinion that this reflected more the recent traumatic past rather than being a likely good guide to what lies ahead of us, and one might say that this opinion has so far been borne out – at least from a trading perspective.
Today expectations are somewhat different – market participants seem to continue to expect subdued growth ahead, although they have dispersed views over the prospects for inflation (with doves pointing to the continued comfortingly-low CPI and some of the more extreme hawks pointing to the parabolic rally in commodity prices as reflecting potential imminent hyperinflation).
There seems to be a general dampening of the view that a great deleveraging lies ahead, with consequent very bearish prospects for risk assets and even the bears – such as David Rosenberg – have for some time been advocating Gold as an asset class to protect the real value of purchasing power. As Jastram noted in his study "The Golden Constant," Gold does tend to perform this function rather well over time. This means however that it goes down less than the price level in a deflationary environment – something that may be comforting to an intellectual, but may be rather less so to a practitioner measured by his absolute return.
In this context, I find the long-term charts below of the Dow vs Gold and Dow vs Silver ratios intriguing. They do suggest that one should not prematurely jump to the conclusion that the recent outperformance of precious metals is likely to be sustained as we approach the end of QE2 and the beginning of rate hikes in those parts of the developed world that have until recently been lagging. In fact the Dow/Gold ratio in particular seems to remain in a long-term bull market in spite of the obvious (and perhaps now-discounted) reasons to be concerned about paper assets.
Certainly there appears no need to rush to enter into a trade long the Dow and short Gold (it would not be surprising should there be no exhaustion to the current trend until the first half of next year), but the picture below (as well as fundamental factors and sentiment) does suggest US equities might be a more interesting investment on a longer horizon for new allocations than precious metals - (click charts to expand).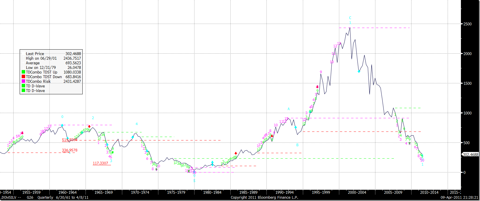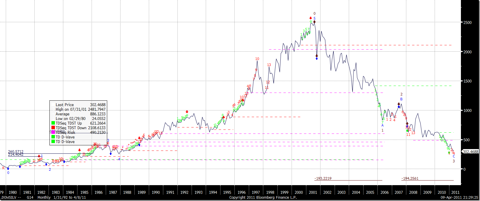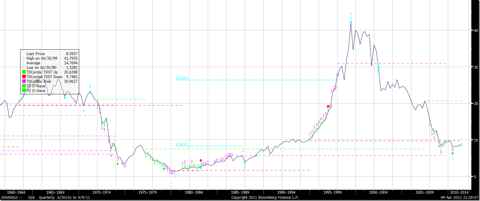 Disclosure: I have no positions in any stocks mentioned, and no plans to initiate any positions within the next 72 hours.