What stops the oil price from falling further in the near-term? What will drive a rebound in oil prices? Primarily the elasticity (for both supply and demand) in global oil markets. There are a few, under-discussed factors that will likely signal the end of falling oil prices.
Gasoline Demand for Transportation- This represents the key oil product in the key oil product market at 8.84Mbpd last year (~10% of world demand). Although miles driven per driver has been in decline since 2006, total miles have held steady, experiencing a 2% growth year-over-year. Gasoline generally has a negative correlation to the price of oil, as we see extreme demand destruction above $4 a gallon. With national prices trending near $3 a gallon, we are seeing demand growth for gasoline surprise to the upside, possibly helping create a floor for oil prices.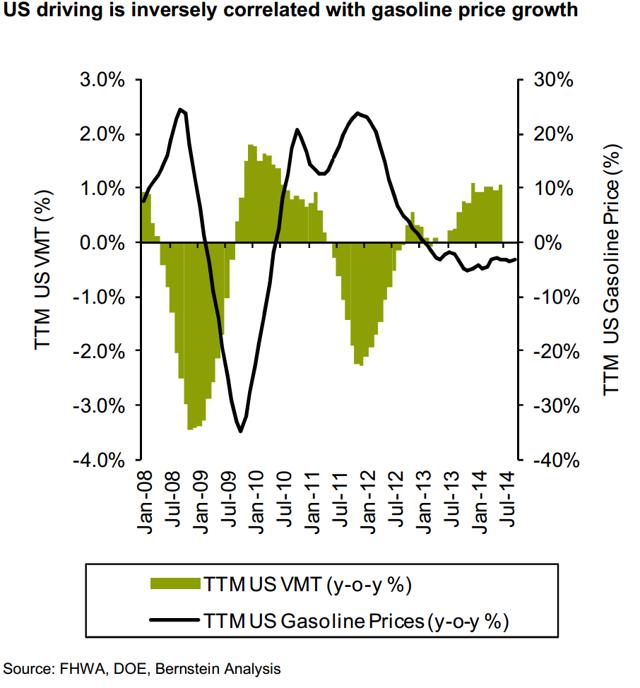 2. Accelerating Chinese Inventory Levels - In 2012, global oil supply of 90.9Mbpd exceeded demand of 90.6Mbpd by 0.3Mbpd. Normally, excess production would lead to pricing weakness: However the market absorbed the additional supply as emerging market countries increased inventories. Last year the reverse happened, as demand of 91.7Mbpd outpaced supply of 91.4Mbpd and we used 0.3Mbpd from inventories to balance as Brent remained up at $110/bbl.
Over the years one of the most active buyers has been China. The inverse correlation between oil prices and Chinese purchases highlight that China's purchases accelerate when oil prices fall, whereas purchase scale back as oil prices rise. With a lower oil price, purchases are likely to re-accelerate, adding in a shadow purchaser to the market with the ability to swing demand-supply gaps.

3. OPEC will be forced to cut - OPEC has a stated production ceiling of 30Mbpd, yet the group's output is running closer to 30.3Mbpd. At today's prices, almost a third of the world's oil supply derives from OPEC countries with a budget deficit. Meanwhile, budgetary spending is expected to rise at low-to-mid single digits annual over the next decade. Quite simply, these countries cannot afford a drawn-out period of lower oil prices and will be forced to remedy to situation quickly.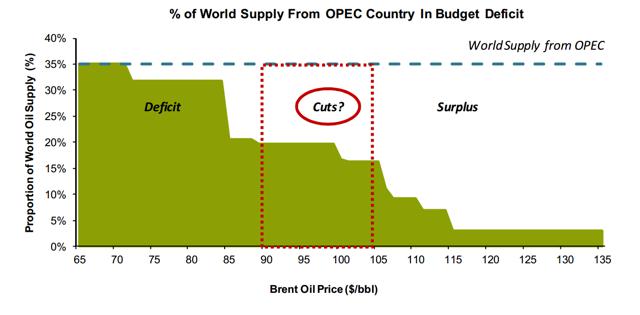 4. US production will be cut, as investors overestimate viable domestic supply - As most analysts originally underestimated the shale revolutions ability to produce large quantities of oil and natural gas, most now tend to underestimate possibly future supply cuts at today's oil price. 1Mbpd of US oil production is from "stripper" wells that produce sub 15bpd of oil, representing US marginal production. During the 2008-2009 oil price collapse, stripper well production in the Gulf of Mexico halved from 80kbpd to 40kbpd within a quarter.
Cash costs for the average US stripper well are around $64/bbl, however the marginal producers are closer to $90/bbl. A significant amount of production is below cash costs at today's prices, indicating that it would be economically irrational to continue production at these levels.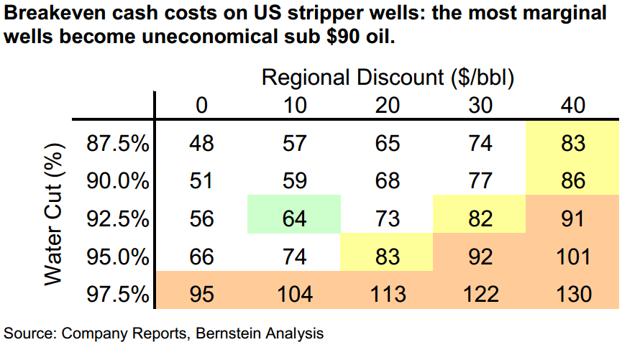 Investable Opportunities - While there are numerous smaller U.S. E&P companies that will strongly benefit from a rebound in oil prices, some higher quality names include Anadarko Petroleum (NYSE:APC), Apache (NYSE:APA), Occidental Petroleum (NYSE:OXY), Chesapeake Energy (NYSE:CHK), EOG Resources (NYSE:EOG), Linn Energy (LINE), Marathon Oil (NYSE:MRO), and Murphy Oil (NYSE:MUR). If you still worry about short-term weakness persisting, but will want to benefit from long-term price increases, the Integrated Oil Companies are still in an enviable position including ConocoPhillips (NYSE:COP), Chevron (NYSE:CVX), and ExxonMobil (NYSE:XOM). Of course you could always opt for a straight oil ETF such as (NYSEARCA:OIL), (NYSEARCA:USO), or the double-weighted (NYSEARCA:UCO).
Feel free to comment with any additional suggestions.
Disclosure: The author has no positions in any stocks mentioned, and no plans to initiate any positions within the next 72 hours.
The author wrote this article themselves, and it expresses their own opinions. The author is not receiving compensation for it (other than from Seeking Alpha). The author has no business relationship with any company whose stock is mentioned in this article.