Typically investors try to avoid airline stocks -- and the airline industry as a whole -- at all costs. Even the great sage himself, Warren Buffett, once called the industry "a death trap for investors."
So why am I here talking about this sector?
The economics of the airline industry is turning a new leaf and becoming shareholder-friendly, though I admit it's in a consolidation phase. More importantly, I believe there is an airliner that understands how to run a business.
This airliner is called easyJet PLC (OTCPK:EJTTF), a U.K.-based budget airline, which targets destinations around Europe and some in North Africa. I also believe it has found the right balance for the benefits of most stakeholders.
For those who know the European airline industry, it is one of the toughest and most competitive places to be. According to the IATA, North American airliners make the most in terms of net margins (4.3%), a cumulative profit of $9.2B in 2014.
The European airlines only made 1.3% in net margins (the second worst, behind Africa), despite having a higher load factor. This is due to inefficient space management, costing them $3.8B. However, consumers have fared far worse, with delays costing them about $7.7B in 2014.
Why easyJet PLC?
easyJet was founded by Sir Stelios Haji-Ioannou in 1995, and is now the fourth largest carrier in Europe, carrying 60M passengers. I can hear you thinking out loud: "Why buy easyJet, and what differentiates it from its competitors?" I think the following factors have given easyJet the competitive edge over rivals:
Maintaining profitability
The company has never posted a loss this century. It grew net profit from £22M ($14M) in 2000 to £581M ($372M) in 2014 -- a remarkable feat when you see some of the established airlines struggling to maintain profitability, bouncing from profits to losses every two to three years.
Graph 1: easyJet's net margins vs. diluted EPS (pence)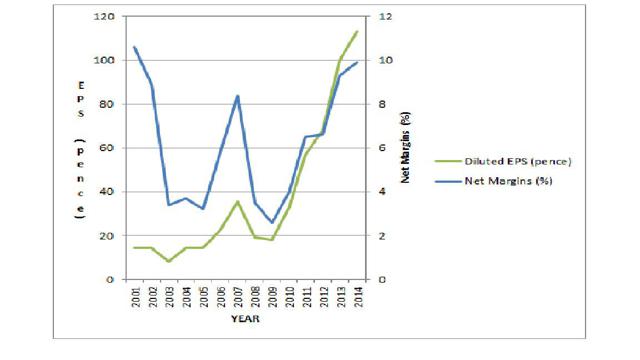 The number of passengers it carried has shot up from 5.6M to 64M over that same period.
Exploring easyJet's success
One of its successes is its load factor. Management has maintained that level from the low 80% in 2000 to breaching the 90%; this is a good 20 percentage points higher than the average European airliner (68%).
And not only that, it also beats some of their rivals, including Ryanair (NASDAQ:RYAAY), Lufthansa Group (OTCQX:DLAKY), IAG and Air-France KLM (OTCPK:AFRAF), as shown in Figure 1 below:
Figure 1: easyJet's load factor, along with rivals
| | |
| --- | --- |
| AIRLINERS | LOAD FACTOR 2013 |
| Ryanair | 84% |
| Lufthansa Group | 79% |
| IAG | 76.7% |
| Air-France KLM | 64.8% |
| EASYJET | 89.3% |
Source: Skift.com.
Note: All of the airlines mentioned above are bigger than easyJet PLC.
The second thing is easyJet cares about its customers; the company seeks customer feedback by carrying out customer satisfaction surveys, as seen below: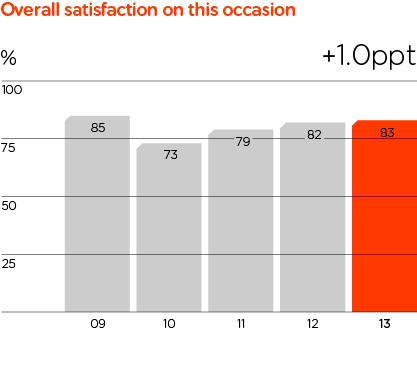 I'm not saying it is the best airliner in the world, but it is making an effort to improve customer service.
For a budget airliner, it clearly isn't going to make it to the top 10 in Europe, let alone the world (according to Skytrax, it is the 44th best airline in the world). But taking the time to show a bit of compassion to your customers goes a long way toward giving them the best service possible.
Another thing that boosted easyJet brand recognition is the way it treats its staff. The business has 8,300 employees, who own a collective 19M shares in the company. The average easyJet employee holds 2,290 shares, and using the share price of £15 as our benchmark, it works out to £34,000 ($53,000). Apart from that, staffs get additional performance shares equivalent to two weeks' salary.
As you can see below, staff turnover is trending lower: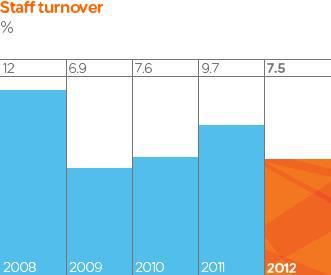 Note: In 2013, it fell to 6.5%.
Lastly, the one thing that plagued airliners is taking on too many loans.
It is not the loans that are the problem, because most airlines require them to purchase or lease new aircraft as they expand their business. The problem lies in growing its business and profits under intense competition.
easyJet is capable of managing its loans, with short-term cash as a counter-balance: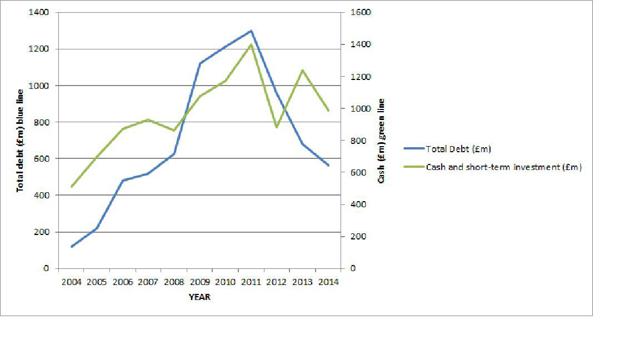 The above graph has shown the success of easyJet in taking on loans to expand its business and to have more than ample cash to cover all of its debts. In fact, it's operating in a net cash position of £422M ($662M).
It gives the company more clout and financial flexibility, especially because rivals Ryanair and IAG both have net debt positions (€364M/$455M and £5.5B/$8.63B, respectively).
Is capital expenditure the reason for its success?
An airliner has many fixed costs. Therefore, it requires continually high capital commitment to replenish and expand the business. Sometimes a company can give a boost to its profits by cutting capital expenditure. easyJet, I must admit, does use its capital expenditure and leases quite smartly.
Graph 3: easyJet's total revenue vs. total capex (Inc. leases)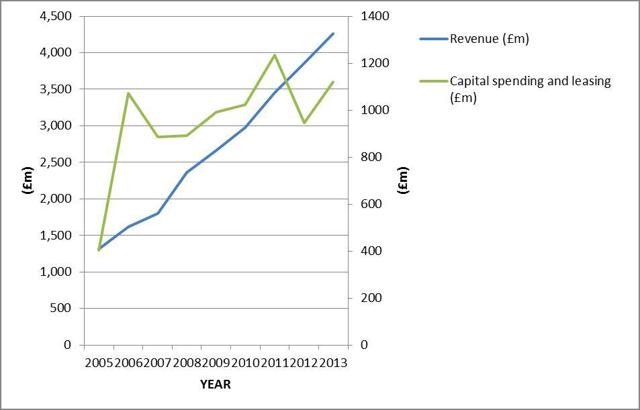 Its sharp increase in spending in 2005 to 2007, coincide with a sharp intake of debt in the same period, but management has managed to deliver success in a period of great uncertainty in the airline sector.
The most important part (and the hardest part) for an airliner is to consolidate its capital investments, and easyJet has proven that by limiting the growth in operating costs. Right now, capex is hovering around the £1B ($1.57B) mark, whilst revenue is growing.
I know one day easyJet will need to mature, so I don't expect it to grow forever. Some of easyJet's successes were due to being a low-cost budget airline (pure and simple), because most people in Europe want to get from A to B as cheaply way possible.
And the major carriers, with their unionized staffs, weren't as flexible in offering low-cost travel during the financial crisis. Thus, they have either gone bankrupt or consolidated with other major airlines, such as Air France with KLM, and BA with Iberia, to form IAG.
However, easyJet may purchase more aircraft in the future (obviously), but I don't expect them to commit to an obscene amount of capex despite the chart below:
Graph 4: Showing easyJet's percentage of total assets that has been depreciated, vs. the average age of assets in service.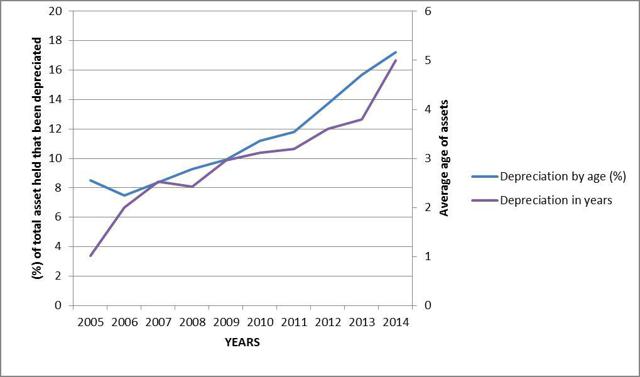 As you can see, the percentage of assets held that has been depreciated is going up (from 8% in 2005 to 17% in 2014). The rule is: The higher it goes, the more likely a company will need to renew its capital assets.
The average age of the aircraft went from less than one year in service to five years. The same rules apply: The older the assets get, the more likely a company would make an abnormal amount of capex spending.
But I feel the company is beginning to mature as it starts to consolidate its gains, and move in a direction that includes working on generating stainable free cash flow.
If you look at the working life of the aircraft, it's about 23 years, according to EasyJet. And since they have only been in existence for 19 years, most of its aircrafts are relatively new.
However, there is another way to find out if an airliner is going to make that big investment in capex. It is through its contractual obligations to purchase new aircraft.
Back in 2005, easyJet made a commitment to purchase £1.6B ($2.51B) in new aircraft, equivalent to two years of sales (an average of £800M or ($1.26B) per annum).
In its latest commitment, easyJet is obligated to spend £8B ($12.56B) from 2015 to 2022, an average spent of £1.14B ($1.78B) each year. Though it seems a lot, it is the same amount spent in each of the last three years.
Relative to revenue, capex spending in 2006-2007 represents roughly 40-45% of sales. In 2013-14, capex spending will represent 25% of revenue. It would drop to 15% by 2022 if sales hit over £7B ($11B), an 8% compound growth, and I think this is a reasonably conservative measure. So there is plenty of growth left before they make their one-off capex.
It is the dividend, stupid!
Since the floatation in 2000 at £3.10, easyJet has struggled to rise, despite the business growing exponentially. Before it starts to pay a dividend, the shares once peaked at £8/share in 2007, and since then till 2011, it was languishing around the £3 mark.
The company adopted a dividend policy of paying one-third of its profits as dividends (then recently raised it to 40%), and easyJet's share price has rocketed, as shown below:
Chart 5: easyJet's stock price history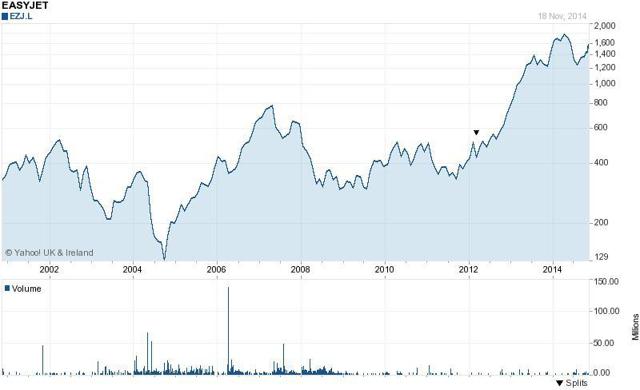 Source: Yahoo Finance.
easyJet's share price has gone up by nearly 400%.
Tivals Ryanair and IAG have seen their shares rise by 160% and 300%, respectively. But neither of these companies pays a dividend directly to shareholders.
Ryanair, however, implemented a share buyback instead, and payed out €390M ($480M) in 2014; this will expand to €600M ($738M) by 2015 (equivalent to 3.7% and 5.5% dividend yields). The shares have gone up the least, as investors don't like the share buyback path of returning shareholders cash.
IAG, meanwhile, has said it will pay a dividend in 2015.
Can the dividend payout be sustainable?
Here is a graph showing easyJet's free cash flow:
Graph 6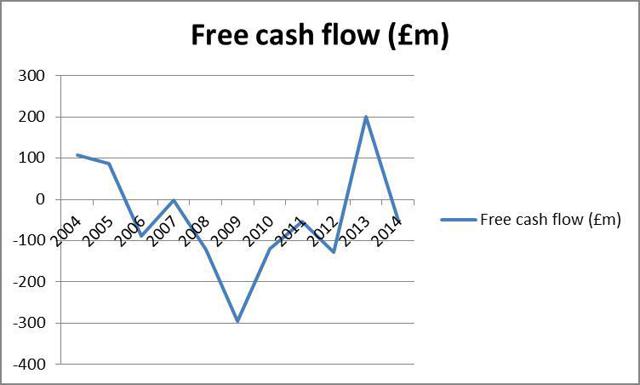 (£1 = $1.57.)
It may look ugly, and it certainly doesn't look like it can support a dividend policy in the long run.
Please refer again to graph 2. The company has since paid back more than £650M ($1.02B) in loans and returned shareholders cash to the tune of £303M ($475M) since 2011. If it's not producing any free cash flow, and the company's cash balance went down by £200M ($314M), how does it have the funds to pay back its lenders and shareholders?
First, the aircraft purchased are collateralized assets of the banks, and over a period of use, the aircraft get returned to the banks; hence the debt get canceled. Then it explains why the company can reduce its financial leverage.
Is this a good time to buy easyJet PLC?
I simply don't know. However, the landscape in the European airline industry has changed. Most of the majors have either consolidated with other majors, or minors airliner or have gone bust. This has produced a considerable amount of costs savings.
Now it is turning around its businesses and will likely be a threat to the budget airliners. The company is currently trading at a P/E of 14, far lower than Ryanair, which trades at a P/E of 22. On a fundamental basis, easyJet still has ample room for further share price appreciation compared to its Irish counterpart -- because it has a lower PE.
Here are the things to watch out for when deciding to invest in easyJet:
Bull Arguments
The company is operating in a net cash position while reducing its debts burden.
Despite a huge appreciation in its valuation, it remains undervalued compared to rivals.
The major airlines in Europe are still dealing with legacy issues; this gives the company opportunity to grab market share and expand in a number of destinations.
easyJet is one of the few companies paying out a dividend, giving investors confidence in its business model.
Currently

easyJet has a net margin above 10%, one of the highest in Europe (the European average is 1.3%).

The company is still young and has more room to grow before it will need to ramp up capex to replace and expand the current fleet.
Bear Case
The relationship with the founder (38% stake in the company) and current management is at odds with its strategy. The founder, Sir Stelios, doesn't agree with plans to purchase new fleets too frequently.
The airline industry is becoming meaner and leaner, with majors joining forces with other majors to reduce costs. But at some point in time it will launch a serious challenge to the budget airliners.
The share price may be have reached a consolidation phase, having appreciated quite rapidly.
There could be a head-and-shoulders pattern forming, as you can see below.
Graph 7: easyJet's three-year price chart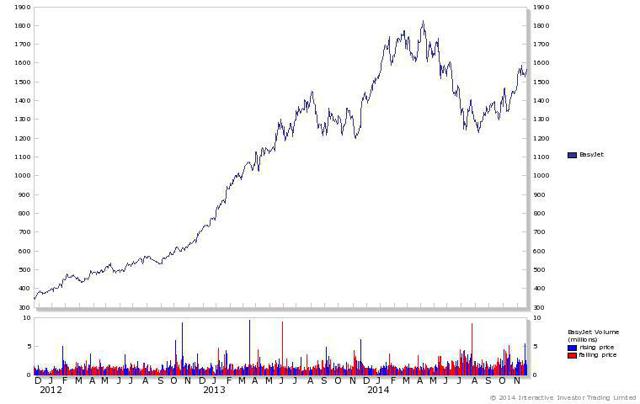 (Source: Interactive investor)
In order for this pattern not to form, the share price needs to move beyond its previous high of £18.50/share. A break below £12.50 could see it fall to around the £8.00 (the previous peak, in 2007).
The factors that will move easyJet's share price
After researching this company, there are four things (except for external factors like contagious viruses and volcanic activities) you should watch out for:
The net margin needs to be around 7.5% -10%. On two occasions when net margins fell back to 3-4% (in 2004-2005 and then 2009-10), the share price went down as well. So management warning on poor operational performance would be a cue to sell, because this will affect profits. At the same time, net margins will fall.
Watch out for high debt growth, including both operating and financing leases. Also look for signs of a reduced cash balance. These two factors moving adversely together bodes ill in a high-risk sector.
Look at the company's free cash flow, especially if it shows huge outflows, a sign of possible fundraising and heavy capital spending.
And finally, if the dividend is reduced, or scrap altogether. It can demolish

easyJet's stock price, because the dividend is part of the reason the shares have elevated to all-time highs.
Disclosure: The author has no positions in any stocks mentioned, and no plans to initiate any positions within the next 72 hours.
The author wrote this article themselves, and it expresses their own opinions. The author is not receiving compensation for it (other than from Seeking Alpha). The author has no business relationship with any company whose stock is mentioned in this article.
Editor's Note: This article discusses one or more securities that do not trade on a major U.S. exchange. Please be aware of the risks associated with these stocks.