Investing does not need to be complicated. Sometimes the most boring of systems are best. I like boring investment systems for the very reason that they lack the glitz, glamour and headline coverage. Alpha, or excess returns, are typically present in places where the average investor cannot, or does not want, to go. Utilities is one such ho-hum sector that is often of little interest to the investor seeking insanely high annual returns.
But how does one invest in utility stocks for a market-beating return? Simplicity is the key. Our model development will be created with the powerful Portfolio123 stock screening and backtesting platform. The first test is to create a benchmark of utility stocks. The following criteria are required to be included in our Utility Benchmark to test the efficacy of our simple utility model which will follow.
Benchmark Requirements
Stocks trading on a US exchange (including OTC and Limited Partnerships)
Stock must be in the utility sector (GICS 55)
Stock must be at least $1 per share and have $50,000 of daily turnover
The red line represents the Utility Benchmark and the blue line underneath is the S&P1500 Utility Benchmark. The custom benchmark is equal-weight, rebalanced weekly, includes dividend reinvestment and assumes no trading cost.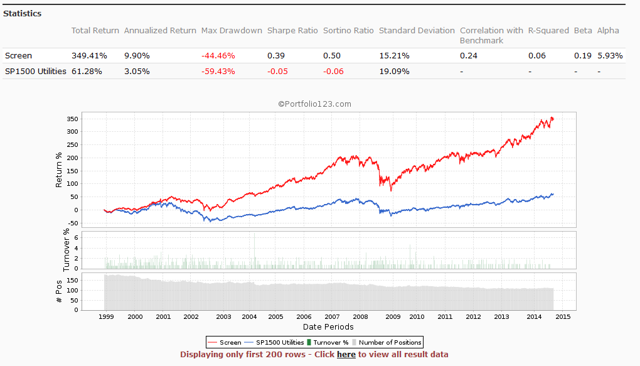 Now you might be wondering why our custom benchmark outperforms the S&P 1500 Utility benchmark 3 to 1. The answer is related to size and liquidity. Large and liquid stocks typically have lower performance than their smaller counterparts. Of course, one must exercise caution with stocks of lower liquidity as it can be difficult to sell in a timely fashion and you must be attentive to such things as the bid/ask spread and slippage. My rule of thumb is to invest only 5 - 10% of the daily turnover. So if a stock trades $100,000 a day - I am only able to invest up to $10,000 in that stock each day.
What simple factors should make up my utility system?
Dividend Yield
Boring utility companies should offer a dividend. We are not looking for companies taking big risks with rapid expansion or those who want to amass an inefficient empire. We want stable dividends paid regularly. The dividend yield should be greater than what we can get purchasing government bonds. So our first rule is that the dividend yield should be at least 1% greater than the 30 year US government bond yield to reward us for taking on the extra risk of the equity markets. Below is the return statistics from 1999 to current.
Statistics

Total Return

Annualized Return

Max Drawdown

Sharpe Ratio

Screen

848.20%

15.18%

-45.96%

0.66
This one sensible rule has already produced something worth investing in.
Payout Ratio
Almost all the conventional advice pertaining to payout ratio is that lower is better. The payout ratio is the percentage of earnings that are paid out in dividends. At times, when earnings are low or take a one-time hit, the dividend will exceed the income and dividends will need to be partially paid out of cash reserves. While this is fine once in a while, you cannot sustain a practice of paying out more than what you take in. Therefore, many investors focus on the lower payout ratio stocks.
When it comes to dividend paying utility stocks, I like to take a different approach when it comes to the payout ratio. My preference is to have the firm pay at least 50% of their earnings in dividends and I do not want the payout ratio to be too low. My reasoning is this…a low payout ratio means more earnings are either being retained by the company or being re-invested. This represents additional risk and makes the company less boring and less predictable. A low payout ratio may, at times, indicate uncertainty as to whether the earnings are stable. If the earnings are rock-solid, why not offer a higher payout and yield? A higher payout ratio may actually be a signal of future confidence in earnings and potentially earnings growth. An interesting read in this regards is the following paper: Does Dividend Policy Foretell Earnings Growth?
What is the effect by only keeping companies with 12 month trailing payout ratios greater than 50%?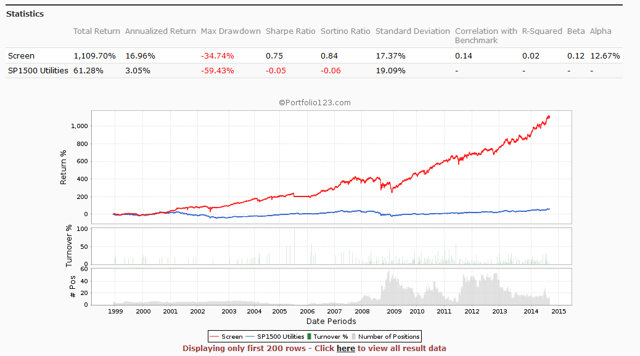 Notice the reduction in drawdown during the bear market. If I want to further refine the list I may choose to run a final filter with such factors as high dividend yield, low price to book ratios or the tickers with the lowest short interest ratio. The chart below retains the 10 best stocks according to the single factor ranking listed on the left. This test is from 1999 - current.
| | | | | |
| --- | --- | --- | --- | --- |
| | Total Return | Annualized Return | Max Drawdown | Sharpe Ratio |
| Low SI Ratio | 1,359.66% | 18.35% | -33.70% | 0.82 |
| Low P/B | 1,142.07% | 17.15% | -40.90% | 0.75 |
| High Div Yield | 1,216.77% | 17.59% | -33.70% | 0.77 |
For illustrative purposes, these are the 10 stocks with the lowest short interest ratio:
| | | | | |
| --- | --- | --- | --- | --- |
| Ticker | Name | MktCap | Yield | SIRatio |
| (NYSEMKT:EGAS) | Gas Natural Inc | 121.66 | 4.66 | 1.69 |
| (NYSE:BEP) | Brookfield Renewable Energy Partners LP | 4459 | 4.98 | 2.25 |
| (NYSE:PPL) | PPL Corp | 23847.75 | 4.15 | 2.94 |
| (NYSE:FGP) | Ferrellgas Partners LP | 2229.71 | 7.29 | 2.99 |
| (NYSE:APU) | Amerigas Partners LP | 4327.6 | 7.55 | 3.59 |
| (NYSE:SPH) | Suburban Propane Partners LP | 2679.06 | 7.88 | 3.95 |
| (UIL) | UIL Holdings Corp | 2275.41 | 4.29 | 4.71 |
| (NYSE:TE) | TECO Energy Inc. | 4645.08 | 4.44 | 4.97 |
| (NYSE:SO) | Southern Co (The) | 43109.99 | 4.38 | 7.06 |
| (NASDAQ:OTTR) | Otter Tail Corp | 1066.01 | 4.18 | 16.57 |
The only one name on the list that I question is OTTR which would take over 16 days to cover at current trading levels.
Granted, this system will not be for everyone. Some do not like trading MLPs and the extra paperwork it requires. Others prefer flashier stocks than what utilities offer. Some bigger investors require higher liquidity while other investors want lower payout ratios than this system. And it is for these reasons that I like these boring stocks of little interest which are traded in a strategy that produces stable returns that are anything but boring.
Disclosure: The author has no positions in any stocks mentioned, and no plans to initiate any positions within the next 72 hours.
The author wrote this article themselves, and it expresses their own opinions. The author is not receiving compensation for it (other than from Seeking Alpha). The author has no business relationship with any company whose stock is mentioned in this article.