The Canadian dollar remains under selling pressure as interest rates remain low, while the falling price of oil weighs on private sector revenue. The CurrencyShares Canadian Dollar Trust ETF (NYSE:FXC) is down nearly 7% since early July as investors have fled the Canadian currency for the U.S. dollar.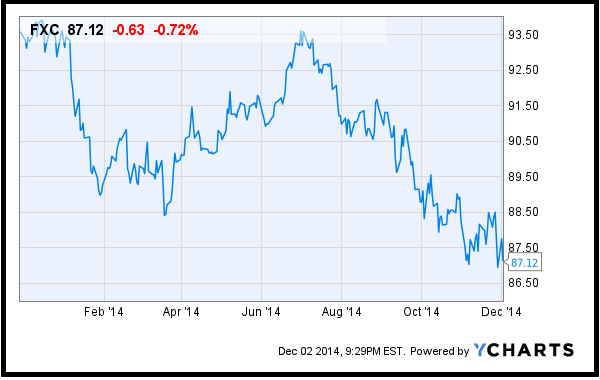 Falling oil prices over the last few months have dented revenue in Canada, weighing on economic growth, and sentiment surrounding its currency. The United States Oil ETF (NYSEARCA:USO) has fallen nearly 35% since July as fear of a global supply glut pushed prices lower. Canada, a major oil exporter, felt the full brunt of pain as prices declined.
"Canada is an important oil exporter, and [Finance Minister Joe Oliver] said that while it was clear lower oil prices would negatively affect the fiscal picture, it would also give consumers more money to spend and help manufacturers," according to FX Empire.
While real consumer incomes have been aided by falling oil prices, Canada's private sector has been adversely affected. For example, railway companies in Canada have seen revenue decline alongside the price of oil.
"The plunge in oil prices is expected to dampen the rise in moving crude by rail, a fast-growing segment that sprang up amid a shortage of pipeline capacity and $100 oil. Moreover, the prospect that rail companies would see a decline in oil volumes as producers either scale back production or balk at paying the $15 to $20 premium to ship a barrel of oil by rail could negatively affect business activity," according to the Globe and Mail.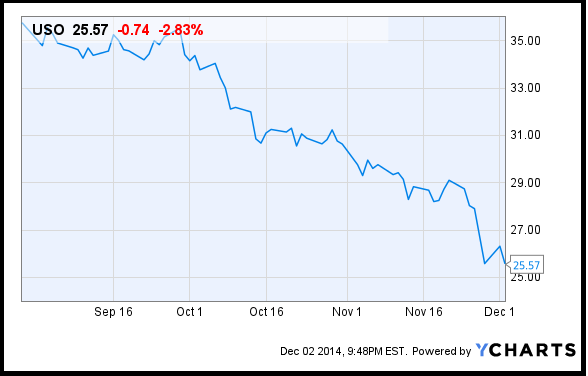 Similarly, alongside falling oil prices, economic growth in the country remains fragile. The economic growth figure for the third quarter came in at 2.8% annual growth, below the previous month's reading of a revised 3.6%. Economic growth has recently receded after spiking higher earlier in the year, as is seen in the chart below. Both exports and commodity related industries weighed on growth during the third quarter.
"Exports of goods and services advanced 1.7% after increasing 4.4% in the second quarter. Meanwhile, gains in manufacturing and construction were mostly offset by declines in the agriculture, forestry, mining, oil, gas extraction, and utilities sectors," according to FX Empire.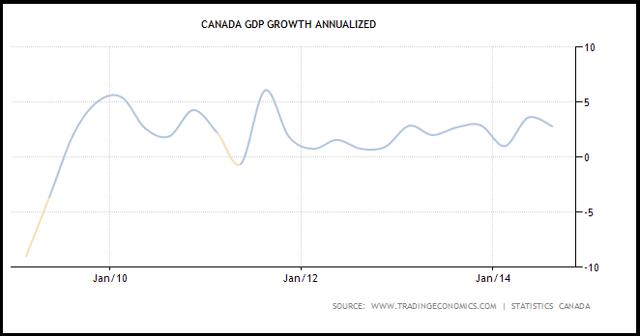 Data provided by Trading Economics
Lastly, as economic growth remains under pressure, while the price of oil declines, it is likely the Bank of Canada keeps interest rates at or below 1%. At the bank's most recent meeting in October, policymakers chose to leave the benchmark interest rate at 1%, unchanged for the past few years, as is seen in the chart below. The bank has cited global weakness and uncertainty as main reasons for leaving the rate at 1%.
"Risks still remain with a background of ongoing geopolitical uncertainties and lower confidence, energy prices have declined and there has been a significant correction in global financial markets," the Bank of Canada stated in its minutes.
As inflation remains subdued, alongside a falling price of oil, and a tepid pace of economic growth, it is likely the Bank of Canada chooses to keep rates at 1% over the next year. As benchmark rates stay low, while the U.S. begins tightening policy, it is likely that the Canadian dollar continues to fall against the U.S. dollar.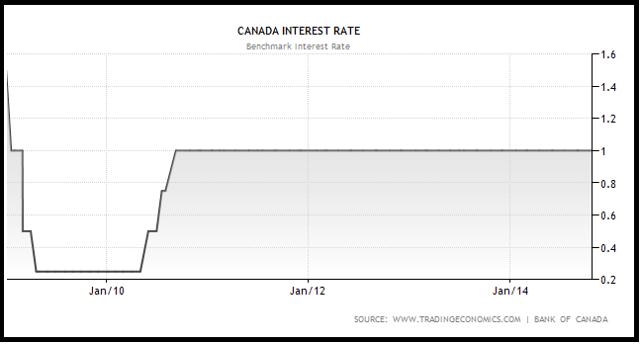 Data provided by Trading Economics
Disclosure: The author has no positions in any stocks mentioned, and no plans to initiate any positions within the next 72 hours.
The author wrote this article themselves, and it expresses their own opinions. The author is not receiving compensation for it (other than from Seeking Alpha). The author has no business relationship with any company whose stock is mentioned in this article.