World-changing events often occur that had their origins in seemingly unrelated events elsewhere. A case in point has led to our decision to purchase shares of a US company spun off by a Canadian firm, financed in part by a Hungarian refugee, that does business in Poland and Germany. Why? Because of a massive screw-up by dishonest utility executives and a complacent regulatory regime in Japan, the Western European nations' intense desire to avoid overdependence on a capricious Russian supply of natural gas, and a technological breakthrough made in the US. How's that for some seemingly unrelated actions and situations?
It's all connected, however. Tokyo Electric's (OTCPK:TKECF) intentional disregard of planning for a 4- or 5-sigma event, solely because one had not occurred in its limited frame of reference, so spooked the German government -- already reeling from losses to the Green Party, which has as a primary platform the abolition of peaceful atomic power in that nation -- that it decided to take seven atomic power plants offline prematurely, and now wants to abolish all peaceful atomic power in the country. This leaves Germany potentially without enough power for its factories, transportation, heat and light.
The Pollyanna thinking that it can replace this atomic power with wind power is simply ludicrous. As I wrote in a comment on SA recently:
So Germany is abandoning peaceful atomic power in favor of wind. Good luck with that. It's a brilliant, purely political decision because 90% of the German Greens platform is blindly don't-bother-me-with-facts "No nukes!" Politically, this decision undercuts the Greens just as they have won their first state election and appeared to be gaining momentum.

But short-term political gain will be swamped by economic reality. I was just in Germany six months ago and observed first-hand what were once scenic Thuringian forest and meadowlands now a wall of 200-foot spikes with wind turbines either spinning lazily or not at all. Reading the local papers, I found that most Germans are fed up. "Not in my backyard!" is the new rallying cry when it comes to wind. They all want clean wind energy (it is), they just want it to be steady (it isn't), economical (it isn't) and blocking someone else's view (it won't be.) A lot of chapters yet to be written in this book ...
Even if the Germans placed 100% of their wind turbines in the North Sea, there would still be issues with hazards to navigation, migratory bird routing, incredibly expensive seaborne maintenance, and squabbles with neighbors The Netherlands and Denmark -- both of which own more seacoast maritime rights there and both of which have soured on their own ocean wind turbine projects.
No, I'm afraid Germany, if it wants to retain its role as a serious manufacturing and services leader, must find some sort of fossil fuel in which the energy is already concentrated in what are effectively giant storage batteries. If not atomic power, then they must gain access to oil, coal or natural gas.
Russia is quite happy to provide natural gas as the only effective, non-intermittent and immediately available source of fuel for heating, lighting, transportation and manufacturing. The problem is that there is never a merely commercial transaction with the Russians. If you take their gas, you'd better agree with them on political issues and UN votes as well, or you may find yourself without a job at the silent factory, shivering in the dark while hoping for the heat to come back on.
The map below shows, via the color used, the percent of each European nation's total fuel usage that comes from natural gas. The number on each country is the percent of that figure that comes from Russia. Not a pretty geopolitical picture if you are the prime minister, president or premier of one of these nations.
[Click all to enlarge]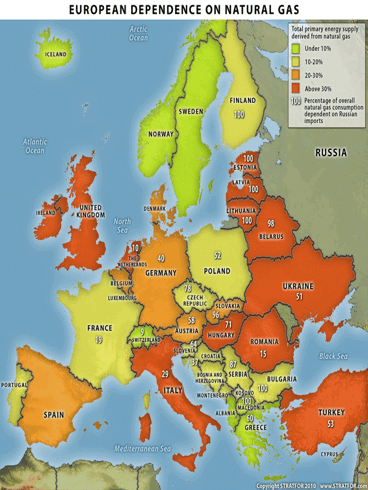 Is there an alternative? It so happens there may well be. As a result of the technological breakthroughs in the US in horizontal drilling and the fracturing of shale to release locked-in natural gas, Europe may gain both new energy and freedom from Russian political power wielded at the end of a pipeline. Just as the Leviathan finds in Israel's Mediterranean are likely to make Israel a net exporter of fossil fuels in the coming years, I believe the natural gas trapped in Polish, German and other European shale will prove no less fecund than it has in other places, along the same lines of latitude in North America.
Does Western Europe want to drag that nasty old gas out of the rock upon which the continent rests? Not really. Like many in the US, these nations want to believe the fairy tale that "clean" solar and wind alone will somehow move their freight, light their roadways, heat their homes, and power their factories. I wish them well. But, having just visited these giant stalks growing more than 200 feet out of the rich German soil, and reading the local papers on the issue, I was not surprised to discover that Germans (and I assume other Europeans) are all for G-R-E-E-N as long as it is N-I-M-B-Y. Just about every spot proposed for wind farms that I passed through had a citizens group organized to fight them.
Germany already has just under 22,000 wind turbines in place, and clearly a number of landowners, homeowners, nature lovers, wildlife advocates and tourism councils have decided enough is enough. Nor are they overly fond of the gigantic power masts needed to transport all this clean energy in the form of electricity — the best estimates are that at least 2,250 miles of right-of-way will be filled with 260 foot tall transmission masts and power lines. If you speak German, you might want to visit windkraftgegner.de ("Wind Power Opponents"), where you will see some 70 organized-against-wind protest campaigns. It seems there really is no such thing as a free lunch.
My analysis of this issue leads me to believe that once citizens in Germany, Spain, the US and beyond discover the downside of solar and wind — mostly the difficulties of concentrating these forces and overcoming the intermittency issues — and add to that the general unattractiveness of their placement, possible damage to wildlife habitats, and so on, they may opt for the type of power that Mother Nature has already concentrated into giant storage batteries. These are steady, not intermittent, in power delivery, and their unattractiveness is as concentrated geographically as their power is geologically.
This revolution in how Germany (and, indeed, the rest of Europe) must adapt and the forms it may take is a crystal-clear example of a butterfly's wings in one part of the world resoundingly reverberating elsewhere. In this case, the butterfly was a tsunami, an earthquake and the folly of Tokyo Electric.
So who might benefit from the possibility that Europe, so geologically similar to the US and Canada (and Russia) and lying upon the same latitudes as some of North America's and Russia's most impressive shale and conventional gas discoveries, might use these same new drilling technologies and unleash the power found right under their own feet?
If I'm correct, I'll wager that many Europeans will decide that natural gas in the ground is better than windmills in their mind. They've always known they have -- in Poland, Germany, Spain, France and other locations -- shale containing natural gas. But until the Americans figured out how to combine horizontal drilling with a fracturing process to drain it from the rock, it was always nice to know but impossible to get at.
No longer. The technology is there and The Bigs are out in force. Exxon Mobil (NYSE:XOM), Conoco Phillips (NYSE:COP), Royal Dutch Shell (NYSE:RDS.B), Chevron (NYSE:CVX) and others with deep pockets are already active in all the nations mentioned above. But they are Johnny-come-latelies to this party. As near as I can tell, there is no purer play in Europe than BNK Petroleum (OTCQB:BNKPF). BNK snapped up exploration acreage for pennies on the dollar before XOM, RDS.B, COP and others decided to join in the land rush.
Poland is getting the most investor and oil company attention. And BNK, spun off from Canada's Bankers Petroleum in 2008, having already cut its exploration and production teeth in Oklahoma's Woodford Shale, has the most acreage of any non-major and is the one I see as poised to reap the greatest benefits of European shale production. Its Oklahoma properties currently provide all its production and cash flow; its acreage in Alabama, Mississippi, Texas, and New York show great promise, as well. But the massive acreage it's amassed in Poland and Germany -- some 3.9 million gross acres consisting of 12 concessions spread over four basins -- is where I see this company being catapulted into the ranks of mid-tier, and possibly even major, producers.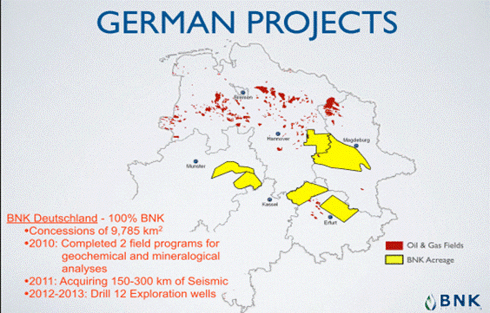 Just take a look at the map above showing the size of BNK's holdings in Germany alone and their proximity to existing wells. BNK basically drew a line north-to-south from Turkey up to Poland, and from there to the Atlantic Ocean, and quietly snapped up some of the best leases in the most desirable basins and at the cheapest prices anywhere.
Even unproven acreage in the US in one of the primary target basins costs between $100 to $200 per acre. The most expensive acreage BNK purchased was 55 cents an acre. Europe and the US are roughly equivalent in terms of energy consumption, making it an amazing energy market for those who have the right stuff. Currently that means mostly the Russians. If BNK is successful, it could change not only the energy dynamics of a continent but the entire geopolitical situation there as well.
BNK has a first mover advantage, but that advantage can quickly disappear if it doesn't have the capital to develop its properties or if costs are too high to develop, leaving its deeper-pocketed competitors to sign all the most lucrative supply contracts. But given its incredibly low cost per acre, BNK actually has some economies of scale and clearly lower royalty costs to pay out than many of its bigger competitors.
Oh, and the final geographic "connection" – the Hungarian refugee? BNK's prospects seemed bright enough six months ago to attract George Soros's Quantum Fund, which purchased 22% of the company outright.
I believe it would be incredibly stupid for Europeans to depend upon the good intentions of the Russians as their sole source to secure their energy future. Almost as stupid as a headlong rush to embrace wind technology that cannot possibly meet all their needs. I believe, further, that while they might prefer solar and wind, reality will intrude and they will make haste to secure the fossil fuel "storage batteries" that come from places whose geopolitical "strings attached" are less onerous — like their own nations.
Finally, I believe the experience BNK has gained from its US operations will allow it to become a key player in the production of European shale gas. Do your own due diligence and see if this smaller company might deserve a place in your long-term portfolio of growth companies.
Disclosure: I am long OTCQB:BNKPF.
The Fine Print: As Registered Investment Advisors, we see it as our responsibility to advise the following: we do not know your personal financial situation, so the information contained in this communiqué represents the opinions of the staff of Stanford Wealth Management, and should not be construed as personalized investment advice.
Past performance is no guarantee of future results, rather an obvious statement but clearly too often unheeded judging by the number of investors who buy the current #1 mutual fund only to watch it plummet next month.
We encourage you to do your own research on individual issues we recommend for your analysis to see if they might be of value in your own investing. We take our responsibility to proffer intelligent commentary seriously, but it should not be assumed that investing in any securities we are investing in will always be profitable. We do our best to get it right, and we "eat our own cooking," but we could be wrong, hence our full disclosure as to whether we own or are buying the investments we write about.