After writing my persuasive story on JCP on the 18th of September 2014, I was certain the share price would decline, which it did. Now the price is almost 35% lower and it's time to revisit my initial target for J.C. Penney (NYSE:JCP), especially considering Black Friday was over a week ago.
Black Friday
Considering the troubled waters JCP is currently swimming in, the company felt the need to have the largest average discount from all retailers on Black Friday as shown below in the table.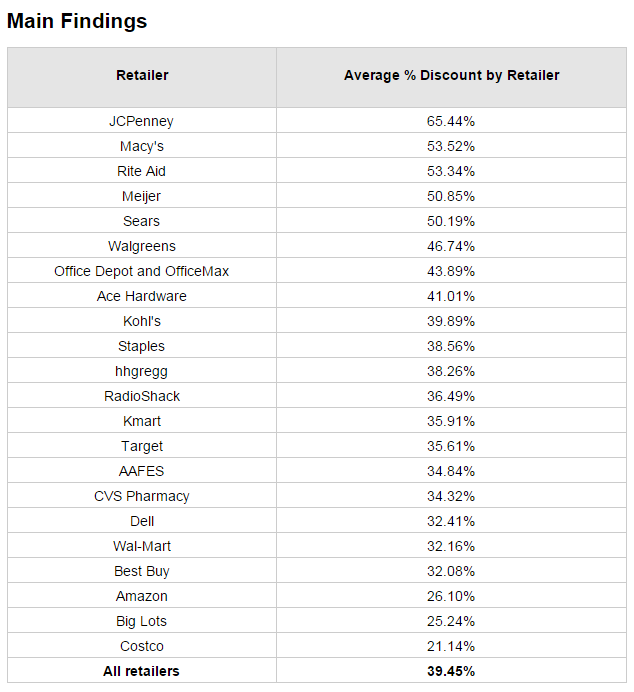 Source: Wallethub
A relevant question here would be: "Why were they offering the lowest discounts?" As offering discounts is an immense boost to revenue but that's all it is, which in my opinion, qualifies this as desperate move. Price wars are often only in the benefit of the costumer and not in favour of the company. It's not like JCPs current margins allow or enable the company to monetize from such immense discounts as can be seen below with competitors Macy's (NYSE:M) and Kohl's (NYSE:KSS).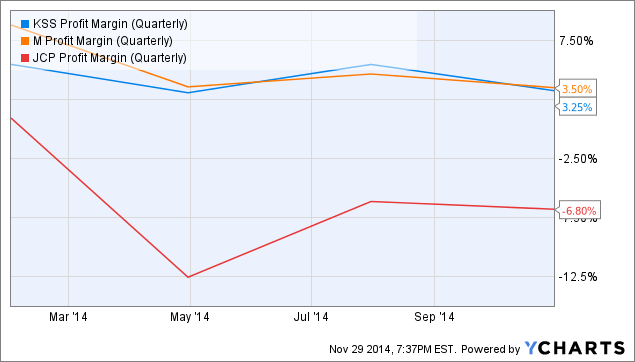 KSS Profit Margin (Quarterly) data by YCharts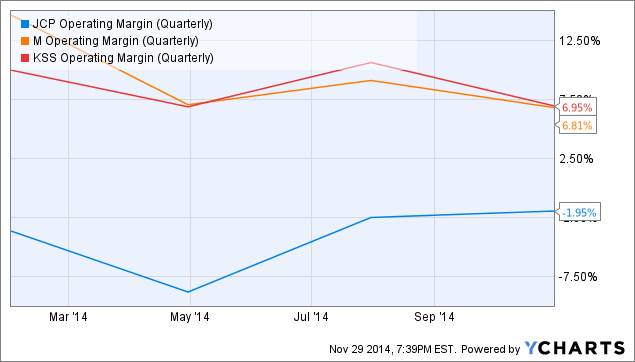 JCP Operating Margin (Quarterly) data by YCharts
As clearly depicted by both line charts, JCP is evidently underwater.
Example - the sense of discounting
1) Let's say product X has a store price of $200 while it's bought for $50. JCP had a Black Friday discount of 65% while Macy's ran a discount of 56% as shown in the first table researched by Wallethub.
2) Hence, JCP offered it for $70 (35% * $200) while Macy's offered it for $88 (44% * $200).
3) Let's assume 50,000 people bought this product in J.C. Penney which equals revenue of $3.5 million. Let's divide that number by Macy's price which equals to 39,772 people who bought product X at Macy's. The example is plain and simple. JCP had 28% more people in their stores in comparison to Macy's for the exact same amount of revenue. Where is JCP going to conjure up 28% more people than Macy's to simply break even in profit? Even if JCP was capable of achieving more customers in comparison to its competitors, it will remain questionable if they will push them back for Christmas sales later this year, let alone 2015. Even so, sales would not be much higher in comparison to competitors, ceterus paribus, would not make JCP a better investment in regards of its competitors. It would, if JCP would have higher margins, however this is not the case.
One more anecdote before I go into the full results, as I went through my research on JCP I read the following quote in a Reuters article in regards of J.C. Penney's results:
J.C. Penney managed to narrow its quarterly loss by 61 percent to $188 million, or 62 cents per share, as it cut back on discounts and reined in costs.
This confirms my thoughts on the issue in regards of being the number 1 retailer with lowest discounts. It's not something to be proud of if you can't turn it around in profit.
Third quarter results - 2014 J.C. Penney
Year to date, the comparable store sales were up 4.3% compared to the first 3 quarters of 2013. Overall, revenue was hit short just a little, as sales were $2.764 billion compared to $2.779 billion the quarter last year. Yet again, a consensus miss as the street was expecting a $2.81 billion figure. Online sales grew a measly 3.4%, below industry standards.
Net income was a loss, however substantially better (>60%) in comparison to the net loss reported a year ago.
Conference call
Going over their conference call is not making me more positive in regards of the future prospects of JCP.
"While the lower levels of clearance merchandise certainly helped us maintain healthy gross margins during the quarter, when we were hit with unseasonably warm weather, it hindered our ability to sell fall and cold weather goods. Ultimately, this impacted our top line."
This is just a piece of bad business I'm afraid. A retailer should always be flexible in regards to upcoming issues, whether that's a warm/cold season or certain transport/shipping issues. To continue in that fashion:
"We're also becoming a leader in the Omni channel retail for Middle America. We have the functionality our customer wants and needs, and it's only getting better."
Internet sales were only up by a few percent while the new iPhone app is not that great (considering its reviews). Although admittedly, I agree that it could be a whole lot worse. The deal with Disney for example in regards of launching "CMA Awards Backstage" on the WATCH ABC App for Desktop and Mobile Devices could strike out as a good deal.
And last but not least, maybe the most important statement out of the conference call:
"In closing, we're nearing the completion of JCPenney's turnaround."
This is a bold statement. With JCP still swimming around in issues, consumer demand is everything besides stable, a phrasing such as this one is worrisome. In reality, JCP is far from turning around at all. In order to be a sustainable business for now and in the future, JCP will have to close down businesses as described by Matthew Ross, an analyst working for JP Morgan. He came with an interesting assessment of JCP. In his advice he described that for every 100 stores being closed, J.C. Penney would gain $150 million EBITDA. This is a path JCP should follow in my opinion.
Comparable store sales are now expected to increase 3.5% to 4.5% in the future. Gross margin is expected to be 500 to 600 basis points above last year. After showing the profit and operating margin of JCP and its competitors, it's clear the issue does not lie around gross profit. JCP is simply holding a more expensive cost structure in comparison to its competitors.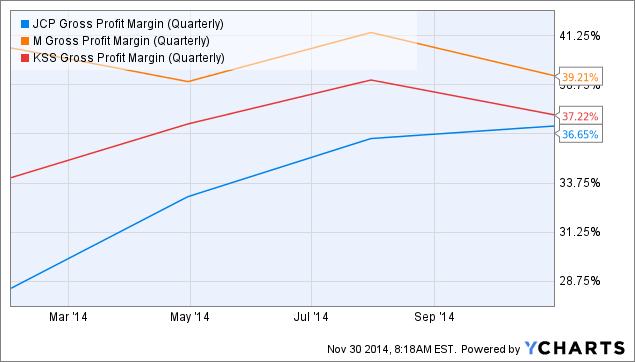 JCP Gross Profit Margin (Quarterly) data by YCharts
The September month is a good example. Although JCP had a strong 'back to school' month; September was bad (as it was for all retailers). How is JCP going to turn its business around to end up above those other retailers and turn a better month in comparison to its competitors? Before you know it, consumer demand hit's a bump and JCP will end up as toast with Macy's and others picking up the crumbles as JCP simply has a higher cost structure in comparison to the others. For more on this and the disadvantageous geographical reasons, I suggest to read my previous written article on JCP.
Potential Short Squeeze
A short squeeze is a situation where a heavily shorted stock will move up higher due to short sellers being forced to close their position adding more and more upwards momentum towards the stock. JCP has a potential short squeeze coming up when they publish next EPS results as it could be the first positive one in a long time.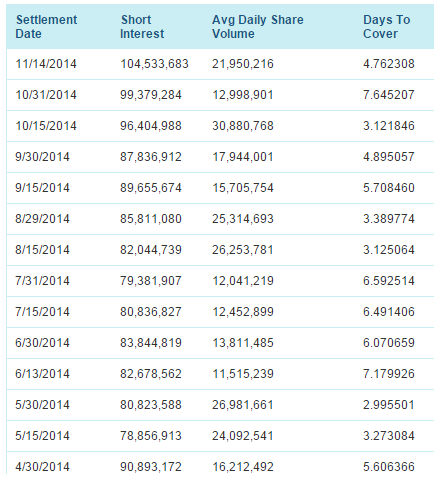 Source: Nasdaq
Short interest is going up while it's highly probable that next quarter a profitable EPS can be shown. That smells like a conflict and I would like to warn anyone who has massive short positions on JCP. The stock is very volatile and before you know it, you might incur severe losses.
Fundamental Forecast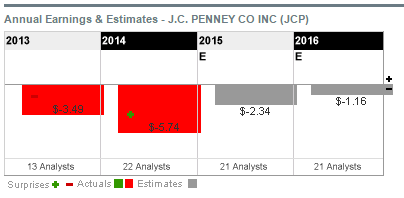 Source: BusinessWeek
Based on a DCF model, if its EPS would be $0.02 and grow at a rate of 50% for 2 years, a fair value would be $4.08. The current price is almost double that amount right now.
However, 50% is not a fair growth number. Let's assume JCP will go on with the plan to get rid of a few department stores to lift pressure on their margins. Its current expected EPS for January is positive. If we use an EPS of $0.07 (the actual expected number) with a growth rate of 10% for the coming 2 years a fair value yields $1.34. Whatever way we look at it, the fair value based on discounted cash flows is far below the current value.
Ignore the fanatics
JCP has a lot of fanatics. Enthusiastic followers which will try to defend the company in any way, such as: "management is really turning it around at JCP!" / "During Black Friday the queue in JCP was immense while going to Macy's there were only 40 people" / "etc…". A brilliant one was the: "It just feels busier" as quoted by a JCP employee.
Don't be fooled people, often these arguments are all hearsay and have zilch factual information. It's important to be aware of this.
Last but not least…
One way for looking at a (discounter) company's reputation is by looking at the popularity of its coupons.
(click to enlarge)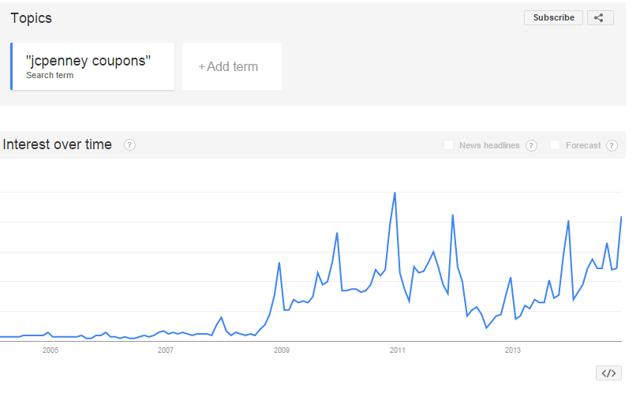 Source: Google
J.C. Penney has hit rock bottom in the past (the bottom just before 2013) and the reversal in trend is definitely visible. That's progress. Hopefully one day it will be able to continue this trend.
(click to enlarge)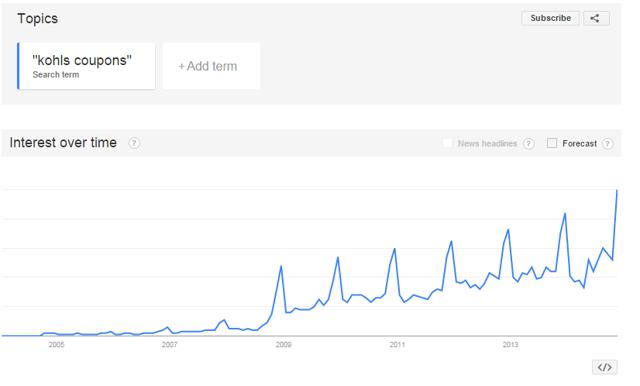 Source: Google
Not only will it take years for JCP to become profitable, it will take much longer before JCP can regain % market share in comparison to its competitors. In my opinion, JCP is slow in everything; another good example of this is their line of management. First replacing Ullman with Ron Johnson (which took forever), then replacing Johnson (who left JCP in a worse state than when he entered) back to Ullman (where the process took even longer). Ullman will now be replaced by Marvin Ellison on the first of August 2015. The reason why this takes so long is to "obtain a smooth transitioning process" between CEOs. This is in my opinion, again, a bad piece of business.
Latest update (03/12/2014)
On the 3rd of December, JCP received a cut in rating from Goldman Sachs. JCPs comparative sales are slowing compared with its peers and its internet sales growth is lagging in comparison to the industry norm. The expected fair value lies around $5.5 dollars.
Conclusion
Is JCP still a compelling short? JCP is not distancing itself from any other retailer in America. Anywhere near $10 or higher and I'm quite comfortable trying a short position on JCP. Will the market continue to thrive as it did the last 2/3 years? Not probable, it's dubious whether or not we will be able to continue 2/3/4 years without a (small) recession hitting our way and smacking consumer demand down. When consumer demand will be hit, JCP will be hit much harder than its competitors due to its costly business structure and pile of debt.
Nonetheless, Christmas is coming; everyone is in a jolly good mood and JCP will likely spike to a positive EPS beginning 2015. Considering the amount of shorts on JCP and the fact it's a highly speculated stock, be careful not to get squeezed.
If JCP does not do anything rigorous to change its business around (as suggested by Matthew Ross for example), I'm afraid the only way is down.
Disclosure: The author has no positions in any stocks mentioned, and no plans to initiate any positions within the next 72 hours.
The author wrote this article themselves, and it expresses their own opinions. The author is not receiving compensation for it (other than from Seeking Alpha). The author has no business relationship with any company whose stock is mentioned in this article.