The U.S. dollar continues to push higher as increasing factory activity, and rising interest rate expectations, alongside optimistic forecasts for this Friday's jobs report boost investor optimism. The PowerShares DB USD Bull ETF (NYSEARCA:UUP) is up over 10% since July as its economic landscape improved.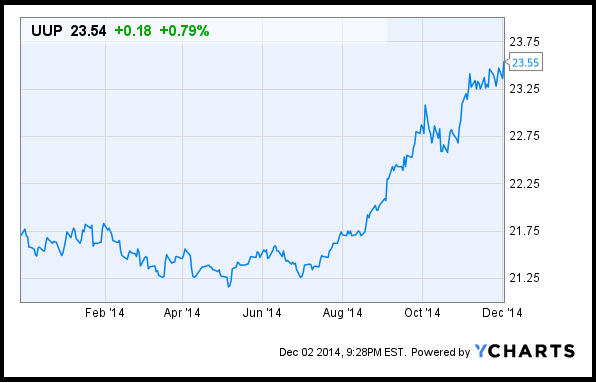 U.S. factory activity in November is the latest figure pointing to a stronger economic recovery. On Monday, the factory activity figure came in at 58.7, below the previous month's reading of 59.0, but above estimates for 58. A reading above 50 signals expansion. While the figure slowed from the previous month's reading, it still remains near five-year highs, as is seen in the chart below. Analysts cited the boost in new orders, a positive indicator for future manufacturing activity, as a main factor driving the month's strong figure.
"The New Orders Index registered 66, an increase of 0.2 points from the reading of 65.8 in October," according to Trading Economics.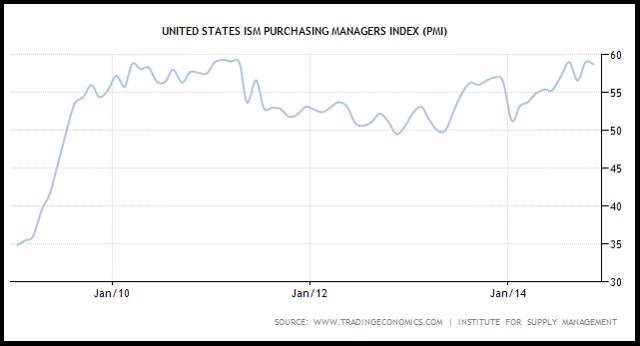 Data provided by Trading Economics
Meanwhile, as the economy improves, interest rates are beginning to rise as policymakers price in a quicker rate hike. The iShares Barclays 20+ Year Treasury Bond ETF (NYSEARCA:TLT) fell this week as New York Fed President William Dudley said he expected a rate hike early next year as lower oil prices boosted economic growth.
"On Monday, Dudley said a $20-per-barrel decline in the price of oil would equal a $670 billion transfer of wealth, which would support both consumer spending and global growth. Dudley went on to say that it would be reasonable to expect interest rates to rise starting in mid-2015, though he said the speed of rate hikes would depend on the market's reaction," according to a report by CNBC.
The price of Treasuries shot lower over the last two days on comments by Dudley, and stronger factory data.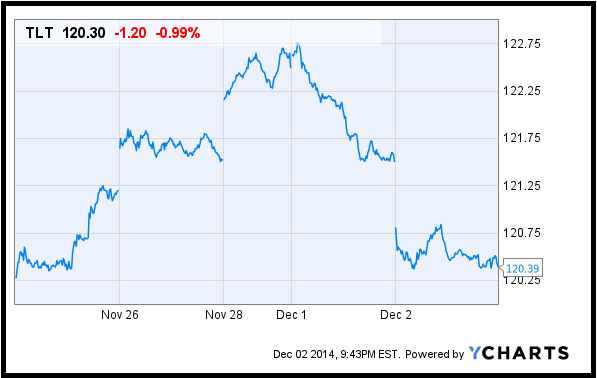 Lastly, optimistic views regarding this month's employment data are also fueling dollar strength. November's employment figure is expected to come in at 230,000 jobs added, up from the previous month's reading of 214,000 jobs, according to Trading Economics. Growth in lower-skilled labor, such as food services, drinking places and retail trade, boosted the employment number in October, and could see continued growth as the holiday season calls for more work in those industries.
"Food services and drinking places added 42,000 jobs in October, compared with an average gain of 26,000 jobs per month over the prior 12 months. Meanwhile, employment in retail trade rose by 27,000 in October. Within the industry, employment grew in general merchandise stores (+12,000) and automobile dealers (+4,000). Retail trade has added 249,000 jobs over the past year," according to Trading Economics.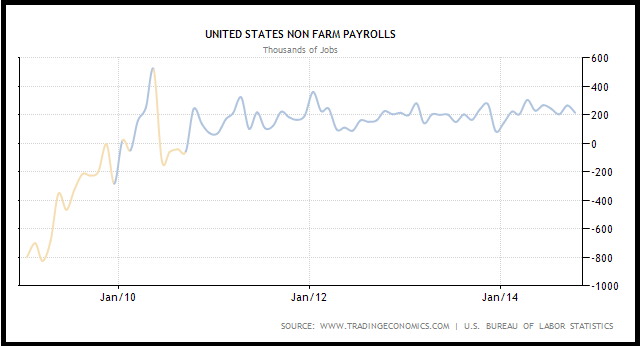 Data provided by Trading Economics
While factory activity and employment data lead to an expectation for a quicker increase in interest rates, investor confidence has improved around the U.S. dollar. For this reason, it is likely the U.S. dollar continues to move higher while the outlook for future economic data brightens.
Disclosure: The author has no positions in any stocks mentioned, and no plans to initiate any positions within the next 72 hours.
The author wrote this article themselves, and it expresses their own opinions. The author is not receiving compensation for it (other than from Seeking Alpha). The author has no business relationship with any company whose stock is mentioned in this article.