Investment Thesis Sky-Mobi (NASDAQ:MOBI) is a strong player in the Chinese smartphone applications market with strong market share, explosive growth and expansion in growing smartphone applications market in China. The company is emerging from a long period of declining revenues and profitability and makes a strong case of turnaround by adapting its strategy from a feature-phone app player to smartphone app player. The company's renewed strategic focus has started to pay off and the sales, margins and growth rate has been encouraging. Sky-Mobi is a strong pick that can be benefit from aggressive turnaround and innovative approach to capitalize on the highly attractive smartphone applications market in China. The company does faces strong competitive threats from established giants such as Baidu (NASDAQ:BIDU), Qihoo 36 (NYSE:QIHU), Tencent (OTCPK:TCEHY), etc., but its strong presence as a pre-installed app store on the rapidly growing low cost Android smartphone market provides strong growth opportunities for the firm.
Background:
Sky-Mobi is a leading mobile game publisher, and owner of the Maopao app platform, in the People's Republic of China. Sky-Mobi has hosted more than 15 billion app downloads since its founding in 2005, and has distributed more than $300 million to its partners. Hundreds of millions of Chinese smartphone users can access Sky-Mobi's published titles through its ever growing network of 100+ leading distribution channels including Qihoo 360, Baidu/91, Tencent, Xiaomi, China Unicom (NYSE:CHU), China Mobile (NYSE:CHL), and China Telecom(NYSE:CHA). SkyMobi owns the Maopao app platform, reaching 160+ million users, 30 million of which are monthly active users. To support SkyMobi's developer partners, Maopao users test and provide feedback to their titles before being distributed through partner channels. Maopao gains 450,000 additional users everyday thanks to SkyMobi's strategic partnerships with 40,000+ China Mobile and China Unicom physical stores and 100+ Chinese OEMs who pre-install Maopao store on mobile handsets. Sky-Mobi's billing SDK is the leading, independent billing platform that allows developers to collect payments from 70 payment services like Alipay and SMS carrier billing. More than 80 million RMB is collected monthly. The company is headquartered in Hangzhou, and has offices in San Francisco, Shanghai, Beijing, Shenzhen. Sky-Mobi was founded by Michael Song in 2005, invested in by Sequoia Capital in 2007, and went public on Nasdaq in 2010.
The Chinese mobile market is ripe for the picking
The Chinese mobile applications market is on an explosion and mobile gaming, just like other global markets, is a major component of the overall mobile gaming market. Sky-Mobi is well positioned to take advantage of this strong growth in the market with strong brand presence, penetration among users and robust subscriber growth. As per Analysys International, Sky-Mobi holds 50% of the total revenue in the market for mobile applications. Let us look at some startling facts about this growing market that has been long ignored by global players due to cultural issues, peculiar challenges and apprehensions about the market. The below mentioned information provides numerous facts that list the observed trend(s) supporting Chinese mobile applications market growth, especially in regards to gaming, showing how it is poised to become the largest and one of the most attractive in the world.
The Chinese mobile market is the largest in the world. Due to the rise of China's middle class, the continued growth in disposable income of the average Chinese person has dramatically increased the demand for more expensive items. Since 2005, the mobile subscription market in China has increased by a compounded annual growth rate of 17.4%.
Mobile game market's revenue in China is expected to grow 93 percent to $2.9 billion in 2014, and future growth is expected at a CAGR of 37.6 percent from 2013 to 2018.
As per Game Publishers Association Publications Committee (GPC), the Chinese games market reached $13.8 billion in 2013. In China, Apple's iPhone and iPad take a quarter of Chinese mobile games revenues. The total 2013 mobile games revenues are stated to be $1.9bn. Three quarters of spending by Chinese mobile gamers takes place in a wide variety of local Android stores, of which 360 MobileAssistant, Tencent MyApp, Wandoujia, Gfan, Baidu App Store and Anzhi Market are amongst the most popular, in addition to the stores of the three main mobile operators. Recently Alibaba announced they will add mobile games to their Taobao market place.
Market research firm Nika partners estimates that 38 percent of Chinese mobile gamers will spend money in 2014. The players pay for premium downloads or, more often, with in-app purchases in free-to-play releases, where people play for free and pay real money for virtual goods. Nika said the percentage of payers will rise every year through 2018. Advertising is not expected to be a big part of overall mobile-title revenues.
As per Nika, the mobile-game market in China is expected to hit $7.7 billion in revenue by 2018.While China might seem like the land of riches in gaming "However, with 288 million Chinese mobile gamers in 2014 forecast by Niko to rise to 770 million by 2018, a savvy mobile-game developer can be profitable with even a small amount of spending on its game if it gets into the hands of enough smartphone owners."
As reported by Flurry, iOS and Android Chinese users devote about half of their app time to games, just like the rest of the world. However, the average time Chinese mobile owners spend using entertainment, news, utility and productivity apps is greater than in other app markets.
By 2015, the number of smartphone users in China may exceed the entire number of mobile users in the US and Europe combined.
Chinese users are more willing to pay for content than US users and very keen to make in-app purchases as compared to US mobile users. US users quoted price as a key influence in their decision to download apps, while Chinese users are not as price sensitive. Chinese users are much keen to explore new apps compared to US users.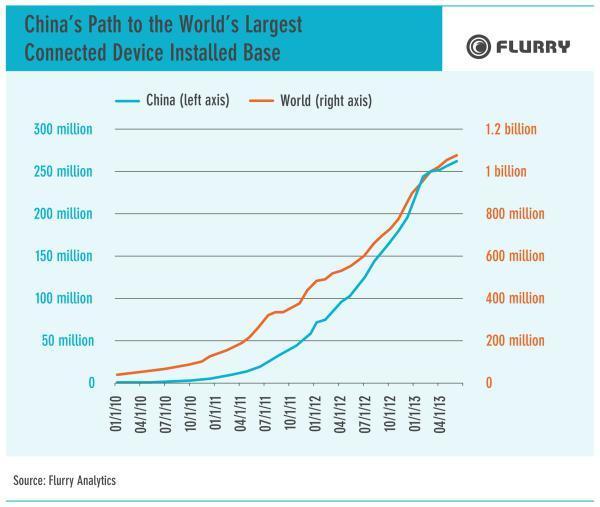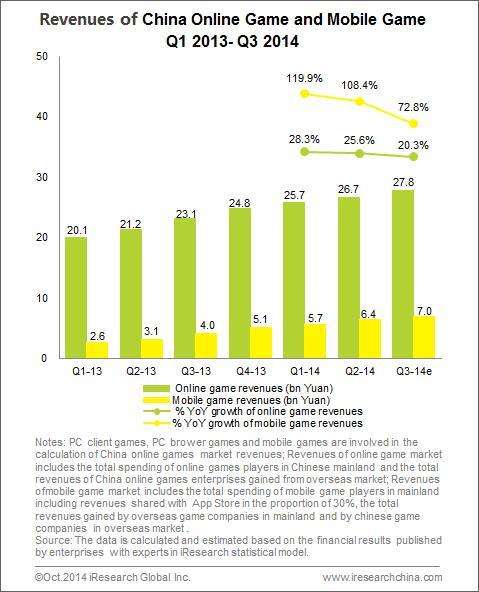 MOBI is positioned to take advantage of mobile market trends.
The Chinese mobile phone market is transitioning from feature phones to low cost smartphones. MOBI has renewed its business focus from making apps for feature phones to making apps for lower end or cheaper smartphones. Hence, Sky-mobi, with its strong market share and presence in the Chinese mobile app market, is well poised to capitalize on this trend. MOBI is posing serious challenge to BIDU and QIHU as more and more cellphone stores as well as big carriers like China Mobile, China Unicom, China Telecom, etc. are choosing MOBI over bigger players like BIDU and QIHU due to its specialization in lower cost smartphones. Further, Unlike BIDU and QIHU, MOBI has an on the ground sales force, encourages customers to use more data and its applications are better designed for low end Android smartphones which makes MOBI's offerings a better value proposition for carriers and stores. Sky-MOBI enjoys strong strategic relationships with carriers and offline telecom stores worldwide which provides a strong competitive advantage in terms of distribution to the company.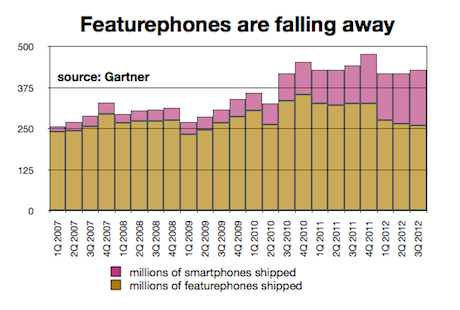 Android phone sales are on a rise in China and the absence of Google (NASDAQ:GOOG) (NASDAQ:GOOGL) play has encouraged big cellphone carriers and companies such as Tencent, Qihoo, Baidu, Xiaomi and Alibaba (NYSE:BABA) to offer their own app stores; however, MOBI is not worried about competition from these players for several key reasons. Firstly, MOBI considers itself an off-line app store which means that its app platform Maopao is pre-installed on Android phones. This is an advantage for MOBI because a large chunk of Chinese users do not understand the app store download process or unable to do so due to good data connection.
Out of 1 million Android devices sold daily in China, MOBI claims to have presence on 40% of new devices, which reflects the strong penetration of the company reach in terms of pre-installed applications in China. In addition to that, the download of Mobi's app store is also demonstrating robust growth with approximately 110m users downloading the apps. In the last 3 months alone, 128 million app downloads took place.
The growth in smartphone sales also signifies the simultaneous growth in mobile app downloads. The strong penetration of MOBI in the new devices as a pre-installed application means increasing smartphone sales is a catalyst for earnings growth within the company.
Furthermore, an interesting fact that should be noted regarding the partnerships that MOBI shares with the telecommunication company stores is that such partnerships are not on a corporate level. Each store has its own manager that can run the store as they see fit. This means that each of MOBI's partnerships are with specific managers and so they are much more durable than if the partnerships were made with the actual telecom companies. As long as MOBI continues to offer high-quality service and data-heavy software, the managers of these stores will maintain the partnerships because the increased revenue makes their stores look good to higher management.
Sky-Mobi's another focus area of growth is in the area of publishing top quality international content/casual games from global developers. Sky-Mobi develops hardcore games for the local market but seems casual games from international market as the next growth area.
MOBI is highly undervalued compared to peers.
The evaluation of the financials of the last 3 years depict revenue decline and the net income has also displayed similar trend. However, the decline in revenue can be attributed to the slowing sales of feature phones as company was initially focused on developing apps for the feature phone market. With the change in focus towards smartphones, the turnaround has started to happen. The recent quarterly results showed that 68% of the revenues came from smartphones. These signs shows the ability of the company to transition and adapt itself as per the changing trends in the Chinese mobile applications market.
Further, the growth numbers and statistics are very encouraging. Maopao gains 450,000 additional users everyday thanks to Sky-Mobi's strategic partnerships with 40,000+ China Mobile and China Unicom physical stores and 100+ Chinese OEMs who pre-install Maopao store on mobile handsets. If we take the growth forecasts of mobile applications market into account, Sky-Mobi is standing on the tip of a growth explosion.
The company's margin has declined to 25% due to the investments made in making the transition to smartphone apps, but it is expected to jump back to 30% as sales have been robust and economies of scale will kick in to bring the margins back to previous levels.
MOBI has a very low PE ratio of 11.33 as compared to industry average of 32.62 (TTM basis). If we compare this ratio with Baidu and Qihoo, they enjoy PE ratios of 41.43 and 60.28 respectively. The huge gap in the PE ratio of MOBI, as compared with Chinese heavyweights, clearly depicts the upside potential of the company's stock price. As the company will become consistent in depicting revenue and gross margin growth along with growth in revenues and subscriber base, the PE ratio is expected to improve significantly.
Qihoo's price to sales ratio stands at 7.87 whereas Baidu enjoys price to sales ratio of 11.89. MOBI's price to sales ratio is only 1.47 which again displays the undervaluation of the company. The company's profit margin is 14% which is lower than Baidu's figures of 28.62% but equivalent to Qihoo's figures of 13.77%. The company had recently made investments in making the transition and margin figures are expected to improve dramatically. Quarterly revenue growth on a YOY basis is 100% for Qihoo, 52% for Baidu and approximately 81% for MOBI. This reflects that the company has been able to capitalize on the growing smartphone applications market in China by successfully turning around its strategy. The growth is expected to improve further as new partnerships, increasing partnerships with OEM's and expanding offline retail store presence will further improve the market share of the company.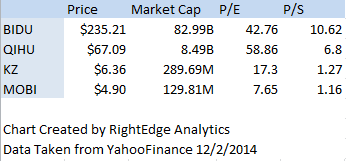 A $12.50 price target shows room to double in the next 12 months.
MOBI is an undervalued, undiscovered company that is primed for exceptional share price growth. Based on our estimates a fair value for MOBI is about $26.00 per share. As we usually do with our price targets, we tapered our expectations. Small cap stocks such as MOBI can fly under the radar for months until the market is able to see what we see. Therefore, we assign what we believe is a conservative price target of $12.50.

Recent Headlines
Sky-mobi recently announced that it will be partnering with China Telecom's mobile Internet services platform E Surfing, to provide customized software services at China Telecom's physical stores nationwide. This new alliance with China Telecom will allow Sky-mobi to expand its coverage with China's big three telecom giants' network of physical stores, strengthen its leadership position and accelerate market penetration amongst grassroots users.
CEO Song recently said that the company has now gone a step ahead with the support of their Maopao platform and over 200 million users and is tracking user behavior via big data technology and cloud computing to recommend content and games to users. He further added that Data Traffic Manager, a mobile application that enable users to monitor their data consumption and buy data packages has been a key factor in increasing data consumption.
Another unique approach pursued by MOBI is to expand its presence in the huge data market in China. The company will act as a "data traffic bank" accepting deposits of monthly unused data. Users will be free to withdraw these data deposits at their will or even share these with their relatives and friends across all three Chinese telecom networks. CEO Song said that the reforms in the Chinese telecom industry and their collaboration with China Unicom have given a major impetus to this strategy and he was hopeful of gaining at least 1% market share in the $50 - $70 billion Chinese data market in the near future.
Risks
Competition is intense in the mobile applications market in China. There are several strong players existing in the Chinese mobile applications market. There are more than 190 app stores and thus, it is extremely important for players like MOBI to do their homework in terms of understanding dynamically changing preferences of Chinese consumers.
Conclusion
Sky-Mobi is a great turnaround story which is poised to take the Chinese smartphone applications market by storm with its renewed focus, innovative and unique approach. Even though competitive threats loom around the country and gross margins needs to be improved, the company's recent sales growth proves that the turnaround story is working for the company. The Chinese market is poised for huge growth and this highly undervalued stock is on the verge of an explosion. We believe that MOBI will reach $12.50 in the next twelve months, and that it could trade much higher.
Disclosure: The author is long MOBI.
The author wrote this article themselves, and it expresses their own opinions. The author is not receiving compensation for it. The author has no business relationship with any company whose stock is mentioned in this article.