"The river where you set your foot is gone – those waters giving way to this, now this." - Heraclitus
Markets are a funny thing. One minute it looks like the end of the world for commodities, which experienced a substantial decline in a period of just a few weeks. The next minute it looks like quite the opposite, as investors pile back into old leaders on "bargain-hunting." Certainly energy (NYSEARCA:IYE) (NYSEARCA:XLE) and materials (NYSEARCA:IYM) (NYSEARCA:XLB) have experienced quite a flurry of activity. Take a look at the price ratio of both sectors relative to the Dow Jones Industrial Average (NYSEARCA:DIA). As a reminder, a rising price ratio means the numerator/sector is outperforming (up more/down less) the denominator/DIA.
Materials – the Head-Fake?
Click to enlarge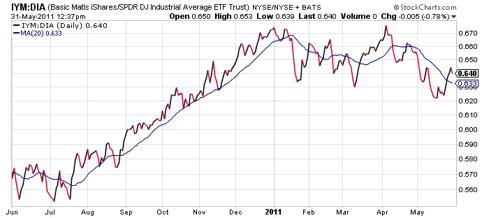 Comments: A couple of things worth noting here. First, the outperformance of the materials sector relative to the Dow actually ended in early April, after failing to push ahead of prior ratio highs hit in December of last year. The underperformance of late continued up until just a week or so, where in a matter of days the ratio spiked higher, crossing the 20 day rolling one-month moving average. However, the trend of the ratio itself may actually continue lower. Consider that the moving average is still in descent, and that leadership is often born from long stretches of underperformance.
Energy – Feeling Lucky?
Click to enlarge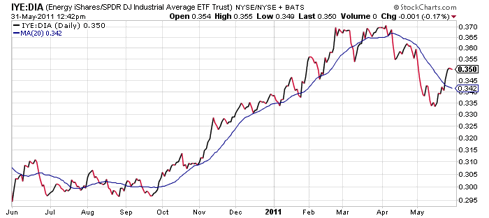 Comments: Similar story here with energy – a total spike off of the ratio low around the same time as materials, but still with a declining moving average. The ratio peaked out in mid-March, despite oil prices marching higher. It would appear as though energy investors did not believe in the continued strength in the underlying commodity, causing the sector to sharply underperform market averages. The trend of weakness may indeed be continuing after the most recent move.
Bottom line? I'm still of the opinion that commodity related investments may continue to lag broader markets in the weeks ahead. Its worth adding here that I am not the only one who believes this – the behavior of the bond market which resulted in rates going lower could very well mean bond investors believe the inflation premium that comes from cost-push commodity inflation will continue to diminish.
As to what could be the next leader if you want to be bullish? Financials (NYSEARCA:IYF) may be the ultimate surprise.
Click to enlarge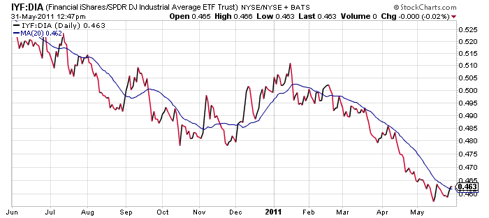 Disclosure: I have no positions in any stocks mentioned, and no plans to initiate any positions within the next 72 hours.
Additional disclosure: Pension Partners, LLC, and/or its clients may hold positions in securities mentioned in this article at time of writing.