Momo Incorporated (Pending:MOMO) expects to raise $216,000,000 from its pending initial public offering. This Beijing, China,-based company developed and operates a popular mobile-based social networking platform for meeting and messaging.
Momo will float 16 million American depository shares (ADRs) within a price range of $12.50 to $14.50. If the IPO price falls into the mid-range at $13.50, Momo will have a commanding market value of $2.7 billion.
Momo filed the required SEC documentation on November 7, 2014.
Lead Underwriters: China Renaissance Securities, Credit Suisse Securities, J.P. Morgan Securities and Morgan Stanley.
MOMO's Mobile Social Media App for Meeting and Messaging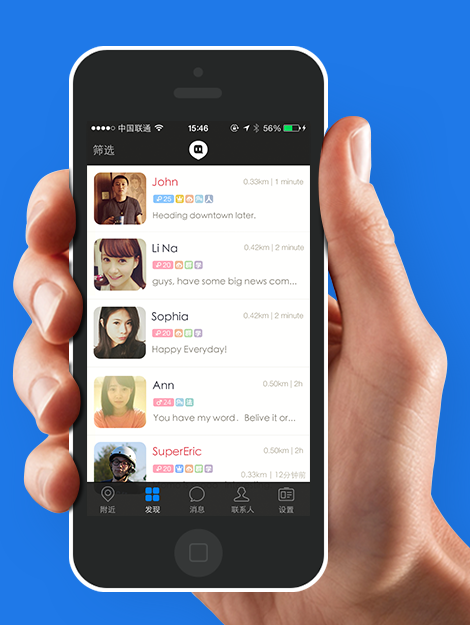 (here)
Momo is an app for mobile devices that promotes social networking based on interests and locations. Since its launch three years ago in 2011, Momo has grown to become one of the leading mobile social networking apps in China with over 60 million active users per month. In addition, the company has over 180 million registered users at the end of September that send an average of 655 million messages per day.
This offering follows on the heels of the successful IPO for Alibaba Group (NYSE:BABA), another Chinese company that operates the largest e-commerce site in that country. The shares for Alibaba closed on their first day of trading at $93.89, significantly higher than its initial price of $68. Alibaba is a primary shareholder with a 21 percent stake in Momo.
Momo will be structured as dual-class, ordinary share, and CEO and Chairman Yan Tang will hold class B shares and retain 78 percent of the aggregate voting power. In addition, Momo expects Alibaba to purchase up to $50 million worth of ADRs in a contemporaneous private placement, and 58.com expects to buy $10 million worth of ADRs in a private placement as well.
Prior to founding Momo, Yan Tang worked as the editor of NetEase. During his tenure from 2003 to 2011, he served as head of Olympic Channel, editor of NetEase Review Center and director of News Center.
Hot Competition: Sina Weibo, Renren, Tencent, Douban and WeChat
Social media sites are hot in China, and an estimated 50 percent of the 513 million Chinese citizens who are connected to the Internet use social media. While Momo is growing exponentially, significant competition can come from any of these five top social media sites or from the next startup.
Sina Weibo (NASDAQ:WB) is the Twitter of China, and approximately 22 percent of Internet users have accounts on the site. Renren operates as a Facebook-like platform in China and has 147 million registered users and over 30 million active users per month. Tencent (OTCPK:TCEHY) is essentially an instant messaging service. However, users who register on the platform have instant access to all of Tencent's other sites, which makes it the largest online community by sheer volume of users. Douban is an open forum for following movies, book reviews and music. It has approximately 60 million registered accounts and 80 million active users per month. WeChat, formerly called Weixin, is a mobile text and voice app with approximately 100 million users.
Valuation
Momo Incorporated published the following figures from its F-1 balance sheet for the nine months ended September 30, 2014:
Revenue: $26,205,000
Net Income: ($22,881,000)
Total Assets: $184,867,000
Total Liabilities: $30,135,000
Stockholders' Equity: ($155,982,000)
Conclusion: Consider Caution
While we are encouraged by the rapid rise of Chinese internet companies in 2014, driven by Alibaba's success, Momo faces stiff competition.
Its net losses also are concerning. These have grown to ($22,881,000) for the nine months ended September 30, 2014 from ($6,259,000) in the same period in 2013.
That being said, Momo has grown its monthly average users and members considerably - and the trend seems as though it could continue upward.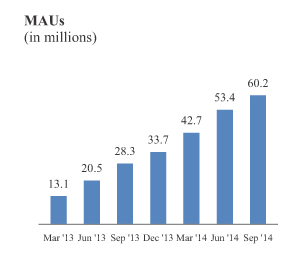 (Source)
MOMO's strong underwriting team also could help the deal to success.
We suggest investors exercise caution with this IPO as the deal has been reduced and negative publicity could dampen initial investor excitement.
Disclosure: The author has no positions in any stocks mentioned, and no plans to initiate any positions within the next 72 hours.
The author wrote this article themselves, and it expresses their own opinions. The author is not receiving compensation for it (other than from Seeking Alpha). The author has no business relationship with any company whose stock is mentioned in this article.