Until the 2007 to 2009 housing-led recession, the single-family home rental market was the purview of small investors. High property costs combined with the complexity of managing a geographically diverse portfolio just wasn't worth it for big investors like real estate investment trusts (REITs). When the housing market crashed, however, a number of big players stepped in. And now there are a handful of REITs specializing in the space. One of the most aggressive is Altisource Residential Corp (NYSE:RESI). But with an 11% yield and a differentiated business model, it might be worth a look for aggressive investors.
Not cheap no more
The big reason that institutional investors jumped into the single-family home market was cheap prices. A quick look at a graph of the S&P/Case-Shiller Home Price Index is enough to explain that. After prices ran up over 100% between the turn of the century and 2006, the index lost more than half its value during the 2007 to 2009 recession. Prices are still well off the peak, but also well off their lows.
Case-Shiller Home Price Index: National data by YCharts
And that's the conundrum for single-family home REITs. REITs like American Homes 4 Rent (NYSE:AMH), American Residential Properties (NYSE:ARPI), and Silver Bay Realty (NYSE:SBY) all rushed into the market, along with giant competitors like private equity giant Blackstone (NYSE:BX), to take advantage of low prices. Now, however, prices aren't so low anymore. For example, American Homes 4 Rent, the largest REIT in the space, saw its quarterly property acquisitions peak in early 2013. Since that time they've slowed considerably, with some recent quarters coming in at less than a third of the second quarter 2013 rate.
This isn't a unique experience in this new and fast-evolving REIT sub-sector. Since cost is a big piece of the equation, rising home prices are clearly bad for growth in the single-family home niche. That's why Altisource has taken a somewhat different approach. It isn't buying homes, it's buying bad debt. Mortgage debt, to be specific.
Getting in through the back door
Altisource is, effectively, locking in low prices for the homes it is acquiring by purchasing discounted mortgages. Once it owns the mortgages, it tries to either get the homeowner current or get him/her out so the home can be rented. Where other players have to constantly be on the lookout for new homes to buy, Altisource Residential had over $2 billion worth of mortgage loans on its balance sheet at the end of the third quarter, up roughly 100% year over year. That's a built-in growth opportunity.
And Altisource isn't done buying yet, because banks are still looking to offload bad loans. For a bank it's a lot easier to get out from under bad debt then try to take possession of a home, fix it, and rent or sell it. It's simply not what a bank is good at, banks would rather take the financial hit and move on. But Altisource Residential specializes in working through this process.
Mortgage REIT or Property REIT?
Right now, however, there's an interesting dynamic at Altisource. It has loads of potential property to own, but only owns about $400 million worth. Simple math will tell you that it owns over four times as much mortgage debt as property. In fact, as of the third quarter, it had less than 1,000 properties in some stage of the rental process (rented, for rent, or being repaired). Compare that to Silver Bay's over 6,000 home portfolio, American Residential Properties' over 8,000, and American Homes 4 Rent's more than 30,000 homes. Even Starwood Waypoint Residential (SWAY), which uses a hybrid mortgage debt/property ownership approach, has over 10,000 homes in addition to $600 million or so of loans (about a quarter as much as Altisource).
So Altisource is a different beast, but it still has direct access to a lot of cheap homes. It's just going to take a while for that bad debt to turn into a portfolio of homes. And many of those loans will never turn into homes because the mortgages will start to be paid again. Although that's a great outcome for Altisource, it makes it hard to determine how much home portfolio growth there is ahead.
So far, however, the news has been reasonably good despite this uncertainty. The REIT has increased its dividend in each of the last four quarters. In fact, its yield is way out of line with its peers'; giant American Homes 4 Rent sports a yield of around 1%. Starwood Waypoint, the competitor that also has a mortgage debt focus, yields about 2.2%. What gives?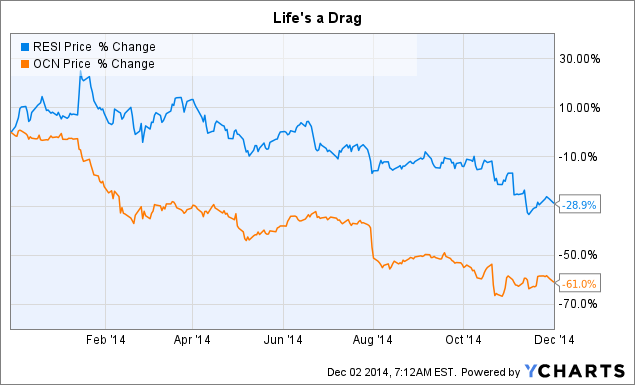 RESI data by YCharts
Ocwen's a drag
First and foremost, Altisource's business model is different from all of its competitors, even Starwood Wayport, because its portfolio is so heavily weighted toward mortgage debt right now. But nothing is easy in investing. Altisource is affiliated with a debt servicing company called Ocwen Financial (NYSE:OCN), which is facing regulatory scrutiny for how it handles collections. William Erbey is the Chairman of both companies. (Yes, that sounds eerily familiar to the saga playing out at American Realty Capital Properties (ARCP).)
Worse than sharing a Chairman, Ocwen is the company that services Altisource Residential's debt. So if there is wrongdoing, it could have a direct impact on Altisource. Still, the portfolio of homes Altisource owns is still relatively small, so the effect wouldn't likely be too large if past foreclosures came into question.
That said, the saga is far from over. Thus Altisource Residential is a "special situations" play only suitable for aggressive investors. If it works out, you'll be rewarded handsomely via dividends and likely capital appreciation. And since the two companies are technically separate, any number of changes could be made to fix this mess. (Saying goodbye to the relationships with Erbey and Ocwen is probably the best near-term solution.) If you are a conservative income investor, don't get involved in this high-yield play; it's only appropriate for the most adventurous types.
Disclosure: The author has no positions in any stocks mentioned, and no plans to initiate any positions within the next 72 hours.
The author wrote this article themselves, and it expresses their own opinions. The author is not receiving compensation for it (other than from Seeking Alpha). The author has no business relationship with any company whose stock is mentioned in this article.