I should probably start this article by stating that I was long Amber Road, Inc. (NYSE:AMBR) from late April to late September and closed out a profitable trade for 16% prior to shares getting smoked on the announcement that the company will lose a top ten customer, a customer responsible for 13% of AR and ~10% of revenues (~$5 million annualized - all subscription) as recently as 12/31/2013, on 1/1/2015. This, of course, makes it a lot easier for me to "restate the AMBR bull case" than say somebody who 1) invested just prior to shares getting slaughtered or 2) didn't set the stop order recommended in my most recent continuing coverage article intro.
The good news is that I think if you're still long from either spot that help is on the way in 2015 and that outside of this significant speed bump that AMBR remains a great investment. Yes, losing this customer will hurt true Y/Y comps but the loss appears to be priced in at this point with shares stabilizing and I believe AMBR will survive and thrive regardless. With AMBR trading at $16.50 prior to the announcement, or 40% higher, and having lost ~$120 million in market cap as a result of losing a ~$5 million annualized contract I would even venture to say the trading action has been overdone in light of this news.
This article will restate the AMBR bull thesis that led me to invest in the name initially and led me to hold shares for months prior to the stock appearing "tired" from a technical standpoint. Full disclosure, the same concentration risk that caused the shares to plummet and was detailed in prior articles still exists and will exists for some time going forward. AMBR has zero renewals in 2015.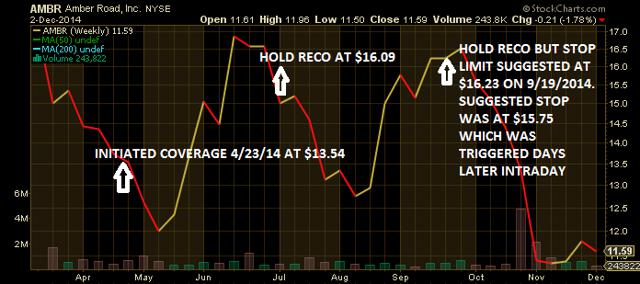 The 2015 AMBR Bull
If you're going to be bulled-up AMBR you better be bulled up global trade in 2015. AMBR's entire global trade management business depends on the transferring of goods across borders and that's more and more these days looking dependent on a "deflationary boom" type of macro-environment. I'm bullish this scenario which makes me bullish the best provider of solutions to the GTM problem. AMBR's platform is inexpensive, relative to the fragmented Frankenstein like "solutions" prospects and customers are or were previously using, and is just a better product. Anytime I can start with "the company I'm about to invest in has a better product" I'd say we're off to a good start.
AMBR's GTM product can be summarized by the following (taken from a previous article):
"Amber Road owns and operates a cloud based software platform that in its entirety serves a broad range of purposes, offering a wide range of solutions to known and prevalent problems in the global trade arena. Their software platform can also be broken down and sold into pieces that can be tailored to meet each individual client's needs. What makes their software unique is that it provides an amazing mixture of already existing services that are provided by huge global corporations. For instance, AMBR's global trade management software solution platform can provide up to date (and constantly updated) information in regard to harmonized tariff codes, restricted party lists, export regulations, import regulations, shipping documents, preferential duties and taxes, specifications for free trade agreements, transportation rates, and sailing schedules, or it can simply help you track shipments of goods more effectively. AMBR's solution can connect customers to their extended supply chain partners or help better predict the aggregate cost of importing/exporting goods. It's entirely customizable and as stated above can help consolidate needs that are currently being outsourced to multiple larger providers. AMBR's value proposition is that they can help automate import and export processes to enable goods to flow across international borders in the most efficient, compliant and profitable way. Their solution combines enterprise-class software, trade content sourced from government agencies and transportation providers, and a global supply chain network connecting customers with their trading partners, including suppliers, freight forwarders, customs brokers and transportation carriers.
AMBR believes their competitive advantages are in process automation and that they eliminate the slow, unorganized, tedious manual processes of global trade; that they help optimize route and cost savings by providing in real time (HUGE value) information relating to preferential duties and taxes, specifications for free trade agreements, transportation rates, and sailing schedules that allow supply chain execs to be more efficient and hit metrics; that they greatly improve supply chain visibility by providing in real time (HUGE value) updates to goods as they move past (or hit delays) set checkpoints in the supply chain; and finally that they help make customers more compliant to regulations helping them avoid fines and criminal liability. As stated above, most of Amber Road's clients are already having these needs serviced but through multiple providers, platforms, and contracts. AMBR helps bring the needs under one umbrella and can even implement their platform on an existing operating system that a client is using, should the client request that."
I would also recommend readers contact IR or AMBR management to see if you can attend a webinar (which AMBR hosts often and is the company's primary lead source - one that provides qualified, interested leads mind you) for a further demo of the actual platform. Obviously that level of product granularity might not be the deciding factor for some investors but for those who want to get their hands on the product it could be something to look into. AMBR is also solid from every other angle I can analyze.
The balance sheet looks great: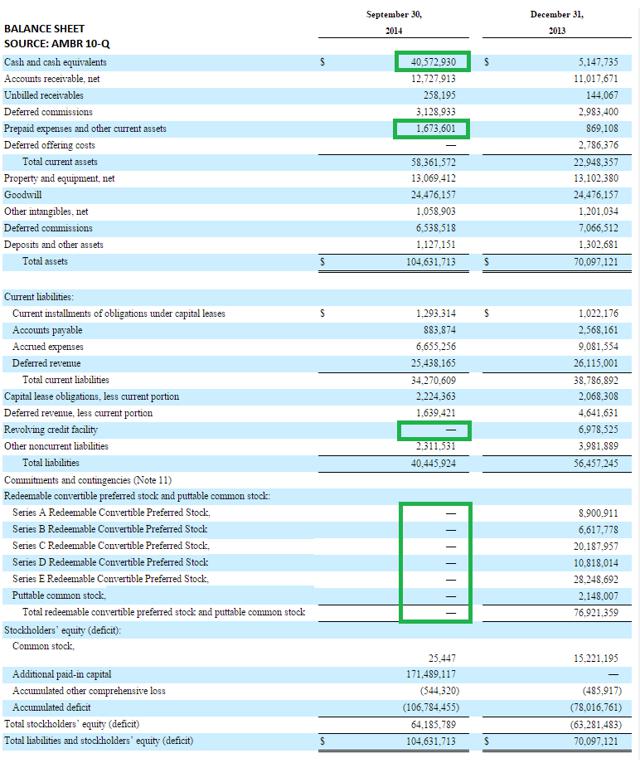 AMBR has plenty of cash courtesy of its recent IPO, a healthy and consistent AR, a manageable Goodwill as a percentage of total assets, ZERO debt, and a clean capitalization - AMBR is "straight equity". This is as ideal as possible.
Also, AMBR's "off balance sheet" (but not technically called this by anybody) obligations are manageable heading into the current and next stage of scale-up, meaning that the total, true leverage situation is well under control and won't be a headwind going forward:

Total leasing obligations, which have to be paid for but don't have to be listed on the balance sheet (not yet at least) total just ~$19 million out as far as 2019. Again, not the primary reason to get bullish the company a well-controlled situation that is often overlooked. Also, just remember, AMBR has zero debt. I thought I should say that again.
Operationally, everything looks how it should look for a quickly growing (with the top ten client leaving AMBR is expecting ~20% revenue growth in FY15 but I think it could do mid-20% as it has grown the top-line mid-20% the last two quarters) subscription based SAAS company: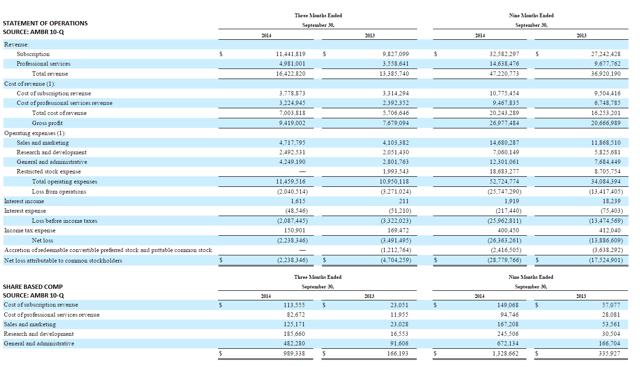 AMBR has shown to be able to grow the top-line consistently, slowly has begun the process of fragmenting away its concentration risk (the number one risk I outlined prior which was realized recently), and has the funding to continue its strategies out several years, acquisitions inclusive (depending on size).
Because of the subscription nature of its business (AMBR historically has had annualized revenue retention of greater than 100% for the last several years and should continue to meet this benchmark ex. the top ten client leaving) AMBR will continue to grow its expenses faster than its revenues for the foreseeable future, meaning that the company will continue to post net losses and continue to accumulate a deficit. AMBR chooses to recognize expenses tethered to revenue growth (S&M, implementation expenses, etc.) as incurred rather than capitalizing these costs and recognizing them as revenue is realized. This means expenses will greatly outpace revenues in the near term for as long as AMBR is in growth mode until its base of subscription revenue is large enough to dent and eventually overcome new subscription revenue derivation tethered expenses. With AMBR not giving yearly cohort data there is no way to model out exactly when this intercept point is or exactly when the company will reach profitability. That being said, it is important to understand the relationship between the revenues only being recognized piece by piece on a full year basis and the expenses being recognized in full up-front. This greatly skews the profitability of the company on a GAAP basis and makes the non-GAAP calculations a much more reliable source for tracking company health.
Positive fundamental developments in regards to improving company health will continue to be visible via the Adjusted EBITDA of the company and via the reduction in concentration risk. It should also be noted that AMBR announced on its Q3 CC that it has entered into several virgin Asian markets and that it has noticed a much greater deal of traction coming from its Chinese efforts. I look for both of these to be reasons that AMBR outperforms Y/Y comps ex. the leaving top ten customer.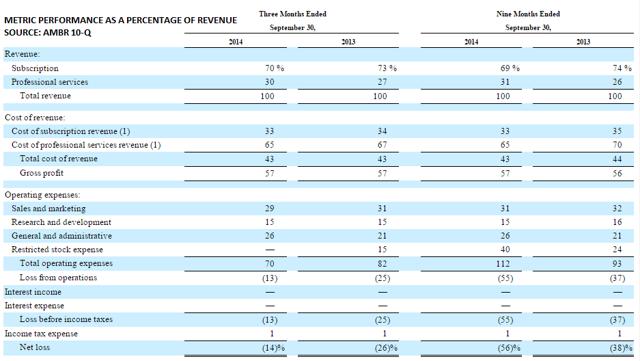 Again, AMBR's Adjusted EBITDA will continue to be the metric that I think investors should focus on as with this type of model a growing more negative EBITDA and net loss line aren't indicative of the actual health of operations. Clearly, AMBR has shown progress in posting positive Adjusted EBITDA for the 9M/14 and improved upon a strong seasonal quarter Y/Y. I just don't see how somebody looking at the overall set of operations and this graphic can be bearish. AMBR has continued to gain clients, execute installations and activations, penetrate new markets, and has proven that it has a very low costs, highly-effective lead generation system that I think speaks even further of managements innovation. Oh, by the way, it's done this with zero debt and has cash to continue doing this for a long, long time.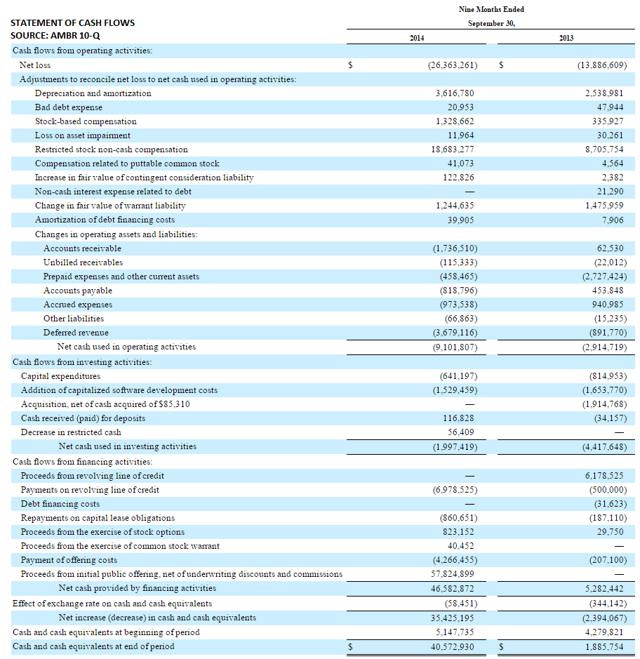 All in, if AMBR can finish 2014 at my projected annualized FCF cash run rate of ~$15 million (simply annualizing the 9M/14 figures as AMBR management has indicated that it shouldn't see any material upticks to CAPEX in Q4 or to other operational spending), and finishes 2015 at a now modeled (this is subject to change and will never be at a greater chance of being inaccurate than it is now) ~$18-$20 million in annualized FCF cash burn (using the annualized run rate above as a base for modeling cash burn with an incremental increase to FY15 burn coming from operational size-up in 2014 and the need to service that size-up) that would have AMBR out at least until mid-2016 before needing to either raise debt or dilute via equity financing. I would also mention here that AMBR management expects the redistribution of the leaving top ten clients' service and sales team to help cover some of the what would have been hiring needs in FY15. This should help keep S&M expenses lower than would have been with the client on board. I guess what I'm saying is that the hiring needs will be materially smaller for the full year and without granularity from management we'll have to see how far this plays out but in my early FY15 FCF cash run rate projections I've modeled in minimal uptick to S&M expense as a result. Again, these are raw figures that are simply being used to try to project out a ballpark time frame to a necessary capital raise. Both cash run figures are inclusive of CAPEX and all other Investing line items.
I think this runway to capital raising should allow AMBR shares to run higher without a top-end being in place because of the ever-present financing needs of most IPO's. I like that and often times will pay a premium for IPO's with good cash positions and high visibility of funding being in place as far out as AMBR's is. If AMBR can show a good Q4 (seasonally its slowest) I like some institutions to window dress with AMBR shares heading into calendar Q2/15. I just really think AMBR is that no debt, high cash, high growth, attractive TAM story that will get owned in 2015. Yes, this is probably considered a bold call at the current share price and especially after what just happened but I think it's a call that will pay out.
Where's the trade?
The bottom line with the top ten client walking is that the client came to AMBR and because of the business the client was in the client requested a "highly tailored" model of AMBR's current solution that AMBR just wasn't willing to invest in creating. Management summarized the client loss by stating, and this is paraphrasing, that AMBR "wasn't in the business of creating tailored solutions it couldn't sell across its umbrella" and I'm fine with that.
The attrition happened in a controlled manner and it's not like the client went to a competitor for servicing. The client has developed its own, in-house solution at a great cost of money and time and good for it for being able to do this. Does this show that AMBR's solution has a low barrier to entry? Absolutely not. What it shows is that if you're in the global trade business and want to pay for and manage your own solution, and deal with all the headache that comes with that, AND you're in a limited number of countries that limits the scope of the solution that yes, it is possible to create an in-house solution. I don't think this calls into question the TAM or the barrier that AMBR has to its revenues. I just don't.
The trade here is to be long this name at this bottom. I'm going out today and getting shares and I'll have an initial stop in place of $10.75. I think AMBR trades significantly higher into 2015 and that shares are oversold here.
I'm setting the $10.75 stop loss strictly from a technical standpoint and not basing that on fundamentals. I want to give the shares some room to float lower to test buying at underneath $11 but don't want to allow large losses in the process.
I look forward to providing continuing coverage. Good luck to all.
Disclosure: The author has no positions in any stocks mentioned, and no plans to initiate any positions within the next 72 hours.
The author wrote this article themselves, and it expresses their own opinions. The author is not receiving compensation for it (other than from Seeking Alpha). The author has no business relationship with any company whose stock is mentioned in this article.