After listening to Ancestry.com's (NASDAQ:ACOM) presentation and question-and-answer session at the Bank of America Merrill Lynch Technology conference Wednesday, I am reiterating my $70 fair value estimate on the firm's shares. The call also reminded me of one of Peter Lynch's investing principles.
During most of the questions, it became readily apparent that the basic assumption is that Wall Street (defined by the moderator as those that attended the conference, or have posed questions to this particular sell-side analyst in the past) doesn't necessarily mesh well with Ancestry.com's demographic market and users. To some extent (not all), this may be why the firm is one of the most heavily shorted stocks on the Nasdaq.
Wall Street appears to have a difficult time understanding why someone would want to pay for Ancestry.com's services, or perform family history (for more than a month). And this conclusion makes sense--the last thing an analyst or portfolio manager wants to do after performing rigorous fundamental equity / credit research or assessing whether to add to a large position on a technical pullback is to jump into analyzing one's own family history. Sorting through digitized federal census records, draft registration cards, passenger lists, pension records, etc. is not an easy task, though Ancestry.com has certainly made it easier than before by leaps and bounds (and continues to take measures to improve first-time users' experiences). Ironically, for many subscribers, this challenge is what keeps them interested.
Now back to why I thought of Peter Lynch. There's a reason why this legendary money manager used to take his daughters to the mall to sort out the most promising investment candidates. Frankly, he didn't fit the demographic of a customer that may shop at the Gap (NYSE:GPS), for example--a store his daughters used to race to on trips to the Burlington Mall, while passing up others. The lesson here is -- just because one doesn't fit the demographics of a firm's target market, doesn't necessarily mean that the market isn't sufficient enough to support strong growth and solid equity performance in the years ahead. Interestingly, Peter Lynch failed to follow his own advice and didn't buy Gap. He subsequently watched Gap soar 1,000% from 1986 to 1991, (Beating the Street).
With that aside, let's talk about Ancestry.com's market opportunity. During the presentation, management estimated that there are roughly 450 million people across its major markets (U.S., U.K., etc.). From that number, it backed out 20%, suggesting that the company's current product offering is not yet robust enough to support certain ethnic groups. The company then assumed an extended household of 18 people to arrive at an addressable market of 20 million people (a multi-bagger compared to its subscriber base of 1.6 million at the end of the first quarter, even assuming modest penetration rates).
Management believes that at least one person out of those 18 family members fits the right psychographic profile (a family historian) to be interested in its product. Interestingly, the psychographic profile of this person is one who enjoys doing research and investing the time to pursue further discoveries (according to management, very few people come to Ancestry.com to build their family tree and put it on the wall). Again, I am blown away by management's exceedingly optimistic expectations, but my skepticism does little to sway me from being generally bullish on the long-term growth of this name.
That covers perhaps the most-asked question about Ancestry.com, its growth opportunity. But management also addressed the second most-asked question during the question-and-answer session: Isn't this a one-and-done service? The firm's business model certainly allows subscribers to move in and out of its service over time, which allows for high cancellation rates in any given period. To this point, when management was asked about the biggest mistakes they've made thus far--one stood out in a big way: MyCanvas, the product that allows subscribers to make and purchase their own books and family tree posters. The executive suite flat-out called it a "total (commercial) failure". But it wasn't that it was a failure that stood out to me; it was the causes of its failure that were most intriguing: Family history is never complete, as there are an "infinite" number of further discoveries on each node of a family tree, so subscribers don't want to buy a half-finished tree, or a partially-complete book from MyCanvas. This is either a very crafty response by management to mitigate investor concerns regarding the stickiness of its product, or solid evidence of the sustainability of the firm's subscription-based business model. My suspicion is that it's the latter.
Churn was also a key topic during the presentation, and one upon which the bears seem to focus. To some extent, Ancestry.com's business model may be misunderstood. Since new subscribers are the most likely to cancel in any given quarter (churn rates for more seasoned users are much lower), perhaps the best way to look at Ancestry.com's business model is via conversion rates--or how many new subscribers are retained in any given period (net new subscribers / gross subscriber adds). As one can see by the below chart, conversion rates have improved meaningfully in recent years.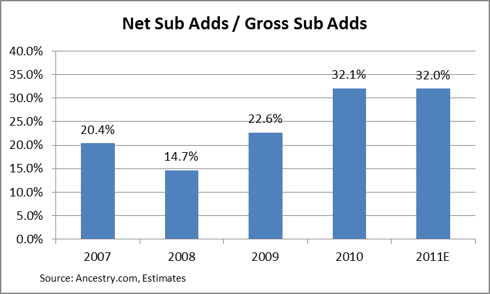 Ancestry.com remains one the most-heavily shorted names on the Nasdaq in the face of the biggest catalyst that genealogical research has seen in a decade, the 1940 census (due to be released next year). Though such high short interest should give any investor pause, Ancestry.com is ripe for impressive growth and earnings expansion in coming years.
Disclosure: I am long ACOM.