On a day that the Dow Jones Industrial Average closed down 280 points, there are many questions about the economic future. Is this just a soft patch in the economy? Will growth return in the second half? Will the Federal Reserve unleash QE3? Those are just a few, and we didn't even get to all the questions about the debt ceiling and deficits. Those are all questions that can keep you up at night. I, for one, sleep well.

I am not really worried about whether the global economy will experience outsized growth, or lack thereof, this quarter or next. I am too busy focusing on good companies at reasonable prices, with long-term growth prospects. This is the angle from which I am reviewing (and buying) Kennametal (NYSE:KMT).

You may have never heard of Kennametal, but it's likely many of the companies you already own have. Kennametal has over 80,000 customers in 60 countries. The company's largest customer doesn't even make up 3% of sales. Kennametal makes high-end, precision metal-cutting tools customized for its customers. Its customers range from aerospace, energy, transportation, and industrial companies. These tools aren't your typical handheld devices either. These are major precision tools that are consumed sometimes on a daily basis by heavy-duty users. This keeps customers coming back - consistently.

One thing I look for in a long term investment is pricing power and Kennametal has it. The company has already instituted price increases across the board this year and expects more to come as commodity prices have risen. This means margins aren't getting squeezed. In fact, Kennametal recently set an all-time record in operating margins at 15%. How can the company increase prices and keep customers? It boils down to high barriers of entry into the market. Kennametal has a "wide moat", to use Buffett terminology.

Kennametal recently reported organic sales growth of 25% year-over-year. This was the fifth consecutive quarter of year-over-year organic sales growth. In the last quarter, 54% of sales were outside of North America. Western Europe accounted for 28% of sales and the rest of the world accounted for 26%. Interestingly, Europe remains a strong market for Kennametal, with Germany continuing to increase manufacturing and exports. Japan hasn't had a large negative effect either, as direct exposure to Japan is relatively small. The company noted that it has actually increased the number of price quotes going to Japan, as manufacturers have trouble getting supplies from other companies.

On an adjusted basis Kennametal reported earning $0.83 per share in the fiscal third quarter, versus a prior-year $0.39 per share. The company has relatively little debt for its size. The stock is up 46% over the last year.
Click to enlarge: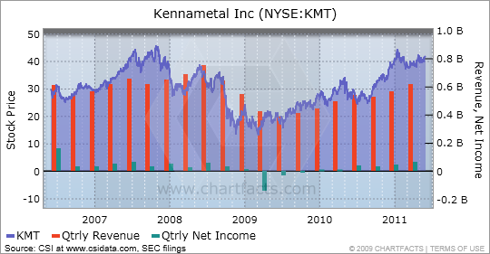 As you can see from the chart above, revenue and income were hit hard during the global recession of 2008-2009. Kennametal has made a nice comeback as manufacturing activity, energy exploration, and road construction have increased. The company sees continuing business recovery from its customers. According to the quarterly conference call, its customers remain very positive about the global economy.

Kennametal trades at a forward P/E ratio of 14.69. Its PEG ratio is just 0.68. Kennametal has a return on equity of nearly 21%.

Valuation Analysis

| | |
| --- | --- |
| Metric | KMT |
| Market Cap | $3.3 B |
| Recent Price | $40.87 |
| Forward PE | 14.69 |
| Dividend Yield | 1.15% |
| 5 Year Div. Growth Rate | 7.10% |
| Payout Ratio | 21.00% |
| Price/Book | 3.9 |
| Price/Cash Flow | 23.58 |
| Price/Sales | 1.81 |
| Price/Earnings Growth | 0.68 |
| Price/Owner Earnings | 51.73 |
| Return on Equity | 20.73% |
| Debt/Equity | 0.36 |
| Revenue TTM | $2.25 B |
| Operating Cash Flow FYE | $164.83 M |
| Capex FYE | $56.68 M |
| Capex/Cash Flow FYE | 0.34 |
| 5 Year Rev. Growth Rate* | -3.10% |
| 5 Year Cash Flow Growth Rate | -4.60% |
| 5 Year Earnings Growth Rate* | -17.10% |
| Net Profit Margin | 2.46% |
| Current Assets | $1.19 B |
| Return on Assets | 2.05% |
| Long-term Debt | $310.67 M |

The stock sold off about 2% on Wednesday along with the markets on concerns about a slowing global economy. If you are a long term investor, this may be a buying opportunity. I do believe that we are seeing a "soft patch" (to use the most overused term of the week) in the global recovery. Most of Kennametal's customers, however, seem to be seeing fairly strong demand. In addition, some segments, such as energy exploration aren't as cyclical as others. Kennametal should be able to continue increasing revenue as long as there isn't another global recession.

There are risks to the investment. If the slowdown in this recovery turns out to be longer or deeper than expected, we could see sales growth at Kennametal slow. The increase in commodity prices is less of a concern, as I explained above.

With Kennametal's pricing power, wide moat, and reasonable valuation, this stock should make a solid long term holding. Let me not fail to mention, you get more than 1% yield while you hold it.

Disclosure: I am long KMT.