Retail investors are at a distinct disadvantage when it comes to making big money in the market. We don't have expert networks, advanced algorithms powering high-frequency trading machines, or the capital required to influence short terms stock moves. However, what we do have is the ability to invest in a promising company before it is widely known, and before the big investment banking machines start covering it.
NetFlix (NASDAQ:NFLX) is a great example for its early investors, as was Dendreon (NASDAQ:DNDN) and Human Genome Sciences (HGSI) in the biotech space. So who is the next "unknown" company looking make it big? Well, it could be VirnetX, which has been on-fire lately. VHC is up 500% in the last year and 30% in just the last week, making early investors a lot of money. So is it too late to join the party? Who is VirnetX, what is the upside, and why should you care?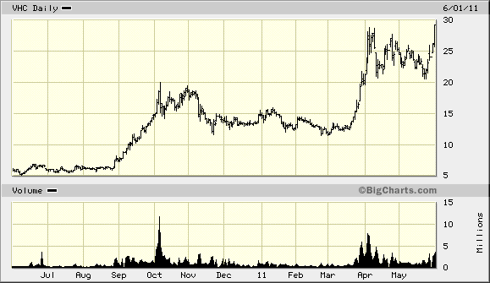 VirnetX is an 11-person company (although it does contract out work to 100+ outside consultants), valued at over 1.4B. It is a potential intellectual property stalwart when it comes to 4G LTE and secure communication between devices. It could be this generation's Qualcom (NASDAQ:QCOM). Over the last 12mo, VHC has had its most promising patents reviewed and upheld by the U.S. Patent Office, won and settled an infringement lawsuit against Microsoft (NASDAQ:MSFT) for $200M, enlisted one of the top tech law firms in the country in Wilson Sonsini Goodrich & Rosati, sued Aastra, Apple (NASDAQ:AAPL), Cisco (NASDAQ:CSCO), NEC, Mitel (NASDAQ:MITL) and Siemens (SI). The company has also declared its patents ESSENTIAL to the Series 33 specifications for 4G LTE, and has been added to the database for European Telecommunications Standards Institute (ETSI) with Fair Reasonable and Non-Discriminatory (FRAND) pricing for its patents.
CEO and Founder Kendall Larsen was VP of Sales at RSA Technology (EMC) in the late 90s, leading the effort to license a single patent to over 300 companies globally, so he has the ability to execute. Most importantly, as an investor he is aligned for mutual success. He is by far the largest shareholder and has never sold a share. VirnetX already has 32 patents issued. Kendall Larson believes the company's patent portfolio could be one of the top 5 portfolios in the world and the market is only reflecting 10% of the current value of the company. Last week, VHC hosted its Annual Shareholders Meeting and provided important guidance for what its FRAND pricing will be, which is 1-2 percent of wholesale pricing of 4G LTE devices. Cowen & Company recently initiated coverage with an Outperform rating and expectations of a 40% increase above the overall market in the next 12mo. VirnetX will be participating in the Cowen & Company Technology Media and Telecom Conference on June 2nd.

Current Analyst Revenue Estimates:
FY11: $1M
FY12: $14M
FY13: $69M
FY14: $184M
FY15: $239M
FY16: $310M
The only analyst estimates available account primarily for royalties through licensing patents to 4G LTE equipment OEMs. Although this will likely be the market where VirnetX licenses its portfolio the quickest, given the recent inclusion in the ETSI database, VirnetX should receive significant revenue from a number of other markets. These include IP-telephony, mobility, fixed-mobile convergence and unified communications markets, which in total is estimated to be a $162B market in 2011 with a CAGR of 22%. IP-telephony (Cisco, Siemens, Avaya) is estimated to be a $43B market in 2011 and growing at a CAGR of 23%.
Fixed-mobile convergence (Largest Global 20 Telecom Companies representing over 850M consumers), where wired and wireless devices work together over IP, is a fast growing market. Although it is only estimated to be $406M in 2011, it is growing at a CAGR of 114%. Dual-mode WiFi / Cellular phones is forecasted to be $76B in 2011 and has a CAGR of 35%. IP-mobility with today's smartphones is already a $41B business in 2011 and growing at a CAGR of 10%. Unified Communications (Cisco, Microsoft, IBM) is a $813M segment in 2011 and growing at a CAGR of 17%. All of these segments will need to license VHC patents for their Secure Domain Name Initiative (SDNI) technology. Cowen & Company estimates the 4G LTE market alone is growing at 34% a year, and will be $38B in the next 3 years-- continuing to grow at a CAGR of 34% for at least 10-years.
Using these market estimates, you can look at what the intrinsic value would be to garner just a very small percentage of this converged IP device market over the next 5 years. This requires some guestimating of the overall marketsize and penetration, but you can get some idea as to the potential of the company. This does not account for settlements from the existing lawsuits, valued in the 9 figures, nor does it account for revenue from VirnetX's promising SDNI platform, a potential multi-billion dollar opportunity in its own right.
Scenario 1: VirnetX - VHC Estimated Marketsize and 1% Royalty by 2016

2012

2013

2014

2015

2016

4G Sales per Year (Billions)

150

180

200

220

240

VHC License Penatration (1% by 2015)

0.001

0.003

0.005

0.0075

0.01

VHC Gross Royalties (Billions)

0.15

0.54

1

1.65

2.4

Margin

90%

90%

90%

90%

90%

Net Income after tax (35% bracket in B)

0.08775

0.3159

0.585

0.96525

1.404

Terminal value (2016 profit/10%):

14

Assume perpetual 1.4 billion ,

zero growth,

10% discounting.

NPV (@20% discounting)

6.35

total shares outstanding (50M)

0.05

Intrinsic value/share at end of 2011

$126.96
Given the growth of IP-telephony and 4G LTE (Cisco has recently predicted 15B IP-connected devices by 2015,) VirnetX is well-positioned for revenue in the billions in the next 5 years. In the model above, using zero growth after year 5, you can already see how a $100+ valuation of VHC is possible in the coming year. If you look at the earnings potential in 2016, you could be looking at EPS north of $20 with a market and company growing at a CAGR at 20-30%. With a PE equal to growth rate, you could be looking at a potential $400-600 stock in 5 years. This could continue to be a fun year for VHC longs.


Disclosure: I am long VHC.