Yellow Media owns Canada's Yellow Pages. Yes, those Yellow Pages! To the younger generation, the yellow pages advertising business model became irrelevant 5-10 years ago. I personally have not opened a physical "Yellow Pages" book in 10-years plus. If by mistake I am given a Yellow Pages directory, my first reaction is to immediately throw it away. I can find what I need on the internet, and the internet is here to stay.

Yellow Media (YLWPF.PK) is a $2-billion market cap company with a $2-billion debt load. The company claims to be Canada's number one internet company. The company's stock is in a state of hyperactivity as short sellers bombard the company's management with new rumors of Yellow Media's demise.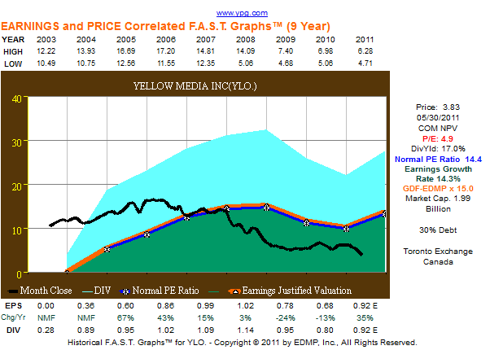 There is, however, much more to Yellow Media than the physical Yellow Pages directory, so the situation isn't clear-cut:

Yellow Media Negatives
Yellow Media's stock is diving to record lows as they balance a high-debt to equity ratio and a draconian business model shift in 2011.
Let's cut to the chase. Yellow Media should have moved to the internet full steam 10-years ago. When Yellow Media - compared to even the Washington Post (WPO) and New York Times (NYSE:NYT) - is light years behind in their business model plans, then there is a major disconnect. The internet's disruptive technology power has long ago been acknowledged. What were the WPO, NYT, and Yellow Media management teams doing when the obvious changes were occurring around them years ago? Radical business model changes were required and not acted upon in a timely fashion.
Yellow Media began buying back shares in May 2011. One day into the share buyback, Yellow Media's CFO Christian Paupe began selling 200,000 shares of Yellow Media stock.
Stéphane Marceau, Yellow Media's Chief Marketing Officer, resigned one day before Mr. Paupe began to "diversify" his stock holdings.
Yellow Media Positives
Yellow Media owns some powerful Canadian websites. How to monetize these sites is a different issue.
YLWPF.PK has moved to an online business model. This move has been belatedly late and they arrive with a significant debt burden.
YLWPF.PK has agreed, as of March 25th, to sell one of its holdings, Trader Corporation, for $745 million. This sale was reconfirmed during a May 25th, 2011 conference call.
YLWPF.PK has confirmed their stance to continue to pay a 65-cent per share annual dividend, via monthly disbursements. This reconfirmation has been stated via numerous outlets in recent weeks. The burden of proof is on Yellow Media's management. The company must complete the Trader Corporation deal.
The $745 million from the Trader Corporation deal will be used to buy back up to 10% of the common shares in "public float" and 10% of first preferred shares outstanding.
Standard & Poor's and DBRS have reconfirmed their Yellow Media debt ratings.
25% of Yellow Media's revenues are from online businesses.
30% of Yellow Media's mobile searches are based upon mobile user interaction.
The company has posted significant gains in their year-over-year revenue results in the internet space.
Yellow Media Preferred Shareholders are learning difficult lessons about reading the fine print regarding what rights their preferred shares offer. The fact the shares are redeemable in Yellow media common is a positive for Yellow Media common shareholders.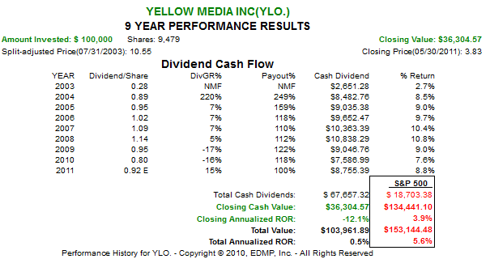 May 31st Conference Call Musings

Listening to the May 31st conference call was very painful. Not only did I sense the company was adrift, but the analysts asking questions appeared to ask only softball questions. Meanwhile Rome was burning. Analysts should have been prepared to ask tough, timely and relevant questions. If the company is going to survive, somebody has to ask the tough questions. They were absent on the call.

Conclusion

The CFO, Christian Paupe, must leave. It is inexcusable for the CFO to be liquidating Yellow Media shares one day into a Yellow Media share buyback.

I will attempt to contact Mr. Marc P. Tellier, Yellow Media CEO, with targeted investor questions. The questions will be direct and seeking clarification to Yellow Media's business model. Until the average investor receives direct answers, this stock has to be avoided due to the baggage it carries.

Please email me your questions and feedback. Hopefully we can ask Mr. Tellier some questions that demand answers.

Opportunities arise when there are mispricings of stocks in the market place. Is the common stock expensive or cheap? If the CFO is selling shares, then the reader is left to wonder.

Disclosure: I have no positions in any stocks mentioned, and no plans to initiate any positions within the next 72 hours.