Market Recap
The bears came out fighting yesterday as the market dove in heavy volume. The S&P 500 and the Nasdaq each dropped 2.3%, finishing under their 50-day moving averages. On the Nasdaq, for every stock up, five were down.
Since this heavy sell-off was after a follow-through day, the markets are now in a correction. I don't want to say that yesterday was a head fake, but it has become more unlikely that the market will be able to go higher. It could still happen though.
images
S&P 500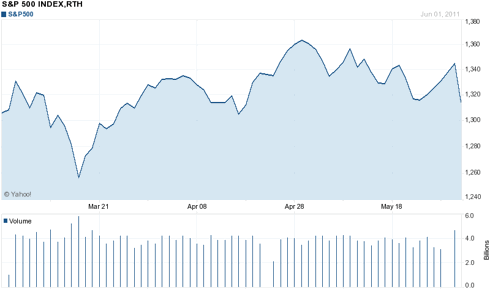 News That Affected the Markets
The ISM's manufacturing purchasing managers' index fell to 53.5 in May from 60.4 in April. Estimates only pointed for a decline to 57.0.
Job growth in May was very meager as large companies cut workers. Private-sector jobs in the U.S. rose by just 38,000 last month. Estimates saw growth at 190,000. To add to that disappointment, April's report of job growth at 179,000 was revised to 177,000.
The awaited European stress test results will be delayed until July. The reason behind this is because European regulators worry that banks submitted overly optimistic data. Currently, the European Banking Authority (EBA) is having banks resubmit data showing how they would fare in a downturn.
Now what I consider to be the big news of the day: Moody's downgraded Greece's debt rating. When this story came out late in the day it just seemed to add fuel to the fire. What was somewhat scary was that Moody's said it now puts Greece's risk of default at around 50%. I would rather have them default then get a bailout, but still this will cause havoc in the market if it does happen.
Stocks of Importance
Open Text (NASDAQ:OTEX) had a good day yesterday as it managed to close up on average volume. During the correction the stock has maintained good relative strength. The stock may pull back to its 10-day line soon. When this happens watch to see if it can hold it. If it does then that is a great sign of institutional support. I would keep OTEX on the watch list for now since the market is in a correction, but if the market slips out then OTEX is a Strong Buy
OTEX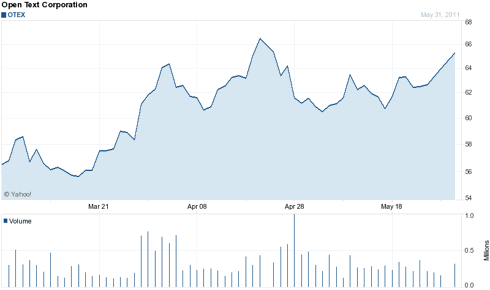 Hansen Natural Corp (HANS) was up yesterday in above average volume. The beverage company has also held up very well during the correction. The stock is currently extended from its 10-day, so you want to wait for it to pull back just like OTEX. HANS is another stock that would be a Strong Buy if the market wasn't in a correction.
HANS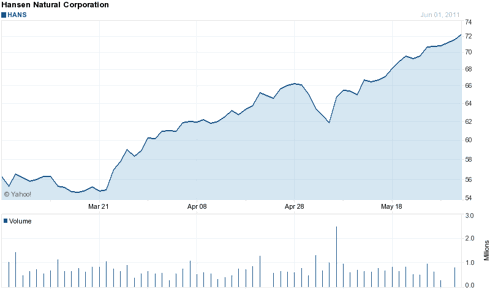 Inergy LP (NRGY) was down 4.6% yesterday in very heavy volume. This is because the stock did a secondary offering of 9,000,000 units. NRGY has a nice yield, but the chart is not too great and the earnings aren't as good as stocks like Crestwood Midstream Partners (NYSE:CMLP). I would much rather have CMLP then NRGY.
NRGY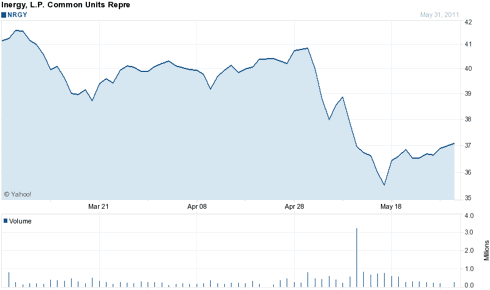 CMLP
That is the market recap for Wednesday. Remember to not buy anything while the market is still in this correction. Just continue to build up a nice watch list. Sectors that look nice are retail (LULU, FOSL), technology (OTEX, ARMH), and healthcare (AGP, ENDO). Those are just a few stocks in those sectors that have good fundamentals, and a decent chart.