With a multi-year run of stable oil prices, the drastic fall in prices over the past three months has taken most observers by surprise. With the market now focused on further potential downside risks, a lack of supply curtailment by OPEC members is the top worry. As stated in my previous article however (Why Oil Prices Will Stop Falling), supply cuts along with new demand drivers may end up creating a greater need for OPEC production in the future.
The Issue
Global demand growth for oil is currently outpaced by supply. 3Q14 non-OPEC supply reached 56.3mbd, up 1.7mbd year-over-year. The US alone contributed an estimated 1.6mbd of this growth. Meanwhile, OPEC production has not faltered in the face of lower prices. Output has recovered sharply off a low base in Libya, volumes from Saudi Arabia have remained high, and oil output in Iraq has remained remarkably steady.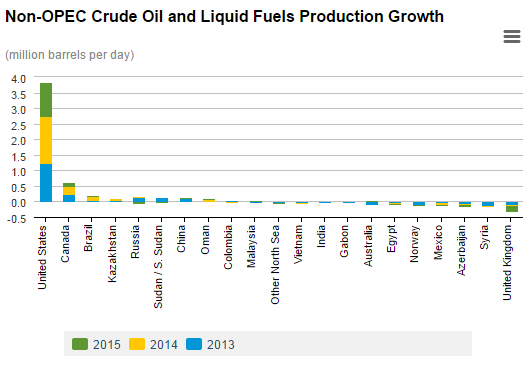 We Should See a Supply Response from U.S. Producers at Current Levels
Comparisons on why supply won't be cut normally look at iron ore production (where major producers were unwilling to cut for extended periods of time despite the economics) or OPEC members (who can produce regardless of economics). U.S. producers however, many of them heavily indebted, simply cannot produce without further financing. It's not a choice between operating at the current economics or not. It's simply an ability to.
We have already seen several big project deferrals in 2012-13. Pressure on crude prices will intensify scrutiny on conventional capex, with consequences for non-OPEC conventional producers. The response from US unconventional production could be quicker given that many producers are already free cash negative, and balance sheets could become an even greater limiting factor. These are realities that cannot be remedied easily by smaller players without diversified revenue streams or financing capabilities. The U.S. marginal producer should see cuts rather quickly if current oil prices persist.
Additionally, the delay of several major project over the past two years indicates that companies are facing significant cost challenges, which is adding further to pressure on medium-term supply. This highlights how tight marginal economics have become in certain cases (particularly offshore).
OPEC to Take the Reigns
OPEC spare capacity is currently limited by historical standards. Capacity is only around 4-5% of global demand. So a key determinant of longer term oil market tightness - and ultimately prices - will be OPEC's ability to expand capacity in the next few years to meet this demand for its crude.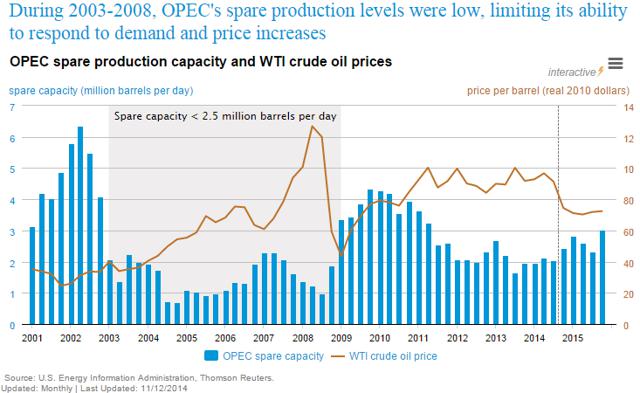 Three OPEC countries have the potential to meaningfully grow capacity: Iran, Saudi Arabia and Venezuela. Iran would need a dramatic easing in the political stand-off, with a long lead time before meaningful investment could be expected. Venezuela is experiencing a degrading investment climate which would make large additions surprising. Meanwhile, Saudi Arabia's current strategy is aimed at maintaining capacity rather than growing it.
An increased reliance on OPEC coupled with rising political uncertainty points to higher prices in the longer term.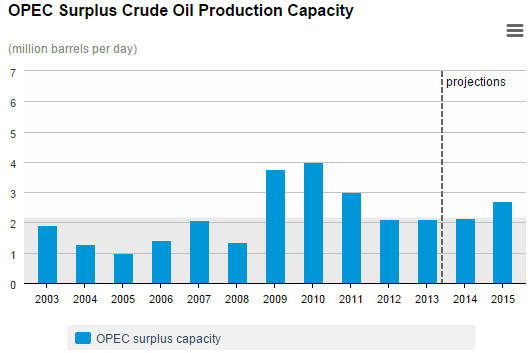 Investable Opportunities
Integrated Oil Companies (CVX, XOM, COP, BP, TOT, E) - Most have earnings and cash flow leverage to crude oil prices, with diversified revenues streams and access to financing to continue investments and benefit from a rebound.
CNOOC (NYSE:CEO) - Provides the purest exposure to China's upstream oil and gas business.
U.S. E&P's - To avoid financing risks, companies with healthier balance sheets should weather the storm including (NYSE:OXY), (NYSE:DVN), (NYSE:APA), (NYSE:APC), and (NYSE:NBL).
Disclosure: The author has no positions in any stocks mentioned, and no plans to initiate any positions within the next 72 hours.
The author wrote this article themselves, and it expresses their own opinions. The author is not receiving compensation for it (other than from Seeking Alpha). The author has no business relationship with any company whose stock is mentioned in this article.