Shoe Carnival (NASDAQ:SCVL) posted Q3 earnings of $0.54 a share (topping $0.48 consensus), and revenues came in at $254.7mm (beating $248.8mm expectations). Sales climbed 8% y/y, and comparable store sales were up 2.3% - both of which beat company expectations. All in all, its gross margin remained steady at 31%, its SG&A expenses as a percent of revenue was up just 60 basis points, and per-store inventory was down 0.6%.
SCVL also upped its outlook for the rest of 2014, with Q4 EPS expected to be between $0.06 and $0.10 - versus $0.03 in the same quarter last year. Comps for Q4 are expected to be up in the 3%-5% range. With that, fiscal 2015 EPS consensus has jumped from $1.16 to $1.22 over the past week.
Shoe Carnival is up 20% over the last week. Granted, this is a small consolation to some investors, with shares still down 19% YTD.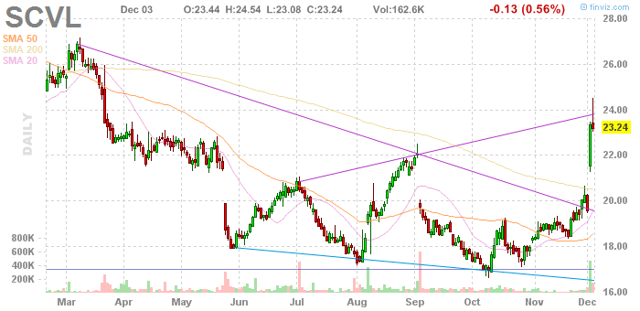 Shares are slowly climbing back. But at 20x forward earnings, investors had best do their homework. SCVL is expected to grow earnings over the interim at a CAGR that's in line with the industry. It could surprise the market with store openings.
We covered SCVL after it missed Q2 earnings, and first profiled SCVL back in 2013. As we've noted before, SCVL still has a lot of runway left with store openings. The company has virtually no stores in the west. That would require another distribution center - but with no debt, it has the balance sheet to support such an undertaking.
Its current TN-based distribution facility can support 650 stores. It's planning to open over 30 stores this year. Management noted that its marketing presence is strong heading into the holiday season - fashion boots appear to be selling nicely. With its comparable-store sales still positive, we think SCVL can surprise the market with its store growth.
Disclosure: The author has no positions in any stocks mentioned, and no plans to initiate any positions within the next 72 hours.
The author wrote this article themselves, and it expresses their own opinions. The author is not receiving compensation for it (other than from Seeking Alpha). The author has no business relationship with any company whose stock is mentioned in this article.