With the gold price lingering around $1,200 an ounce, many of the world's gold mining companies simply cannot turn a profit since the cost of producing gold isn't exactly cheap. In fact, the average all-in sustaining gold cost per ounce sits above $1,000 per ounce for many miners, which means most miners are either losing money or breaking even after you figure in taxes and debt repayments.
This has put a ton of pressure on higher-cost operators, especially those with high debt levels, as they no longer have sufficient cash flow to service their debts and need a higher gold price to survive. These stocks are simply too risky to invest in under current market conditions.
However, if you are long-term bullish on gold, and want the leverage that mining companies can provide to the price of gold, you can still find some investments that are considered "safer" than others. You just need to look for miners that operate lower-cost gold mines and ones that have solid balance sheet, with low debt levels and high cash reserves.
Here are three of my favorite low-cost gold miners with solid balance sheets:
| | | | |
| --- | --- | --- | --- |
| Company | AISC (ounce) | Current Ratio | Cash Balance |
| Alacer Gold | $750 | 9.4 | $319.6 million |
| Alamos Gold | $980 | 10.67 | $376.89 million |
| El Dorado | $850 | 4.52 | $566.8 million |
(Note: All-in sustaining costs are the average of full-year 2014 estimates).
All-in sustaining costs per ounce: This is essentially the true all-in cost of producing an ounce of gold. The term was introduced in June of 2013 by the World Gold Council as it hoped it would provide transparency in the costs related to producing gold.
The figure includes direct production costs, onsite costs, royalties and production taxes, corporate and administrative expenses, and smelter and refining costs.
Current ratio: This gives investors a better idea of the company's ability to pay back its short-term liabilities with its short-term assets. The higher the ratio, the more capable the company is of meeting its obligations.
Cash balance: This is simply how much each company currently has on its balance sheet. The more, the better, as it shows the company can service any debt it has, and it also shows the company has the financial flexibility to make an acquisition.
1. Alacer Gold Corp. (OTCPK:ALIAF)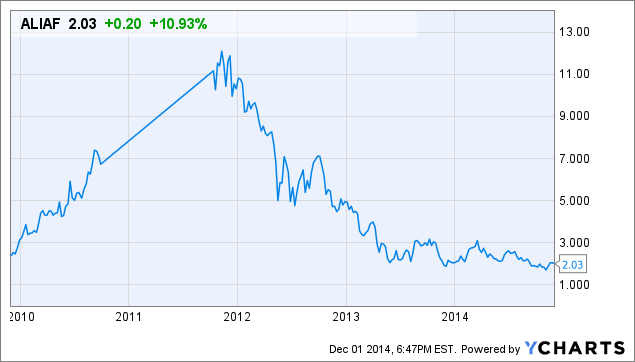 If you want to talk about a gold miner that is undervalued, Alacer Gold has to be at the top of your list.
Currently trading at $2.05 a share with 290 million shares outstanding, Alacer carries a market cap of $594.97 million. However, with $319 million cash in the bank or $1.10 per share, the market is giving the company an enterprise value of $211 million and a book value per share of $1.91.
So Alacer has a huge cash hoard and zero debt, but it also happens to own and operate a highly profitable gold mine called Copler in Turkey, which is forecasted to produce 160,000 to 180,000 ounces of gold at all-in costs of $750 an ounce in 2014.
The company is well on-track to meet this forecast: in the third quarter of 2014, Alacer reported strong cash flow of $42.5 million, adjusted net profits of $13.1 million, on production of 63,356 ounces at all-in costs of $763. During this time, working capital increased $24.6 million to $349.7 million, which is outstanding since its capital position is more than half the current market cap.
Alacer Gold remains too cheap for investors to ignore simply and I continue to invest in shares as I believe the company is a strong takeover target for a larger miner.
2. Alamos Gold (NYSE:AGI)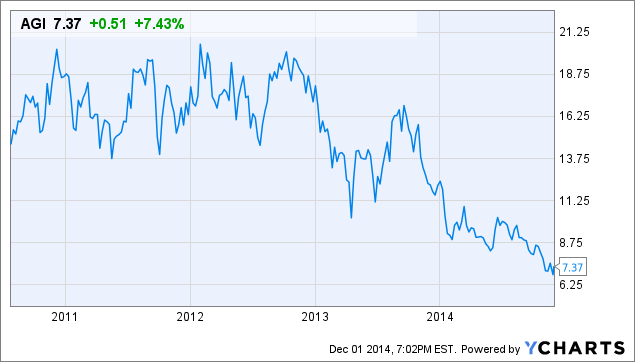 Alamos Gold is another exciting junior gold producer that owns and operates the profitable Mulatos Mine is Mexico, plus owns several exploration and development properties in Mexico, Turkey and the United States.
Currently trading at $7.39 a share with 127.3 million shares outstanding, Alamos carries a market cap of $941 million. However, the company has total cash of $376 million or $2.96 per share and zero debt, so the market values its assets at $496 million and gives the stock a book value of $6.16.
Like Alacer, Alamos is a low-cost gold miner: the Mulatos mine is forecasted to produce gold at all-in sustaining costs below $1,000 an ounce for the full-year 2014. In total, Mulatos has generated $350 million in free cash flow to date, according to the company presentation.
The real reason to like Alamos Gold is the potential of the company's development projects: its Esperanza, Kirazli and Agi Dagi projects combined with Mulatos hold the potential to increase annual production nearly three-fold at low all-in costs by 2018. For example, the Kirazli and Agi Dagi projects in Turkey will produce a combined 242,000 ounces of gold annually at total cash costs under $600 an ounce. And at Esperanza, production should come in just over 100,000 ounces a year at all-in costs below $900.
With a low-cost gold mine in Mexico, a rock-solid balance sheet and exciting development projects, I think Alamos Gold is a prime takeover target for a larger gold miner that wants exposure to low-cost assets in politically favorable jurisdictions.
3. El Dorado Gold (NYSE:EGO)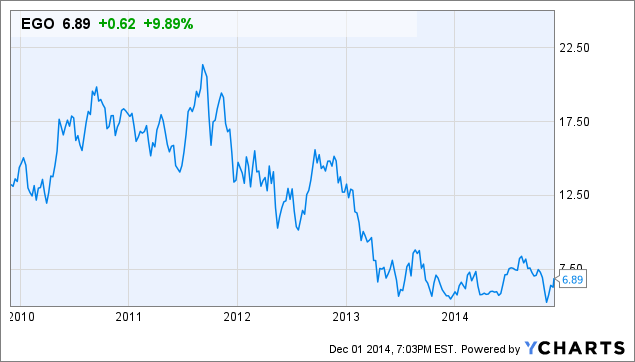 El Dorado Gold is the largest gold miner mentioned here, but that doesn't mean it has the least upside.
El Dorado currently trades at $6.89 a share. With 715 million shares outstanding, the company carries a market cap of $4.93 billion, and with a cash balance of $566 million and total debt of $594 million, the stock's enterprise value of $4.51 billion. With available and undrawn credit facilities of $375 million, the company has available capacity of close to $1 billion.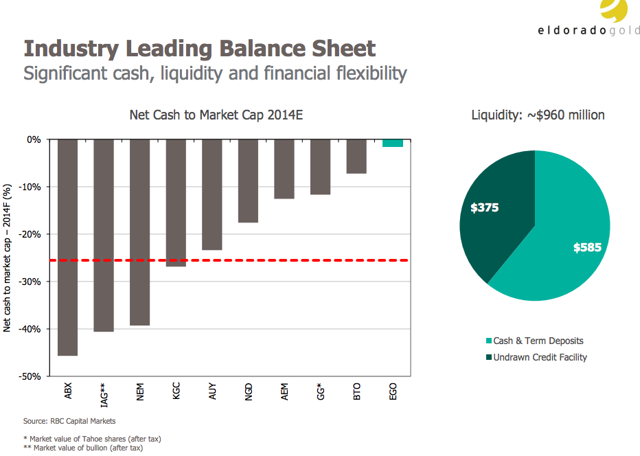 (Credit: El Dorado Corporate Presentation)
El Dorado is among the lowest gold senior gold miners on the planet. 2014 production is estimated at 790,000 ounces of gold at all-in sustaining costs of $850 per ounce, which equals margins of $350 per ounce at a $1,200 gold price.
However, El Dorado has been crushing its costs estimates: for the third quarter, the company reported all-costs of just $735 per ounce, putting year-to-date costs at $784 per ounce. This led to operating cash flow of $78.7 million, adjusted net earnings of $36.1 million and net profit of $19.8 million, or $.03 per share.
From a growth standpoint, the company's development projects should get investors pretty excited for the future. The company's Skouries project should produce 230,000 ounces of gold annually at industry-leading cash costs once in production in 2016. Meanwhile, the company's high-grade gold-silver-lead-zinc Olympias project in Northern Greece should produce at least 170,000 ounces of gold once in full production by 2020, and the Certej project in Romania could add another 137,000 ounces of production by 2016/17.
For these reasons and more, I'm looking to add El Dorado and Alamos Gold to my portfolio in the near-future, while I also will try to add more shares to my existing Alacer Gold position.
Disclosure: The author is long ALIAF.
The author wrote this article themselves, and it expresses their own opinions. The author is not receiving compensation for it (other than from Seeking Alpha). The author has no business relationship with any company whose stock is mentioned in this article.
Editor's Note: This article discusses one or more securities that do not trade on a major U.S. exchange. Please be aware of the risks associated with these stocks.