As Seadrill (NYSE:SDRL) and Transocean (NYSE:RIG) charge to a new ten-year, or in the case of Seadrill, all-time low, the type of investor looking at the companies is changing. As dividends are cut (consensus dictates that Transocean will cut its payout next year) income investors are turning their backs on the companies; value investors are now taking their place.
At first glance, Transocean and Seadrill look to be attractive value investments. Both are trading below their NAV's, have fallen to lows and trade at low single-digit earnings multiples. But with Transocean and other drillers now announcing writedowns, there's one question that needs to be answered; how real is the NAV, or book value? How much lower can it fall before writedowns stop.
Difficult to assess
It's difficult to try and put a value on how much further asset values can fall. Analysts at Barclays do provide some guidance on the matter. The investment bank uses the examples of post 2008 and post Macondo asset value declines to try and put a ball park figure on asset value declines. Note: this statement was issued in April so some figures may be out of date.
"…We think near-term risk is still skewed to the downside as rate momentum is heading down and there have been few awards announced recently. Further, we note that in the event conditions deteriorate further, we would expect underlying asset values to decline further (NAVs declined by over 16% following the financial crisis and by 8% after Macondo), suggesting there could be more than 40% downside before ultimate NAV support takes hold…"
At the time, many readers of this forecast lambasted Barclays for speculating that there could be up to 40% downside before NAV support takes hold. Nevertheless, since April Diamond Offshore's (NYSE:DO) shares have fallen 39% excluding dividends, Transocean has fallen 54%, Ensco (NYSE:ESV) 35% and Seadrill 62%. So the forecast was right in many respects.
And data from YCharts shows that year-to-date, book values across the four main drillers have, on the whole, declined.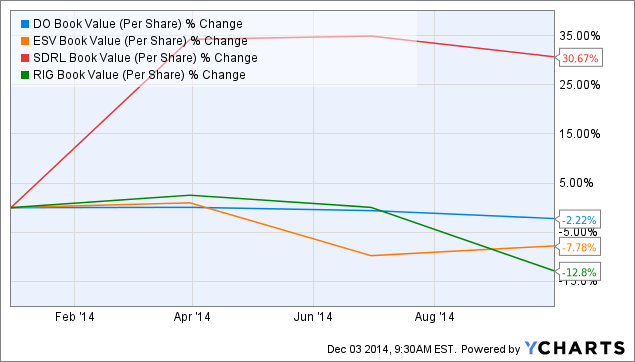 DO Book Value (Per Share) data by YCharts
The company that's most at risk from additional writedowns is Transocean. Most analysts are watching the group for signs of further asset sales, cold staking and goodwill write offs. Indeed, the company has plenty of rigs coming off contract next year and if more assets are retired than the market is currently expecting, then things could deteriorate rapidly for the driller.
According to RBC Capital Markets:
"If more of their rigs end up getting retired than are currently factored into estimates, there's more potential downside in 2015 and 2016. It's a stock that's gotten beat up, but people are still negative."

"You can point to the valuation metrics and maybe get a little excited...But you just saw them write down a massive amount of book value. The question is: How real is that book value?"
And when it comes down to it, this is what investors are really worried about. At the beginning of November, Transocean delayed the release of third-quarter earnings, saying it would be hit by $2.76 billion in charges. These charges were taken against goodwill as well as the existing asset base. More info on the writedowns can be found here.
This writedown followed similar moves by Ensco and Diamond earlier in the year.
Diamond reported third quarter non-cash impairment charge of $109 million before tax during the quarter as a result of retiring and scrapping six semisubmersible rigs. Net income declined by 44% to $52.6 million as a result. Ensco also took some impairments during the second quarter. Ensco was the first company to book writedowns during the second quarter when the company took impairments on four rigs, ENSCO 5000, 5001, 5002 and 6000. These charges totaled $546 million before tax.
The write-downs formed part of Ensco's ongoing review of the fleet and assessment of market conditions. Additionally, the company determined that 4 other rigs, ENSCO DS-1 and DS-2 and ENSCO 5004 and 5005, had carrying values that exceeded non-discounted future cash flow projections. As a result, Ensco booked a $992 million impairment charge for these rigs.
From Credit Suisse:
" …Last quarter Ensco announced plans to stack 5 floaters and hold them for sale (we expect buyers to be limited) and also announced plans to stack the DS-2 for a total of 6 stacked rigs since last October…[additionally] 5 stackings from Diamond Offshore in the last year for a total of 11 stacked rigs between Diamond Offshore and Ensco…"
Unfortunately, these writedowns have only pushed net asset values down by a single-digit percentage for Ensco and Diamond, Transocean's asset value has fallen by a low double-digit percentage but these writedowns are still far off the 16% reported during the financial crisis.
Alongside falling asset values, most are now factoring dividend cuts across the group. Guggenheim:
"...Near term, we believe Seadrill shares may also suffer from an ownership transition from income to value investors. Transocean shares may see the same fate, with a 2015 dividend cut factored in our estimates, justified, in our view, by potential for further asset write-downs materializing and focus shifts to balance sheet strength...We believe the collapse of oil prices and tightening of capital markets may lead Diamond offshore to cut its dividend in 1H15, given newbuild funding needs and its conservative balance sheet approach...We see risk of a dividend cut, rig retirements, and deteriorating offshore market fundamentals as negative near-term catalysts that leave us more risk-averse in search of a better entry point…"
This is what investors are worried about. Dividend cuts and book value deterioration are the two factors that are driving the sell off across the sector.
Still, dividend cuts should not be viewed as a bad thing. Seadrill's payout cut will save the company an estimated $2 billion per annum. Other drillers will be able to achieve similar savings if they cut their payouts. This extra cash will help strengthen balance sheets and could prevent falling book values.
The bottom line
There's no denying that the offshore drilling sector is in trouble but it's hard to try and estimate when investors should jump back in. Assuming dividends are cut across the sector, offshore drillers have now become a value play. Value investors need to ensure a margin of safety is available before they invest. A 50% to 60% discount to tangible asset value is attractive.
Disclosure: The author has no positions in any stocks mentioned, and no plans to initiate any positions within the next 72 hours.
The author wrote this article themselves, and it expresses their own opinions. The author is not receiving compensation for it (other than from Seeking Alpha). The author has no business relationship with any company whose stock is mentioned in this article.