Commodity-dependent economies are by nature volatile. During booms, their financial assets appreciate as investors become convinced of their long-term potential, driven by the strong, secular global demand for their exports. Their growth rates rise, their currencies appreciate. They take on massive leverage, and typically experience bubble-like conditions in asset markets, especially housing.
But the fact that the emerging market world has an insatiable appetite for commodities to fuel its economic development says nothing about the long-term supply, or price of those commodities. We are now witnessing the classic signs of an unwinding "Commodity Supercycle", where there is ample evidence plentiful supply in virtually all commodities, and where prices inevitably soften.
As commodity prices revert to their long-term decline in real prices, the implications are generally bleak for commodity exporters. The virtuous cycle that propelled their assets higher during the boom now threatens to become a vicious cycle of weakening currencies, rising import prices, headwinds to consumption and investment growth and the potential for asset bubbles to burst.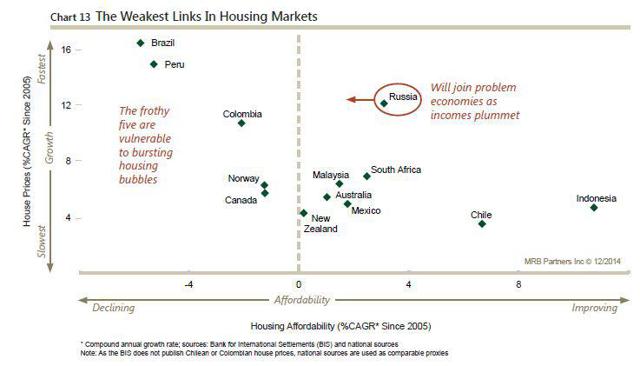 In housing markets, five economies stand out as the "weakest links" among commodity exporters by virtue of the fact that house prices have been rising faster than household income over the past decade. Such multi-year declines in housing affordability have proven to be excellent markers for housing crises in the past, for example in Japan prior to 1990 and in the U.S. in the run-up to 2007. The "frothy five" are Brazil, Peru, Colombia, Norway and Canada.
Another typical sign of imbalance associated with commodity booms is that appreciating currencies make the manufacturing and services sectors uncompetitive - a process often referred to as Dutch disease. The last decade has thrown up plenty of such examples, with the most egregious cases being Malaysia, Canada and Brazil.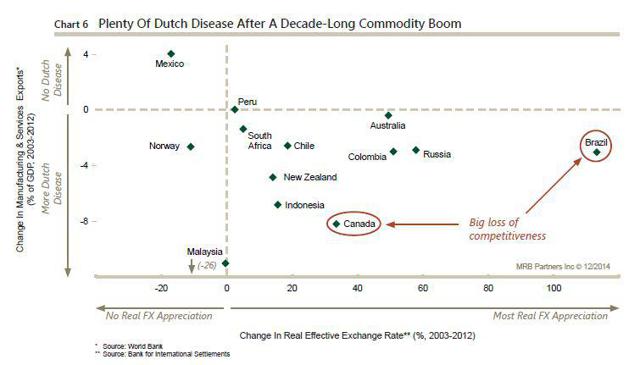 Is a pattern emerging? The weakest links, based on this analysis as well as more detailed work looking at leverage in household and corporate sectors, suggests that investors should worry about deleveraging forces and a bursting housing bubble in seven economies: Canada, Norway, Australia, New Zealand, Chile, Brazil and Russia.
But what about the secular potential of emerging markets? Doesn't that balance out the risks? The answer is no for most countries. One such indicator, for example, is demographics. Russia, for one, is facing a demographic disaster. But other EM economies are not exactly rolling in the clover either.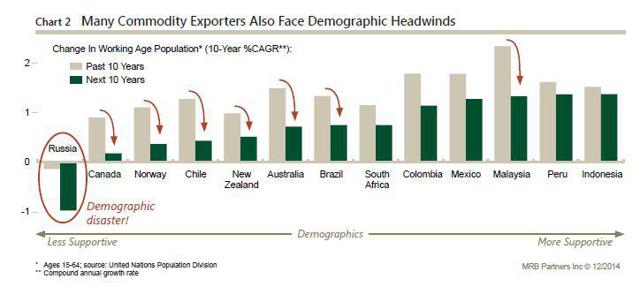 In fact, when assessing secular potential using demographics, urbanization and financial penetration as indicators, it is clear that the secular potential really only applies to Indonesia, Mexico and Peru. The rest of the EM world faces significant secular as well as cyclical challenges.
Investors should generally stay cautious on financial assets in commodity exporting economies. If you have to be in this group, the implication is to stay short on the equities and currencies of Canada, Norway, Australia, New Zealand, Chile, Brazil and Russia, and look for longs in Indonesia, Mexico and Peru.
Disclosure: The author has no positions in any stocks mentioned, and no plans to initiate any positions within the next 72 hours.
The author wrote this article themselves, and it expresses their own opinions. The author is not receiving compensation for it. The author has no business relationship with any company whose stock is mentioned in this article.