Much of this article is sourced from this Chinese-language article: CASS Forecast: China A Shares Will Reach 4000 to 5000 in 2015
The Chinese Academy of Social Sciences (CASS) is working on a report that projects a 40% to 80% rise in the Shanghai Composite in 2015, to a level between 4000 and 5000. The move will be driven by government policy and capital shifts.
The report references the May 19, 1999 surge in stocks that saw the Shanghai Composite gain nearly 70 percent in six weeks of trading. CASS senior economist Yin Zhongli sees many similarities between than 1999 market and stocks in 2014.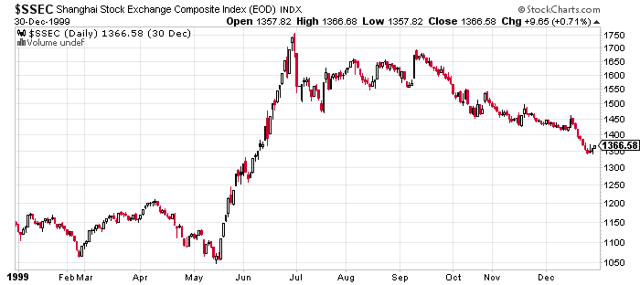 In 1999, the economy was in a slump, the U.S. dollar was strong and credit conditions were tight, forcing the government to rely on the equities market. These factors are all present in 2014.
Yin also sees a political cycle for the markets in China. At a Third Plenum, the new administration introduces its blueprint for the next 5-years. The first year lays the groundwork for the new policies and in the second year, the policies begin to be implemented. The 1999 bull market came in the second year of the reform minded Premier Zhu Rongji's term, who sought to increase the role of the Chinese equity markets. The reform minded President Xi Jinping and Premier Li Keqiang are similarly looking to elevate the equity market, recently opening trading between Shanghai and Hong Kong. The most recent Third Plenum was held in November 2013.
Shifting capital flows will also benefit equities. This year has seen trust defaults, real estate slowdown and concerns about bank wealth management products (WMPs). The result is a drop in shadow banking system, measured by the Total Social Financing data published by the People's Bank of China (PBOC) each month. Investors see weakness in property, risk in trusts and WMPs, weakness in gold and silver. The trust market is now basically frozen, with little to no growth. By comparison, the relatively cheap stock market is attractive, especially now that it is rallying.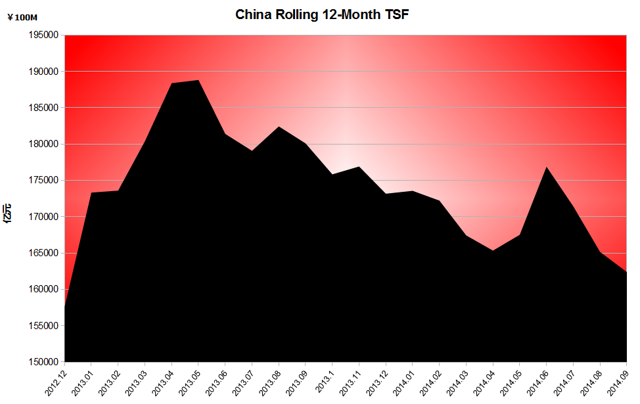 The falling popularity of shadow banking products is contrasted by the rising popularity of stock investing, as measured by new stock accounts.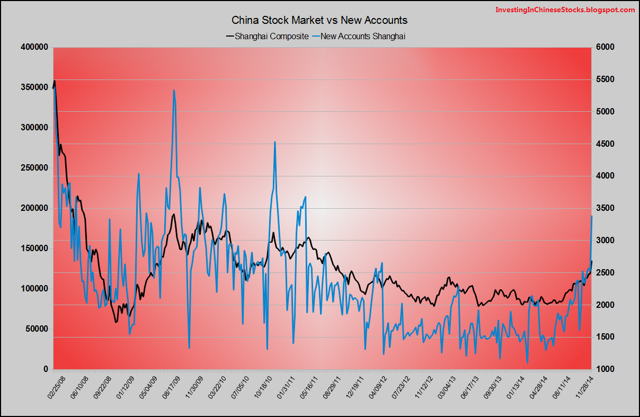 While accounts are rising, Yin points out that the number of active investors is not. He says the number of accounts actually holding stocks is still falling. He argues the smart money is moving in because each time capital in stock accounts are frozen ahead of an IPO, the stock market is hitting new highs. This suggests that specialists are moving into the market when funds are locked up, in order to keep prices from rising too much. Some institutional capital expected to move into the market, such as insurance company funds, has yet to flow into equities. If he's correct about the nature of the buying thus far, and retail buyers and institutions start chasing a rising market, a rapid increase in prices is not a stretch.
Government Support
At the Third Plenum in November 2013, the new administration unveiled its plans for capital market reforms, including the promotion of equity financing through "direct financing, through many channels." China has a massive debt problem and one way to alleviate the problem is for indebted companies to issue equity. (One analyst has forecast Chinese banks may need to raise $200 to $500 billion in the next four years to cover their bad debts.)
Yin cites a recent article published by Chongqing Mayor Huang Jifan discussing the expansion of equity financing, which will involve insurance companies, banks, social insurance funds, private placement and foreign capital as part of a multi-channel financing strategy. This fits with the plans to reform state owned enterprises, allowing the market to play a greater role in management of SOEs and capital allocation in the economy. The reforms talked about in 2013 are being implemented right now, the second year following the Third Plenum.
Bullish Forecast
Aside from government support and shifts in capital away from property and shadow banking, interest rates are also on a downward trajectory now that the central bank has begun easing. Lower interest rates are generally good for stock valuations.
The Chinese yuan may see little appreciation given the current conditions in the currency market. Since the Bank of Japan's Halloween surprise expansion of QE, the yuan has stagnated. Additionally, the yuan has previously devalued in late 2011 and early 2012, when the property market last weakened. I expect the yuan to weaken further versus the U.S. dollar in 2015, but further inflows of hot money are not necessary to drive stock prices higher. A bull market in shares will attract foreign capital into stocks as long as appreciation outstrips any currency weakness.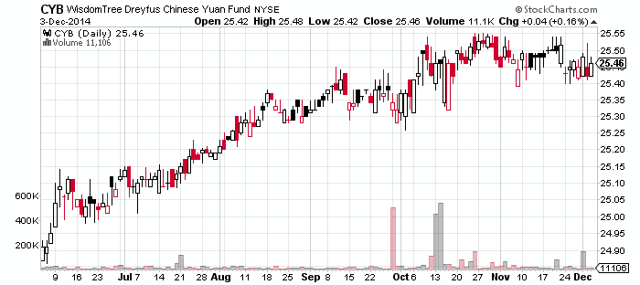 Finally, Chinese shares remain cheap. The steel sector is priced for bankruptcy and concerns about bad debts at Chinese banks have investors concerned about the need to raise capital. iShares China Large Cap (NYSEARCA:FXI), which holds Hong Kong listed H-shares, has a P/E below 10, even after this year's strong rally, and the fund has a 30-day yield of 2.91%. Deutsche X-trackers Harvest CSI 300 China A-Shares (NYSEARCA:ASHR) has performed far better due to the rally mainly being a mainland phenomena. Also, ASHR has about 37% exposure to financials, versus 49% for FXI. Year to date, ASHR is up more than 30% versus FXI's rally of less than 10%, largely due to FXI's heavy exposure to bank shares. The recent deposit scheme is good news for the banking sector, but even if you take the bearish view on banks and the Chinese economy, many shares remain cheap.
The best way to invest in a bull market in China is to dig into the A-shares available to foreign investors, but an ETF such as ASHR will do well too. If Yin Zhongli's forecast is correct, ASHR would see an increase of between 40% and 80% in 2015.
In my opinion, his forecast is too bullish. China faces real problems due to the contraction of the shadow banking market, which is part of a natural (albeit central bank influenced) credit cycle, and lower nominal interest rates may not translate into lower real interest rates. The result of the recent rate cut, for example, has been higher deposit rates thanks to the PBOC easing restrictions on how much banks can offer depositors. Relative to property and other assets in China, however, Chinese shares are a cheap and the totality of reform efforts will benefit the equity market in the long-run.
Disclosure: The author has no positions in any stocks mentioned, and no plans to initiate any positions within the next 72 hours.
The author wrote this article themselves, and it expresses their own opinions. The author is not receiving compensation for it (other than from Seeking Alpha). The author has no business relationship with any company whose stock is mentioned in this article.